Is riding the elevator with your dog a chore? Is your dog stopping in fear before even reaching the elevator? Do you wish you could have a calm and easy ride up to your floor with no problems?
If you answered yes to any of these questions, your dog probably has a fear of elevators, and you wish there was a solution to it. Luckily, the answer to that is in this article.
Why Are Dogs Scared Of Elevators?
From a dog's perspective, an elevator is not all fun and games. They go in from one location and exit somewhere different entirely! If they aren't used to going in an elevator this may be a jarring experience for them. Dogs' senses are finely tuned. Their sense of motion is included. When you think about the fact that they most likely notice the sensation of moving up or down within the elevator but don't understand the concept of it, this can freak them out.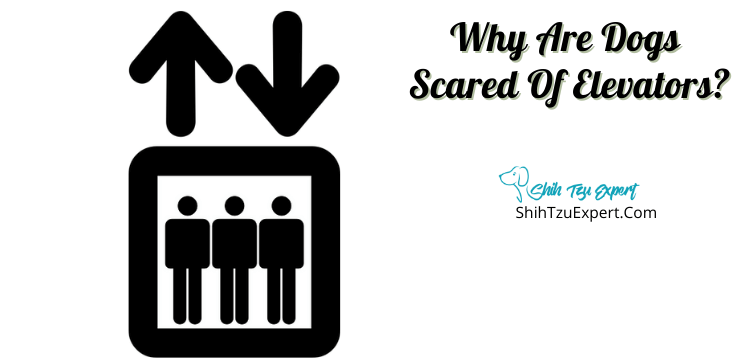 How Do You Get A Dog Used To An Elevator?
As with anything else, the main way to get used to something is: Practice!
If you continue to desensitize your dog to elevators and get them used to riding one without problems, it'll become second nature to them. It may seem impossible now if your dog is freaking out at the sight of one, but it is possible.
Can Dogs Use Elevators? Are Dogs Supposed To?
There is no problem in a dog using an elevator, and in many cases there isn't any option.
For pet owners who live in apartments or need to take their dogs into buildings without stairs, they need to take the elevators. Not to mention it's an easier option for many owners and pets who may have health issues.
Should A Dog Scared Of Elevators Live In A High Rise Condo?
Dogs can be trained to overcome their fears.
If you have a dog who's scared of elevators and are considering purchasing a space in a high rise condo, you shouldn't base your decision around your dog.
Once you acclimate your dog to the elevator and they are calm and comfortable on it, there shouldn't be any issue. If you take the time to train your dog to overcome this fear, living in a high rise should be no issue.
Less Scary Alternatives To Elevators?
If you'd prefer to skip the elevator entirely and go for a different mode of transportation, you could always use:
Escalators and stairs may not always be present which is why it's important to train your dog to ride on the escalator without problems. However, if the building you are in has these options, your pet may feel more comfortable on them.
Why Do Dogs 'Freak Out' When They See & Use Elevators?
Not only is it something confusing and strange, but there are also a lot of sounds and smells going on in a confined space that makes it easier for them to pick up.
An elevator sees a lot of traffic in one day. It may be overwhelming for your dog's senses when they're trapped in a moving, inescapable vessel where they can smell everyone who's been in it that day. If that isn't enough they can hear the gears moving as you journey up and down.
The sound of a creaking elevator is enough to worry a human, so imagine how your dog feels when they don't understand what's happening.
How Do I Train (Counter Condition / Desensitize) My Dog To Not Be Afraid Of Elevators?
To get your dog to feel comfortable in the elevator you'll need to counter condition them. Meaning that you need to reassociate the elevator with good emotions rather than negative ones. This, along with desensitizing them to the elevator will solve your problem.
Press the elevator button, wait with your dog
When the elevator dings, praise your dog and give them a treat (counter-conditioning the noise)
Move into the elevator with the dog and press the 'open door' button
Wait in the elevator for a few seconds before exiting and give your dog a treat
Repeat steps 1-5 for longer increments of time
After increasing the time, press the 'close door' button on the elevator
Wait with the dog inside the elevator, praising and giving them a treat if they stay calm
Repeat until your dog stays calm with the doors closed
If your dog remains calm, move up and down a floor with your dog
If calm, reward your dog after leaving the elevator
What Not To Do With A Dog Who Is Afraid Of Elevators?
The last thing you want to do with an already anxious dog makes that anxiety and fear worse.
Yelling at them, reprimanding them, and tugging at their leash are all prime examples of what you shouldn't do in this situation. These responses will only exacerbate the problem.
Only respond to desired behavior with rewards and praise. If you acknowledge the unwanted behavior with a good or bad response, they will continue that behavior. You don't want them to further associate the elevator with negative emotions, which is why it's important to remain positive.
Should You Comfort A Dog Scared Of Elevators?
Don't comfort your dog who's scared of elevators.
Follow the previous steps to get them used to riding an elevator. If you comfort them when they're on the elevator this will only continue the problem. They may even see this as a reward for their behavior and think it's desired by the owner: you.
It may be tempting to comfort your dog in this situation. They seem so helpless and scared. Although it may be heartbreaking to see them like this, keep in mind that they'll continue to live in that fear if you coddle them. Teaching them the proper behavior helps break the chains of that fear.
What Exactly About Elevators Is My Dog Scared Of (The Smell? Look? Noise? Sounds? Vibrations? Other Travellers?)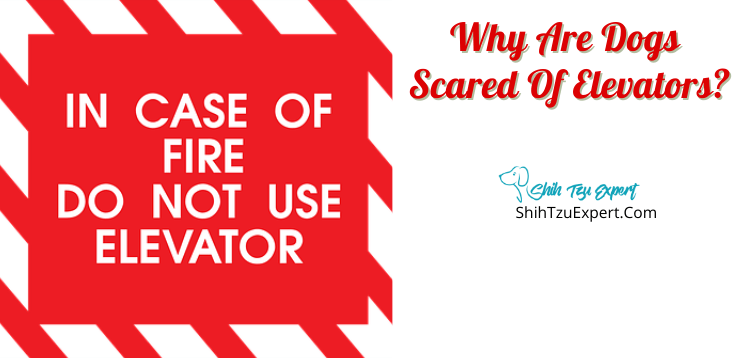 Elevators are extremely stimulating for dogs.
When they enter they can smell the remaining scents of everyone who passed through it that day: where they've been, who they've touched. They can smell the same off of anyone who's in there riding the elevator with you.
Not only can they smell a lot going on, but it's also a lot for their ears to take in. Before you even get into the elevator, the dinging sound can set them on guard.
Once they get in there, the sound of the whirring gears can be offputting. Their hearing is great and this can freak them out. The vibrations from the moving gears can also upset them.
Being trapped in a small, enclosed space with people they don't know doesn't help either. If your dog isn't good with strangers that might make the whole situation scarier too. Not knowing when they'll be able to get out and what might happen to them can scare them.
Overall, being trapped in an overstimulating environment where they don't understand what's happening can be a particularly scary thing for your dog to experience.
Puppy Terrified Of Elevators
If your puppy is scared of elevators, and they're too big to simply hold them on the ride, you'll need to train them the same way you would a bigger dog. Follow the previously mentioned steps.
Why Is My Old Dog Is Suddenly Afraid Of Elevators?
Your older dog may be scared of the elevators cause it could be causing pain for them. Walking onto the different surfaces of the elevator and the sudden stops and movements may be jarring on their joints.
In this case, you'll want to take your dog to see a medical professional to address any underlying medical issues that may be causing this sudden change in your dog's behavior.
My Dog Is Getting An Increasingly Severe Fear Of Elevators?
If you're following all of the steps needed to desensitize your dog to elevators and are only rewarding good behavior but your dog is becoming increasingly fearful, consider these factors:
There is another trigger to their fear
You're responding to their fear
Or
There may be something over than the elevator that your dog is scared of. Maybe there's someone who rides the elevator with you who they're afraid of. They might be associating with it a place they don't like that you go to after riding the elevator.
After identifying what may be scaring your dog, try to avoid it.
If avoidance isn't possible, try to desensitize your dog to whatever else it's scared of.
If these don't work, try having your dog ride the elevator with another dog who remains calm in the elevator. Their calm may rub off on your dog and they'll imitate their behavior.
Are Elevators Dangerous To Dogs?
In most cases, dogs aren't in any more harm than you are when you're riding an elevator. The chances you'll die from an elevator are 1 in 10 million. These are pretty good odds to bet your life on, considering you're more likely to die from a bear attack.
There is one thing to consider though: their leash.
If their leash gets stuck between the closing doors, this could very dangerous for your pet. This could cause the leash to tighten around their neck, choking them.
To prevent this, you'll want to keep a short leash when entering and exiting an elevator and make sure it's close to you. Stay alert to make sure it hasn't gotten caught on anyone or any object entering or leaving the elevator.
Can A Dog In An Elevator Be Safety Hazard?
An anxious dog can always be a safety hazard.
If your dog is feeling cornered, threatened, and scared in an elevator, the entrance may lash out. Someone going to pet your dog in the elevator while they feel this way may cause them to react poorly and attack them.
This is why it's important to make sure your dog remains calm when riding the elevator. A safe and calm ride is desirable not only for you and your dog but also for the other passengers.
Can Dogs Use Escalators?
It isn't the best option to take your dog on an escalator. If there are stairs or elevators available, use those instead.
You'll want to make sure when hopping on and off of the escalator that your dog is stepping over the beginning lip. Their paw could get stuck in the track and result in serious injury. This is something to pay attention to the whole time riding the escalator.
Keep the leash and away from the tracks and any other passengers or bags. If the leash gets caught onto something while riding the escalator, it could get stuck and choke the dog or cause them to get stuck in the tracks.
Are Dogs Scared Of Escalators
Most dogs are scared of escalators.
The sound, sight, and movement of an escalator can make them anxious and nervous. If there are a lot of people on the escalator, this can worsen the experience for them.
When possible, it's best to avoid escalators if you're walking with a dog.
How To Travel In An Elevator With Your Dog?
The main things you'll need when traveling in an elevator with your dog are:
Treats
A leash/ harness
A positive attitude!
Treats are important to reward positive behavior and to counter condition them to any negative emotions.
Make sure your dog is wearing a leash or harness when riding an elevator. If they're feeling particularly anxious or scared, they may attempt to run away before or after entering. Having a leash on them lets you remain in control and keep them where they need to be. A leash is also very useful when giving your dog encouraging tugs in general directions.
Mainly, you'll need to remain positive and hopeful! Your dog can pick up on your emotions. If you feel negative and worried about the experience, your dog will reflect this in their behavior. A positive attitude, encouragement, and praise of good behavior will get you where you want to be faster than a frown wilL be!
Why let your dog live in fear?
By practicing these few, simple steps, your dog will be calm, cool, and collected in the elevator in no time. A future is possible where getting up to your apartment after a walk is a pleasant experience! Don't waste any time, try this out now!
References
https://www.wikihow.com/Get-Rid-Of-Your-Pup%E2%80%99s-Elevator-Phobia
https://vcahospitals.com/know-your-pet/introduction-to-desensitization-and-counterconditioning