Some mistakenly believe that dogs enjoy being scared and startled!
While most dogs crave variety and play, these people forget to take other critical issues like dog anxiety into consideration.
Let's go over the facts you should very carefully reconsider before scaring a dog for fun!!!…
Is It Bad To Scare Your Dog For Fun?
It is never a good idea to scare your dog intentionally or unintentionally! Like humans, dogs are creatures who love variety but take comfort & find safety in, consistent routines & habits when they are active or resting/sleeping. Scaring a dog could lead to Sleep Startle Reflex (SSR), aggravated anxiety, reactiveness, & a whole host of issues. Avoid unexpected movements perceived as frightening or threatening by dogs .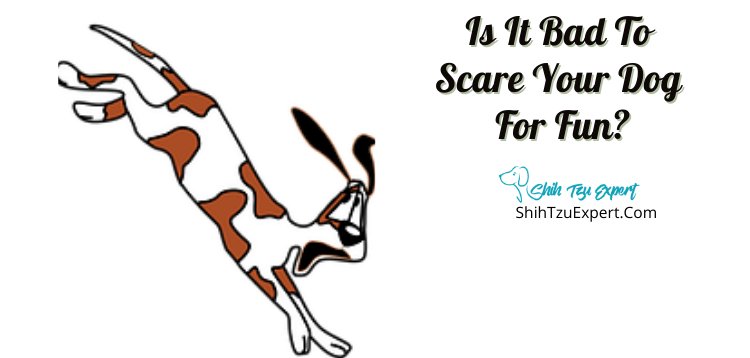 Is Scaring My Puppy Bad?
Puppies are learning about the world and can sometimes scare easily.
In this article, we look at how you might accidentally scare your puppy and the effects it might have on their adult behavior.
How Bad Is It To Scare A Dog Awake?
The phrase "let sleeping dogs lie" is one you may have heard. It entered the popular lexicon for a good reason.
Although dogs sleep much more than humans do, (on average dogs sleep for about 12 – 15 hours per day or almost half of the day), this doesn't mean they need to wake up – especially not by being shouted at or scared.
Letting a dog sleep doesn't just benefit your puppy.
Scaring a dog awake can cause them to be frightened, which can, in turn, make them lash out, and growl or bite.
Dogs are domestic now, but they began life as wild animals. They still have something called 'Sleep Startle Reflex' which is an instinctive protection instinct in wild animals.
Put simply, the sleep startle reflex means that when a dog is woken up suddenly they might exhibit aggressive behavior in order to protect themselves from the unknown creature that woke them up.
Dogs don't know that it's their owner waking them when they are in deep sleep.
Imagine you've had a nightmare… you might be groggy and a bit confused for the first few minutes. This happens to dogs too and is why they might be aggressive or scared if woken up.
It's best to let your puppy get the sleep it needs so that it is healthy and won't bite or snap.
How Do I Stop Scaring My Dog Accidently?
There are lots of obvious things that might scare your dog. Fireworks, loud noises, the vacuum cleaner.
Did you know that there are a few things that can scare your dog that you might not know you're doing?
Dogs are creatures of habit. A stressed dog is an unhappy dog.
If you can cultivate a calm environment for your dog, they will be more relaxed and open to new experiences.
They will be less likely to be scared if they're relaxed.
Some tips to keep your dog calm:
Have a regular routine.
Allow your dog its own space e.g. a bed.
Avoid too much excitement in one day.
It's important to understand that your dog thinks of you as another dog.
This means your body language is important.
Be friendly and open. Don't fuss your dog too much or lean over your puppy. This is aggressive dog behavior that may scare them.
Do Dogs Forgive If You Scare Them?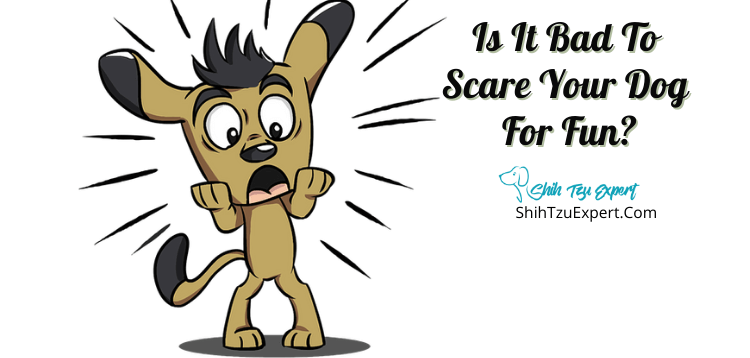 If you've scared your puppy you might be super worried that they'll never forgive you.
Will they cuddle you again?
Will they run away to find a new owner because you scared them?
Will your bond ever be the same?
These are all totally normal thoughts if you have scared your puppy for the first time.
Luckily, dogs don't have the same concept of 'forgiveness' as humans.
Dogs understand routine best, so they will naturally prefer to fall back into their regular routine after being scared.
If you already have a strong bond with your dog, they will continue to love you. This applies even if you've scared your pup.
The best thing to do if you scare your dog is to realize what you did that scared them so that you can prevent doing this in the future.
Should You Comfort A Scared Dog?
If you've scared your own dog, or have found a stray dog that looks frightened, your natural instinct might be to comfort them.
This is because humans LOVE dogs. 1.25 million people in the UK have a dog in 2020!
They're cute, fluffy and have a friendly reputation as 'man's best friend'.
If you see a dog who is scared it's natural to want to comfort it.
Dogs do need comfort, but how to comfort them might not be done in the way you'd expect.
How not to comfort a scared dog:
Picking it up and hugging it.
Putting the dog with other dogs.
Moving the dog to a new place.
How to comfort a scared dog:
Give the dog space.
Keep calm and quiet.
Wait for the dog to come to you.
Praise the dog after it has calmed down by itself.
How Do I Toughen Up My Dog?
Having a nervous dog can be tough. As a puppy, a scared dog might be easy to manage, but when that dog is full-sized it gets a lot harder.
Imagine being pulled down the street by a Great Dane who is scared of a leaf!
Toughening up your nervous dog begins when the dog is young.
From 8 – 16 weeks you should gently introduce your puppy to a wide range of experiences so that it can understand the world.
Set up playdates with calm adult dogs to stop your puppy from being scared of dogs.
Take your puppy on lots of varied walks so it can see new places.
Ride on public transport with your puppy.
Create a strong bond with your puppy so it trusts you in new places.
Training a puppy when it's young is the best way to prevent nervous or scared adult dogs.
However, contrary to popular belief, you can teach an old dog new tricks!
Adult dogs can be nervous but can be introduced to new situations in a slow and controlled way.
Try taking your dog to a new place, like the sea, for short amounts of time when no one else is around. This means you can focus on your dog's reaction to the new thing. Your dog will also watch you being calm and follow your lead.
For larger breeds or very scared dogs, you might want to hire a professional dog behaviorist. There are also calming medicines and food supplements that might help specific to your dog.
Is Scaring A Dog Abuse?
Animal videos are super popular on video-sharing sites like Youtube, Vimeo, and TikTok.
Dog videos are particularly popular, especially if the dog is doing something funny!
Sometimes a dogs reaction to something it's scared of can be hilarious when caught on film. But be warned – intentionally scaring a dog can be seen as animal abuse.
In Georgia, USA, a man faced charges after intentionally scaring his dog with fireworks.
In other parts of the world, such as the UK, animal protection charities could remove a dog from its owners if it was living in fear.
Scaring a dog by accident isn't going to get you into trouble.
Most people would not consider this abuse.
Repeatedly scaring a dog, or scaring a dog on purpose is abuse. You should avoid this.
If you see children scaring a dog you should stop them.
How Do I Regain A Dog's Trust After Unintentionally Scaring It?
If you've accidentally scared a dog there are a few things you can do so that your dog trusts you again.
Give your dog space. – Letting your dog calm down and get over its fear will give you a good base to build back your trust. This will mean your dog is no longer scared the next time it sees you.
Keep quiet and still. – Dogs don't like unpredictable movements and noises. If you're calm and quiet, your dog will understand that the thing that scared it isn't going to happen again. This means your dog will be calm around you.
Use treats and training games. – Treats and reward games are a good way to bond with your dog. Asking a dog to do some tricks and rewarding them with a treat will help them trust you.
This shows them that you are in control.
Plus, all dogs love treats!
Why Does My Dog Act Scared Of Me?
If your dog is scared of you it is a horrible feeling.
Dog owners love their dogs very much and it's really hard if your dog doesn't give that love back.
There isn't a secret formula about why your dog is scared of you.
You need to look at your dog specifically to understand where their fear is coming from.
(When you know, you can fix it!)
Some common reasons dogs are scared:
You have a shy dog who takes time to get used to your new house or family.
Your dog was previously hurt by a human.
The dog was hit by someone when training.
The dog is around lots of loud noises (loud music, or shouting).
The dog has only been around other aggressive dogs.
Your body language around your dog is coming across as aggressive.
Whatever the reason your dog is afraid there will be lots of ways to fix their scared behaviour.
I Accidentally Scared My Dog [What To Do Now]?
Imagine the scenario: you're super angry with a delivery driver who threw away your parcel. You watched them do it. Now you're on the phone, yelling and screaming at them. You don't see your dog and accidentally step on it's paw.
Now your dog is scared of you, and is under the table and won't come out.
You feel awful for scaring your best friend. But what can you do now?
One of the best things to do is to do something called counter-conditioning training.
Counter conditioning training is training that changes the scared feeling to a positive feeling.
To practice counter-conditioning training:
Find a treat that your dog really loves.
Start a little bit away from your dog.
Walk slowly towards your dog and drop the treat near them.
Move back.
Repeat.
After repeating steps 1 to 5 a few times your dog will be excited to see you and get a treat.
The accidental fear should be forgotten.
Why Do I Like Scaring My Dog?
If you're scaring your dog regularly, it's probably for one of the following reasons.
It might seem funny to scare a dog.
It might make you feel powerful to scare a dog.
It might be that scaring is the easiest way to get a reaction from your dog.
Scaring a dog shouldn't be something you enjoy.
In the long term, the dog may attack you.
Playing with your dog is a better way to get a funny reaction.
Training your dog well is hard but rewarding. This can also make you feel powerful.
Ways Might Be Unintentionally Scaring Your Dog
You might be scaring your dog without knowing it!
Here are the most common ways you might scare your dog;
1. Using the wrong body language.
Leaning over your dog, tensing up, baring your teeth and making direct eye contact are all seen as aggressive by your dog.
Learn to relax around your dog and they will be relaxed back.
2. Being too close.
Whilst it's tempting to cuddle a dog or to carry a small dog, most dogs need their own space.
A short stroking session is fine, but you need to allow your dog time to be by itself.
If a dog feels overwhelmed, it might become scared and aggressive.
3. Being around loud noises.
You can't protect your dog from all loud noises. However, they're super scary for a dog.
Fireworks, hoovering, loud noises from the TV, and arguing are some of the main triggers that will make your dog unsettled.
Making sure your dog has a quiet safe area in a room, or a nice dog bed will really calm them down.
4. Unpredictability.
Dogs love a stable routine.
If they're traveling all the time, or if their dinner is late on Fridays, they don't know what's happening or what to expect.
Unpredictable schedules can unsettle a dog over time, making them nervous.
5. Their owner's mood.
Whilst dogs can be great comfort animals and help people on flights, or in hospitals, because they can sense emotions, this can backfire.
If you're nervous, your dog might be able to tell. This can be scary.
Your dog will be looking for the source of your fear or stress to try to protect you.
How To Help Your Anxious Dog Without Going To The Vet.
There are some great ways to calm your dog that you can do at home.
Here are some of the best things you can try:
Getting a dog bed –Your dog will feel safe in their own special bed. Try not to bother your dog when they are in bed so that they know it just belongs to them. This gives them a place to go if they're worried
A weighted Thundershirt. A Thundershirt is a weighted coat recommended by vets. Wearing this is proven to calm your dog.
Delicious Chews. For mouthy dogs, chewing on something like a paddywhack or some hard cheese helps them to shift focus.
Puzzle toys and training games. These kinds of toys are great for teaching dogs to focus, meaning they are less scared of distractions.
Crate training. Lots of people use a crate to train their dogs. Similar to a bed this is a safe place for your puppy to hide if they're nervous.
How To Gain My Puppy's Trust Back After Hitting Him?
These are the best things to do to help your puppy after hitting him:
Don't chase him. Give him space to come back to you.
Keep quiet.
Give him lots of treats and attention when he is comfortable with you again.
Why Is My Dog Scared Of Me, I've Never Hit Him?
Just like humans, dogs can be fearful of new people for a variety of reasons. Puppies are learning about the world, and most things (including you) are new to them.
It's not just hitting or hurting animals that can scare them, particularly if your puppy has a naturally nervous temperament.
Loud noises, sudden movements, and unpredictable behavior can all scare a puppy. These are things that might be scaring them without you touching them.
You might also be unaware of exactly why you're scaring your puppy.
There are many reasons why a dog might be nervous. It's best to look at your dog and see if you can change things to make their space and routine more relaxed.
Why Is My Dog Scared Of Me After I Stepped On Her Accidently?
If you've stepped on your dog accidentally, it's natural for her to be scared.
Think about it from her perspective: you're big, and it hurts!
Some people use pain to train dogs, and scare them out of doing certain behaviors. Your dog might think she was being punished. (Dogs don't really understand accidents).
References
Man Charged With Animal Cruelty After Intentionally Scaring Dog With Fireworks
https://topdogtips.com/my-dog-is-scared-of-me/