It can happen to the best of dogs who are well trained to poop outside. A few things can scare dogs to the point where they can't help but make in the house. Let's dive further into what is making our pets so scared so that we can all live happier and have less stinky homes.
Why Does My Dog Poop When Scared?
Even when we train our pets from the moment we get them, anxiety can still be a problem. Loud noises, unfamiliar faces, new environments, leaving our dogs to go to work are all reasons dogs can become anxious. Sometimes when they are that distressed they can't help but poop in the house. Just always remember to be patient and help your dog conquer their anxiety.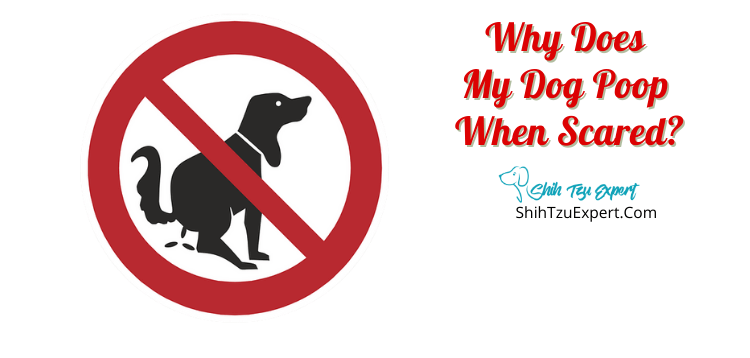 Is It Normal For Dogs To Pee And Poop (Stress Dump) When Scared?
When our dogs feel emotionally distressed, they might react in several different ways. One of them includes peeing or pooping in the house. They lose control of their bladder and pee or poop in the house. It could be because they were scared of a noise or an unfamiliar face.
Dog Sprays Liquid Poop When Scared?
It's not that your dog is trying to spray liquid poop in the house on purpose. It can actually happen as an involuntary contraction of their muscles. Your dog is not trying to ruin your carpet or stink up the house on purpose.
Dog Smells Like Poop When Scared?
It could be as simple as your dog pooping in the house because he was scared and also stepping in it, trapping that odor. Dog's have anal glands and can involve a very unpleasant smell. Sometimes it happens when they are scared. While it may be unpleasant for us, remember it is 100% normal.
Dog Poops In House When Scared?
If you know your dog is pooping in the house only when they are scared, it is likely caused by anxiety.
Even if your dog is well-behaved and house trained, when your dog is feeling stressed out they might become unable to control their need to use the bathroom. A lot of dogs suffer from separation anxiety when you leave them.
Be patient and remind yourself that you shouldn't punish your dog, just train them not to poop in the house.
How Do I Stop My Dog From Pooping When Anxious?
Talk to your veterinarian: They can help you identify whether it is fear, stress or aging that is causing your dog to poop. Once you figure that out, then you can come up with possible solutions and a treatment plan.
Counter condition and desensitize: Once you find out what is triggering your dog's anxiety, you can train them to associate that negative feeling with a more desirable one. You can also slowly introduce your dog to whatever is triggering them to decrease the intensity.
Anxiety medication: Ask your vet if they think medicine would help reduce your dog's anxiety. They will be able to tell you if the anxiety is that big of a problem and if so, what medication would best suit your canine.
CBD oil: If nothing else works for you, some dog owners swear by CBD oil. It is not a regulated product so you need to be careful. Talk to your vet before giving your dog any CBD oil. You will want to know about any potential side effects or risks before giving it to your precious pet.
Should You Punish Your Dog For Pooping When Scared?
Absolutely not.
Dogs are simple creatures. Train them well and they will do whatever you need them to do such as not pooping in the house.
Your dog will need some time as you help them either get over their anxiety or just teach them in general not to make in the house.
Be patient. Punishing your dog won't help their anxiety and could possibly make things worse.
What Are Signs That Your Dog Is Scared?
Look out for these potential signs.
Panting
Shaking/trembling
Inability to settle
Trying to hide
No appetite
Distracted
Salivating
Lifting a paw
Lowered body language
Loss of toilet training
Growling
Aggressive behavior
Remember if you're not sure your dog is showing these signs because they are scared, talk to your vet about it.
How Do You Calm A Scared Dog?
Once you figure out what is triggering your dog's anxiety it will be easier to find what can calm them down. Here are several things you can do in general to calm down your scared puppy.
Spend quality time: When you are with your dog, make sure you are providing them with a lot of physical contact and getting outside with them.
Music therapy: Music is proven to soothe and calm not just dogs, but people as well. This is especially useful if there is some sort of loud noise or sound that is causing your dog's anxiety.
Swaddling: Just like you would a baby, swaddle your dogs. You can buy them comfort shirts or vests that are meant to provide them that pressure on their body to relieve stress.
Dog Scared Of New Puppy/Vet Offices And Poops?
Your dog might only associate going to the vet office with bad experiences such as getting a shot or going when they are in pain. It might be a good idea to show up at the vet office when your dog is completely healthy and have the front office interact with your dog. Give your dog some treats while you're there so they won't feel so terrified of going to the vet.
Do Dogs Poop From Separation Anxiety?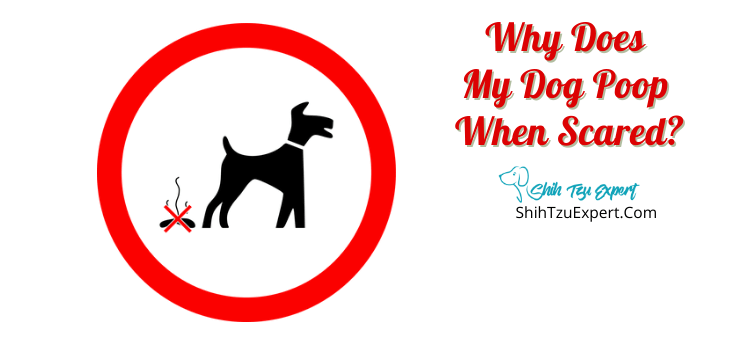 If your dog suffers from separation anxiety it is likely they will leave you a nice smelly surprise in the house. Your dog will work themself up so much that they cause themself to defecate. They can't help it.
Why Does My Dog Freak Out After Pooping?
If your dog freaks out in a good way after pooping, it could just be a sign of relief. They could be so happy now or they are expecting a treat for going to the bathroom. It could also be a sign they still have to go some more or if they are freaking out in a bad way it could be if they pooped inside the house. If they feel guilty for pooping in the house by accident, they might freak out and hide from you.
Why Is My Dog Afraid Of Its Own Poop?
It is possible if you rescued a dog that they were abused or punished by its previous owners for making in the house. Your dog might just be associating that abuse or punishment with its own poop. If you notice your dog running away from its own poop that also could just mean your dog is in pain.
Do Dogs Revenge Poop When They're Mad?
No. This is a good thing because otherwise our dogs could manipulate us by hanging the threat of poop in the house over our heads.
Dog Not Pooping (Too Scared Of Me/Strangers/Environment)
You need to show your dog that you and other people won't hurt them. The most important thing to do first is make sure your dog is comfortable with you. Give them time to learn how to trust. Sometimes we don't know the trauma our dogs have gone through before us.
Once you get your dog feeling safe around you. Introduce them slowly to other people or places in small doses so that they don't get so scared and stop pooping.
Why Does My Dog Act Like He Is Afraid To Poop Then Runs Away?
Your dog could be in pain. Maybe he has a stomachache or is just constipated. Once he poops he probably feels so relieved and relaxed so he starts running. Consider taking him to the vet for a check-up and seeing if there is a bigger issue at play here. No one likes uncomfortable poops.
References
Why Your Dog Smells Like Fish (akc.org)
Dog Anxiety: What Dog Owners Need to Know (akc.org)
3 Reasons Why You Shouldn't Punish Your Puppy for Accidents in the House