Why does your dog get distressed when the fire alarm beeps? What should you do about it?
Unfamiliar noises can cause a dog to get anxious and it's important to know what to do so that your dog's stress does not get worse.
Why Are Dogs Scared Of Fire Alarms?
New sounds may mean "danger" to a dog. Some dogs are more predisposed to fear than others, and some associate traumatic experiences with certain sounds. Most dogs are not raised with fire alarm noises going off every day, so this is a new sound for them. Dogs can also associate new objects with danger. In the same way they fear the sound (either because of past experiences or because it is new and unknown) they can also fear the object itself.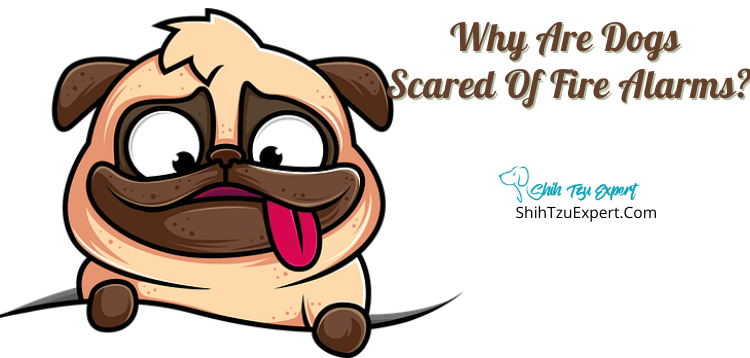 Why Do Dogs 'Freak Out' When They Hear Fire Alarms?
Dogs are very sensitive to sound, and some more than others. Long ago, their sharp senses alerted them of danger and kept them safe.
Unfamiliar sounds or objects were signals of caution or danger, and dogs naturally responded by trying to escape that danger.
In today's environment, however, where there is much less danger for dogs, the oversensitivity to many strange sounds can be overwhelming. This overwhelming sensitivity can cause fear, anxiety, and stress.
This stress is due to hormones. When a dog hears an uncomfortable sound, it sends signals to the part of the brain that deals with emotions. The signals it sends may cause the dog to freak out and become anxious.
Because fire alarms aren't normal sounds to dogs, their first instinct may be to fear danger or stress out and seek safety when they hear it.
You may also notice that some dogs seem to be more nervous than others. One study suggested that genetics may be a significant factor in determining how fearful a dog will be when triggered by something like a fire alarm.
How To Calm Down A Dog After Fire/Smoke Alarm?
It can be devastating to watch your dog go into a panic after the fire alarm goes off and not know what to do to help them. Some ways to calm your dog during or after a fire alarm include:
Distracting your dog with a favorite treat
Playing your dog's favorite game or doing tricks and puzzles
Put him in a compression suit or tight-fitting garment (a snug-fitting t-shirt or a Thunder Shirt, for example)
Play relaxing music such as classical or smooth jazz
Trying natural or alternative medicines such as herbs, nutraceuticals, pheromones, homeopathic products, and essential oils
Administering an oral medication, like Sileo, obtained from your veterinarian
Providing a safe place for your dog to retreat to
Having your dog relaxed if they are trained to do it
Although every dog responds differently, a study found that on average, dogs who had been scared by fireworks responded best to counter conditioning (feeding, playing, or relaxing), and oral medication.
Because each dog may respond differently, it is also a good idea to journal your dog's reactions to the fire alarm. In this journal, be sure to include what methods you tried to calm your dog and how well they worked.
Do Fire Alarms Hurt Dogs Ears?
Little research has been done on hearing in dogs, but in some studies, dogs are thought to be similar to humans in how sound affects their ears.
It has been suggested that extended exposure (over several years) to loud sounds may eventually cause hearing loss in dogs, just like it would to humans.
Dogs hear a larger range of sound than humans, which means if the fire alarm hurts your ears, it will likely hurt your dog's ears too.
There's no need to worry about hearing damage in the short term, however, unless your dog is exposed to the sound continuously for an extended time. You don't want to prolong the exposure of your dog's ears to the alarm sound because it could eventually cause hearing loss.
Are There Dog Friendly Smoke Detectors/Fire Alarms That Won't Traumatize My Dog?
The Google Nest Protect Smoke Alarm is a product on the market that may be more dog friendly.
When this device detects smoke, it will alert you by speaking and sending a phone notification instead of giving off a loud beep; and there's no cause to be concerned about it chirping when the batteries are low.
With this device, you also have the option to turn off the alarm when you receive a notification, in case it was a false alarm.
Only when there is a true fire burning in the house will the alarm beep, but at that point, there is a bigger concern for your pet's safety than just the scary noise of the alarm.
Keep in mind that this may work well for a dog who is afraid of the beeps in a fire alarm. If your dog is afraid of other loud noises in the house, you may want to become familiar with those sounds that scare him before making the purchase.
Why Is My Dog Shaking After Fire Alarm?
Shaking can be caused by several things, such as:
Fear
Cold
Excitement
Pain
Sickness
If your dog is shaking after the fire alarm went off, the most likely cause is fear. He may have been traumatized by the sound of the fire alarm and has become fearful of it.
It is still important to rule out other causes, however. Did the shivering happen only after the fire alarm? If there appears to be something else wrong with your dog other than trauma from the alarm, it may be a good idea to take him to a vet.
If the fire alarm causes your dog to shake in fear, desensitizing your dog can help ease him during future fire alarm incidents.
Low Batteries Beep In Smoke Alarms Cause Distress For My Dog?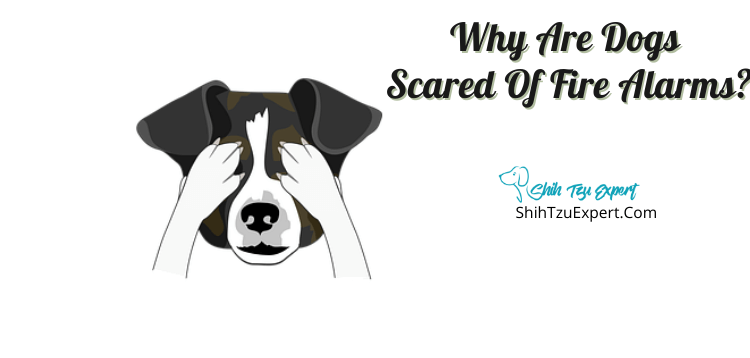 The low batteries beeping sound is something that many dogs are not accustomed to. Some dogs may fear this new sound, or it might bring back traumatic memories.
When this is the case, the dog may become distressed in his fear. Make sure you're using some of the tips from above to help calm and destress your dog when the fire alarm beeps.
Another good way to ensure your dog does not get distressed by the noise again is to simply avoid the noise altogether. This can be done by setting a reminder to change the batteries before they get low enough to beep.
Replacing your smoke detectors with a more dog-friendly version like the Google Nest Protect Smoke Alarm is another option to consider.
How Loud Is A Firearm (In Decibels)?
The average firearm is typically 140 decibels, but some can range up to 175 decibels.
At a range of 85 to 110 decibels, fire alarms are not too far off from the average firearm, though they are still low enough to be considered safe for ears.
The CDC says that sounds at or above 120 decibels can cause immediate pain and injury. Although dogs are not humans, research suggests that the same sounds that cause injury and hearing loss in humans may do the same to dogs.
How Do I Train (Counter Condition / Desensitize) My Dog To Not Be Afraid Of Fire Alarms?
To counter condition your dog to the sound of fire alarms, follow these steps:
Choose a reward, like a favorite game or treat, and use that reward only when your dog is exposed to the scary sound.
Train your dog to relax. Say a word like "relax", "settle" or "calm" when he is relaxed. Reward him with his favorite toy or treat every few seconds while he remains relaxed.
Continue to train your dog to relax every day and increase the duration for how long you wait to give him his next reward.
Once your dog has learned to relax at your verbal cue, begin exposing him to the sound. Tell him to relax and play a recording of the alarm sound. Start at a very low, almost inaudible volume.
Gradually increase the volume of the recording until your dog becomes insensitive to it. Make sure to reward your dog when he stays calm during the sound recording.
The key is to get your dog to a place where the fire alarm sound is associated with a positive experience.
Once your dog has learned this, it will be easy to calm him when the real thing comes along.
What Not To Do With A Dog Who Is Afraid Of Fire Alarms?
When your dog gets scared of the fire alarms beeping, make sure to keep the following in mind:
Do not get anxious, stay calm and relaxed instead. If your dog sees you getting anxious, it may reinforce the fear he's already feeling.
Do not punish your dog or yell at him. Punishing and yelling will only increase his confusion and distress and make it worse for him the next time he hears the alarm.
Do not try to soothe your dog, distract him instead. Distracting will cause him to think about something other than the scary noise.
Don't wait for the anxiety to get worse. Begin desensitizing right away. The sooner he becomes desensitized, the less trauma he will experience down the road when the scary situation comes up again.
It is important to make sure there's nothing in the environment adding to the dog's stress. Keeping his mind off of the scary situation and on something positive is the best way to help him.
These tips will ensure the environment is a safer, more comfortable place.
Should You Comfort A Dog Scared Of Fire Alarms?
The best thing to do when a dog is afraid of a fire alarm is not to comfort or soothe them, but to distract them.
This can be done by playing a game with them, starting a group howl, providing a safe place for them to retreat to, or giving them their favorite food.
If you choose to provide a safe space for your dog to retreat to, playing calming music will help create a safer environment.
By distracting your dog, you are taking his mind off of the scary sound and focusing it on something else. The distractions help him engage a different part of his brain. This part does not allow him to react in fear.
What Exactly About Fire Alarms Is My Dog Scared Of (The Look? Noise? Sounds? Vibrations?)
Dogs are most likely afraid of the sounds that fire alarms make, but could also be afraid of the look. This is because anything new to a dog can cause him to fear.
Dogs have been observed to jump at things like metal grates in the street or holiday decorations. This is likely because they are a new object, the dog didn't notice it coming up, or even because of the way light shines off of them.
More likely it will be the sound that scares them. Sometimes it is the alarm, and other times it can be the beeping from low batteries.
If the dog has seen the fire alarm go off, he can be reminded of the harsh sound next time he sees the alarm. If the alarm looks like something from his past that has frightened him, he may react in fear when he sees it.
Puppy mills, or other places where your dog may have been handled roughly in the past, may cause him to be more sensitive and fearful of new objects.
Puppy Terrified Of Fire Alarms
Puppies may be afraid of fire alarms either because they cause an unfamiliar sound or because it reminds them of a bad experience.
If your puppy has been rescued from a traumatic place, chances are he will be more likely to fear new sounds and objects.
Puppies who fear fire alarms should be desensitized to the sound while they are young. Desensitizing them while they are young will help them become more comfortable with the sound when they age, and it will ensure their fears don't become worse.
If your puppy is afraid of fire alarms, use some of the methods listed above on how to calm and desensitize a dog.
Why Is My Old Dog Is Suddenly Afraid Of Fire Alarms?
If your dog is suddenly afraid of fire alarms, he may have gone through a recent traumatic experience where he heard the fire alarm or a similar sound go off.
Fears of noises typically get worse with age unless measures are taken to identify the fear and to help desensitize the dog. It is possible your dog has always had a mild fear of fire alarms and now, having years for that fear to be reinforced, has become more scared than he used to be.
My Dog Is Getting An Increasingly Severe Fear Of Fire Alarms [Trembling & Pulled So Hard]?
Fears or phobias increase over time as they are continually reinforced. Your dog may have only had a small fear of fire alarms when you first got him, but the fear likely continued to grow.
It is also possible that your dog recently encountered the sound of a fire alarm during another scary event, or something else negative happened when the alarm sounded, and that event strengthened his fear of the fire alarm.
This is why it's important to recognize the fear right away and condition your dog to cope with it. The fear may only get worse unless you begin to desensitize him.
Are Fire Alarms Dangerous To Dogs?
As with humans, fire alarms are not dangerous to dogs unless they are exposed to loud alarm sounds for an extended period. One study suggested that after constant exposure to a loud sound for over 4 hours, your dog may be at a risk for hearing loss.
Unless your dog is going to be in a position where he is trapped in a room with fire alarms blaring for hours, he should be safe from the alarm.
Can & Do Dogs Destroy Fire Alarms?
Dogs will likely not destroy a fire alarm. They may have the ability to destroy one with their teeth, but it is unlikely unless something provokes them to chew or attack it.
If your dog is in the habit of destroying other electronics, you may want to make sure the fire alarm is kept out of their reach.
If your dog does not destroy other electronics, your fire alarm should be safe.
Summary
If your dog gets stressed by the fire alarm, it may be because it is a new sound or it may bring up bad memories from the past.
To make sure your dog is comfortable in those scary moments, it's important to take action to help decrease their stress.
References
Becker, Marty, et al. "Ch 8 -9." From Fearful to Fear Free: A Positive Program to Free Your Dog from Anxiety, Fears, and Phobias, Health Communications, Inc., Deerfield Beach, FL, 2018, pp. 102–123.
Garvey, Morgan, et al. "Auditory Stress: Implications for Kenneled Dog Welfare." Purdue University, West Lafayette, Dec. 2016.
"Hunting and Hearing: MSU Studies Gun-Noise Effect on Dogs." Hunting and Hearing: MSU Studies Gun-Noise Effect on Dogs | Mississippi State University News Archive, Mississippi State University, 12 June 2002, https://www.newsarchive.msstate.edu/newsroom/article/2002/06/hunting-and-hearing-msu-studies-gun-noise-effect-dogs
Jarmon, Nakita (2019) "Can Your Dog Hear You? Perceptions About Canine Hearing Loss and Noise Exposure," Ursidae: The Undergraduate Research Journal at the University of Northern Colorado: Vol. 5: No. 2, Article 3. Available at: https://digscholarship.unco.edu/urj/vol5/iss2/3
Kahler, Susan C. "Dogs in Overdrive." American Veterinary Medical Association, American Veterinary Medical Association, 14 June 2017, https://www.avma.org/javma-news/2017-07-01/dogs-overdrive
"Noise Phobia in Dogs." AKC Canine Health Foundation | Noise Phobia in Dogs, AKC Canine Health Foundation, 30 Aug. 2010, https://www.akcchf.org/canine-health/your-dogs-health/noise-phobia-in-dogs.html
Riemer, Stefanie. "Effectiveness of Treatments for Firework Fears in Dogs." Journal of Veterinary Behavior, vol. 37, May 2020, pp. 61–70., https://doi.org/10.1016/j.jveb.2020.04.005.
Stewart, Michael. "Recreational Firearm Noise Exposure." Asha.org, American Speech-Language-Hearing Association, https://www.asha.org/public/hearing/recreational-firearm-noise-exposure/
Storengen, Linn Mari, and Frode Lingaas. "Noise Sensitivity in 17 Dog Breeds: Prevalence, Breed Risk and Correlation with Fear in Other Situations." Applied Animal Behaviour Science, vol. 171, Oct. 2015, pp. 152–160., https://doi.org/10.1016/j.applanim.2015.08.020.
"What Noises Cause Hearing Loss?" Centers for Disease Control and Prevention, Centers for Disease Control and Prevention, 7 Oct. 2019, https://www.cdc.gov/nceh/hearing_loss/what_noises_cause_hearing_loss.html
"Why Is My Dog Shaking?" Veterinarians in Windermere | Windermere Veterinary Services, Windermere Veterinary Services, 24 Mar. 2021, https://windermerevetservices.com/2021/01/11/why-is-my-dog-shaking/