Imagine a dog afraid of balls! We think of balls as something all dogs enjoy playing with, but that's not always the case.
Some dogs are afraid of balls, but there are some solutions to helping your dog enjoy these fun toys.
Why Are Dogs Scared Of Balls?
It is natural for a dog to be afraid of something he is unfamiliar with, or something that brings up a bad memory. If your dog has never seen a ball, or if he's had a bad experience with one, it should be no surprise if he fears them.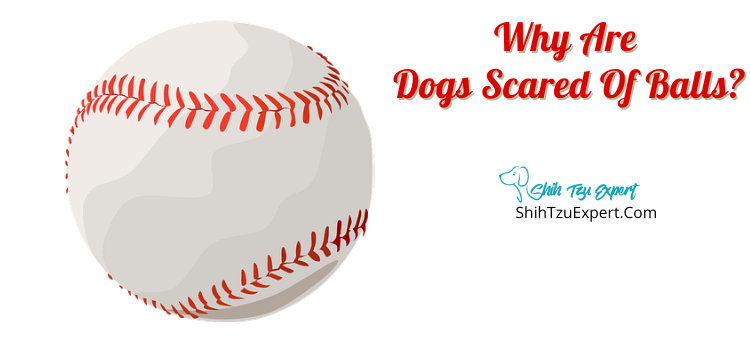 Help My Dog Scared Of Bouncing Balls?
If your dog is afraid of bouncing balls, the best thing you can do is to train him that the bouncing ball means something good. This can be done through desensitization or target training.
Desensitization training involves giving him a treat whenever he pays attention to the ball without freaking out and continuing to reward him until he is comfortable being around a bouncing ball.
Target training is much like desensitization training and involves helping the dog become comfortable touching the ball.
Both desensitization and target training will be further discussed later in this article.
My Dog Is Afraid Of Soccer Balls/Exercise Balls /Yoga Ball/Basket Ball?
Just like humans, dogs experience fear of the new and unknown. To a dog who's never seen a large ball before, it can be a scary encounter.
If your dog is afraid of balls, there's a good chance he's never seen one before. Seeing an unfamiliar object may trigger an anxious response.
If your dog has seen one of these balls before, he may have been hurt by one or experienced something else bad that happened in association with the large ball.
Adopted Dog Is Afraid Of Balls And Toys?
There's no telling what your dog may have been through before he was rescued, or even when he was staying at the shelter you adopted him from.
Your dog could have had a bad experience with balls and toys in either of those places. Maybe he was hurt by one.
Maybe there were balls and toys present in a traumatic place or a distressing situation. Now every time he sees a ball, or a toy, he is reminded of that traumatic experience. It's a similar situation to PTSD.
Why Does My Dog Not Like Balls [And Freakout]?
When dogs see something new and unfamiliar, the natural response is to feel fear or anxiety. This is true for most species.
When a dog encounters something new, his brain will release signals that stimulate the fight or flight response. Historically, this has helped alert dogs of true danger and kept them alive but it can cause stress in the environments of today's world where there are stimulations everywhere.
The same response may be triggered (and at a more intense level) if your dog has had a bad experience with balls in the past.
How Do I Make My Dog Like His Balls?
Not all dogs naturally like balls. Some may have no interest while others may even be afraid of balls. If your dog was raised in a shelter with not a lot of playtime, or in an abusive environment, he may not even know what a ball is or what to do with it.
If your dog is afraid of balls, the first thing to do is to train him not to fear. To get your dog interested in a ball, sit on the floor and show the ball to him. Reward him when he goes to sniff or investigate it.
Reward him for his interest several times every day until his interest increases. Then, you can start rewarding him for more interaction and playing with the ball.
While doing this, keep in mind that there are some breeds of dogs that simply will not show a lot of interest in balls.
How Do I Train (Counter Condition / Desensitize) My Dog To Not Be Afraid Of Balls?
You can train your dog to not be afraid of balls by desensitizing him, and through target training.
For desensitizing:
Pick up the ball. As soon as your dog notices the ball, reward him with a treat or something special

If you have a clicker, click it immediately when your dog's attention goes to the ball and then give the reward.
Continue the training every day by bringing the ball closer to your dog.
Once your dog is comfortable being next to the ball, continue the training by moving and bouncing the ball just a little bit. Be sure to reward the desired behavior.
Bounce the ball higher and higher (while continuing to reward relaxed behavior) until your dog is comfortable with it.
When desensitizing, it's important to not push your dog too far. Take it slowly. It's better to expose him to the fear little by little.
If your dog becomes too fearful during training time, he will no longer focus on you and what you're trying to teach him. The fear reaction in his brain will override you and cause him to shut down.
Target training is also a good method to use. In target training, you will teach your dog to touch any object you tell him to, using the following steps:
Choose an object that's not too scary for your dog. If you don't have a clicker, it would be best to find one.
Hold out your hand to the object and encourage your dog to come touch or follow your hand.
Click the clicker once your dog comes to your hand and then use a special treat to draw him back away from the object.
Repeat step 3, bringing your hand closer and closer to the object each time. Continue until your dog is comfortable walking right up to the object and understands what your hand signal means.
Repeat this training using the ball as the object.
Remember that when a dog is afraid of balls, it's always good to pair balls with a reward.
What Not To Do With A Dog Who Is Afraid Of Balls?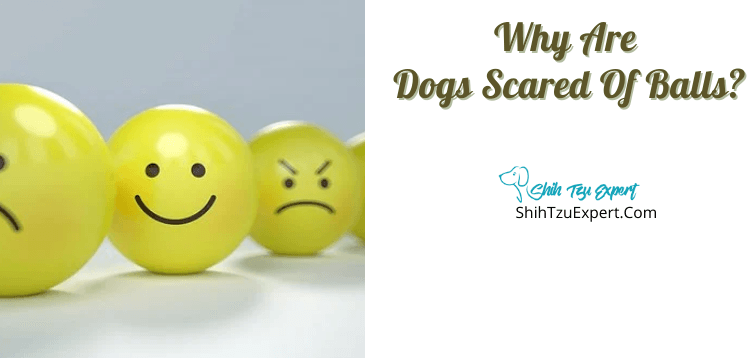 There are a few tips to keep in mind when your dog is afraid of balls. These are some things you should know:
Don't be anxious around the ball
Don't expose your dog to the ball too suddenly. Do it in small steps over time instead.
Don't punish your dog for being afraid of the ball
The goal is not to make the experience with balls a negative one, but to make it a positive one instead.
Should You Comfort A Dog Scared Of Balls?
There's nothing wrong with comforting a dog afraid of balls. However, if you want your dog to overcome his fear of balls, the best thing to do is to desensitize him. Reward him for staying calm in the presence of a ball and for interacting with it.
What Exactly About Balls Is My Dog Scared Of (The Look? Noise? Sounds? Vibrations?)
Dogs can fear many things that are new to them or unexpected. There are a lot of things about a ball that can be scary to a dog who has never been around one.
Dogs can fear the look of the ball, the sounds it makes when it's moving or bouncing, its movement, or even a shadow or the way light reflects off of it.
Puppy Terrified Of Balls
If your puppy has never seen a ball before, it should not come as a surprise if he is afraid of it. If your puppy is coming from a shelter or an abusive past, a ball may terrify him if he associates it with a bad memory.
The best way to help a puppy overcome his fear of balls is to train him that the ball is okay. Desensitizing and target training are some methods that you can use. If you need help with training, a professional trainer is a good resource to use.
If your puppy has not yet reached 14 weeks old, now is the optimal time to teach him that balls are okay. The best time for them to develop their confidence is between 3 and 14 weeks.
Why Is My Old Dog Is Suddenly Afraid Of Balls?
Fear can develop over time if it's not dealt with early on. A dog's fear can increase with age because it will only be reinforced over time.
Maybe your dog only had a minor fear of balls a few years ago, but if he kept getting exposed to balls his fear could have been reinforced by those encounters.
My Dog Is Getting An Increasingly Severe Fear Of Balls [Trembling & Pulled So Hard]?
Perhaps your dog has been through a recent traumatic experience with a ball, or one where a ball was present. This could have given him a new fear of balls.
He could have also had a minor fear of balls early on in his life and over time, that fear has been reinforced and grown in severity.
It is important to recognize when your dog has developed a fear so you can counteract it with positive reinforcement so the fear does not continue to grow.
Are Balls Dangerous To Dogs?
Balls are no more dangerous to dogs than they are to young children. To make sure your dog stays safe when interacting with balls, be careful not to allow your dog to get hit by them. Make sure your dog does not try to chew on them either.
If your dog were to chew up a ball, he could swallow the pieces. If he swallows the pieces of a ball or a whole small ball, it can cause him to choke.
Can & Do Dogs Destroy Balls?
Dogs can destroy balls by chewing them. If your dog likes to chew objects, or if he suffers from separation anxiety, he may chew balls or other objects.
If your dog chews balls, the best thing to do is to keep the balls out of his reach and give him a chew toy instead. You can also train your dog not to chew objects by using a positive reinforcement or reward training method.
A positive reinforcement method is a method of training that rewards the dog for doing the action you're training them to do. Both the desensitization and target training methods discussed in this article are forms of the positive reinforcement method.
If anxiety is the root issue for chewing, it may be best for your dog to undergo training and seek help from a veterinarian or professional trainer.
Dog Scared Of Golf Club Hitting Ball Noise?
Dogs can be afraid of unfamiliar sounds, just like they can be afraid of unfamiliar objects.
If your dog associates the sound of a golf club hitting a ball with a negative memory, he may react in fear based on that memory. The sound could even remind him of abuse.
The best way to deal with this fear is to either make sure your dog is not exposed to the sound or desensitize him. When desensitizing him, slowly expose him to the sound and reward him every time he hears the sound and stays relaxed.
My Dog Accidentally Got Hit In The Eye/Head/Body With A Tennis/Golf/Soccer Ball [What Should I Do]?
It's never a pleasant experience when your dog gets hit with a ball. When this happens, the best thing to do is to give your dog some good memories of the kind of ball he was hit with.
Outweigh the negative experience with more positive ones so that he does not begin to associate balls with the bad experience. Doing this will ensure he does not develop a fear of balls.
Desensitize him to the ball if necessary and then reward him for interacting and playing with it.
Some dogs are terrified of balls, and some are just not interested. Some fears stem from unfamiliarity or bad memories.
Rewarding your dog for good behavior, keeping calm, and playing with balls will help your dog overcome his fears and join you in playing ball.
References
Becker, M., Radosta, L., Sung, W., & Becker, M. (2018). From fearful to Fear Free: A positive program to free your dog from anxiety, fears, and phobias. Health Communications, Inc.
Hiby, E. F., Rooney, N. J., & Bradshaw, J. W. S. (2004). Dog training methods: their use, effectiveness, and interaction with behaviour and welfare. Animal Welfare, 13, 63–69.
Karen Pryor Academy. (2020, November 25). Helping dogs overcome the fear of objects. Karen Pryor Academy. Retrieved October 26, 2021, from https://karenpryoracademy.com/helping-dogs-overcome-the-fear-of-objects/
Sassafras Lowrey, C. T. D. I. (2020, August 11). How to teach your dog to fetch. American Kennel Club. Retrieved October 27, 2021, from https://www.akc.org/expert-advice/training/teach-your-dog-to-fetch/