Whilst dogs are one of the most loved animals, it is well known that they are a key part of the police force. They play a key part in keeping us all safe. But one of the main confusions regarding them is what K9 actually means.
Why Are Police Dogs Called K9?
There are a few reasons why police dogs are called K9 and there are also a variety of different factors to consider when it comes to police dogs. This includes pay, what they're fed, and what happenes when they retire.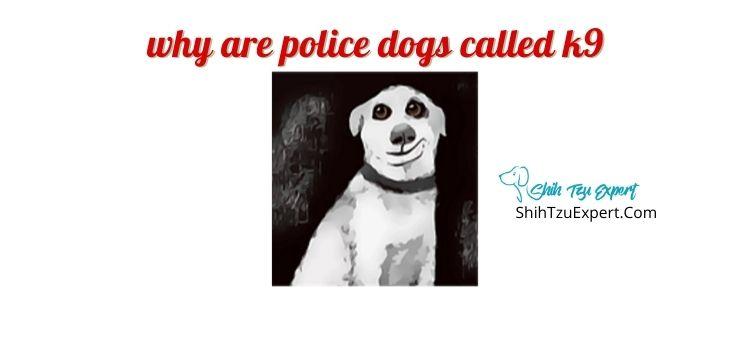 Are Al Dogs Called Canines (K9) Or Only Police Dogs?
Dogs can be referred to as K9 as a shortened version of canine and this comes from the Latin word caninus, which means dogs. However, in this current day and age, only police dogs are referred to as K9.
Are All Police Dogs Male Or Can Female Dogs Be Police Dogs?
Both male and female dogs can be police dogs. Having said this, male dogs are more likely to be chosen as police dogs than female dogs. This is because they show more aggression and tend to be stronger than female dogs.
Do K-9 Dogs Wear Bulletproof Vests?
Not all K9 dogs wear bulletproof vests. This is because most K9 units are self-funded and law enforcement agencies don't have the budget to be able to provide every single member of these units with bulletproof vests.
Do Police Dogs Swear An Oath?
It has been known in some cases for police dogs to be sworn in using an oath, just like any other police officer would be. This might not necessarily be the case for all police dogs, but some places might swear their police dogs in.
Do Police Dogs Bite Hard?
Police dogs are trained in different disciplines. One of these disciplines is apprehension and these dogs are trained to bite dangerous suspects and hold them hostage. It's important they know the difference between suspects and normal people, so they don't bite people who aren't a threat.
Do Police Dogs Get Paid?
As police dogs are seen as property, they don't get paid in the form of a salary. However, they will get lots of playtime and treats in reward for doing a good job. The police department also covers their medical, food, training, exercise, and housing bills.
Do Military Dogs Get Paid?
Just like police dogs, military dogs also don't get paid. As compensation, they get paid with full care and constant rewards. Their handlers get paid to care for and look after them. However, the dogs hold a higher military rank than their handler in order to avoid abuse.
Do Police Dogs Go Home With Their Handlers?
Yes they do. This is because it helps build a stronger relationship between the handler and the dog. This is because the more time the dog spends with their handler, it helps them learn to trust and care for them. This is because the handler will have to care, feed and groom them.
Are You Allowed To Pet Police Dogs?
It's best to not try and pet police dogs. This is because they are trained by their handlers and have been trained to react in a certain way to different scenarios. Petting them could throw them off in so many different ways and could be detrimental to the safety of others. Always ask first.
Are Police Dogs Considered Police Officers?
Whilst there are laws which help see police dogs in the same league as police officers to help protect them, they're not necessarily seen as police officers. Even though dogs can be sworn in as an officer, this is more of an honorary thing and isn't legal in any way.
Do Police Dogs Have Ranks?
Police dogs are non commissioned officers and are given a rank that is higher than their handlers. This is to stop the dogs from becoming mishandled, but is more of a customary tradition than anything else.
What Is A K9 Officer?
A K9 officer is a specialised officer who use service dogs to help perform some of the duties of a police officer. These officers are also trained to be dog handlers, which means that they have to train and look after the dogs they are given.
Can Any Dog Be A K-9?
This isn't really the case. Even though K9 is a shortened version of canine, K9 is typically used for dogs within the police force.
How Do Police Dogs Get Chosen?
Police dogs tend to be specifically bred to do this role. This is the reason why there are only certain breeds that tend to become police dogs as they come from generations of dogs that have been specifically bred for this.
Top 10 Police Dog Breeds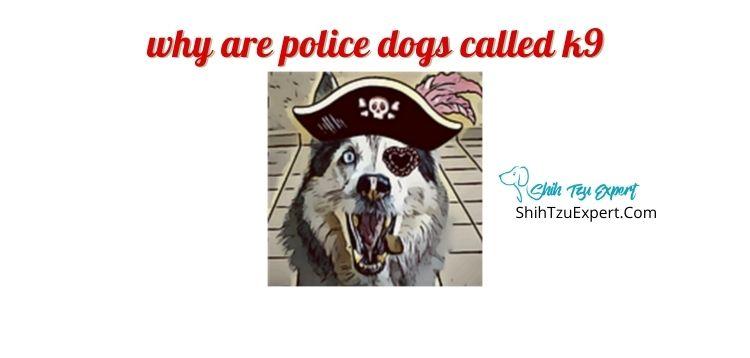 The following is a list of the top 10 police dog breeds, not necessarily in order:
German Shepherd
Bloodhound
Dutch Shepherd
Belgian Malinois
Retrievers
Rottweiler
Doberman Pincer
Pitbull
Basset Hound
Beagle
What Is The Best Police Dog In The World?
The German Shepherd is often associated as being one of the best police dogs in the world. This tends to be because when you're out and about, if there are any police officers on the streets with a dog, this will more than likely be a German Shepherd.
How Much Is A Police Dog Worth?
It is believed that a fully trained police dog can cost anywhere between $30,000 and $80,000, with the average sale price being $50,000. However, if the dog is from a pedigree bloodline or is an award winner, they can be sold for much more.
What Is The Most Common Police Dog?
The most common police dog is the Belgian Malinois. This is because they are the most versatile of all of the breeds of dogs that are likely to be used as police dogs and are also the easiest to train when it comes to their duties.
What Dogs Does The Secret Service Use?
The Secret Service first started off with using German Shepherds. However, these days they are known to use Belgian Malinois. They changed to this breed because they are known to adapt quickly to new climates and environments and have a really good work drive.
What Dog Protects The White House?
The White House uses the same type of dog as The Secret Service, a Belgian Malinois. This dog was given the animal equivalent of an OBE in 2019 for protecting the President from an intruder who had a gun.
Does The Fbi Have A K9 Unit?
Yes they do. The FBI currently has 15 dogs, 5 of which currently work at their headquarters at Washington DC. However, they use Labradors as they're calm and friendly and the FBI often works with the public, which is why they need dogs like this.
How Many K9 Officers Are There In The United States?
It is believed that there are 205,339 K9 officers currently in the United States. 6.6% are women and 93.4% are men. The average age of a K9 officer is 40 years old and the most common ethnicity is white at 66.1%, Hispanic/Latino at 17.1%, Black/African American at 11.5%, and Asian at 2.6%.
Can A Woman Be A K-9 Officer?
Of course a woman can be a K9 officer! However, as previously mentioned, only a very small percentage of all K9 officers across the United States are actually women, at 6.6%. But just because this number is small, doesn't mean you should be put off from applying if you are a woman.
Can Police Dogs Smell Through Coffee/Chill/Etc?
Yes they can. If anything is hidden in food stuff, such as coffee, that shouldn't be there, police dogs will be able to sniff this out. This is widely known and is often why criminals won't try to hide anything in coffee because they know dogs can sniff out the different scents.
How Long Do K-9 Dogs Work?
K9 dogs typically work anywhere between six and nine years. This will often depend on the dog, the types of scenarios they experience and how fit they are considered to remain in the force.
What Age Do Police Dogs Retire?
Police dogs tend to retire when they are 9 years old and in this time will have spent around 8 years in the police force. This is at the preference of the police force and they would have started at some point between 12 and 15 months old.
What Happens To K9 Dogs When They Retire?
When K9 dogs retire, they can either be adopted by their handlers or by members of the general public. They are most likely to be adopted by their handlers as they will have already lived with and got attached to their handler, but if the handler doesn't have the space or time for them, someone else can adopt them.
Do Retired Police Dogs Make Good Pets?
They can make good pets, however, there are a few things you should know. When a police dog retires, they can exhibit quite a few negative behaviours, such as anxiety, depression, aggresion, PTSD, and anti-social behaviour. They are also in their senior years, so will require more care.
Do Police Dogs Get A Pension?
No, police dogs do not get a pension. This is mostly due to the fact that they do not get paid during their time in the force. Some police departments might provide the owner of the dog with money to go towards their medical bills as a way of a type of pension, but others won't do this.
How Are Police Dogs Treated?
Police dogs are treated very well. They have a handler who is there to train and look after them and as they are ranked higher than most police officers, this prevents them from being abused. However, they work in a dangerous field, which can mean the scale of their injuries varies.
How Many Times A Day Do Police Dogs Eat?
It is best to feed police dogs once a day as this is what is most convenient for their schedule. However, there are some precautions with this and even though feeding them once a day might be what's most convenient, it might be better to feed them two times a day.
What Do Police Dogs Eat?
The majority of police dogs are fed a diet of dry dog food. However, it's recommended that police dogs (and all dogs, really) are fed a diet of raw food due to it's amazing health benefits. But the issue with raw food is it can be difficult if they work midnight shifts and get an unexpected call out.
What Is Robby's Law?
Robby's law is a law that was created to stop retired police dogs from being put to sleep once they retire. This law now means that once a police dog retires, they can be adopted, either by their handler or a member of the public, to stop this from happening.
Are Police Dogs Not Neutered (Castrated)/Spayed?
Female police dogs are always spayed because of their heat cycles and also for some medical benefits. When it comes to male police dogs, it varies on whether they're neutered or not, but it's often done either for medical or behavioural reasons.
Do Navy Seal Dogs Have Titanium Teeth?
Yes and no. It was reported that Navy Seal dogs had their teeth ripped out and replaced with titanium teeth. This isn't true. However, due to the likelihood of breakage occurring in their teeth as they're trained to bite, if this happens, they're natural teeth are replaced with titanium teeth.
What Dogs Do Navy Seals Use?
Navy Seals are most likely to use Belgian Malinois dogs as their dog breed of choice of serving alongside them. The Navy Seal dogs are given their own body armour and night-vision goggles.
References
https://www.nationalpolicedogfoundation.org/about-k9s
https://www.fbi.gov/video-repository/newss-fbi-working-dogs/view
https://www.nationalpolicedogfoundation.org/retired-k9-medical-assistance
https://www.nationalpolicedogfoundation.org/faq