Would A Retired Show Dog Make A Good Pet?
Retired show dogs could be good household pets. First, they are socialized to both people and dogs. Second, they have had excellent health care and training. Third, they are purebred dogs that do not cost as much as purebred puppies. Adopting one of these dogs would be a good choice.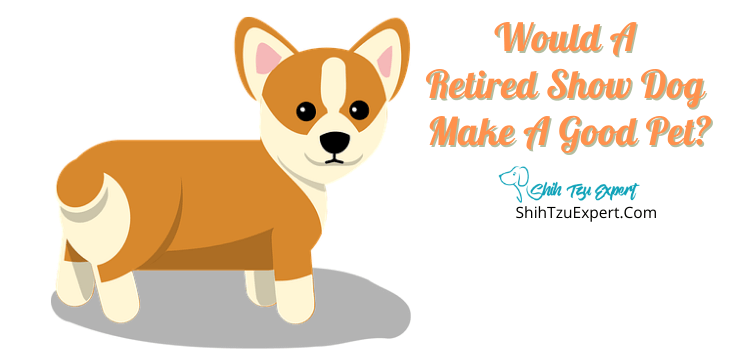 What Happens To Show Dogs When They Retire?
When it's time for a show dog to retire, the way they retire depends on the personal or business needs of the owner or breeder and/or the needs of the dog. Retired show dogs may be bred, they may live out the rest of their lives with their owner/breeder, or they may be adopted out or rehomed to a different owner.
Why Do They "Rehome" Retired Show Dogs Instead Of Keeping Them?
Retired show dogs may be rehomed by their owner/breeder. Breeders may own several dogs that they are showing and do not have a sufficient amount of space to keep a show dog they have retired. Sometimes, someone may want a dog of a specific breed that the breeder is ready to retire and it frees up space for the breeder to acquire or breed more puppies.
Some dogs may tire of competing in shows and the breeder will retire them and place the dog in a home with someone who can care for the dog in a more relaxed environment. Dogs are rehomed for a wide variety of reasons, but often the main reason is to make sure that the dog can live out their days in a comfortable, loving home.
What Does Retirement Mean For Show Dogs?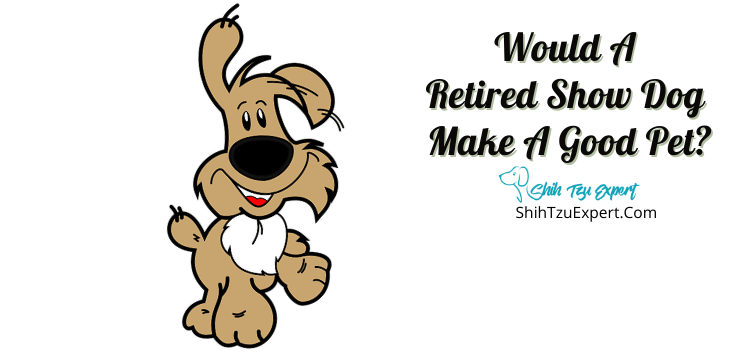 Retirement can mean different things for different show dogs – it all depends on what the owner/breeder wants.
For owners who are breeders, retirement may mean that the dogs are used for breeding instead of competing in shows. Breeders can breed new puppies in order to increase the number of dogs they have available for showing. Show quality puppies from champion show dogs are highly desirable. Sometimes, dogs can be pulled out of retirement after being bred to continue competing.
For show dogs that have been rehomed, breeders may rehome the retired dog under contract with the new owner for future breeding rights. For non-breeder owners who are not serious competitors, retired show dogs may simply live out the rest of their days with their owner.
When Do Show Dogs Retire? (After Winning / Old Age)?
The age range at which show dogs retire is highly variable. Some owners retire their dogs after winning a championship, while other owners continue competing for years, particularly if their dog is exceptional.
Sometimes, owners will enjoy their dog being the "top dog" for a few years before retiring. Breeders may show a dog to a championship to earn name recognition and then retire that dog for breeding.
Once a dog seems like it does not enjoy showing, owners will retire them. Likewise, if a dog seems to lose their edge in competition, the owner will retire them.
There is no rule that owners must follow when making the decision to retire their show dog.
What Age Should A Show Dog Retire?
The age at which a show dog retires is completely dependent on the goals of the owner and on the needs of the show dog. Breeders that want to breed their show dog will retire their dog so they can breed them. This could happen at any age, especially after the dog has made a name for itself at the shows in which it competes.
Dogs eventually may tire of and not find enjoyment participating in shows. Owners should recognize that when it happens and retire them.
Many dogs retire by the time they are 6 years old. However, there are some dog breeds the are slower to mature, such as Sussex spaniels. These breeds may peak at a later age for showing than other breeds.
Older dogs, even 10-year old dogs, do win at dog shows. There is often a veteran category available for older dogs at many shows.
Age is just a number for dogs and a show dog's age in no way dictates when it should retire.
Are Show Dogs Pets?
The average person thinks of dogs as pets in the traditional sense – dogs are a part of the family, a companion that knows a few tricks, and a member of the family that you take on walks and play fetch with outside. Some show dogs belong to more traditional owners like this, people who show their dog for fun.
Other show dogs belong to owners who are very serious about showing their dogs and spend a lot of money doing it. Some of the serious owners hire handlers to work with their show dogs and travel with them. Show dogs owned by the most serious of competitors may not spend as much time with their pet in the traditional sense until their show dog has been retired. For those more competitive owners, they may even choose to rehome their show dog upon retirement so that they can continue to work with or breed new show dogs.
Show dogs are well-loved by their owners and handlers and receive the best care, even if they are not pets in the traditional sense. In this respect, show dogs may be more similar to working dogs than normal pets.
Do Retired Show Dogs Have To Be Trained?
Retired show dogs may have an adjustment period before they are comfortable in their new retired status, especially if they are rehomed after retirement. As a result, some new training may be required during the transition period.
Patience is key with training retired show dogs. They are adult, often older adult dogs, that may be confused as to why their situation has changed. Show dogs have been trained to perform at dog shows. That training may be different from what a general pet owner may know. As a result, retired show dogs may have to be trained the way a puppy would be trained in order to fit into their retired home life.
Where Can I Find Retired Show Dogs For Adoption?
If you are looking for a retired show dog for adoption, look at reputable breeders. They may wish to rehome their older, retired show dogs in order to be able to breed more puppies.
Attend dog shows and get to know the community, particularly the community of people who show dog breeds you are interested in adopting. Understand that some purebred dogs have health problems, so thoroughly research breeds before deciding which breed to adopt.
Research breeders and understand their breeding and training methods. Not all breeders are the same, so understanding how a dog has been bred and trained can help you find the best possible dog for adoption. Understand that some breeders that you adopt from may wish to retain breeding rights to your dog and will require that you sign a contract to allow for that possibility.
What Is An Ideal Retirement Home For A Show Dog?
An ideal retirement home is one that is willing to be patient with retired dogs as they make the transition to a less regimented, less restrictive lifestyle. Because show dogs typically receive the best care to maintain and develop their show quality, those dogs are accustomed to the best food, healthcare and training available. They have highly regulated lives that allow them to achieve wins in competition, just like any human athlete.
Patience is required by the new owners of the retired show dog and often, breeders will vet the new owners before allowing them to adopt.
How Much Do Retired Show Dogs Cost [Are They More Expensive Than Other Dogs]?
Purebred dog breeds are typically pretty pricey. The average price for some of the most popular breeds is around $2,000 to $4,000. Some breeds, like the French Bulldog, may cost more than $5,000.
By the time show dogs are retired, however, they do not cost that much money. Because retired show dogs are often older dogs, they may only have a few years left before the end of their lifespan. As such, they would not cost the same as purebred puppies.
Oftentimes, breeders will rehome retired dogs to make room for younger show dogs. When they do that, they may rehome the dogs with a contract that allows them to continue breeding that dog if they choose. As a result, they may rehome that dog for a small fee or for free, depending on their relationship with the new owner.
How Difficult Is It To Find A Retired Show Dog?
Finding a retired show dog may be difficult. There are online forums available that may be helpful in finding a reputable breeder of show dogs, but becoming active in the dog show community may be a necessary step to finding a retired show dog to adopt.
If you want to adopt a retired show dog, attending dog shows and getting to know the breeders who show their dogs is an important step in finding the right show dog to adopt. Once a relationship is established with owners/breeders, it may be much easier to find a retired show dog that needs to be rehomed.
How Would I Go About Acquiring A Retired Dog From A Good Breeder?
To find a reputable breeder, start your research online. Look for online, breed-specific forums that offer support for various breed owners. Get to know the online community and ask questions about specific breeders. Breeders sometimes advertise themselves online and in magazines that cater to the dog show community, such as Showsight or Best In Show.
In addition, attend dog shows and get to know people. Ask questions to find out how breeders raise and care for their show dogs. Develop and maintain a relationship with breeders who raise breeds in which you are interested. Breeders often prefer to rehome their retired dogs with people they know.
Pros And Cons You Should Consider Before Getting A Retired Show Dog
There are several pros and cons associated with adopting a retired show dog. It's important to understand and be aware of all of the potential problems that can arise.
First Class Care:

Pro – show dogs receive the best of care and the best quality food from the moment they are born. They are as healthy as money can buy. As a result, show dogs may have a better quality of life and increased longevity.
Con – that kind of care is expensive. Adopting a retired show dog may mean transitioning the dog to lower quality and less pricey food and care.

Best Training:

Pro – show dogs receive the best training. Owners who are serious about competing in the most prestigious shows may even hire a handler to train and show the dog.
Con – the training a show dog receives may be very specialized and the new owner of a retired show dog may be unaware of the commands and type of training and reinforcement to which the show dog is accustomed.

Trained To Be Courteous & Obedient:

Pro – show dogs are socialized with both humans and other dogs very early in their career so that part of the dog's training is already done. Show dogs are accustomed to being obedient to their owner or handler and likely follow instructions well.
Con – retired show dogs may experience a transitional period where they have to learn how their new owner expects them to behave. That can be challenging for both the dog and their new owner.
References
Dunham, Nancy. June 11, 2021. How Much Are Those Doggies in the Dog Show? What 18 Top Breeds Cost. Money Talks News. https://www.moneytalksnews.com/want-a-happy-retirement-do-these-things-first/
Lee-Smith, Mel. June 8, 2021. Do Show Dogs Make Good Pets? Wag! https://wagwalking.com/wellness/do-show-dogs-make-good-pets
Rattner, Francine. March 3, 2015. Ask a Vet: Can an ex-show dog be a good pet? Capital Gazette. https://www.capitalgazette.com/lifestyles/ph-ac-vet-0302-20150303-story.html
Ronchette, Vicki. Retirement Homes for Show Dogs. Show Dog Prep School. https://showdogprepschool.com/retirement-homes-for-show-dogs/
Thomas, Katie. Owners of Older Dogs Revel in Westminster Winner. Feb. 11, 2009. The New York Times. https://www.nytimes.com/2009/02/12/sports/othersports/12dog.html