Does your dog like to lay by the heater as much as possible? This is actually very common, but is there a reason that so many dogs like to do it?
Why Do Dogs Love Heaters?
Dogs love our heaters because they are very warm-blooded animals and like to be warmer than we as humans would tend to keep our houses and heaters keep them nice and toasty!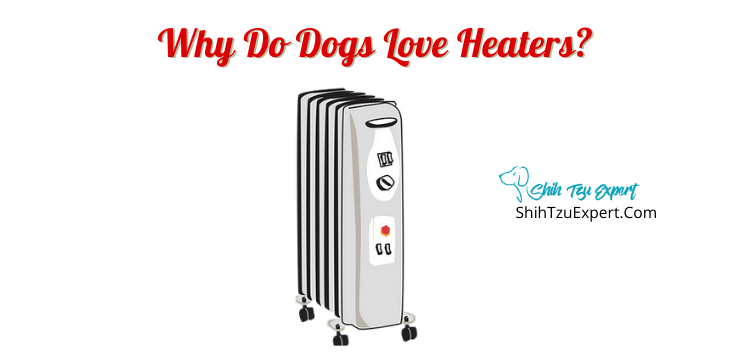 Do All Dogs Love Heaters?
Just like us, dogs are very individual and what is good for one dog may not be good for all dogs, however, most dogs will lay by the heater on a cold day.
Unless a dog is always warm or afraid of the heater, chances are you will find your dog curled up next to the heater on any chilly day.
Why Is My Dog Not Scared Of The Heater?
This is a strange one, sometimes it seems like a dog is afraid of everything but these machines that can often be quite noisy and don't look very friendly and they aren't scared off at all.
This is most likely because they felt the warmth (which they very much want) before they noticed any of the otherwise quite scary aspects of the machine.
They have weighed out the pros and cons of the machine and decided that they quite like it!
Are Electric Heaters Bad & Dangerous For Dogs?
Most modern electric heaters are safeguarded and perfectly safe to have around your pet because the surface of them doesn't actually get hot to the touch.
However, if you have an older style of heater, you should keep it in a separate room away from any pets or children as they can and will burn anything that touches them.
Are Gas Heaters Bad & Dangerous For Dogs?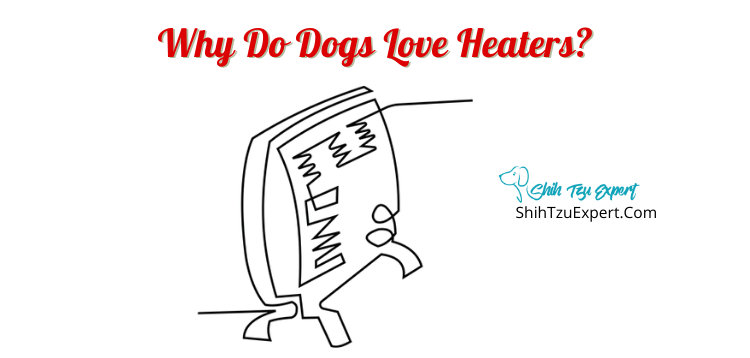 Gas heaters are quite a bit more dangerous for our furry friends than electric heaters because as the name implies, they run on gas, which can be harmful to any animal breathing them in.
If you have a gas heater, it is important to monitor how long they are laying near it, both because they could overheat and inhale too much carbon monoxide, which can be fatal.
You should also make sure that if you are running a gas heater, you can a carbon monoxide alarm to check for any leaks as these can be fatal for the whole family.
Always be sure to supervise any heater in the house if you have pets or children.
Why Do Dogs Like To Lay By Or In Front Of Heaters?
I think the obvious answer would be because they are cold and want to warm up and the best way to do that is to lay in front of the heater.
It could also be because they are lonely though, when animals are lonely we crave warmth as if to simulate having others near us.
If you find your dog often laying near the heater, try to see if they would like to cuddle up with you instead.
Is My Dog Sitting Too Close (In Front) To The Heater?
This depends on what kind of heater you have and how far they are away from it.
Dogs unlike us have a layer of fur that insulates their skin not only from the cold but from extreme heat as well.
This means that they can have their hair singing from the heater and not even notice because it won't be burning their skin.
So if you notice your dogs fur getting too hot, even if they seem fine with it, it is in their best interest to move them back a foot or two.
Is It Actually Safe For Pets To Lie Or Sleep So Close To The Heater?
A heater is never 100% safe as they can malfunction or protective insulation can wear away so your pet should always be supervised with one.
That being said as long as you are supervising them, have the appropriate alarms if it is a gas heater and check them every so often to make sure they aren't getting too hot, they are fine to lie in front of the heater.
Is It Safe For A Dog To Sleep Next To A Radiator?
The thing about radiators is that they can get very hot to the touch but don't really make the air around them too hot.
So if your dog wants to lie next to the radiator make sure that they are in no way touching the radiator and that they are far enough away that they won't roll over in their sleep and be touching the radiator.
Can I Put My Dog's Bed Near The Heater?
You can 100% put their dog bed near an electric or gas heater as long as it is not too close, about two feet away from the heater should be plenty of distance.
If the heater in question is a fire, you should not put a god bed anywhere near it. If a spark from the fire were to land on the dog bed it would easily go up in flames.
If you are going to have a dog bed near the heater, you should also have one in a more cool area in the house.
This is so that they still have a bed to lie on if laying next to the heater gets too warm for them.
Why Is My Dog Just Staring At The Heater (What Is He Looking At)?
Dogs look off in the distance all the time, this can either mean they are thinking about something or their brain is completely empty and they have just switched off for a bit mentally.
Most likely they aren't actually looking at the heater, that just happens to be the direction they are looking in while thinking.
Will My Dog Stay Away From The Heater?
Dogs are very curious animals so if you leave them alone with something that is new or they know they aren't allowed to go near, they will probably investigate it as soon as you leave.
This is why you can't leave animals or children unattended with heaters.
Do Dogs Instinctively Know That Heaters Can Be Dangerous?
Some very intelligent dogs may be able to tell something is dangerous if they see you being cautious of it but otherwise, no.
If you think about it, there is nothing in the wild like a heater that a dog would encounter to know to be wary of it.
Dogs, unfortunately, have the same self-preservation skills around household items as a toddler does, so they do have to monitor around them.
How To Keep A Dog Safe From A Heater (List Of Things To Keep In Mind)?
Never leave your dog alone with a heater that is switched on or recently used.
Do not let your dog be around the heater for longer than you would allow yourself or a child around the heater.
Give them a pet every so often to check their fur and see if it is getting too hot.
Make sure you have all the necessary alarms for the type of heater that you're keeping and do regular checks to make sure they are functioning properly.
What Is The Difference Between Radiators & Heaters?
The difference between radiators and heaters is the way that they spread heat, as the name implies, radiators radiate heat whereas heaters use a convection heating method.
Radiate heating is like when you put your hand up to a fire, it radiates the heat outward from the heat source. This happens as heat travels through radiation in the form of waves.
Convection heating is when the hot air expands, becoming less dense and then rising to the top and then slowly cooling and condensing to the bottom, causing a heating loop.
Why Is My Dog Obsessed With The Heater?
If you can't seem to get your dog to leave the heater, your house is probably at too cold of a temperature regularly.
Dogs have naturally higher core body temperatures which mean that rooms that might be fine for us are a bit too chilly for them.
Can A Dog Overheat From A Heater?
Dogs can very easily get overheated, especially those with big fluffy coats. To prevent this make sure to monitor how long they spend in front of the heater.
Can Dogs Burn Themselves On Radiators?
Radiators while not drastically increasing the air around them can actually reach a surface temperature of up to 176°F (80°C).
This means that if your dog has direct contact with the radiator it can absolutely burn them, so be sure to be careful with radiators.
Do Dogs Like To Be Hot Or Cold?
Whether or not a dog prefers warm or cool temperatures depends not only on the particular dog's preferences but also things like breed and age.
Dogs with thick coats prefer things to be a bit on the cooler side whereas dogs with thin coats or no fur at all are not as good at retaining heat and thus prefer slightly higher temperatures.
Dogs that are old can struggle with both retaining temperature and staying cool so they need a very mild in-between temperature.
Young puppies on the other hand should be kept slightly warmer than necessary as an adult as they can't regulate their temperature yet and have a very thin puppy coat.
Should I Leave The Heaters On For My Dog (When I Am Not At Home)?
Heaters should not be left unattended with your animals.
If the house is too cold and you have no other option available to heat it, be sure to put your heater in a room the dog does not have access to.
It is also especially important in this scenario that you have properly functioning smoke and carbon monoxide alarms in case of an emergency.
Can The Heater Make My Dog Sick?
There are a few ways that a heater could lead to illness for a dog.
One way is if they sit by the heater too long and get too hot, they could develop heatstroke which can result in seizures or even death if left untreated long enough.
They could also end up with carbon monoxide poisoning if you have a gas heater. This is very seriously life-threatening and if you suspect your dog has it, take them to the vet immediately.
Do Dogs Like Hot Weather?
While some dogs do prefer cooler climates there are actually a lot of dogs that love the hot weather!
Here are some dogs breeds that thrive in hot climates:
Dobermans
Dalmations
Great Danes
Greyhounds
Whippets
Do Dogs Like To Be Warm When Sleeping?
This depends on the temperature both in and outside the house, as well as your specific dog's personal preferences.
If it's a very hot day your dog will probably be looking for nice cool surfaces to rest on.
As a general rule dogs do like to warm a nice and warm place to sleep but as it is much harder for dogs to cool down than warm-up, I wouldn't recommend a sleeping space that is overly hot.
Do Dogs Like Heating Blankets?
While you may love your heated blanket for those cold winter days and your dog might love to snuggle with you with it turned on, heated blankets are not safe for dogs.
Heated blankets are made with a high enough voltage that they could easily burn your dog while they're sleeping. They are not recommended for use with dogs.
Do Dogs Like Heating Pads?
Heating pads are usually what are put in heated dogs beds to warm them up and are perfectly safe for dogs due to their low voltage.
This is a really great option if you feel like your dog is too cold at the regular temperature you like to have your house at.
Do Dogs Get Colder And Feel Cold Than Humans?
Dogs actually run a little warmer than humans do and have an easier time warming up than cooling down.
A dog's normal body temperature will be around 101-102.5°F (38.2-39.2°C) whereas a human's normal body temperature will be around 97.7-99.5°F (36.5-37.5°C)
What Temperature Is Too Hot For My Dog In The House?
The general rule of thumb is to keep your house under 80°F (26°C) but factors like your dog's age, weight, breed, etc. can change what temperature is comfortable for them.
When in doubt, consult your vet on what temperatures are the safest and most comfortable for your dog.
What Temperature Is Ideal For My Dog (Inside & Outside The House)?
Around 68-70°F (20-21.1°C) is the perfect temperature to keep your home at as it is comfortable for both you and your dog.
Never set your thermostat below 60°F (15.5°C) though as that is too cold for your can and can lead to issues such as hypothermia.
Why Does My Dog Get So Hot At Night?
If your dog is getting excessively hot at night, it is most likely because their bed is in an area of the house that is too warm or your house is just too warm in general.
How Do You Know If A Room Is Too Hot For A Dog?
If you do not have a thermostat in order to check how hot your room is, the best way to tell is to get a temperature gun and check that way.
How Can I Tell If My Dog Is Too Hot?
Here is a list of symptoms that you can look out for to identify whether or not your dog is too hot:
Excessive panting.
Dry or strange-looking gums.
Erratic pulse
Diarrhoea or vomiting
How Can I Treat An Overheated Dog?
Move them immediately to a cooler spot and allow them to cool down (do not put them somewhere very cold as this could put them into shock, just moderately cool like in the shade).
You can also wet some towels and lay them across your dog to help them cool down and make sure they have cool water to drink.
If symptoms persist bring your dog to the vet immediately.
How To Keep My Dog From Getting Too Hot?
For the inside of your house, make sure the house isn't kept too hot in the first place and have a dog bed in both a warm and a cool area of the house for your dog to lay in as they please.
For when you are outside your house when you need to keep your dog cool, just make sure there is shade from the sun for them to sit in to keep cool and bring plenty of water with you.
How Should I Setup Up A Heater For My Dog?
If your heater is one that is a modern heater that stays cool to the touch, you shouldn't have to modify how or where it is set up for your dog as it is already safe.
If your heater isn't safe for dogs, it should be put in a room that your dog would not have unsupervised access to.
References: