Dogs are afraid of a lot of things that seem unusual to humans. We must learn what makes our pets scared to make sure they feel comfortable and safe living with us. One of those fears is of NERF guns which we will talk about more in this article.
Why Are Dogs Scared Of NERF Guns?
All dogs have fears and many share the fear of loud, booming noises. NERF guns may just be toys for kids but they can be really scary for dogs because of the sound. Plus, if they were ever hit by a NERF bullet before, they are going to associate that toy with pain.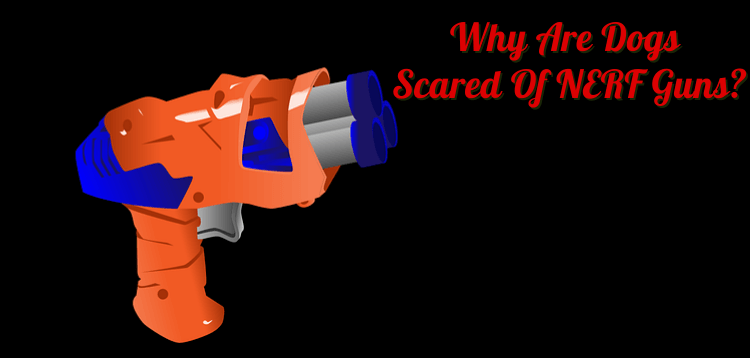 Why Are Dogs Instinctively Afraid [Freaks Out & Won't Stop Barking] Of NERF Guns?
Dogs are afraid of NERF guns for the same reason they are afraid of fireworks or the vacuum: it's loud. The high frequency coming from the toy is scary to our little pets because they don't understand it.
Especially if they see other people in the house running away from the NERF gun, the dog will respond the same way.
What Is A NERF Gun?
NERF is a brand that makes a variety of kid toys, the most popular being the NERF blasters. It is a plastic gun that shoots foam darts. Some darts have suction cups to stick to surfaces and other kinds are velcro-tipped. They come in all shapes and sizes that are meant to be fun and safe for kids to use.
How Do I Train (Counter Condition / Desensitize) My Dog To Not Be Afraid Of NERF Guns?
Slowly introduce NERF guns: Don't just start shooting the toy guns around the dog. First, bring the toys in the same room as the dog and let the dog see that they are safe. As the dog gets more comfortable, start shooting one dart at a time with the dog in the room.
Reward your dog: You want your dog to create a positive association with the guns instead of a negative one. So, every time someone in your house uses a NERF gun and your dog doesn't bark or react, give them a treat.
What Not To Do With A Dog Who Is Afraid Of NERF Guns?
Don't ignore the problem.
Your dog is a part of your family. You want them to live comfortably and not in fear. Allow your dog to get used to the NERF guns. You want to show them that there is no reason to be afraid of the noise or the darts.
Until your dog is truly comfortable, have your kids play with the toy guns in a separate area from the dog.
Should You Comfort A Dog Scared Of NERF Guns?
You need to find a good balance between comforting and punishing your dog. It's not their fault they are afraid, but on the other hand, you don't want to prolong their behavior.
As you are conditioning your dog to be around NERF guns, it is acceptable to comfort and pet your dog as soon as you sense your dog becoming overwhelmed and scared.
What Exactly About NERF Guns Is My Dog Scared Of (The Smell? Look? Noise? Sounds? Vibrations?)
The noise: Many dogs are afraid of loud noises, especially since we, the pet owners, can't explain the noise to them. They develop a phobia and it causes an anxious and fearful reaction to that sound.
Dogs mimic the actions of their owners: If someone in the house is afraid of the toy guns and runs or screams when they see it, the dog will recognize this. If the dog sees someone running away scared from the guns, they will think they should be scared too.
Puppy Terrified Of NERF Guns?
Puppies aren't born and instinctively know that guns can be scary and loud. Maybe your puppy came from an abusive home and is associating the NERF guns with that awful experience. It is also possible your puppy is very anxious and just developed a fear of loud noises.
My Old Dog Is Getting An Increasingly Severe Fear Of NERF Guns [Trembling & Pulled So Hard]?
No matter how old your dog is, they will be afraid of a sound or action if they were never introduced to it. It might even be scarier to an old dog if they are also blind because if they can't see they are relying more on their other senses.
If they never heard the loud shots fired from a NERF gun as a younger dog, they will be confused, uncomfortable, and scared as an older dog.
Are NERF Guns Dangerous To Your Dog?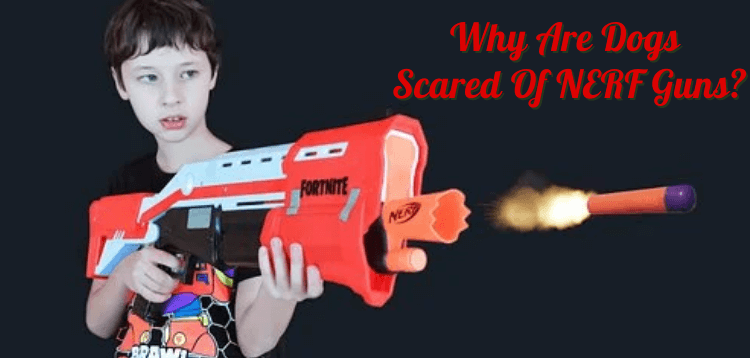 YES, but anything can be considered dangerous to your dog if not used properly.
It's important to teach your kids or anyone who is playing with a NERF gun around your pets, how to use them safely.
A dog could accidentally swallow one of the bullets and or get hit by one in the eye or nose. It can cause serious injuries and even death, so you might want to consider playing with the toy guns away from your dogs.
Dog Shot In Eye With NERF Gun [What Should I Do]?
Take your dog to the vet immediately.
Their corneas could be scratched and you will want to know how to treat your dog if it was badly injured.
What Happens If Your Dog Ate A NERF Bullet?
Take your dog to a local animal hospital.
The bullet could cause an intestinal blockage which could be fatal. You will want a doctor to look at them and see if they can remove the bullet before any damage is done.
Can A Dog Pass A NERF Dart [Dangerous For Puppies]?
It is possible the dart could go right through them and not cause any damage.
That should not be a risk you are willing to take.
If your dog ate a dart, take them to a doctor immediately so they can run tests and X-rays to make sure the dart is not causing any internal damage.
Are NERF Balls Safe For Dogs?
No, they aren't meant for dogs for a reason.
Our dogs love to play with balls and chew on them. If your dog starts chewing the NERF balls and breaks them, the foam on the inside will end up on the floor and inside your dog's stomach. You don't want your dog eating material that could make them very sick.
Buy your dog a safe toy ball that is meant for them to play with and chew.
How Should I React If My Neighbour Shoots NERF Darts At My Dog?
Just because they are your neighbor doesn't mean that gives them the right to scare or hurt your dog.
Your dog is your family.
You should react the same way as if your neighbor was shooting at one of your kids. You tell them to please stop and if they continue to do it, then you can contact your local police.
Can & Do Dogs Destroy NERF Guns & Bullets?
Anything can be a chew toy to a dog, but it is your job as the owner to train them properly.
Just as you teach them not to chew the furniture or the tv remote, you teach them not to chew on NERF guns and bullets.
Should I Use A NERF Gun Against Aggressive Stray Dogs?
If you can avoid the dog, then do so. If the dog is coming up to you and about to attack, and you just so happened to have a NERF gun in your hands, then give it a shot.
Keep in mind, you should never go out of your way to make an aggressive dog more angry and aggressive.
You really should call your local animal shelter and get that poor dog off the streets.
Why Is My Dog Scared Of My Handgun?
Your dog is associating the loud, scary sound coming from that gun. So, whenever they see your gun, they are scared because they know that the terrifying sound they heard before came from that object.
Again, you will want to train them and let them get used to the sight and sound of your handgun, but in their own time. Don't force them to be around your gun when they are still petrified of it.
References
https://dogtime.com/dog-health/dog-behavior/2580-noise-anxiety-dogs
https://www.vets-now.com/2017/09/Dogs-Cats-NERF-Toys-Risk