Much like their owners, they have individual personalities and preferences. Sometimes they can do things that leave us scratching our heads…like sleeping against walls. Why do they do this? This article talks about the possible reasons why along with ways to fix it if the situation calls for it.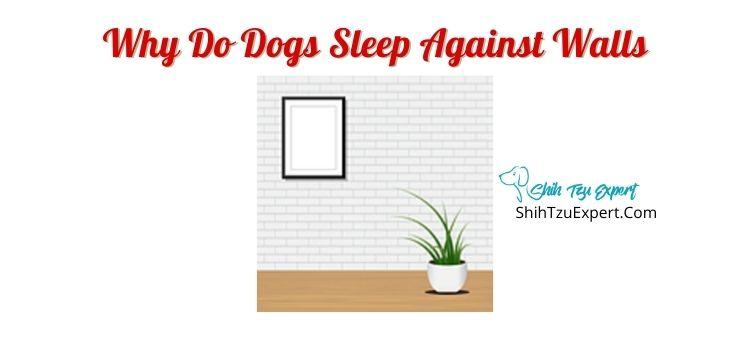 Why Do Dogs Sleep Against Walls?
There could be so many different reasons that your dog sleeps against the wall. It could be a health-related action, but that's not always the case. Sometimes they just prefer it or sometimes there are outlying factors that are the reason for this behavior. Reason to discover the reasons behind the curious action.
Is This Abnormal?
There are some instances where it can be abnormal for a dog to lay or sleep against the wall. However most of the time, there are easier and less concerning reasons as to why your dog has decided to sleep against the wall.
Is My Dog Sick? Why Do Dogs Sleep Against Walls?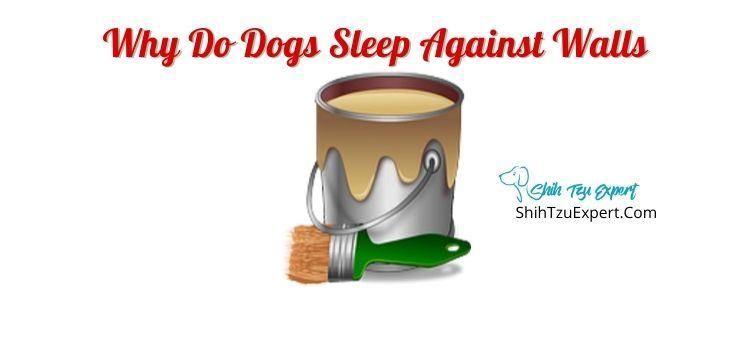 Just because your dog is sleeping against the wall, it doesn't mean that he is sick. Usually, if a dog is feeling ill or is injured they tend to hide. According to the American Kennel Club website dogs hide when they are sick or injured so that they can have their own personal space. It allows them to cope with the pain or discomfort on their own terms. This is not to say that it is impossible for your dog to sleep against the wall if he is sick. If your dog begins to sleep against the wall suddenly and is showing other signs of illness (sleeping a lot, lethargy, trouble breathing, etc) then you should call your veterinarian.
Should I Visit The Vet?
As mentioned in this article, you don't necessarily have to visit your vet if your dog is sleeping against the wall. If he's been doing it frequently or on and off throughout his life it is most likely nothing to worry about. However, if this is a new and sudden behavior-especially accompanied by other uncharacteristic behavior-it might warrant a trip to the vet.
Is My Dog Sleeping Against The Wall Because It's Too Hot Or Too Cold?
Sometimes a dog will sleep against the wall because of its cool surface, according to the pet blog Pet Helpful. So during the summertime, you may find your pooch relaxing or napping against the wall. Likewise, if you have the heat on in the winter and your dog has just come in from walking or playing outside, it might lay against the wall, using it as a conduit for warmth.
Dog Leaning Body Against Wall
There are multiple reasons that your dog would lean themselves against the wall. Most of them are the same as why they like to sleep against the wall. It can be a source of comfort, a way to mark their scent, a way to scratch an itch, a sign that they may need to see the vet, or just because they find it comfortable. In most cases, you should be able to tell if the action requires further investigation and/or medical attention.
Why Do Dogs Sleep Against Walls?
Just Marking Their Territory
Dogs have an extremely sensitive sense of smell. It's common knowledge that sense is much stronger than its human counterpart. It is also common knowledge that dogs are pack animals and can therefore be territorial. But what does this have to do with them sleeping against the wall? Well, if a dog smells something unfamiliar in their home or if they want to prevent anything or anyone else from encroaching on their territory, they leave their scent. To do this a dog will lay against the wall so that its scent transfers to the wall. So if another dog tries to lay there, they will smell it and realize that the spot is already 'claimed'. This can be a common occurrence in situations where more than one dog resides at one location.
Feels Safer
Laying or sleeping against the wall could also make your pet feel safer. Pet Helpful says that a dog will sometimes use the wall as a sort of leverage to be able to get up more easily. This could be a defense mechanism or a means to feel safer. Their back is protected and they can get to their feet as quickly as possible if needed.
Feels More Comfortable
Various explanations and scenarios in this article behind your dog's motivation to sleep against the wall all have something in common. Comfort. Sometimes, due to the other reasons mentioned, this particular sleeping location tends to be more comfortable than others. And sometimes…they like it just because. A dog can sometimes have as simple a motivation as they just like that particular spot for some reason. It is usually just preferential and has no bearing on the dog's wellbeing. Much like you have places where you like to sit because it's comfortable-even if it could be considered strange-so does your dog.
Trying To Relieve An Itch
Have you ever had an itch that you just couldn't scratch? One where no matter how hard you tried, you just couldn't reach it? At least, not without help. Well, that happens to our furry friends, too. Sometimes a dog will lay against the wall and use it to scratch that itch. Once they get that relief they can easily fall asleep.
Stress
Throughout this article, we've learned that dogs have personalities and emotions much similar to humans. This means that they experience emotions such as shyness, fear, happiness, excitement, anxiety, depression, and stress. What you may not know is that these emotions can be an explanation as to why they sleep against the wall. When you're feeling stressed, you want to be alone sometimes, right? Well so does your dog. Laying or sleeping against the wall can be a dog's way of taking some alone time when they are feeling stressed.
Anxiety
Much like stress, a dog could feel comfortable against the wall because it is a sturdy feeling that gives them a source of comfort. You can't always be with your dog, so if you ever come home to find him sleeping against the wall, he could be trying to comfort himself in your absence. However, once you're home again he should be feeling back to his normal self.
Depression
Depression goes along with stress and anxiety as a reason your dog could be feeling Similar to the two above reasons, the sturdy feeling of the wall can act as a sense of comfort. This is especially true if you aren't home and the dog needs immediate comfort for one reason or another. Upon your arrival, the dog can get up quickly to greet you as we spoke about how they sometimes use walls as leverage.
Shyness
Dogs have individual personalities just like people. Some are shyer than others. The Animal Humane Society website assures us that with time, training, and trust, the sog is likely to become more outgoing. We talked about how positive association can accidentally teach a dog to lay or sleep against the wall. The situation is similar when it comes to helping a shy dog become more outgoing.
Just Looking For A New Environment
As we've learned, the answer to your dog sleeping against the wall can be as simple as him finding a new spot that he likes to sleep in. This is a dog's way of switching things up and he'll most likely stay there until he discovers another place that he likes better.
Trying To Find Some Comfort Because It's A New Environment (Maybe Moved House)
For some dogs, the loss of routine/familiar environment can be an upsetting situation. According to the VCA Animal Hospital website, settling into a new home can pose problems when it comes to comfort for your dog. One of their coping mechanisms could be to stay in one spot-such as against the wall. This is a location that they deem safe until they are feeling comfortable enough to explore their new surroundings. The good news is that this won't last forever. The VCA Animal Hospital lets us know that as long as a dog's "social group" doesn't change they should be able to acclimate faster to a new environment. Over time, they will begin to explore and find things that they love about the new environment; and they will be happy as long as they have you by their side.
Somehow You Have Rewarded The Dog For Sleeping Against The Wall
Without realizing it, you may have rewarded your dog for sleeping against the wall. Say you give your dog pets and kisses or a treat while he's sleeping against the wall. While it isn't a problem, this can lead him to associate cuddling, treats, and other positive interactions with laying against the wall. He understands that if he lies there he is more likely to get a reward. And without meaning to you may have trained him to do so.
There Is An Interesting Smell/Scent Coming From The Wall
We already know that dogs have a strong sense of smell and that they like to mark their territory to claim a spot for their own. Similarly, a dog might sense or smell something on a particular area of the wall and find that they like it. If you're in a new environment, it could be some kind of smell that is comforting to the dog and allows him to feel more comfortable in his new surroundings. Or if it's not a new environment, it could be a situation of maybe the wall or area that the wall is in the house is the/close to the source of a pleasant smell. For example, if he's sleeping against a wall that is near the kitchen, he could enjoy the smells of food coming from that room.
Scared Of Other Pets/Humans
If you've recently adopted a dog or are fostering one, then he will not be familiar with your home. One aspect that could make him feel uneasy is other pets or humans in the home. He may sleep against the wall because it makes him feel safe. As mentioned before, sometimes dogs will use the wall as a kind of leverage to be able to get up quickly if need be. To solve this problem, you can slowly and gently introduce your new dog to the other members of the household. But remember that the dog can be frightened so take safety precautions for all involved. Do not force the dog to interact with others in the house. Give him the time and space to do so as he feels comfortable. If you try one day and he doesn't seem to want to engage, let him rest and acclimate. You can try again tomorrow. Repeat this process until your dog is no longer frightened of any other pets or humans.
Joint Or Limb Pain
In this article, we discuss how sometimes there can be a more concerning reason as to why your dog is sleeping or leaning against the wall. If the dog seems to be doing this constantly and not moving around a lot, this could mean that he's feeling some pain. The dog could be using the wall as a way to help themselves stand or walk. If this is so, you should try to find any visual signs of pain in dog-such as a limp or expression of pain exhibited by your dog. If you notice anything of the sort, your best course of action is to help the dog get someplace comfortable like a bed or other soft area. Then call your veterinarian and make an appointment for your dog to be examined. Of course, if your dog is showing other signs of pain (trouble breathing, throwing up, etc) it is best to take them to your closest emergency veterinarian to ensure swift treatment.
What Should I Do About My Dog Sleeping Against The Wall?
If you're wondering what you should do about your dog sleeping against the wall, there are a few answers:
-The first option is to do nothing about it. Take no action other than keeping an eye on the dog and watching for any behavioral changes or obvious signs of discomfort.
-Another option is to purchase a pet bed or pet mattress for your dog and coax him into using it with treats or other positive reinforcement. Placement of the bed-such as near a location that you frequent-is another good enticement to encourage him to utilize the bed.
-If you discover that your dog is sleeping against the wall because he is feeling ill, once the dog is treated, he should stop sleeping against the wall as he feels better. This could take some time though because a lot of dogs like to stick to things that make them comfortable.
-If you've just moved to a new place, or are staying somewhere temporarily, your dog may just need time to adjust to his new surroundings. In this case, it is best to let him acclimate naturally and give him the time and space to get used to the environment. Just make sure you're there for him if he needs a bit of comfort.
Should I Stop My Dog From Sleeping Against The Wall?
It is not necessary to stop your dog from sleeping against the wall. Some dogs tend to rotate sleeping locations. This means that after some time they may stop sleeping there of their own accord. Dogs-like humans-will change their sleeping positions and locations based on their current needs and/or preferences.
Should I Punish My Dog For Sleeping Against The Wall?
There is no reason to punish your dog for sleeping against the wall. Since we learned that this usually is a quirky habit or a sign of illness, there is nothing harmful about your dog doing this. He is not misbehaving in any way and should not be punished for doing this.
How To Help The Dog Figure Out A Better More Comfortable Place To Sleep?
If your dog seems to be comfortable sleeping against the wall, and there is no threat to the dog or its health, then you're probably safe letting him continue that way. But if the motivation behind it is temporary or affecting his health there are a few solutions:
-You could allow the dog to sleep with you in your bed. Although some people like to avoid this due to personal preference and wanting to keep dander at bay.
-You can ask your veterinarian for their professional opinion. Describe the situation to them as well as your dog's behavior. They may tell you not to worry and leave it be. Or they can give you suggestions on how to give your dog another comfortable space to sleep.
-Getting your dog his own bed may help him be more comfortable. These pet beds are available in various sizes and patterns online or at any pet store. Place the bed somewhere more comfortable in your home. Near the couch or at the foot of the bed are two very common locations for this. A pet bed will also help enforce the training instilled in your dog if you have a 'no pets on the furniture rule. Allow the dog to sniff the bed and get familiar with it. Then give him a treat every time he lays on it. This positive reinforcement will help him utilize the bed and be more comfortable as he sleeps.