For those sharing a bed with their dog(s), their dog(s) deciding to sleep elsewhere can be tough and confusing. Questions about why this has happened start circulating in your mind. But what are the causes behind this?
Why Does My Dog Not Want To Sleep With Me All Of A Sudden?
There are many reasons why your dog doesn't want to sleep with you. It could be due to medical reasons, your room being too hot, or wanting to act as a guard dog. Their comfort is all that matters.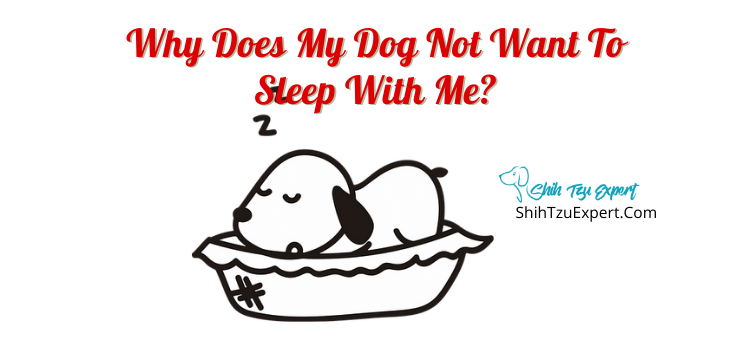 Why Doesn't My Dog Want To Sleep With Me Anymore?
The reason your dog isn't sleeping with you anymore can be due to a variety of factors, likely internal and external. External factors can include a change in their sleeping environment. Maybe you've recently turned the heat up or down in your room or you've changed your room layout and they feel unsure of this new change. Internal factors include health issues or being in a bad mood. If it's a health issue, you should take them to the vet ASAP to get them checked out and treated.
What Is Typical Dog Sleeping Behavior?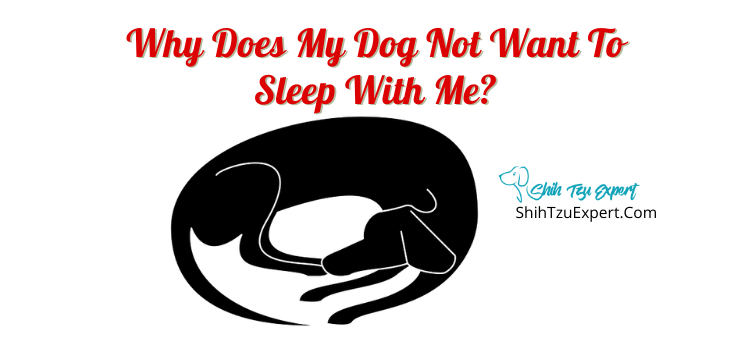 Dogs spend the majority of their day asleep. They spend around 50% asleep, 30% awake but relaxing and 20% being active.
Why Your Dog Is Suddenly Sleeping Away From You?
Again, this is likely due to internal/external factors. If there's nothing you've changed about your environment since your dog stopped sleeping with you, it's most likely an internal factor, which should be looked into straight away.
Why Did My Dog Suddenly Change Sleeping Locations?
They may no longer feel comfortable in your sleeping environment. Maybe it's too hot and they needed somewhere cooler to sleep or vice versa.
Why Is My Dog Suddenly Sleeping Downstairs?
They may feel more comfortable downstairs. A dog changes its sleeping location due to external factors, so they may no longer feel comfortable upstairs and the downstairs environment may suit them better.
What Are The Reasons Why Your Dog Suddenly Does Not Want To Sleep With You?
– your bed isn't comfy enough – your bed's too small – they're not tired – another pet on the bed is taking up too much room – if they're new, they may feel that they can't trust you enough – they're stressed – there's something more interesting going on – they're being bribed to sleep elsewhere – they're protective of you/the house – they're physically incapable of getting in the bed
My Senior Dog Won't Sleep With Me Anymore
Older dogs struggle more with getting into beds than younger dogs, mainly due to health issues, e.g. arthritis.
My Puppy Randomly Stopped Sleeping In My Bed With Me?
If your puppy stops sleeping in bed with you, this is probably due to an external or internal change. This shouldn't be anything to worry about unless it's a health issue, in which case, you should take them to the vets straight away.
Puppy Suddenly Won't Sleep At Night But Is Normal During The Day?
The main reason for this is they may not have been stimulated during the day, so at night they become hyperactive and can't quieten down. In this case, ensure they get plenty of exercise during the day so they sleep better at night.
Why Does My Dog Want To Sleep With Someone Else?
If your dog slept with someone else and they rewarded your dog, this may be why they now sleep with them. They assume the more they sleep with them, the more they'll be rewarded. It may also be a case that you have annoyed your dog in some way so they want to sleep with someone else for the time being. Or, they may prefer that spot for a variety of reasons and it has nothing to do with you at all.
Why Does My Dog Want To Sleep Away From Me?
Even though it may seem like it, this is nothing to do with you. It's more likely due to a change in external factors, such as the heat of your room, that have made your dog want to sleep elsewhere.
Why Is My Dog Suddenly Sleeping In A Different Room?
It's likely due to external factors, most likely the temperature of the room is more suitable to them. If you've had them since they were a puppy, they're likely bigger in size and feel they need more room so would rather sleep where they have that room.
Why Did My Dog Switch To Sleeping From Me To My Mom?
If your mom has been giving your dog treats for sleeping with her, this is why. Your dog will believe each time they sleep with your mom they'll get a reward. Alternatively, they may feel comfier in your mom's room, such as they may have more space or the room may be a better temperature.
Why Does My Dog Sleep In Her Room And Not With Us?
If your dog has her own room, she may feel more comfortable in there. Especially if she has all her home comforts there, she may naturally prefer to be in her own room.
Are There Outside Influences That Make My Dog Want To Sleep Not With Us?
Yes, there are many external factors influencing your dog's decision on where to sleep. These include temperature, feeling scared, or different smells/sounds.
Do Dog's Safe Zones Expand?
Not generally. Dog's safe zones tend to be small and in enclosed spaces as this is where they feel most safe. However, they may develop a number of safe spaces over time instead of just one or two.
Do Dog's Sleeping Preferences Changed?
Yes. There are a variety of factors causing a dog's sleeping preferences to change. It may be a case of them being too old to sleep in the same bed as you or needing somewhere cooler.
Do Dog Enjoy Having Variety To Sleep On?
It varies in every dog. Some dogs prefer variety in their sleeping patterns. Others may prefer to sleep on the same thing their whole life. It depends on your dog and recognizing its needs.
Are Some Dogs Not Cuddlers?
Not all dogs are cuddlers and it's important you recognize this to avoid upsetting them. However, if your dog was once a cuddler and no longer is, you may want to try and work out why.
Does The Room Being Too Loud Make My Dog Not Want To Sleep In It?
Yes. Dogs can be very sensitive to sounds and if a room is too loud, your dog may not want to sleep there.
Do Dog Feels The Need To Protect The House When You Sleep?
Some dogs may feel the need to protect the house, particularly if that's something their breed is born to do.
Does My Dog Think I Dont Want Them In Bed?
Dogs are good at picking up how you're feeling, so if there isn't much room in your bed, e.g. your partner is there, or you appear annoyed at your dog, they'll sense you don't want them there.
Will My Dog Sleep With Me If They Are Bursting With Energy?
Dogs won't sleep if they have bundles of energy. The best way to combat this is to ensure they have no food before going to bed and give them plenty of exercise.
Will A Big Life Change Change My Dogs Sleeping Patterns?
Yes, for example, if you've recently moved house, they may be on high alert as it's new territory for them and any change can cause extra anxiety, which can change how they sleep.
Tips On How To Make Your Dog Want To Sleep With You
Put their favourite blanket in your bed, as this will encourage them to get into your bed and suggest to them this is where they'll be sleeping. Ensure their crate or bed is nearby as you can't force your dog to sleep with you and they may want the option to sleep in something they're used to. Plus, it helps them get used to being in your room whilst still having something comforting to them.
Do Dogs Like Beds That Are Soft?
Dog beds shouldn't be too soft because these beds don't offer enough support and can cause havoc for older dogs who may not be able to get out of them.
Will Your Dog Sleep With You If Your Dog Isn't Tired At Night?
No, because dogs won't sleep if they have too much energy.
Dog Wont Sleep With Me Because They Are Excited About Something Outside
Distract them as much as you can. If it's something they can see, try closing the curtains or blinds so they can't see it. If it's something they can hear, try playing some music or putting the TV on to distract them.
Will My Dog Sleep With Me If My Cats Are Sleeping On The Bed?
If both animals get along then possibly. However, if they don't, it's unlikely they'll sleep together.
Do Dogs Want To Sleep On Harder Surfaces?
Possibly. Dogs feel soothed by the vibrations through the floor, which is easily felt through hard flooring. However, it's best they sleep in a soft, but firm, bed.
Will My Snoring Make My Dog Want To Sleep Not On My Bed?
It depends how loud your snoring is as dogs don't like loud noises so this would put them off.
Your Dog Isn't A Puppy Anymore. Will They Still Sleep With Me?
They may still sleep with you as this is what they're used to and dogs quite enjoy sticking to old habits. But if they don't, this may be due to factors such as temperature or a life change.
Is It Bad That My Dog Doesn't Sleep With Me Anymore?
No, it's not. While it may be what you want, it's not always something they want and that should be respected.
What Are Ways I Can Get My Dog To Sleep With Me?
You can put their blankets or a favourite toy on the bed to encourage them to get on the bed. You should also ensure the room isn't too hot and that there aren't any loud noises.
Can I Encouraging The Behavior To Get Them To Sleep With Me?
Yes. Sometimes your dog may need an extra bit of encouragement, but you also need to remember you can't force your dog into doing anything they don't want to do.
Does My Dog Feeling Threatened When Sleeping On My Bed?
They may do if another pet sleeps there or if your partner is sleeping in your bed and they don't like them; otherwise, they should be okay.
Things To Consider About Dog Not Wanting To Sleep With You
If your dog used to sleep with you but no longer does, you may want to consider possible external/internal factors, such as being in pain or being scared. None of these should be anything serious, however, it's always important to rule it out so you can ensure you're not putting your dog in any other danger.
What Events Happened When Your Dog First Stopped Sleeping On Your Bed?
You can look at this sequence of events to determine the cause behind your dog stopping sleeping with you.
Why Does My Dog Want To Sleep With Me All Of A Sudden?
This can be due to fear. If something spooks your dog, they will come to you for comfort. There may be other reasons too, so look to the sequence of events that caused this change and you should discover why.
Why Has My Dog Suddenly Started Sleeping With Me Instead Of My Parents?
They possibly see you as their protector. Or, there might be an issue with your parents' room, such as it being too hot, and they might find your room more comfortable.
Do Dogs Like Being Pet While Sleeping?
It totally depends on the dog. If you want to try petting your dog whilst they sleep and see how they react, you can. However, if they don't like it, you should stop as you don't want to make them uncomfortable.
Why Does My Dog Sleep With Her Bum Towards Me?
This can mean a number of things, including: – they love/trust you – she's protecting you – it's comfier – to avoid uncomfortable eye contact
Why Does My Dog Turn His Back To Me When Sleeping?
This means your dog loves and trusts you and they feel comfortable around you.
What's The Best Way For My Dog To Sleep?
There are many different ways dogs can sleep, including on their side, on their front, and curled up in a ball.
Is It Okay To Let My Dog Sleep In My Bed?
Not all dog experts will recommend it as one issue it can pose to humans is increasing their allergies and making you sick from anything they may pick up. But as long as you're aware of this and clean your dog regularly, you should be okay.
Is It Bad To Share Beds With Dogs?
As long as you regularly wash your dog so they are free from fleas and parasites, it's not too bad to sleep with your dog.
Should I Allow My Dog Sleep Somewhere Else Other Than My Bed?
You should let your dog sleep wherever they feel most comfortable.
What Are The Signs Your Dog Suddenly Wants To Sleep With You?
You should also look at how they've been behaving before deciding they want to sleep with you. If they've been behaving differently to normal, try and figure out why and rule out any medical issues. However, they could be totally relaxed and this is just something they want to do because they feel comfortable around you. In which case, everything is fine.
Is It Okay For Children Share A Bed With Dogs?
There's nothing wrong with children sharing a bed with a dog, however, the same risks that apply to you need to be taken into consideration before allowing this.
References https://www.akc.org/expert-advice/health/why-do-dogs-sleep-so-much/ https://wagwalking.com/behavior/why-dogs-have-more-energy-at-night