Why Does My Dog Hump After Eating?
Dogs can have some pretty peculiar behaviors sometimes. Read on to discover why your dog humps your leg or other objects after they've eaten. Some of the reasons may surprise you.
Why Does My Dog Hump Things And Other Dogs After Eating?
There can be several reasons behind your dog humping things and other dogs after eating. Some of these reasons are simple explanations as having too much energy, not enough stimulation, or wanting more food. Other reasons that may require corrective action can be anxiety, aggression, and accidental encouragement of behavior.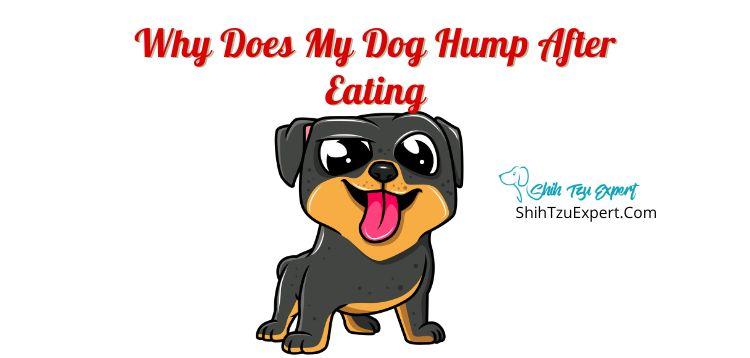 Why Does My Dog Hump After Eating?
There can be several reasons why your dog humps you or other things after they eat. Some of those reasons are listed below:
Reasons Your Dog Humps After Eating:
Energy Surge
Plenty of times, you'll find that dogs can get a surplus of energy and have to find different ways to burn it off. Some dogs will run around as fast as they can (affectionately referred to by most as 'zoomies'). Some may bark more than usual, and some can get destructive. Some may even hump after they eat.
This behavior is similar to anxious behaviors, so first, ensure your dog is not exhibiting other nervous behaviors such as drooling, shaking, and/or sitting close to you. If it is simply a case f excess energy, then you have a couple of options. You can provide your dog with more toys to play with. You can search online for lists of toys for your dog's preferences (chewing, digging, etc). Other options are to take them for long walks or to arrange for play dates with the other dogs in your area. You can meet in a designated place like a dog park and let your dog work off that excess energy.
Attention Seeking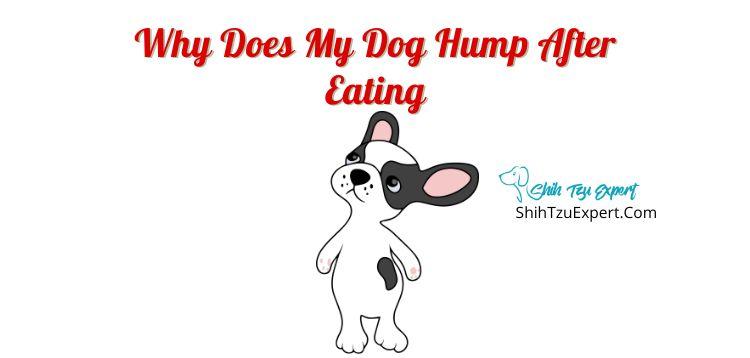 Your dog may hump after eating because they are simply looking for attention. Notabully.com notes that if they are asking for your attention, it usually means that they want something. The dog may feel as though you didn't provide them with enough attention that day and requires more. One solution to this is to try and integrate more bonding time with your pet.
You can try and include them in your hobbies, such as taking them on a hike or walk. Or simply bring them with you while you run errands.
When done for attention, this action is usually combined with following you around to be with you.
Asking For More Food
Though it may seem strange, humping after eating can be your dog's way of asking for more food. Though, this doesn't mean that the dog is necessarily still hungry.
If this seems to be the case, you should speak with your veterinarian or even find an animal nutritionist. They can help you to determine whether or not your dog is getting the proper amounts and type of food.
Anxiety
Dogs can act in strange manners when they are anxious. They can do things like sit too close to you, act destructive, pace, and even humping after eating. Something can be making your dog anxious enough to act like this. You may want to try and figure out the source of your dog's anxiety to help them stop.
You can also look online, to veterinarians, or dog trainers for advice on what the stressor could be.
Doesn't Get Enough Stimulation
Not enough stimulation is yet another possibility for why your dog humps after they eat. It can be a way to express pent-up energy due to not having enough stimulation throughout the day. Notabully.com reminds us that like humans, dogs have very active brains. Sometimes humping can be a way for them to stimulate their brains.
Luckily, there are some easy fixes if under-stimulation is the case. You can take your dog to new places so they can investigate all of the new scents and sounds. This will stimulate their senses as well as their brain.
You can also play games with them that causes them to have to think and use their brains. One example of this is hiding treats that they have to sniff out and find.
Doesn't Get Enough Exercise
This possibility can go along with the section on excess energy. Usually, if a dog has excess energy, it is because they do not get enough exercise.
You can refer to the section 'Energy Surge" for solutions to these problems.
Aroused
One of the reasons your dog may hump after they eat is because they are feeling aroused. According to notabully.com, this can be very common in dogs that are not spayed or neutered. Female dogs can go through different cycles that make their hormones noticeable to male dogs.
Sleep Habit To Make Themselves Feel Better
A dog may hump when they are tired, but it isn't to make themselves feel better. Dogpackr.com likens the behavior to a tired toddler throwing a tantrum. The dog may act out and perform bad behaviors because their tiredness is making them behave irrationally.
Medical Condition
While humping is usually a harmless behavior, there could be some medical reasons behind this behavior. If your dog is showing other signs or symptoms that they are not feeling well, it would be best to take them to the vet.
Is It A Medical Condition That Causes Him To Hump After He Eats?
Everydayhealth.com reports that the humping could be from a UTI (urinary tract infection) or incontinence. It could also be from a condition known as priapism which causes recurring and painful erections for the dog.
Will Neutering My Dog Stop Them From Humping?
The ASPCA website tells us that neutering does not always stop your dog from humping. They may continue the behavior but at a lesser rate. Also, they may continue the behavior until their testosterone decreases enough from the procedure.
Is Humping Dangerous For My Dog?
Usually humping is not dangerous for your dog. Sometimes there can be an underlying reason that can be considered dangerous, so it's still best to investigate all avenues.
Should I Stop My Dog When They're Humping?
Typically your dog humping is not something for you to worry about. It can be helpful to figure out the reason behind your dog's behavior. This can ensure that there are not bothered or upset by something. Once you know that your dog is comfortable and there is some other reason behind its actions, you can take the next step.
It's important to assess whether or not the behavior is related to aggression or not. If the dog humps after eating but also growls and/or bites, this is a sign it is aggressive behavior.
It would be most helpful to call your vet and/or trainer in this situation.
How To Stop My Dog From Humping After He Eats?
Notabully.com reminds us that humping is usually a pretty harmless action for your dog. Though it can be inappropriate and/or annoying in some instances. Once you understand the reason behind your dog's behavior, it will be easier to find solutions to stop it.
A helpful tip is to ask or hire a dog trainer and they can teach you how to redirect the dog's behavior or how to put a stop to it entirely.
Resources
Understanding, Preventing, and Treating Dog Anxiety
https://www.aspca.org/pet-care/dog-care/common-dog-behavior-issues/mounting-and-masturbation