Do Shih Tzus Hump A Lot?
Shih Tzus have the same tendency as other breeds when it comes to humping. But how much they hump depends on several factors. Whether or not a Shih Tzu humps a lot can depend on a variety of factors. If you are unhappy with your Shih Tzus humping practices, all you have to do is get them neutered and this should significantly reduce/completely stop the humping.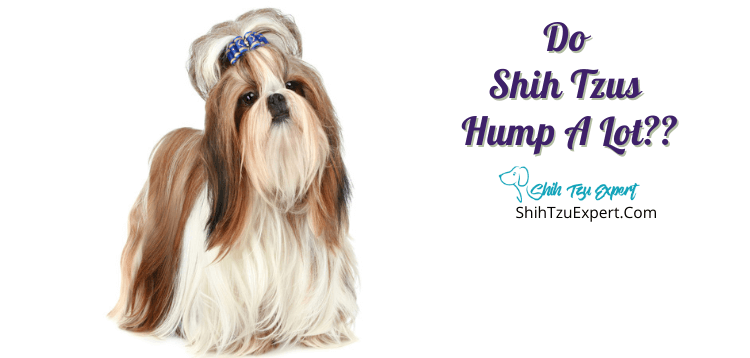 Do Shih Tzus Hump More Than Other Breeds?
There is nothing to suggest Shih Tzus hump more than other breeds. The amount of humping a dog does isn't down to their breed but is more their sexual drive.
Why Does My Female Shih Tzu Who Is Spayed Still Hump?
One reason a spayed female Shih Tzu still humps is that she learned it feels good before she got spayed, so does it as masturbatory behavior. However, there are other reasons for this humping that aren't sex related. It could be because they become excited and don't know what to do with that behavior, so start humping whatever they see as a way of releasing this energy. However, humping could be a sign of urinary tract infection or allergic reaction around her genitals and in this case, she should be taken to the vet straight away.
Why Does My Female Shih Tzu Puppy Hump My Foot?
If your female Shih Tzu puppy keeps humping your foot, this could either be for psychological, sexual, or learned reasons. If you are unsure which of these is the reason, you should pay attention to the environment around you to figure out why she is humping your foot.
Why Do Female Dogs Hump (Male Puppies, Toys, And Cushions)?
There are several reasons why your female dog is humping your male puppy:

To assert their dominance over the other dog and whilst this is normal as dogs like to establish hierarchy within the pack, you should keep an eye on them as they could end up getting hurt

They are playing together

They are bored and/or stressed and humping is a way for them to release this boredom/stress

If she hasn't been spayed, it is within her nature to want to hump a male, so if you want this to stop, it is best to get them spayed as soon as possible

As a way of getting your attention because they realize as soon as they start humping the other dog, they get your attention as you tell them to stop it. In this case, you should ignore the situation and they will eventually stop

A female dog may hump their toys or cushions for similar reasons to humping male puppies. It is something that feels good to them, helps get rid of any stress she is feeling, becomes a compulsive thing for her to do, or is due to medical reasons.
Why Does My (2, 3, 4, Month Old) Shih Tzu Puppy Hump His Toys?
It is completely common for Shih Tzu puppies to hump their toys. This is because they may not have been spayed, so this is a way of releasing their sexual hormones. The way to stop this is to get them spayed as soon as possible.
Why Is My Puppy So Randy?
Your puppy may appear randy because they are discovering their strength and where they stand socially. Puppies don't go through puberty until they are six months old, so are just being playful and what you perceive as a puppy being randy, is them wanting to play.
Humping And Ejaculation In Male Puppy
If your male puppy humps and ejaculates on a human/another dog/object, this is normal behavior as they are displaying their dominance and is nothing to worry about.
Do All Male Shih Tzus Hump?
It is likely a male Shih Tzu who has not been neutered will hump, which can be for several reasons. However, male Shih Tzus who have been neutered, whilst they are less likely to hump, may hump other animals, humans, and/or objects for reasons other than for sexual gratification, such as asserting their dominance or being playful. So in short, no, not all male Shih Tzus hump, but many will.
My Neutered Male Shih Tzu Humps His Toys But Not Other Dogs Or People?
Even though he is neutered, your Shih Tzu may still hump his toys because it is pleasurable and feels good. This is normal and he may not hump other dogs/people because it feels more pleasurable with toys or because he knows not to hump other people/animals.
What Is Humping?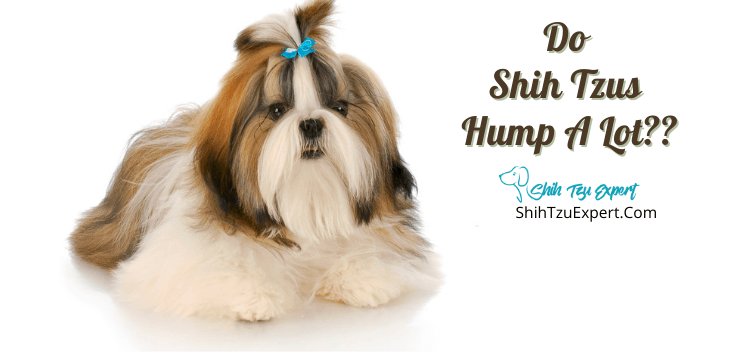 Humping is a form of canine masturbation, however, doesn't always mean a dog has an urge to mate. It can also be due to establishing dominance, asserting their place within the hierarchy, stress, compulsive issues, or health issues.
Why Do Shih Tzu Adults/Puppies/Male/Female Hump People? [What Does It Mean?]
Your Shih Tzu could be humping people due to any of the following reasons: – jealousy – excitement – playing – not neutered If, for example, someone comes into your home and you hug them and your Shih Tzu starts humping them, this is a sign of jealousy.
They want your attention back and are trying to assert their dominance over the other person. Your Shih Tzu may hump people because they're excited when they see them and is more common in puppies than older dogs. Humping someone is their way of play fighting.
It doesn't mean anything but will happen if they have not been taught they shouldn't hump humans. If your Shih Tzu hasn't been neutered, they may hump people because they are trying to get rid of their sexual energy. To stop this, all you have to do is have your dog neutered.
Why Does My Shih Tzu Violently Attack Toys Before Humping Them?
This is their way of asserting dominance over the toys and whilst this is normal regarding pack behavior, it may be something you want to stop as they could turn violent towards other animals/people.
Why Does My Shih Tzu Hump Everything?
Your Shih Tzu may be humping everything in sight for a variety of reasons. These reasons include sexual/hormonal if they haven't been spayed, excitement, playfulness, or medical issues. Keep an eye on them when they hump something so you see why they are doing it. If you're still unsure, take them to the vet for advice.
Why Does My Dog Lick Me Then Try To Hump Me?
A dog licking and humping you repetitively could be a sign of anxiety. They do this as a way of comforting themselves and reducing their anxiety. Even though it's a good thing to reduce their anxiety, allowing them to lick and hump you, you are telling them they can do this and that it's good for them to do it; when in reality, you want to stop this behavior. To stop the licking and humping, tell them "no" and over time, they should stop. You can give them something else to comfort themselves when they are anxious.
Why Does My Dog Hump My Arm?
This could be for a variety of reasons, including asserting dominance, playfulness, frustration, or sexual reasons. There isn't one reason for this and if you don't like it, tell them "no", and hopefully, they should eventually stop.
Why Does My Dog Hump, My Boyfriend?
The main reason your dog humps your boyfriend is that they are jealous of him and don't like it when you pay your boyfriend attention. They want to show they are the dominant one and not your boyfriend. To stop this, you should tell your dog "no" and they should eventually stop. Similarly, you can positively reinforce them by rewarding them if they greet your boyfriend without humping him.
Why Does My Dog Hump The Air?
Your dog humping the air can be due to the same reasons why they will hump any other object: excitement; dominance; or out of playfulness. The way to stop this is in the same way you would if your dog was humping an object. This is to tell them "no" or to "sit" when they are about to start humping the air and to reward them with treats when they do as they are told.
Why Does My Dog Pee When He Humps?
If your dog pees when he humps, this could be because they are getting too over-excited and this can cause a little bit of pee to come out. This is completely normal and isn't anything to worry about and can be their way of marking their territory.
Is It Safe To Stop A Shih Tzu From Humping?
It is completely safe for you to stop your Shih Tzu from humping and this should be done because they may be humping due to medical issues, which will need to be checked. However, if you believe your Shih Tzu will become aggressive if you try to stop them, don't do it. Instead, you should contact a qualified dog trainer or animal behaviorist to stop your Shih Tzu humping.
Should I Let My Shih Tzu Hump?
It is best to nip humping habits in the bud as soon as they start. This is because in letting your Shih Tzu hump, this is teaching them that this is okay, and whilst you may not mind it, others will and it is best to not displease other dog owners.
When Should Humping Be Stopped Before It Becomes A Problem?
You should try and stop your dog from humping as soon as you realize it is becoming a compulsive behavior. Once it becomes compulsive, it can become even more difficult to prevent the humping from occurring, so it is best to put a stop to it before it gets to this stage.
How To Get Your Shih Tzu To Stop Humping
You can get your Shih Tzu to stop humping by doing any of the following:
– taking them to the vets if you believe they have a medical issue
– have them spayed
– if it is due to stress, make the necessary changes to allow them to feel calmer
– keep them on a lead/harness if the issue is mostly with them humping other dogs, so you can easily pull them away if necessary
– interrupt, by making a loud noise (such as shouting their name or clapping) and then refocus them, such as by beginning to play with them
– give a firm "no"
Should I Neuter/Spay My Puppy/Dog Because It Humps?
Neutering/spaying your puppy/dog is not 100% guaranteed to stop them from humping, but there is a high chance that it might. So it is best to do this anyway as spayed/neutered dogs are less likely to hump dogs/humans/objects.
Is Dog Mounting A Sign Of Dominance?
Dog mounting can be a sign of dominance, but this isn't always the case. It can also be due to excitement, wanting to be playful, or sexual reasons.
Is It Ok To Let My Dog Hump My Leg?
The issue with allowing your dog to hump your leg is that they may be doing this as a way of asserting their dominance over you. Dogs should learn that you are the dominant one in this relationship (the pack leader, if you will), so you need to let them know that this is not okay.
Should You Let Your Dog Hump A Pillow?
There are two answers to this, which are yes and no, but it all depends on the reason why the dog is humping in the first place. If your dog is humping the pillow due to anxiety, you can stop this habit of humping the pillow by keeping them to a strict schedule and ensuring they get lots of exercises to break this habit.
However, if it is due to sexual reasons, it wouldn't be totally unacceptable to give the dog a pillow once or twice a day so they can relieve themselves from this sexual desire. It should be a pillow than a human or another dog, in all honesty. But if it is sexual and they haven't been spayed, doing this should lessen and potentially stop all humping.
Should I Let My Dog Hump Stuffed Animals?
The answer to this is the same as the question answered above. If it's due to anxiety, keep them to a schedule. If it's due to sex, let them have a stuffed animal for this purpose once or twice a day, or several times a week.
Is It Ok To Lightly Swat My Dog If He Keeps Trying To Hump Me?
No, you should never swat your dog, no matter what lesson you are trying to teach him. This doesn't always teach your dog not to do something and either suggests to them that you are playing with them or that you are a threat and they may try to bite you. Instead, you should simply tell them "no" in a firm voice and they should stop the humping.
Is It Normal For Two Male Dogs To Mount And Hump Each Other?
It is completely normal for two male dogs to mount and hump one another. As already explained above, not all dogs hump other dogs in a sexual manner and could be down for a variety of reasons.
One Of My Dogs Had A Haircut, Now The Other One Continuously Aggressively Humps Her, Why![Both Bitches]?
Your female dog may try to aggressively hump your other female dog after she has had a haircut because this haircut causes her to smell a little different. Dogs recognize each other by their scent, so if this haircut changes their scent, this may throw the other dog off. This may be the reason for the humping and there is not much you can do to change that, other than to tell the dog "no" and to try and distract her with something else.
References
https://www.aspca.org/pet-care/dog-care/common-dog-behavior-issues/mounting-and-masturbation https://pets.webmd.com/dogs/features/humping-why-do-dogs-do-it#1