Humping, also known as mounting, is normal canine behavior, especially among puppies during play. But it can embarrass owners and cause fights among dogs if the other pooch does not appreciate your dog's advances.
Understanding the underlying causes of this behavior can help you correct it.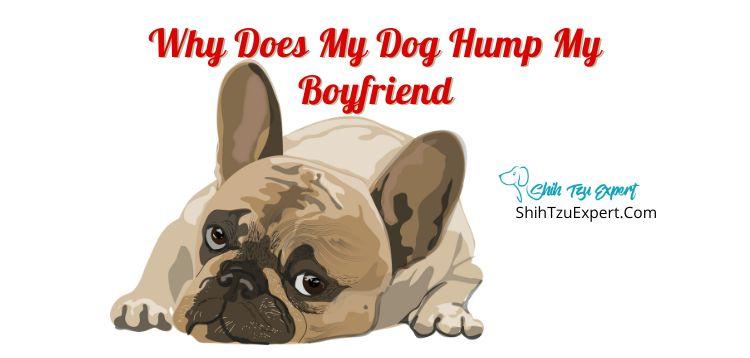 Why Does My Dog Hump My Boyfriend?
Many owners assume mounting is a purely sexual gesture. In fact, there are many possible explanations for this behavior, such as:
Excitement or over-stimulation
Anxiety
Attention-seeking
How Can I Stop My Dog From Humping?
To discourage the behavior, tell the person to walk away from your dog to show this is not acceptable. If that doesn't work, take your dog to his crate or a quiet room for a short time-out, making sure there aren't any toys or treats there that he could interpret as a reward.
It's important not to yell or get angry at your dog. He won't connect this punishment with his behavior.
Instead, give your dog another behavior to perform in this situation, such as sitting on cue. Reward your dog when she performs this behavior instead of mounting.
What Is Humping?
It's true that mounting is a sexual position among dogs. Puppies may start displaying this gesture in play, perhaps as practice for later sexual encounters.
However, this behavior can appear in female dogs as well as those who are spayed or neutered. Especially if your dog humps a person rather than another dog, the behavior is most likely not sexual.
Why Do Dogs Hump?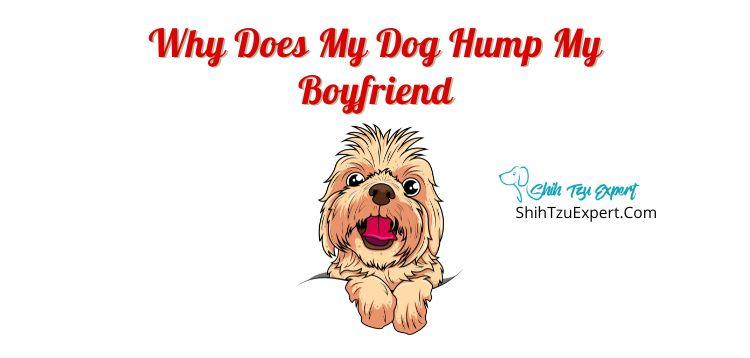 If your dog is not spayed or neutered and is under a year old, it's possible the behavior is sexual in nature. In this case, sterilizing your dog may reduce mounting.
If your dog is older than one year and already fixed, mounting could be an excited or anxious reaction to a non-sexual stimulus, like visitors arriving. Many dogs jump up on people out of excitement, and humping can be an extension of that behavior.
Remember, dogs don't get embarrassed like we do. If your dog hasn't been trained not to hump people, they won't realize this behavior is inappropriate. Therefore, it's important to dissuade your dog from unwanted mounting the first time you notice the behavior.
When Do Puppies Start Humping?
Puppies typically start this behavior when they reach sexual maturity. Puppies who are are between seven and ten months old may begin humping their litter mates in play.
The behavior can appear in both male and female puppies, and it can continue even after your dog is spayed or neutered if it is not corrected at a young age.
Why Would A Dog Try To Hump A Certain Person?
Dogs are unlikely to hump someone they view as an authority figure or who has discouraged them from the behavior before. So if a specific person allows this behavior, your dog is more likely to mount that one person.
Your dog may also be testing the social hierarchy with regards to that person.
When insecure dogs don't know where they stand in the pack, they may try mounting to see how the other party responds. Socialization and obedience training can help boost yoru dog's confidence and prevent insecure behaviors like this.
Keep an eye out for signs of anxiety. This behavior could indicate your dog feels anxious around a specific person, particularly if this is their first time meeting. You can give your dog alternative behaviors to perform when meeting new people to prevent humping in the future.
Why Does My Girl Dog Keep Humping My Boyfriend?
Both male and female dogs display mounting behavior. Often, it indicates anxiety or over-excitement. Some dogs feel anxious around men, so humping could be your dog's way of expressing this emotion.
The behavior could also be attention-seeking, to get yoru boyfriend's attention away from you. Your dog may view your boyfriend as a competitor for a scarce resource: your affection.
Turning away from your boyfriend to scold your dog actually reinforces this behavior.
Teaching your dog an alternate behavior to perform when your boyfriend visits will help solve the problem. Your dog will feel less anxious once she knows how to act in stressful situations. Rewarding her when she preforms the correct behavior will meet her need for your attention.
Dog Humps When We Hug
Obviously, dogs do not hug each other. Many dogs also dislike being hugged by people, even their owners, because it makes them feel trapped. Therefore, dogs may feel anxious when they see humans hugging.
If your dog humps you or the other party while you are hugging, it could be a sign your dog is worried for your safety and feeling stressed.
Is Dog Mounting A Sign Of Dominance?
Mounting can be a sign of dominance, but trainers think this is pretty rare. More often, this behavior indicates excitement or anxiety.
Is Humping A Problem?
Humping can cause uncomfortable situations for both people and dogs. You may feel embarrassed if your dog humps another one at the dog park. Or, the other dog's owner may get angry at you or your dog. Some dogs don't like to be mounted, so your dog can start fights by doing this.
Humping may be an indication of a medical problem. You should take your dog to the vet to rule out issues such as:
Urinary tract infections or incontinence
Priapism (persistent, painful erection in male dogs)
Prostate issues
Skin allergies
Identify and remove stressors
Make sure your dog is getting enough exercise
Spend quality time with your dog each day
Redirect your dog's attention away from the stressor
Train and reward alternate responses to stress
Mounting behavior could be a compulsive response to stress or anxiety. You can help your dog deal with stress better by following these steps:
Some people think humping among puppies is funny or cute, but want their dog to stop this behavior when they get older.
Rather than trying to retrain your older dog, it's best to stop the behavior as soon as it starts. Distract your dog and give them an alternative way to play with other dogs, show affection, or deal with exciting situations. This will spare you and your dog from awkward situations later on.
References:
https://pets.webmd.com/dogs/features/humping-why-do-dogs-do-it
https://www.aspca.org/pet-care/dog-care/common-dog-behavior-issues/mounting-and-masturbation
Why Does My Dog Hump? Understanding Humping Or Mounting Behavior