Why Does My Dog Lick My Legs?
Dogs lick to tell you something, to show you something, and to get something from you. If your dog licks you to the point of you not being able to handle it, then it may be time to look into the reasons why they are licking.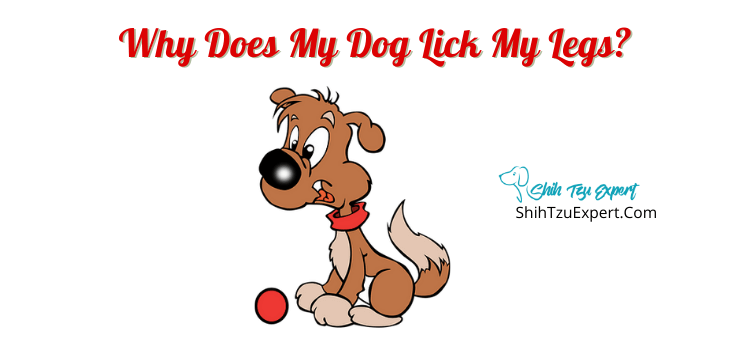 Why Does My Dog Lick Me?
Your dog is probably licking you to say, "I love you." They do this most often, but there are other reasons they might want to lick you.
Some of these reasons consist of serious underlying behavioral or physical problems.
Why Does My Dog Constantly Lick My Legs And Feet?
Your dog may constantly be licking your legs and feet because they try to get your attention.
If they are doing this all day, every day for an extended period, they could be trying to tell you something.
Why Does My Dog Lick My Legs At Night?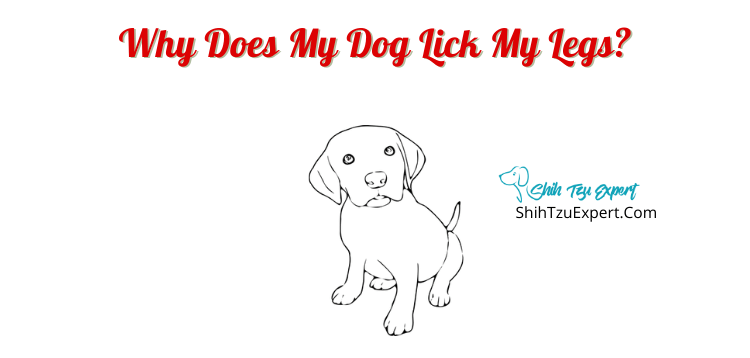 For dogs, there is no such thing as too much licking. They will lick you all night to show affection if you let them.
Your dog may insist on doing this because it is a relaxing time for you, and they want to be a part of it.
Why Does My Dog Lick My Feet For Hours?
Sometimes dogs will start to lick your feet, and depending on how you react, and it can make them feel like they should continue.
This behavior can quickly become an attention-seeking response for your dog if you show them more affection than usual when licking your feet.
Why Does My Dog Lick My Legs After Drinking Water?
For your dog, it makes biological sense for all dogs to lick you or your legs after taking a drink of their water.
Your dog has probably associated you with the water you gave them, and licking your legs is the easiest way to express their gratitude.
Why Does My Dog Lick My Knee Caps?
Because dogs lick to show affection and gratitude, it is common for them to lick their knee caps since they are the most manageable body parts for them to reach.
Why Does My Dog Lick My Legs After A Shower?
Some reasons that a dog might want to lick your legs after a shower are:
Investigating the water on your body
Smelling or tasting your body wash
They are dehydrated
They are grooming you
If you bathe your dog, you will notice that they spend a lot of time grooming themselves and may want to do the same for you after your shower.
Why Does My Dog Sniff My Leg And Then Lick It?
Unlike humans who have their hands, dogs navigate the world with their noses and tongue.
If your dog is sniffing and then licking your legs, they might smell something new and want to investigate it.
Why Does My Dog Lick My Legs When I Get Home?
When dogs lick you, they have endorphins released in their brains that make them feel happy.
When you are gone for any time, your dog misses you and wants to show affection when you come home. This makes them feel happy and hopes that, in turn, it does the same for you.
Why Does My Dog Keep Licking Her Front Legs?
Dogs lick their front legs when they are having an adverse reaction to something like:
Allergens
Pollens
Molds
Dust mites
Food
Aside from adverse reactions, they can also be licking their front legs because of their acquired wound. Dogs lick their wounds because it helps them heal faster.
Why Are Legs and Feet What My Dog Wants To Lick Over Everything Else?
Your feet and your legs are the only parts of your body that touch the ground and anything else at your dog's level.
This means that your feet and legs are the most common spots dogs want to lick to investigate where you were and who you were around.
Is Licking A Form Of Greeting, Bonding, And Appeasement?
When you or a guest walk into a dog's house, the dog may want to lick you to show that they like you.
They greet, bond, and appease by licking, so you know they are friendly and want to get to know you better.
Could A Dog Be Licking An Owner's Leg To Get Attention?
If your dog licks you often and you react most of the time, they will get used to getting attention when licking you.
They will continue to lick you because they will have learned that it is a way to get you to notice them and show them attention.
Is Licking A Form Of Complex Communication?
Here are some reasons why your dog would communicate through licking:
They are hungry
They are being submissive
They want to be friends
They are hurt
If your dog is licking to communicate, it is essential to respond to them to know you understand them.
Is Licking A Sign Of Stress?
Some dogs become stressed and nervous and show signs of licking you and drooling.
It is easy to tell if they are licking out of stress when they have other changes in behavior, like ears being pressed back or tail between the legs.
Is Licking Only For Taste?
Like humans, dogs can taste salty, sweet, bitter, and sour, but they use their noses more often because of their small amount of taste buds.
They will especially use their nose more when deciding what to eat.
Is Licking A Sign of Showing Respect?
Dogs lick other dogs and humans to whom they want to show respect.
They do this to acknowledge the hierarchy. A few licks from a dog can mean they let you know that they will be loyal to you.
Is My Dog Grooming Me When Licking Me?
Dog loves to groom, whether it's themselves or their owners.
Just like a cat, dogs will lick to groom, and you are no exception to this if they are the type of dog that grooms to show affection.
Does My Dogs Licking Mean They Have Anxiety Or Other Behavioral Disorders?
It is not unheard of for dogs to have anxiety or other behavior issues that can cause them to lick themselves.
Other signs that your dog may have anxiety or behavioral issues are:
Yawning excessively
Drooling nonstop
Whining often
Physical signs of nervousness
Should I Stop My Dog From Licking Feet?
Even though you might find it strange, licking is normal behavior for dogs. Some more than others, but still normal.
There is no real need to stop them from licking your feet unless it becomes compulsive and starts to irritate you.
Is My Dog Showing Empathy When Licking?
If you cry or feel more upset than usual, your dog will lay with you and offer a paw or a lick to help you feel better.
They will want to do what they know instinctively to help those they love.
Is My Dog Licking A Sign Of Boredom?
Dogs usually like to be clean and groom themselves by licking when they are bored.
If they seem to be doing it more and more, especially when they are not bored, it can signify stress or anxiety.
How Can I Get My Dog To Stop Licking His Legs?
The most effective way to stop your dog from licking its legs is a distraction.
Some of their favorite toys, food, treats, playtime, and exercise can keep your dog from licking or biting its legs.
How Do You Train A Dog To Stop Licking Your Legs?
If you think that your dog is licking you for the wrong reasons or has a bad habit of doing so, these are some steps you can take to stop the licking:
Give reassurance
Show affection in other ways
Tell them no to licking your legs consistently
Why Does My Dog Lick My Wounds?
Dogs have an instinct to lick wounds when they see them. They have healing agents in their saliva that can help cleanse the wound.
They are natural healers and want to help keep you groomed, clean, and happy.
Why Does My Dog Lick The Back Of My Legs When I Walk?
When your dog is showing affection by licking your legs while walking, they could tell you that they love you or want to join you.
Being with you and showing you affection makes your dog very happy.
Does Anyone Know Why A Dog Would Suddenly Start Licking?
While licking is normal behavior from a dog, it is not normal for them to randomly start licking excessively.
If your dog shows excessive licking, it is best to call your vet. There could be multiple reasons why they are licking suddenly.
Can Giving Them Toys Help With Licking?
Your dog being distracted from licking is a great way to stop them from licking, so if your dog has a favorite toy, it will help keep them distracted.
If the licking continues, it is best to try the "cone of shame" to force them to stop.
If I Reassure Them, Will they Stop Licking?
Reassuring your dog can help them stop licking and recognize what is right and wrong. Some of the terms that we all know to work best are no, drop it, leave it, bad, and stop.
These reassurances can help them learn when licking is okay and not okay. Just be sure to be consistent, or they will become confused.
Can I Redirect My Dog From Licking?
Some steps that you can take to redirect your dog are:
Create positive associations to get your dog's attention elsewhere and then reward
Reinforce without reward
Learn when the right to use it is
Practice and stay consistent
Consistency comes up a lot because it is the most crucial aspect of training and teaching.
What Are The Reasons Dogs Lick Human Feet?
There are many reasons dogs like to lick human feet over anything else. Some reasons are socialization, protection, taste, asking for something, stress, and much more.
If they seem to be licking compulsively, it can also be a sign that they need to see their vet.
What Are Some Things To Consider About Your Dog Licking Your Legs?
Because there are so many reasons that dogs will lick legs, it is essential to know what they are trying to do just in case it is something harmful to them or you.
You and your vet can quickly determine why your dog is licking, and once you know why you will be able to consider some plans of action if need be.
Tips On How To Stop Your Dog From Licking Your Legs
The three tips you need when you are trying to stop your dog from licking your legs are:
What is a suitable distraction method for your dog
Have the tools you need (toys, treats, collars, etc.)
Be prepared to use a cone or boots
Does Sit and Stay Training Stop Dogs From Licking?
Sit and stay training is practical for anything you are trying to stop your dog from doing and is one of the most accessible forms of training.
As long as your dog knows to sit and stay whenever you command, it can help stop your dog from licking by distracting them.
Will Ignoring My Dog Help Them Stop Licking?
Ignoring your dog may help them stop licking, but only if the reason that they are licking is for attention.
If your dog is not licking for attention, then ignoring them could worsen the problem.
References
Buzhardt, L & Weir, M. (NA). Signs Your Dog is Stressed and How to Relieve It. https://vcahospitals.com/know-your-pet/signs-your-dog-is-stressed-and-how-to-relieve-it
Frazier, K. (2000). Why Do Dogs Lick? https://www.rover.com/blog/why-do-dogs-lick/
Union Lake Veterinary Hospital. (2021). How to Stop Dogs From Licking and Chewing Their Paws. https://unionlakeveterinaryhospital.com/blog/how-to-stop-dogs-from-licking-and-chewing-their-paws