No one wants their dog to poop in the ocean, especially when we're swimming next to them. Luckily you can help your dog avoid this by understanding what causes them to poop in the sea in the first place and being prepared.
Why Does My Dog Like To Poop In The Sea?
Dogs might poop in the sea when they've had too much ocean water to drink, when they're too excited to stop and potty, or just because their bodies are so relaxed. Sometimes you can help your dog avoid pooping in the sea. But if it happens, just bag it and toss it to keep the beach clean and safe for everyone.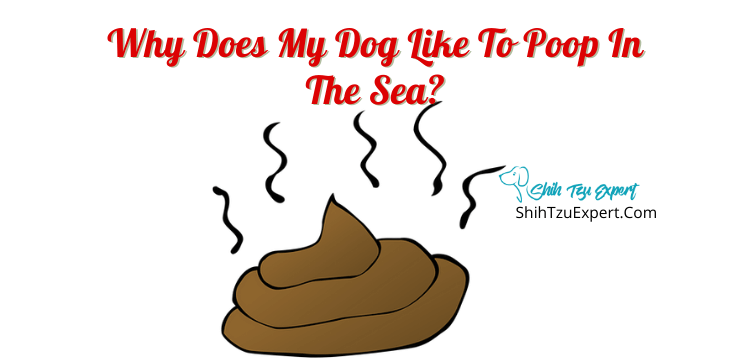 Do Dogs Poop In The Ocean Because They Drink Salt Water And Eat Sand?
Salty ocean water could be the reason for your dog pooping in the ocean.
Even in small amounts, your dog swallowing ocean water can cause diarrhea or loose stools. This may cause your dog to poop even if they've already done their business for the day.
Sand, on the other hand, can have the opposite effect. If your dog eats sand – whether on purpose or by fetching sandy balls off the beach – it can cause constipation, or even cause your dog to have serious intestinal complications.
Is It Safe To Swim In The Sea If A Dog Has Pooped In The Immediate Vicinity?
Like all feces, dog poop contains bacteria that can cause infections in humans and other lifeforms.
Dogs can also share parasites, like ringworm, through their poop.
Because dog poop can contain these bacteria and parasites, it is not safe to swim in the ocean if a dog has pooped in the water nearby. Eventually, the poop will be taken out to sea and it will be less of a safety concern for those swimming near the shore.
If the dog has pooped on the shore, the best idea is to pick it up before it has a chance to get in the water.
Is It Legal To Let Your Dog Poop In The Sea?
Most beaches have rules about cleaning up after your pets. Some city ordinances may also carry fines for not picking up your dog's poop, including if it's in the ocean.
What Should I Do If My Dog Poops In The Sea?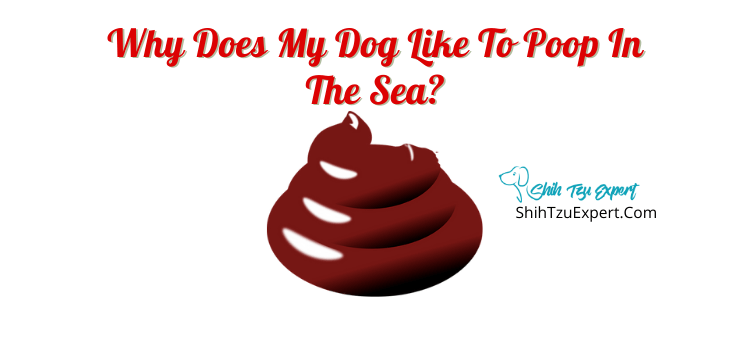 Be prepared for your dog's possible ocean pooping by tying an empty plastic bag to your swimsuit. If your dog poops in the sea, get their poop out of the water using your plastic bag.
Although it can be difficult in the ocean's waves, surround the poop with a plastic bag and scoop it out of the ocean. Drop the bag in a trash receptacle.
Using a bigger plastic bag makes this easier.
Plastic Bagging And Binning Or Letting Ocean Take Poo Away?
Always try to bag and dispose of your dog's waste properly in a waste bin.
Removing your dog's waste from the ocean will keep the water cleaner for swimmers and sea creatures alike. It will also prevent swimmers – including yourself – from having a dreadful collision with the poop.
If it is impossible to remove the poop, all you can do is let the ocean take it. It would be nice to warn swimmers nearby.
How To Train A Dog Not To Poop In The Sea?
To prevent a dog from pooping in the sea, do the following:
Make sure your dog poops before going to the beach
Praise your dog for pooping where you want them to go (not at the beach)
Avoid feeding your dog right before going to the beach
Make sure your dog is not ingesting sea water, which can cause loose stools
If your dog lets you know they have to poop before going in the ocean, take them out immediately to an appropriate spot on the shore and praise them for pooping on the land (instead of in the water)
Why Do Some Dogs Love To Poop In The Ocean?
Dogs who have trouble pooping on land might find it easier to poop in the ocean because their body is more relaxed. When the body's muscles are less tight, it is easier to poop.
Increased exercise might also contribute to the need to poop.
Some dogs might just have trouble stopping to poop while they're having fun. If your dog is committed to playing no matter what, you might need to take frequent breaks to the shore so they have an opportunity to poop.
How Badly Does Dog Poop Contaminate Seawater?
Not only can the bacteria in dog poop cause illness in humans and sea life, decomposing poop can also remove vital oxygen from the ocean, leaving fish and other animals at risk.
One dog's poop isn't likely to cause great destruction to sea life, but building on other waste overtime, it can have an impact.
Even though the sea is vast and filled with enough water to dilute small amounts of contamination, every little bit adds up. It is best to remove dog poop from the water.
How Dog Poo In The Sea And On The Beach Is Putting Your Health At Risk?
Just one dog dropping can contain billions of different bacteria that can cause human symptoms like diarrhea, vomiting, and fever.
Dog poop can also contain parasites like roundworm, which can spread to humans through ingestion or by touching skin. These parasites can cause serious problems in humans, including vision loss, rash or illness.
What Happens If A Dog Poops In The Ocean?
If a dog poops in the ocean, the waves will slowly move it out to sea. It is best to capture it right away in a plastic bag before it has time to spread bacteria or decompose.
Why Is Dog Poop Bad For The Ocean?
Poop is bad for the ocean for a few reasons:
Poop contains bacteria that can make animals like fish, dolphins, and sea birds sick.
As poop decomposes, oxygen is removed from the water to aid in the decomposition process. This means less oxygen for the ocean animals who rely upon it.
Poop could contain parasites that can harm ocean life
Does Dog Poop Decompose In Sand?
While dog poop will eventually decompose in sand, it is best to pick it up off the ground before it has a chance to get in the water.
Even if the dog poop is covered with sand, it could still get into the water with the tide or by seeping down into ground.
Is It Legal To Let Your Dog Poop On The Beach?
Some cities have laws against allowing your dog to poop on the beach. Signs should be posted.
It is always best to take your dog far from where people congregate to go to the bathroom. But if your dog does happen to go on the beach, just pick it up right away and dispose of it in a bin.
References
https://www.ncbi.nlm.nih.gov/pmc/articles/PMC2771205/
https://www.mass.gov/info-details/pet-waste-and-bathing-beaches