Nibbling and mouthing are normal canine behavior, especially in puppies. Your dog may even nibble on your other pets, including cats, if he has a strong bond with them. Most of the time, this behavior is harmless, but do keep an eye on your pets for signs of trouble.
Why Does My Dog Nibble On My Cat?
There's a big difference between nibbling and biting. Nibbling lightly with the front teeth, also called "corn cobbing" is a friendly grooming gesture or request for attention. Nipping and biting are aggressive behaviors that could be dangerous. As a pet owner, it's important to be able to tell the difference.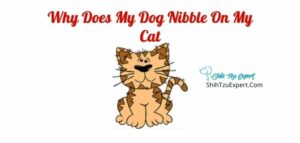 Why Does My Dog Groom And Nibble My Cat (Is This Normal)?
Just Playing
You may have noticed your dog nibbling gently on other dogs at the dog park, leading the two to start playing together. When your dog tries the same thing with your cat, her intentions are most likely the same: she is inviting your cat to play.
Take your cues from your cat: If he returns your dog's attention in a friendly way, or even ignores your dog, your dog's behavior is not cause for concern.
Just Being Friendly
Your dog may be trying to get to know your cat better and establish a bond with him.
Dogs have a special sense-gathering organ called Jacobson's organ within their nasal cavity. When dogs curl their lips, including when nibbling, it opens up Jacobson's organ and increases the information they can gather from scents. This helps them get acquainted and build trust.
Dog Loves The Cat
Grooming or nibbling is a common way for dogs to show affection. Puppies will do this with their littermates and it creates a social bond. Your dog may be expressing similar affection towards your cat.
Some dogs also use nibbling as a protective signal to warn about threats. One trainer observed her assertive dog nibbling her other, calmer dog while keeping an eye on a third dog who appeared to be unfriendly. She interpreted this as a warning from the assertive dog, who was trying to keep her shy dog safe.
If your dog views himself as the protector of the entire household, he could be trying to protect your cat from a perceived threat.
Just Showing How Excited The Dog Is
Particularly energetic dogs may be more likely to display nibbling behavior, especially towards potential playmates who have lower energy levels. In this scenario, nibbling is a way to try to entice the other animal to play, and could also be a sign of frustration if your cat rejects the invitation.
If you are thinking about adding another pet to your household, it's best to try to match energy levels. For example, an older cat may get along with an older dog, while a young cat may get along better with an energetic, playful dog.
Grooming
Grooming is a normal part of dog behavior. Dogs may nibble on their fur if they have an itch they can't reach with their back leg. They also groom themselves if they have a pest like fleas.
Strongly-bonded dogs also lick each other as a sign of trust. Your dog may extend this behavior to your cat if they have a good relationship.
Prey Drive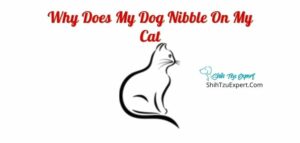 Some dog breeds have a strong prey drive and may find it hard to resist chasing or biting your cat. If you observe this behavior between your pets, make sure to supervise your dog whenever it is around your cat. It may be best to keep them in separate parts of the house.
If you already have a cat and are thinking about adopting a dog, you may want to avoid breeds with high prey drives such as:
Huskies
German Shepherds
Rhodesian Ridgebacks
Lacking Control Of Its Bite
Nibbling and mouthing are normal behaviors, especially for puppies. But if your dog has not been trained, she may bite inappropriate targets, such as you or your cat.
A dog who spends at least the first eight weeks of her life with littermates learns to avoid biting too hard in play. When she bites enough to hurt, the other puppy will yelp and turn away, so she quickly learns she can't bite too hard if she wants to keep playing.
A dog who didn't grow up with littermates may not have learned bite inhibition. All dogs have the potential to bite, so it's a good idea to train this skill. If your dog bites too hard, say "ouch" in a firm voice and walk away. Repeat this any time the biting occurs, so your dog learns it isn't appropriate.
You can also teach your dog the "leave it" command to reduce biting.
Being Dominating
Some dogs bite each other's necks as a show of dominance, typically during a fight. They may use a less aggressive version of this behavior during play. If your dog is nibbling or biting your cat, it's important to assess whether the behavior is aggressive or not.
A true display of dominance would most likely include other aggressive behavior. Examples include:
Taking food and water bowls or other resources
Aggressive staring or growling
Snarling or showing teeth
Dog Is Jealous
If your dog interrupts while you are petting your cat by nibbling the cat's ears or fur, your dog may be jealous. In this case, nibbling may be an aggressive gesture that can lead to fighting.
It's important to spend equal amounts of time with each pet. Dogs need quality one-on-one time with their owners, such as games of fetch or agility training, to blow off steam and feel secure in their bond with you.
Anxiety
Dogs nibbling their own fur can be a self-soothing behavior to help ease anxiety. While it's rare for dogs to nibble other animals for this reason, keep an eye out for other signs of anxiety, such as:
Shivering
Crying
Hiding
Destroying objects around the house
Herding
Many dogs were bred to herd other animals. In some breeds, herding behavior includes nipping at livestock's heels to keep them in line. Movement can trigger a herding dog's instincts, leading them to herd other pets, children, or even you.
This behavior is most common in breeds such as:
Collies
Sheepdogs
Corgis
Cattle dogs
Shepherds
Seeking Attention
Nibbling can also be a gentle way of asking for attention, though this is more likely if your dog is nibbling you, rather than the cat. Still, if your dog and cat have a close relationship, your dog may nibble to get attention from her buddy.
Warning
A hard nibble is a warning, the precursor to a real bite. This is a sign of poor impulse control. If you notice this behavior, it's important to train your dog other ways to respond in stressful situations instead of biting.
Teething
Chewing can ease pain or itching in young puppies' gums or new teeth. The discomfort can lead them to use their teeth on anything in sight, including your cat or even you. Some puppies grow out of nibbling behavior as their teeth grow in, but it's still important to train dogs not to bite too hard or as an uncontrolled response to stressful situations.
Communicating
Dogs and cats don't share a common language. In fact, much of their body language has opposite meanings for the two species. Nibbling can be a way for your dog to try to communicate with your cat. Depending on the situation, nibbling can convey things like:
I want to play
You're part of my pack
Leave me alone
Don't take my stuff
I'm in charge
Trying To Remove Fleas From The Cat
Finally, nibbling can serve a more practical purpose: if your cat has fleas, your dog may be trying to remove them. Dogs and cats both groom themselves to get rid of fleas. If your pets have a good relationship, your dog may extend this courtesy to your cat, too.
How To Get Your Dog To Stop Nibbling On Your Cat
Just Separate Them
If you are worried about your cat's safety, it's best to separate the animals. Put your dog in time out for a few minutes any time he tries to chase or nibble your cat so that he learns this is not acceptable behavior.
If your dog continues to bother your cat, you may want to give each of them their own part of the house, where the other is not allowed.
Train The Dog Not To Nibble
You can train your dog not to bother your cat by providing positive reinforcement any time your dog behaves well. For example, give your dog a treat as soon as the cat comes into the room. This distracts your dog, preventing him from approaching the cat. It also trains him to keep his attention on you whenever the cat is near.
Be consistent: it will take more than one or two tries before your dog stays calm around the cat.
Set Up Separate Feeding Stations And Schedules
Some animals become more aggressive when eating because they view each other as competition, even if each has her own bowl. If you notice your dog nibbling or otherwise bothering your cat during feeding time, you may want to feed them in different rooms or at different times.
If you leave food out for one pet throughout the day, make sure the other pet cannot access the full bowl. Otherwise, your dog may start to view your cat's bowl as "his", and become aggressive when your cat tries to eat.
Provide An Escape Route
Cats are good at escaping uncomfortable situations, especially when they can climb up high out of reach. Provide a cat tree or tall furniture as a haven for your cat in case your dog gets too intrusive. If your cat can escape by herself when she feels stressed, you may not have to intervene between your pets as often.
Tire The Dog Out
Keeping your dog active may reduce nibbling, which can be a sign of excess energy.
Make sure to take your dog on daily walks and engage in active play like fetch or tug-of-war. Owners who enjoy jogging can help dogs burn through extra energy by taking them on a run. Especially energetic dogs may benefit from agility training or other sports.
Keep The Dog Busy
Give your dog something else to do when the cat is around.
For example, teach basic obedience commands such as sit, stay, lie down, and leave it. Then have your dog practice performing these commands whenever he is in the same room as the cat. Reinforce the behavior with treats any time he does well.
Give Dog Other Things To Nibble On
You can distract your dog by giving her something to chew on besides the cat.
However, be aware that unchecked nibbling can lead dogs to destroy your belongings. It's best to provide something appropriate to chew on, like a chew toy, rather than a pillow, shoe, or something else you don't want your dog to destroy.
Do Something About Your Cat's Flea Infestation
If your cat has fleas, treating this issue may prevent your dog from nibbling her. It's also best for your cat's health and prevents the fleas from spreading to other pets or to you.
You can bathe your cat with warm water and mild dish soap to get rid of fleas. If you want to use flea shampoo, ask your vet to prescribe the safest one for your cat.
Many cats hate water, so bathing may not be practical. In this situation, you can use a flea comb to remove fleas from your cat. Kill any fleas on the comb by dunking it in hot soapy water. This works better than killing fleas by hand; they are great jumpers and therefore hard to catch.
Why Does My Dog Keep Biting Cat's Neck (How Dangerous Is This)?
To determine whether an interaction between your pets is dangerous, take your cue from your cat. Nibbling is only an issue if your cat indicates it is painful or unwelcome, for example by growling, hissing, or running away. When you see these signals, redirect your dog's attention away from your cat with another toy, or put him in time-out for a few minutes.
How Do I Get My Dog To Stop Nipping At My Cat?
If your cat is uncomfortable around your dog, make sure to supervise them any time they are together. Never leave them in the same room when you're not home.
Redirect your dog's attention and give him another behavior to perform when the cat is nearby. Basic obedience training is a great start. Reward your dog with high-value treats any time she ignores the cat.
Avoid scolding your dog when she makes mistakes. It's better if your dog has positive associations with the cat. Negative associations create anxiety, which can worsen bad behavior.
If your dog's behavior does not improve with training, you may need to set up separate areas of the house for each pet.
How Do I Know If My Dog Is Playing Or Fighting With My Cat?
When animals play together, it can look a lot like fighting. Look for these subtle cues to confirm the fight is just a friendly game:
Slow, frequent blinking from both animals
Exaggerated poses from the dog, like bowing or showing her belly
Not much sound from either animal: no low growling or hissing
Play biting with open mouths and very little pressure
Swatting with minimal force
If you notice any of the following, you may need to step in:
Your cat runs away and your dog chases him
Your cat hisses
Low growling from either animal
Your dog snarls or shows teeth
Either animal uses claws or teeth with real force
Your cat's ears are back
Your cat's fur is fuzzed up and his back is arched
Why Does My Cat Let My Dog Bite It?
Like many animals, cats enjoy being groomed because it feels good. If your cat is happy to be groomed, she will be in a relaxed pose, with her feet tucked under her. Her ears will be upright rather than laid back, and her fur will not be standing on end.
Cats, especially energetic kittens, may enjoy playing with dogs. If your cat is happy to play, he will respond with play biting or bunny kicks.
Will My Dog Hurt Or Kill My Cat?
Most dogs can be trained to coexist peacefully with cats, especially with a proper introduction. Animals that grow up together have a better chance of getting along. Certain dog breeds also pair better with cats, for example:
Basset Hound
Beagle
Bulldog
Cavalier King Charles Spaniel
Collie
Golden Retriever
Labrador Retriever
Pug
What Are The Benefits Of Your Dog Grooming The Cat?
Regular grooming benefits cats, especially those with medium to long hair.
Grooming keeps your cat's coat in good condition and prevents matting. It also helps prevent hairballs by reducing the amount of hair the cat ingests. If your dog wants to take on some of the grooming, it means your cat needs less brushing from you!
Grooming can also strengthen the bond between your two pets.
What To Do If My Dog Draws Blood From Biting My Cat?
If your dog bites your cat hard enough to draw blood, separate them immediately. Wash your cat's injury with soap and water and take him to the vet to ensure the bite does not get infected.
Your pets will need to be separated until your dog can behave calmly around your cat. Give each their own space in the house and slowly reintroduce them:
Give them each their own room
Have each spend time in the other's room to get used to each other's scent
Allow them to smell each other under a dividing door
Leash your dog and ensure he is trained to respond to commands
Slowly bring them closer without making physical contact
Keep the initial introduction short
Repeat consistently
Once your cat is comfortable, allow the two animals in the same room, with your dog leashed
After your dog shows it can be calm around the cat, remove the leash
If your dog still cannot control himself around the cat after a slow reintroduction and obedience training, you may need to consider rehoming one of the animals.
References:
https://pets.webmd.com/remove-fleas-from-pet https://vcahospitals.com/know-your-pet/why-dogs-sniff-butts
https://www.akc.org/expert-advice/advice/why-does-my-dog-herd-my-kids/