It's a well-known fact that most people at some point in their life have accidentally peed in the pool, but is it safe for dogs to do the same?
Can Dogs Pee While Swimming?
While probably something we don't think about often, dogs can and will pee while swimming, whether that be in a lake, pool or the ocean. Some dogs might feel uncomfortable peeing under the unusual circumstances of a pool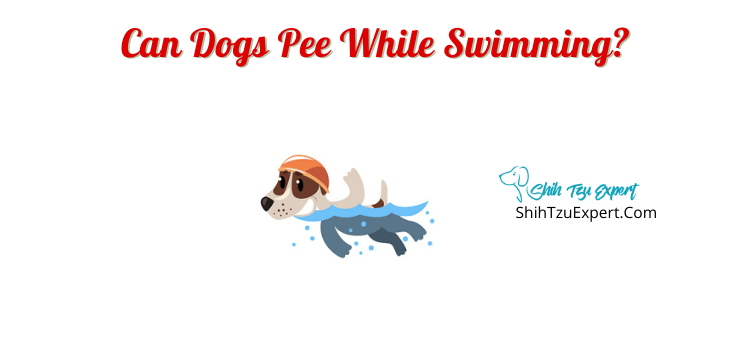 Do All Dogs Pee In The Water When They Go Swimming?
Dogs do not hold the same fear of taboo or being ridiculed by their peers for their actions and thus do not hold the same reservations about peeing in the pool as we do.
So whether or not a dog chooses to pee in the water while they are swimming is a case of personal preference for the individual dog.
Dogs who really like to mark their territory wherever they go would probably not pee in the water and would instead wait to do it on land.
Why Does My Dog Pee In The Water While Swimming?
The most likely reason for a dog to pee in the water while they are swimming is simply because they have to go and don't want to stop swimming.
If it is water that is on your property (like a pool or a pond) They could also be attempting to mark the body of water so that other animals don't try to swim there.
Does Dog Urine Cause Algae To Grow & Turn Pool Water Green?
Any urine in a body of water will cause algae to grow but usually, pools built for people are treated with chlorine to prevent this, so will it hold up to dog pee?
Yes and no, as long as your pool is being treated with the right amount of chlorine no algae will be able to form in order to turn your pool green, but you will need to use more with dogs.
If you are allowing a dog to swim in your pool, it will get much filthier, much faster than if it were just people swimming there.
A single dog will release around the same amount of contaminants into the water as 3 people would while swimming around even if they don't pee in the pool.
So if you want to let your dog swim around (and pee) in the pool you need to be testing and treating the water much more often than you regularly would.
Why Does My Dog Pee In The Lake?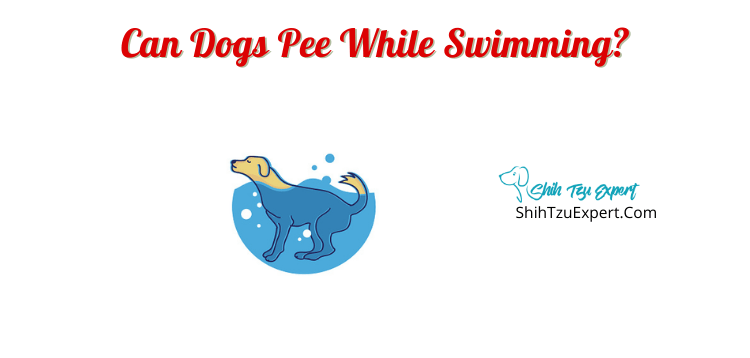 If your dog is peeing in a lake that you don't often go to, they are most likely just peeing to relieve themselves.
However, if this is a lake you frequent often, this could be an attempt to mark the area and keep other animals away (even though it wouldn't be very successful).
Why Does My Dog Pee In The Pool?
Your dog pees in the pool for the same reasons as they would a lake, in order to relieve themselves or mark their territory.
However, there is also another reason why your dog could be going to the toilet so-to-speak in the family pool.
This could be that they notice their family often in the pool and are therefore trying to ward off other predators in order to protect them.
Is It Dangerous To Let Children Swim In The Same Pool As Dogs?
Like most things when it comes to both children and pets, this is perfectly safe as long as you are willing to be very vigilant (which should be the case with children in the pool anyway).
There are lots of things that could go wrong though, that you need to know what they are so you can keep an eye out for them and not be caught off guard if they happen.
The first thing to keep in mind is that if your child needs an armband to swim, that dogs have sharp enough claws to be able to puncture these flotation devices.
This could easily lead to the child drowning if it goes unnoticed or isn't caught in time.
A dog's claws could also lead to your child getting scrapes or cuts which in pools (a breeding ground for all sorts of bacteria) could lead to infection.
There is also the possibility that if your dog and child are playing, the dog could accidentally hold them underwater and cause drowning.
Tips For Swimming With Dogs
Swimming is a really great exercise for dogs not to mention much more fun for the owner than throwing a ball but can be quite a hassle (particularly when it comes to pool maintenance).
Here are 5 tips to make your next pool day with your fur baby more enjoyable:
Use a life jacket for your dog – Even if your dog is a natural-born swimmer, they can still get tired and end up not being able to hold themselves up. Using a life vest not only prevents accidental drawing but also helps improve your dogs form while swimming, as it holds them up horizontally as opposed to letting their back end sink into the water.
Don't just 'throw them in the deep end' – Introduce your dog slowly to the water and spend a good amount of time helping them learn how to swim properly. A lot of dogs do not start out being a big fan of swimming or water in general because they end up wet and cold afterwards, so it is really important that their first experiences with swimming with you are really positive if you want to have swimming be a continual habit for the both of you.
Trim their nails and groom them before swimming – Dogs can have very sharp claws that are more than capable of poking a hole in your pool lining (if you have one) as well as scratching your arms and legs while you are swimming with them, so it is important to trim them beforehand. It is also important to groom your dog before swimming to get rid of as much hair as possible, an ungroomed dog could absolutely shed enough hair overtime to completely mess up the filter of your pool.
Wash or at least rinse off your dog after their swim – When we go swimming we get absolutely covered in chlorine, and while it is safe for dogs if you leave it on them it can and will lead to dry, matted fur and irritated skin. So after each swim just take a few seconds to rinse off your dog properly with a hose or in the shower, if you are feeling it you can also shampoo and condition their coat while they are wet so they have beautifully soft fur.
Keep an eye out to ensure that your dog isn't drinking the pool water – Ingesting small amounts of chlorinated water while swimming isn't dangerous to dogs, but drinking large amounts could absolutely cause some damage. Be sure to always watch your dog when they are in the pool to ensure this doesn't happen.
Is Letting Your Dog Swim in Ponds/Rivers/lakes Or Even The Ocean Safe?
We know that letting our dogs sim in our chlorinated pools at home is safe for them, but what about more natural pools of water?
Unfortunately natural does not always mean better, as they often contain parasites and diseases that our furry friends can contract.
Here are some parasites and diseases to watch out for if your dog has just gone swimming in some questionable waters:
Giardiasis – Giardiasis is a parasite passed though infected poop (which can then be spread through water) that is capable of infecting both dogs and humans causing diarrhoea. While not usually fatal it can cause quite severe dehydration and weight loss if it goes untreated long enough.
Pseudomonas Aeruginosa – This is a bacteria that causes chronic ear infections in those unlucky enough to be contaminated with it. The main symptoms are painful swelling and pungent pus in the ears. This can be diagnosed and treated easily at the vets so if you notice these symptoms or other signs of ear infection after a swim in your dog (head shaking, pawing etc.) be sure to bring them to the vet
Crypto – A parasite that once infected causes a disease called cryptosporidiosis in the recipient. Like many other waterborne diseases, the main symptom is watery diarrhoea, this can be treated quite easily as long as it isn't left go on for too long.
Leptospirosis – A common waterborne disease found usually in warm areas with high rainfall. Leptospirosis can cause many symptoms and can be difficult to diagnose, the main ones to look out for being; fever, vomiting, shivering, jaundice and kidney failure. Please be careful if you think your dog has Lepto as it can be spread to humans.
Heterobilharzia Americana – This is a flatworm believed to be the main cause of schistosomiasis in dogs, while it is endemic to the gulf region of texas, infections happen worldwide. It causes visual symptoms such as vomiting, weight loss, diarrhoea and lethargy and is often difficult to treat as the lesions caused by the inflammation are chronic.
Pythiosis – Commonly known as 'water cancer' it is definitely one of the nastier waterborne diseases. It is a rare but usually very severe disease found in warmer climates. If the disease starts in the skin you will be able to see large itchy lumps form that grows in lesions and if it starts in the GI tract it will be noticed by signs such as vomiting, weight loss and diarrhoea.
These pathogens are not the only thing that one has to worry about when it comes to taking a dip in some natural water though.
When it comes to both rivers and the ocean, you have to be worried about water currents being able to sweep your dog away before you even knew they hit.
You of course also have to be careful about predators (such as crocodiles or alligators) depending on where you are.
So all in all, please be careful about where you take your dog swimming, as danger can strike even where you least expect it.
Is It Dangerous For Your Dog To Swim With Children?
We have covered whether or not it is dangerous to your children for them to swim with your dog but is it safe for your dog?
You would think that of course, the children wouldn't be able to do anything harmful to the dog but this is unfortunately not correct.
Even though they definitely wouldn't mean to, a lot of the time chilödren (even older children) don't understand how to play safely.
So if they end up playing with the dog too roughly and in a way that it wouldn't be able to get out if needed, this playing could result in an accidental drowning.
There is also a case to be made for toys in the pool being dangerous as if a dog dives down to get a toy but can't find it and runs out of breath, this could also be very bad.
If your children going to be swimming with your dog, remember to watch them at all times and teach them about how to play safely, ie, nothing that involves going underwater for a long time.
References:
https://www.petmd.com/dog/slideshows/parasites/7-scary-diseases-your-dog-can-get-water#slide-1
https://tvmdl.tamu.edu/2019/05/28/heterobilharzia-americana-infection-in-a-dog/