Your dog sleeping by your head isn't one of the most unusual behaviors for your dog, but it can be annoying for you. Sometimes it's separation anxiety. Sometimes it's affection. Sometimes it's a dominance issue. Whatever the reason, there are ways for you to prevent it.
Why Does My Dog Sleep By My Head?
There are many reasons why your dog may sleep by your head. The best way to figure out what this is to see what started this behavior as each dog is different and doing this will help you figure out how to stop that behavior if that's what you want.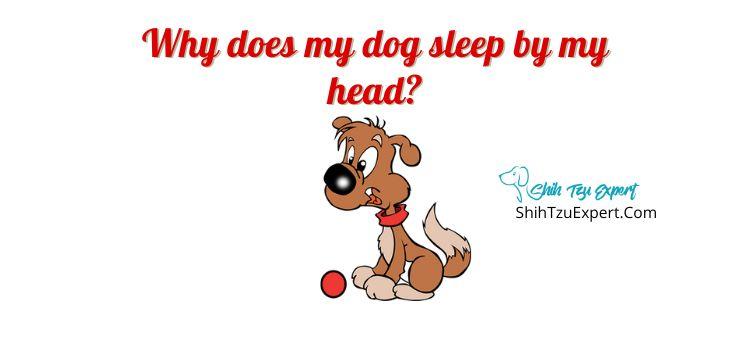 Why Does My Dog Sleep By My Head Only At Specific Times (Night Or During The Day)?
Maybe something has happened at that time previously that may have scared them or caused them to want to sleep next to you. Maybe some fireworks went off at night time that has caused them to be scared at night and fear the loud noises? Figure this out and then you'll know why and how to stop them from doing it.
Why Has My Dog Just Started Sleeping By My Head?
If it is a recent thing that's started and they didn't previously do this, think about any events that have recently happened and that may give you your answer. Has something scared them? Is their sleeping area no longer a 'safe space' for them? Work this out and then you can start to undo this and eventually, they'll be back in their own bed.
What Does It Mean When Dog Sleeps By Your Head (Is My Dog Feeling Unloved? Lonely)?
Your dog may be feeling quite anxious and has taken to sleeping by your head as a way of getting comfort. They also might be feeling quite protective towards you.
Why Does My Dog Sleep On My Pillow By My Head?
There are multiple reasons for this. It might help them feel safer. Due to being a pack animal, they might naturally want to sleep right next to their pack leader. They might find it comfortable. Alternatively, they may also have separation anxiety.
Figure Out When Your Dog Started Sleeping On Your Head And Why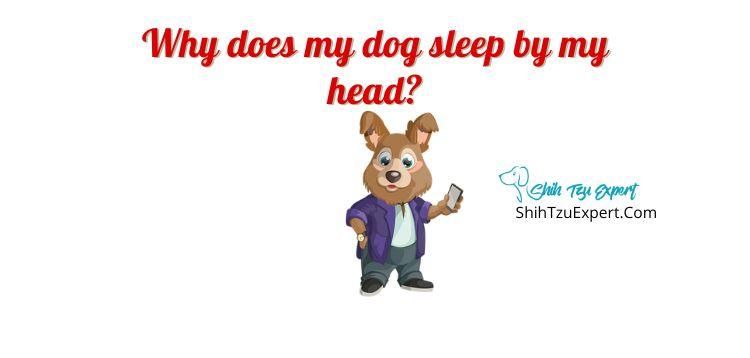 It's always important when any new behavior arises with your dog to look at when and why it happened. Once you've figured this out, you'll then be able to work back through everything and help them to change this behavior. Possibly get in a dog behaviorist too as they'll give you tips on how to make the transition from your bed to their bed easier.
14 Reasons Why Your Dog Sleeps By Your Head
They Just Love You Too Much!
Dogs are very loving creatures and they only aim to please. They love to show you how much they love you and how much you mean to them (even if it doesn't always seem like it).
They Want To Bond With You 🙂
Dogs only want to strengthen their bond with you as they see you as part of their family (or 'pack') so they believe that by sleeping right next to you, they will be able to bond further with you.
Looking For A Bit Of Attention
Dogs love getting attention so when they feel they're not getting enough attention, in this case, when you're sleeping, they will do anything to get your attention. So if they sleep next to you and you give them this attention, they're only going to repeat the behavior.
Separation Anxiety
Most dogs will experience separation anxiety so sleeping right next to your head is their way of calming themselves down and also being able to know exactly where you are. It means they can see where you are and feel that you're still there.
Your Dog Is Looking For You To Protect It
Dogs love protection, whether you are protecting them or they are protecting you. If they want you to protect them, this may be because they are scared and want to feel comforted by you.
Your Dog Is Trying To Protect You
As dogs traditionally live in a pack, it is their natural instinct to want to protect their pack leader, aka you. They don't want to see any harm come to you and believe they can prevent this from happening by sleeping right next to you so if anything happens, they're there to stop it.
Pup Likes Your Pillow 🙂 And Definitely Wants Part Of It 🙂
Some dogs mimic their owners so if your dog sees you with a pillow they will want one too and if they don't have their own, they'll take yours. This could be solved by giving them their own pillow so they have something to sleep on.
It's Too Cold For The Poor Pup, So Looking For A Bit Of Warmth
Particularly when a dog is a puppy, they have trouble regulating their body temperatures. Your body radiates warmth, so if your dog is feeling a little cold, they are going to want to sleep next to you just to be warm.
Just Being Puppy And Being Clingy
Puppies tend to be clingy and are used to constantly being around their mom, possibly their dad, and their siblings. When they are taken out of that environment, they want to be around whoever's closest to them, which is you.
They Miss Their Mom, Brothers And Sisters
As mentioned above, puppies are used to being around their mom and siblings, so when they're taken away from them, this can really stress them out. They want the comfort of having someone next to them and that someone is you.
Issues Related To Behavior
These issues often relate to dominant or entitled behavior. If your dog hasn't been given any boundaries, they are going to do whatever they can because they feel entitled to do it. In this case, they believe they're entitled to sleep in your bed, which you may not want but also haven't told them they can't do it.
You Have Encouraged Your Pup!
It's very easy to accidentally train your dog to do something you don't actually want them to do. For example, they may have been crying a lot as a puppy so you thought having them in bed with you would stop it. It might, but that teaches them it's okay for them to keep sleeping in the same bed as you.
It's Trying To Mark And Claim Its Territory 🙂
Dogs are used to living in a pack and therefore naturally want to claim their hierarchy within the pack. Your dog most likely sees you as their leader so your dog will believe that sleeping next to you will show other members of the 'pack' that your dog ranks higher than them.
It's Scared Little New Puppy
Whenever you bring a new dog into your life, they're likely to be scared. They may have already picked up on the fact they are safe around you, so want to use you for comfort. It may be tempting to let them sleep with you at first, but this will cause more problems further down the line.
Should You Stop Your Dog From Sleeping Next to Your Head?
Yes, you should. Even if you're fine with it at first, it's teaching them that this is okay when there may be times you just want time for yourself. Teaching them to sleep in their own bed gives them a bit of independence and means you can also have a bit of alone time.
How To Stop My Dog From Sleeping Next To My Head?
Get You Pup A Comfortable Dog Bed
One reason for your dog sleeping by your head could be that their sleeping area is uncomfortable and they prefer yours. Make sure they have a comfortable bed that makes them want to sleep there. This might be all you need, or you may have to incorporate something else to get them to sleep where you want them to.
Train Your Pup
Regardless of whether you have accidentally trained your dog to sleep in the same bed as you or not, you want to train them to sleep in their own bed. It may take a bit of time and patience, but eventually it will work and give you a better night's sleep.
Train Your Dog To Sleep On Its Own
If your dog has been trained (accidental or not) to sleep in your bed, you are going to have to put in the work to train them to sleep on their own. Make sure they know where their own bed is and make it clear to them that this is where they sleep. You could also get a stairgate to stop them getting upstairs.
Consult A Vet To Treat Separation Anxiety
As much as you may love your dog and want to be around them, you both deserve your alone time. Your vet will be able to give you information on how to help your dog with their separation anxiety so you can both get a good night's sleep without having to be right next to each other.
Don't Encourage Or Reward Them
Only reward your dog for doing what you want them to do. For example, when your dog sleeps in their own bed, reward them. Also ensure to redirect them to their own bed anytime they try to sleep by your head. Eventually, they'll get the message and co and sleep where they're meant to.
Get Them Tired Before Bedtime And They Will Fall Asleep In Their Own Place
Stimulating your dog by giving them plenty of exercise and play time is a great way to get them to fall asleep. Dogs, particularly puppies, often have a lot of energy so getting them tired, particularly before bedtime, means they should fall asleep easier and if it's in their own bed, even better.
If All Else Fails, Just Let Them Sleep Next To Your Head 🙂
If you've tried everything and all you want to do is fall asleep, just let them fall asleep next to you. Preferably if they are going to sleep in your bed, get them to sleep on the other side of the bed so you both have your own space.
Do Dogs Protect You When You Sleep?
Dogs will often want to protect you when you sleep as you are their leader and it's in their nature to want to protect their leader. They want to ensure they are as close to you as possible so that should anything happen, they are there to protect you.
How Do You Know If Your Dog Is Trying To Dominate You By Keeping Its Head Next To You?
You will know your dog is trying to dominate you by sleeping next to you by seeing if they will move when you tell them to. If they do, it's likely another issue at play. However, if they refuse to move, they believe they are the dominant one over you and need to be taught differently.
Why Does My Dog Have To Touch Me When It Sleeps?
In general, your dog just wants to be close to you. Maybe they want to protect you or want you to protect them? Maybe they're feeling anxious? As you'll know, dogs love being petted and stroked so when you're asleep, this is their way of seeking comfort from you.
Why Does My Dog Use Me As A Pillow?
It may feel like your dog is using you as a pillow, but they are just doing it because they like to be as close to you as possible and this means lying on you. It may be for other reasons, such as feeling anxious or wanting protection, but this is the main reason.
Do Dogs Like When You Lay Your Head On Them?
This should be okay to do. It depends what your dog prefers. They may not have an issue with it. Alternatively, they won't like it at all. Either way, they'll make their feelings more than clear to you.
Why Won't My Dog Sleep By My Head?
This is because they're fine with being separate from you. One reason for a dog sleeping by their owner's head is due to separation anxiety, so if your dog isn't doing this, it's a good thing.
Why Does My New Puppy Sleep On My Head?
Puppies in particular may prefer to be close to you because they're in a new and unfamiliar space but they may feel quite close to you already so see you as their protector. They will want to feel as close to you as possible and do this by sleeping on your head.
Why Does My Dog Like To Sleep Behind My Head?
It's probably a combination of wanting to be close to you but also want your pillow. Dogs love comfort so a combination of their favorite person (you) plus a comfy pillow is like a dream come true for them.
References
https://www.hepper.com/why-does-dog-sleep-on-my-head/
Why does my dog sleep by my head? (On the pillow above your head)
Why Does My Dog Love To Sleep On My Head? (10 Reasons)