Breeding with your female dog requires planning and patience. Before sending your dog to mate, you must ensure she is physically ready. You must also consider the ethics, and decide if breeding is the right option.
However, at times, your female dog may be reluctant to breed, and this may indicate existing health conditions that are causing your female dog to suffer. This article will help show you how to properly and safely plan breeding for your female dog.
Why Does My Female Dog Refuse to Mate?
If your dog does not seem interested in mating even when in heat, bring her for an additional checkup to ensure there are not any serious health or hormonal issues. Before involving yourself in the breeding tie, consult your veterinarian on safe practices. Finally, if your dog does not want to mate, you should consider alternative ways to get another pet, such as adopting a dog from a shelter.
Is She Not Interested In This Specific Male Dog?
Just like people, dogs can have preferences in their mating partner. According to wikiHow Pets, many female dogs may not express interest in a housemate. Just like a human, they may not want to mix romance into their current living situation.
On the other hand, male dogs who are more submissive or timid may not want to mate with an aggressive female. Personality and attitude are important in the breeding process, just as health is.
Can Female Dogs Refuse To Mate? Is She Not Interested In Males At All? 
Some dogs may be submissive or timid, and just not very interested in mating.
You should also ensure that a lack of interest in mating is not due to any health issues. For example, brucellosis, an infectious bacterial disease, can cause dogs to become sterile. It can also cause spontaneous abortions for female dogs. WikiHow Pets suggests looking out for swollen lymph nodes, limping or difficulty walking, and lethargy. If your dog is showing any of these signs, make sure you bring them to your vet.
Why Are Female Dogs Not Ready To Mate?
Pay close attention to your dog's menstruation. At first, your dog will have more heavy spotting. Once it is clear, she is ready to mate. This may take a few cycles and will not immediately happen as she enters adulthood and has her first heat cycle.
If your dog still does not seem ready to mate, get your female dog tested for hormonal imbalances. These issues could prevent your dog from getting pregnant as well as cause them to suffer.
Do Female Dogs In Heat Want To Mate?
Yes, but as mentioned, make sure your dog has gone through several heat cycles before mating, to ensure they are mature enough. Pay attention to your dog's social cues, behavior, discharge, and any other symptoms during this time.
What Happens If A Female Dog Doesn't Mate?
Just with humans, not much will happen aside from frustration, and perhaps some aggression. Seek advice from your veterinarian instead of forcing something your dog is uninterested in. There could be an underlying reason as to why your female dog cannot mate, such as the aforementioned medical issues.
How Do You Know If Your Female Dog Is Ready To Mate?
To know if your female dog is ready to mate, pay close attention to her heat cycle. You can also get vaginal smears or swabs done at a vet's office, so you can be certain she is ready to mate. According to Pet Helpful, the most accurate test is a progesterone assay. Most female dogs should go through several heat cycles before beginning to mate.
Signs That A Female Dog Wants To Mate
Your dog will start to want to mate about 6-12 months into its life, after experiencing a few heat cycles. You should consult your vet on knowing if your dog is ready and wants to mate. Before any other planning,
you should first take your dog to your vet for a pre-breeding health visit or checkup. Typically, a dog should be around 2 years old when they first start to mate.
What Do You Do If Your Female Dog Doesn't Want To Mate? 
As a dog owner, this is up to you, if your female dog doesn't want to mate. Ethically, you should consider that it is ultimately your dog's decision whether or not to mate. Female dogs are not required to mate to survive.
If your dog does not want to mate, and you still want more pets, consider adopting a dog from a shelter instead. In many places around the world, there are many stray dogs and dogs without homes due to uncontrolled breeding. Even if your dog does not breed, there are other ways to get another dog.
Do Female Dogs Need Time Before They Mate?
Yes, while a female dog may have her first heat at 6-12 months old, they should not mate until they are about 2 years old. They need time to mature, prepare, and develop so that they are ready to carry a pregnancy.
How Do You Know If A Dog Mating Is Successful?
Just as humans can take pregnancy tests, so can dogs. This does not mean you can pick up a test at your local pharmacy, however.
Discuss testing options with your veterinarian that are affordable and logical.
How Many Days Will A Female Dog Let A Male Mount Her?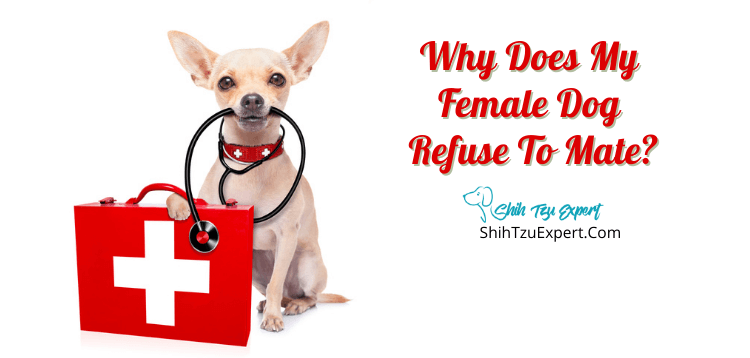 Typically, a female dog will let a male mount her over a period of 3 days. The stage where the female is receptive to the male typically lasts 3 or 4 days but can be as long as 9-11 days.
What Happens If You Separate Dogs While Mating?
If you decide to separate dogs while mating, there can be potential injuries to the dogs or yourself. Please consult a vet before involving yourself in the breeding process and remember that this is a precarious practice.
In particular, male dogs can be injured if they break the breeding tie too early and risk their ability to breed in the future.
How Long Does It Take For Dogs To Mate?
Typically, it takes 10-30 minutes for dogs to finishing a breeding tie. Ask your vet more specific questions depending on your dog's size and breed.
Can You Artificially Inseminate A Dog At Home?
Before considering artificial insemination or seeking help from a specialist, seek advice from your vet. Some dogs may require support during mating to prevent dogs from breaking their breeding tie.
This can be a precarious practice, so be sure to seek advice from a professional first, to prevent injury to both the dogs and yourself.
There are reproductive specialists which can help you resolve any major mating problems. These specialists can typically be found at veterinary teaching hospitals.
Why Does My Male Dog Refuse To Mate
Bring your dog to its vet to ensure he is not having any health issues. Male dogs may have prostate problems, which could cause infertility. Look out for symptoms like lethargy, walking difficulties, difficulty urinating, bloody discharge, and related symptoms.
Summary
Overall, breeding dogs requires patience and careful planning. Before considering breeding, ensure your dog and its mating partner are healthy, by checking in with your veterinarian.
References
https://www.wikihow.pet/Deal-with-Common-Mating-Problems-in-Dogs
https://www.britannica.com/animal/dog/Reproductive-cycle