Even some reputed dog breeders mistakenly believe that Shih Tzu can be inbred without any consequences!
They forget to take some critical facts into consideration, resulting in a poor quality of life for the puppies and the mom.
Let's go over why you should carefully consider whether you should let your Shih Tzu inbreed even from different litters…
Can Shih Tzu Siblings Mate?
Sibling dogs can mate and produce inbred puppies. Inbreeding can have negative outcomes such as birth defects and pass on negative recessive genes to the next generation. Accidental breeding does happen but it can also be seen in purebred breeding. Responsible breeding can phase out common diseases and add gene diversity to breeds with a lot of inbreeding.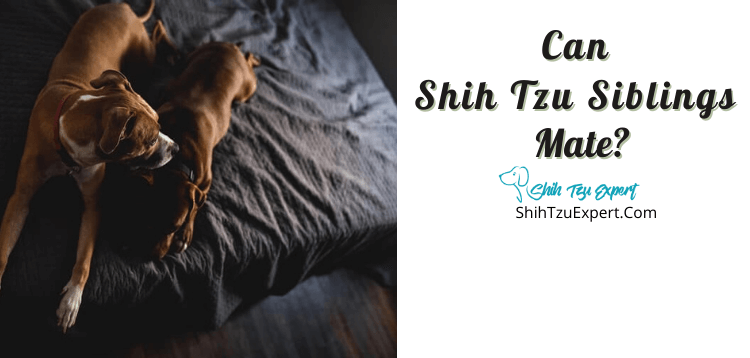 Do Sibling Dogs Mate?
Sibling dogs can and do mate. It's usually an accident unless breeders do it intentionally. Puppies born from a sibling pairing are inbred. Inbreeding can have negative outcomes.
Is It Ok To Breed Shih Tzu From The Same Litter And Have Puppies?
Puppies from the same litter are full siblings. They both have exactly 50% of their DNA from their parents. While puppies don't inherit the same 50% as their siblings, enough overlap exists that genetic defects and deformities can happen.
Because of this, it is not advised to breed siblings from the same litter as it can affect not only the puppy's quality of life but its descendants for generations to come.
What Happens When Brother And Sister From The Same Litter, Mate & Get Pregnant?
Siblings can produce healthy puppies; however, inbreeding can often cause damage to reproductive traits such as length of gestation and genetic defects.
Even if all of the puppies are normal and healthy, they may possess and pass on negative genetic traits to their descendants.
Can You Breed Brother And Sister From Different Litters And Have Puppies?
You can breed brother and sister from different litters but it only slightly lessens the risk of genetic defects.
If the different litters have the same dam and sire, the siblings will still share 50% of their DNA and the chance of overlap exists.
What Happens When Brother And Sister From Different Litters, Mate & Get Pregnant?
Puppies from different litters are still brother and sister and still share DNA.
When the siblings successfully mate, there is a chance their puppies will have health complications or pass on negative traits to their puppies.
How To Stop A Shih Tzu Trying To Mate With A Sibling?
To keep siblings from mating, you can separate them during the periods when the female is in heat and most likely to conceive.
You can also spay or neuter the puppies if you intend to raise both full-time.
Do Dogs Know That They Are Brother And Sister?
We don't know for sure whether dogs can recognize their siblings. They may know their scent.
Another theory is that the longer dogs spend together like puppies, the more likely they are to remember their siblings.
While your dogs may recognize each other, they may still attempt to mate off of instinct alone.
What Is Considered Dog Inbreeding?
Inbreeding is mating between close relatives such as between sister and brother, dad and daughter, mom and son, grandparents with their grandchild.
While inbreeding has been practiced for a long time to achieve "purebred" lineage or the breed standard, it is advised to only mate dogs that have four generations of separation.
This helps to ensure genetic diversity while still allowing the dog to look like its recognized breed.
Are There Benefits To Inbreeding Dogs?
Breeders have long used inbreeding to ensure that the positive traits that give dogs their "breed standard" appearance get passed on.
Breeding siblings allows breeders to predict what their puppies will look like and what their temperament will be.
But the same process allows negative traits to appear more often.
Why Is Inbreeding Bad?
Inbreeding is known to cause genetic defects in puppies. It can also cause undesirable recessive genes such as deafness to become dominant traits in later generations.
Depending on the population, many dogs may already be related. Breeding siblings, son, and mother, grandmother, and grandson can increase the already high risk of health issues like cataracts.
They also contribute to the growing inbreeding populations of highly bred dog breeds. If inbreeding becomes too dominant in a breed, that breed can face extinction as most dogs will share negative traits that can make reproduction impossible.
Is It Legal To Inbreed Dogs?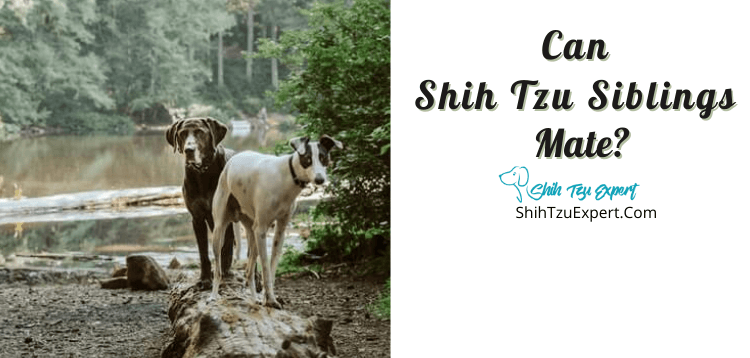 As of now, there is no law in the United States that prohibits or punishes breeders for inbreeding.
But it is frowned upon within the breeding community. Those that do it intentionally are likely to be ostracized.
Is It Legal To Sell Inbred Puppies?
It is legal to sell inbred puppies. To ensure that their new puppy isn't at risk of developing serious health complications due to being the result of inbreeding, buyers can request a report of lineage and any health records.
This will help buyers make informed decisions before committing to bringing a puppy into their family.
While it's not illegal to sell inbred puppies, it is regarded by many respected in the community to be irresponsible and morally irreprehensible.
Inbreeding Vs. Line Breeding
Inbreeding and line breeding both involve breeding relatives.
Inbred puppies are the result of direct relatives, or brother and sister, or mom and son. Linebreeding is when you breed more distant relatives such as mating cousins.
Linebreeding is regularly practiced by purebred breeders to achieve the "breed standard" established by the American Kennel Club.
Will Inbred Puppies Be Normal?
It is possible that puppies will appear completely normal. In fact, they may have the best qualities of their parents! But unfortunately, there is no way to predict the health and longevity of inbred puppies.
Even if both parents are cleared by genetic testing, puppies can still face challenges and pass on recessive genes.
Problems With Inbred Puppies
Inbred puppies can deal with various problems such as:
Birth defects
Genetically inherited health problems like hip dysplasia or cataracts
Deafness
Heart defects
Reproductive issues
Puppy mortality
Accidental Inbred Puppies [What To Do Now]?
Have a veterinarian complete a thorough exam to confirm pregnancy and identify any potential complications
Have a vet attend the birth of puppies in case complications arise
Spay/neuter dogs to prevent accidental breeding in the future or remove dogs from the same home
Is There An After Pill For Dogs?
If you witnessed the mating process, or if your dog was missing for 30 minutes or more, it's important to rule out pregnancy right away.
A vet can also prescribe estrogen therapy such as
Diethylstilbestrol (DES) or Estradiol cypionate (ECP).
Similar to the human morning-after-pill, these prevent fertilized eggs from implanting in the uterus.
The use of these therapies is controversial, though, and maybe difficult to find. Plus, it can only be administered soon after mating.
Are All Purebred Dogs Inbred?
All purebred dogs are inbred to some extent. Distinctive traits are achieved by breeding related dogs that share those traits.
While many breeders make an effort to diversify their breeding pool, many purebred dogs face the same complications.
Can Dogs Mate With Their Family?
A dog can breed with any dog. But responsible breeders who linebreed will make an effort to only breed distant family members.
The more closely related the dogs are, the more likely complications are. This is called the coefficient of inbreeding. For example, siblings will have a higher COI than half-siblings.
A lower COI will have fewer complications than a high COI.
Can You Breed Dogs With Same Father But Different Mothers?
Breeding half-siblings can be successful as they have a lower COI than full-siblings.
However, it doesn't mean it is without risk. Puppies are still considered inbred and face the same risks.
Half-siblings – regular practice
While mating half-siblings is still considered inbreeding, the resulting puppies will share less DNA than full-siblings.
The COI for puppies from full siblings or parent and child is 25%. The COI for half-siblings is 12.5%. Breeders sometimes take advantage of this lesser risk and breed a brother and sister.
Dog Inbreeding Rules
Before choosing a dog to breed, have a vet workup done, including genetic testing
Ensure that dogs are four generations removed, which ensures puppies are unlikely to be affected by inbreeding
If you have dogs that are closely related, consider separating them or spay/neuter them to prevent accidental breeding
Try to make sure the male is smaller than the female
Inbred Dog Breeds 
Unsurprisingly, the most popular dogs are also the most inbred. The most inbred dogs are:
Shih Tzu
Labrador Retrievers
Yorkshire Terrier
German Shepard
Golden retriever
Beagle
Boxer
Dachshund
Bulldog
Poodle
At What Age Can You Breed A Shih Tzu?
According to the AKC, you should not breed female Shih Tzus before 8 months and males before 7 months.
But many suggest waiting until your dog is at least 2 to make sure they're mature enough.
What Is Littermate/Dog Sibling Syndrome And Is It Real?
Littermate syndrome is said to happen when siblings of the same litter stay together beyond the first 8 to 10 weeks.
Because they bond so deeply, siblings may only pay attention to each other and miss out on socialization with humans and other dogs.
This can cause a host of issues like behavior problems, separation anxiety, or even fighting.
References
ABRI, U. N. E. (n.d.). Inbreeding. Retrieved September 29, 2021, from http://abri.une.edu.au/online/pages/inbreeding_coefficient_help.htm.
Don't take two Puppies: Littermate syndrome in dogs. The Bark. (2021, June 9). Retrieved September 29, 2021
The extent of inbreeding in pedigree dogs was revealed in new study. Phys.org. (n.d.). Retrieved September 29, 2021, from https://phys.org/news/2008-08-extent-inbreeding-pedigree-dogs-revealed.html.
Lush on linebreeding. The Institute of Canine Biology. (n.d.). Retrieved September 29, 2021, from https://www.instituteofcaninebiology.org/blog/lush-on-linebreeding.
Maldarelli, C. (2014, February 21). Although purebred dogs can be best in the show, are they worst in health? Scientific American. Retrieved September 28, 2021, from https://www.scientificamerican.com/article/although-purebred-dogs-can-be-best-in-show-are-they-worst-in-health/
Using inbreeding to manage inbreeding. The Institute of Canine Biology. (n.d.). Retrieved September 29, 2021, from https://www.instituteofcaninebiology.org/blog/using-inbreeding-to-manage-to-inbreeding.
Mattinson, P., says, C., Carol, says, D. R., Rogers, D., says, M. A. R., Randazzo, M. A., says, J., John, says, L. T., Tucker, L., says, J. w, w, J., says, R. T., Thomas, R., says, C. S., & Sense, C. (2021, July 4). Inbred dogs: The facts about purebred dogs and inbreeding. The Happy Puppy Site. Retrieved September 29, 2021, from https://thehappypuppysite.com/inbred-dogs/.
Top 10 MOST Over-Bred DOGS. PETA. (2020, June 8). Retrieved September 29, 2021, from https://www.peta.org/blog/top-10-overbred-dogs/.