When purchasing a dog from a breeder, they will most likely make you spay/neuter the dog.
Can A Breeder Force You To Spay Your Dog?
Under a legally binding dog breeder contract, yes a breeder can force you to spay your dog. If you go against this contract, you can expect to be taken to court and you face the chance that you may lose your dog. Remember, dog breeders have these contracts to ensure the safety and well-being of the dogs. An act against this is highly unethical and wrong.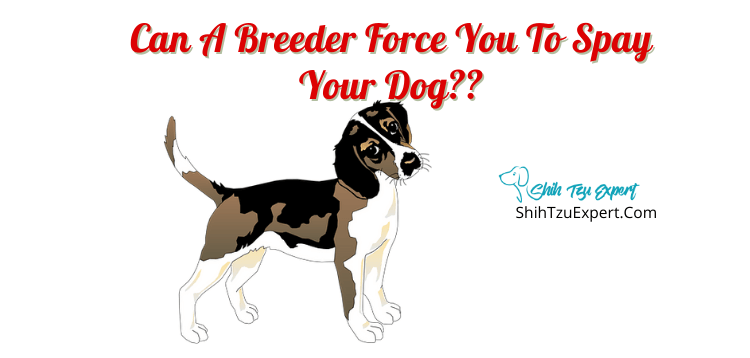 Why Do Breeders Make You Neuter?
Reputable breeders will make you spay or neuter your dog. They do this to prevent unplanned and irresponsible breeding. It is also to protect the bloodline and the health of future dogs.
If you really don't want to spay or neuter your dog, the breeder may offer some sort of deal. As long as you breed your dog with the right dog and then give the breeder one of the puppies it may be okay.
What is a Dog Breeder contract?
A dog breeder contract is a signed legal document to enforce the proper care of the dog by the new buyer. It states the well-being of the dog and the breeding that went into the dog. It also displays that both the breeder and the buyer are aware of the puppies genetics, health problems, and pet quality. Here is a list of things you will likely see on a dog breeder contract:
Quality of the pet
Vaccinations
Has it been spayed or neutered
Whether it needs to be spayed/neutered
Lineage
Genetics
Selling price
If you can return the dog and for what reasons
Registration number
Health concerns and guarantees
A spay/neuter contract is everything listed above plus
the endurance that the new dog owner will spay or neuter the puppy within x amount of time and will not breed the dog.
Happens If You Break A Spay/Neuter Contract?
If you break a spay/neuter contract, the breeder will take you to court. You will likely pay a very large fee since you performed a breach of contract. The dog breeder can also take the dog back and reclaim him/her as their property per the agreement.
Are Spay/Neuter Contracts Legally Enforceable?
Yes spay/neuter contracts are legally binding. If done properly, the breeder will have had the contract drafted by an attorney and will hold up in court, since it is a signed legal document.
Why Do Breeders Have Spay/Neuter Contracts?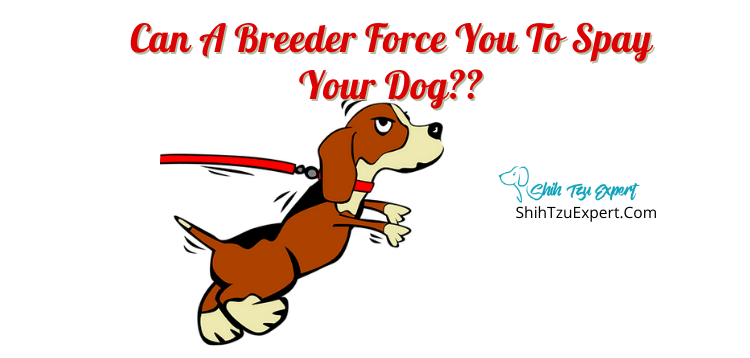 Breeders create spay/neuter contracts to ensure the well being of the dog and it's bloodline. It is also to prevent any unplanned or unwanted breeding. While most breeders do their best to have the healthiest puppies, sometimes it doesn't always work out. When a puppy is born with a certain defect or guaranteed hip dysplasia or a heart murmur etc. the breeder will require a spay/neuter contract to make sure the health problem ends there.
They will ask this of "pet quality dogs" or dogs that can't be show quality. They are exactly as they sound, they are simply just pets. Some breeders may require that you wait until a certain age to spay or neuter the dog to see if it turns out show quality.
Can A Breeder Stop You From Breeding Your Dog?
A dog breeder cannot physically force you from breeding your dog. However, once you've signed the contract and your breeder later finds out you have bred the dog, the dog breeder can and will take you to court. This is where you may lose the dog and any puppies it has. You will also be forced to pay a fine.
What Are Your Legal Rights When Buying A Dog?
All pets purchased from breeders or retail pet stores are protected under the states United Commercial Code or UCC. This gives the buyer and the seller rights and the pets protection during the purchase. Simply put, you should be getting exactly what you pay for. If you end up with a "defective" dog, the seller may be willing to compensate the buyer in any means necessary. If the seller has misrepresented the condition of the dog, in terms of health or fitness, that is also cause to take action if you as the buyer feels necessary.
Do Dog Breeder Contracts Hold Up In Court?
If you have signed a contract with a dog breeder and you went against the contract, then the breeder can absolutely take you to court and will most likely win. Just like any legal signed contract, you are vowing to uphold a set of rules and regulations. These rules and regulations aren't just for nothing, they are very important for the well being of the dog and for future dog so it is very important to follow.
Can A Breeder Take Your Dog Back?
If you have broken the contract you signed with the dog breeder, yes they can take your dog back.
If for any reason you broke the contract, either you bred the dog out when you weren't supposed to, or you are not holding up to the quality of life standards you signed off on, then the dog breeder can take you to court and ultimately take the dog back.
What Happens If You Breed A Dog Without Breeding Rights?
Puppies that are born without breeding rights will not be able to be registered dogs. And in many states, this makes it illegal to try and sell any unregistered puppies.
Is Spaying Required By Law?
Spaying your registered female dog is required by law in some states in some cities. It really depends on where you live. When you purchase a female dog, it's important to look up the laws for your area to see what the rules are.
Even if it is not required by law, it is highly recommended. The amount of unwanted puppies and genetic mutations that happen because a dog is spayed happens much too often. To decrease the rate of unwanted puppies, please consider spaying your dog.
Why Do Breeders Co-Own Dogs?
Co-owning a dog means that both the breeder and the buyer have their names on the dogs AKC registration papers. Breeders will usually only co-own show puppies or puppies that are breeding quality. They do this to make sure the puppy is being properly cared for and when the time comes, properly bred out. It is also useful for the new owner who needs a mentor in breeding and caring for show puppies.
One major benefit to co-owning a dog is that the breeder will usually offer a reduced price on the puppy. However, once the dog has been bred, the breeder will usually require some of the puppies from the litter.
References
https://www.google.com/amp/s/www.pawsdogdaycare.ca/2017/10/04/breeder-contracts/amp/
Sign Right Here: Everything You Need to Know About Breeder Contracts
https://www.animallaw.info/intro/pet-purchaser-protectionpuppy-lemon-laws
The Pros and Cons of Co-ownership