When you go to your dog and it rolls and it's back you're probably not too concerned. You've seen this hundreds of times. Nonetheless, however routine it is we'll share with you why your dog does this and when it can be concerning.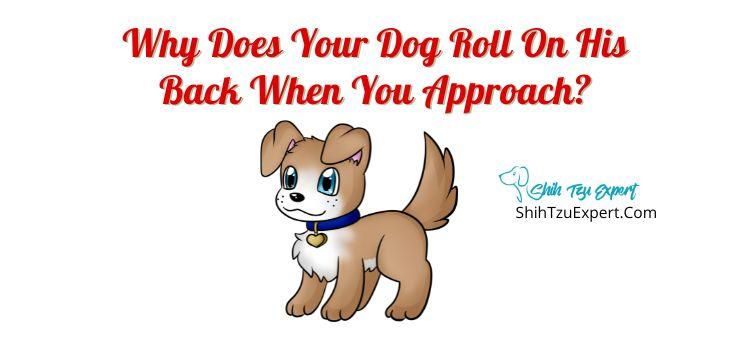 My Dog Rolls On His Back And Growls?
Dogs don't use words to communicate. Instead they use noises and posture to get a message across. Some of these behaviors are inherited from their wolf ancestors and dogs use them to communicate with us. When a dog growls it's important to note the situation and what is going on. Is your dog afraid, nervous or getting aggressive?
Many dogs growl when playing and this is normal, there is no cause for concern here.
However, when it lays down and exposes its belly and starts growling, do pay close attention and do not approach your dog. Think of a growl as a way for a dog to yell. It means the dog feels insecure, threatened or is ready to assert its dominance.
It is the last resort before a dog takes action. The action can be an attack or a bite. Take this behavior seriously and do not approach your dog until it has calmed down and is more comfortable. Do not attempt to rub its belly. This will only result in an injury or worse consequence for you.
Allow your dog to have some space and wait for it to come to you for attention. Keep reading the signs and allow for things to return to normal before you approach your dog again.
Why Do Dogs Roll On Their Back And Wiggle?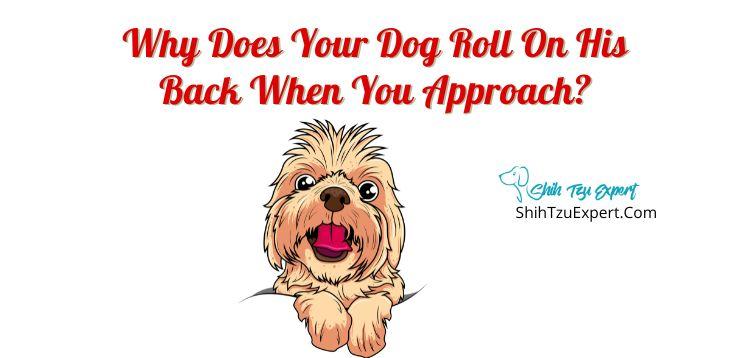 Any dog parent knows that a dog is a ball of energy. A dog rolling on its back in front of you, is an extension of that energy. When you walk up to your dog and it drops to the floor and shows its belly to you, this can mean a few things.
Your dog's back can be itching. When you're away and your dog is out exploring there's a chance that it may have picked up ticks or parasites. Be sure to check your dog's back carefully for these pesky bugs. They may also be having a skin allergy. Check for that, too.
Another reason your dog rolls over is because it is hot. If you have hard, cool floors, or a refreshing lawn the coolness of the ground can help your pooch feel better during a hot day.
If you find that your dog rolls on its back often, you may have reinforced the behavior in the past. Positive reinforcement are things like attention, speaking to your dog, treats or toys. Your dog is doing this behavior to get more of those rewards.
Your dog may have also picked up the behavior from another dog. Especially if it has a close dog friend or you go to the dog park together frequently.
Is It Normal For A Dog to Roll On Their Back When You Approach?
It is totally normal for a dog to roll on its back when you approach. As we have seen, there may be some reasons for concern when your dog growls while rolling on their back or if they have picked up ticks or parasites when out exploring. These are exceptions to the rule.
Do Dogs Display This Behavior With Other Dogs/Animals?
Dogs certainly roll on their back with other dogs. In fact, this behavior is a remnant of their days as predators and it served many functions for survival. This is how they greet each other, or tell each other they want to play. Your dog may have also picked up this behavior from other dogs. They roll in scents to communicate with other dogs, too. They can let other dogs know if they are ready to mate, the alpha dog, or an altered dog.
When dogs roll in a scent they mask their scent from other animals as well.
Do Dogs Roll On Back When In Trouble?
Dogs roll on their backs as an act of submission. It is also a way to show that they are not a threat to other people or dogs around them. You can see this behavior play out when your dog meets a new dog for the first time.
If your dog sees you as the alpha person and finds that you are upset and yelling about something it did, it will roll on its back to show you submission.
They also do this as a posture for defense when they are encountering another aggressive dog or animal. Again, it is to communicate with the other aggressive animal that they are submitting and not a threat.
Reasons Why Your Dog Rolls On His Back When You Approach It?
Just Saying Hello
When a dog rolls on its back when you see them, this is another way for them to say, "Hello, I love you and I'm here!" They also do this when they see other dogs they want to greet.
Its Happy To See You
Your dog may roll on its back and wiggle because it is happy to see you. You have given your dog a comfortable and loving home and it appreciates it!
They Just Want To Play
What better way to receive an invitation than your dog sprawled at your feet belly up? If you've been away for a while or haven't given your pooch much attention, they may be inviting you to play for a while. Take it upon the offer, it's a great way to de-stress.
They Are Showing Their Trust In You
This position in the dog world is defensive and submissive. Dogs are most vulnerable in this position and it is harder to get away from this position if they are in danger. When they roll on their back, this means they trust you completely and are comfortable around you.
Dog Is Trying To ​​mask Its Scent
When a dog rolls on its back it could be trying to hide its scent. This is a remnant of a survival instinct. Dogs have incredibly powerful noses along with a predator instinct. When they are on the ground they wiggle in a smell substance to hide their scent from their prey to be able to hunt better.
They Want Their Belly Rubbed
You know it and your dog knows it. When they roll over and expose their undersides, humans go right for the belly. Your dog may be rolling over with a time tested strategy to get a heavenly belly rub.
They're Just Letting You Be The Alpha
As we've seen, the belly up position for dogs equals submission. When your dog presents itself to you in this way, congratulations, you are the leader of the pack. It considers you the alpha and is submitting to you.
Just Being stubborn
Dogs have their own unique personalities. This comes with all the good and the bad. If your dog is a stubborn type it may roll over to avoid doing something, waste time, try to distract you or try and get something it wants from you.
OCD
Many of us are familiar with OCD in humans. Where a person is stuck in a repetitive behavior and must carry out a certain task over and over before they can move on. Dogs can have the same problem. They can compulsively roll over as a sort of ritual or habit. The obsessiveness can interfere with a dog's day to day life, and you should seek help.
Is It A Good Idea to Comfort a Submissive Dog?
Context is everything when your dog rolls on to its back. If your dog is happy to see you, wants attention and wants to play, then feel free to comfort your dog. Everything is fine.
However, if your dog is acting scared, nervous or feeling threatened do not approach or try to comfort your dog. This is a dog that is ready to snap and may bite or attack to protect itself. Simply walk away and let your dog seek your attention or calm down before engaging with it again.
Here are some signs to look out for to give your pooch some space:
Tense face and body
Avoiding eye contact with the animal or person they feel threatened by
Yawning or licking lips
Are There Medical Conditions Related To Dogs Rolling On Their Back When You Approach?
There could be some medical reasons why your dog is rolling on its back, and if it is done almost obsessively this is a sign to you to examine your dog further. Your dog may have an itch on its back. What is causing the itch should be investigated quickly and thoroughly.
Your dog could be developing a skin infection. It could have picked up a parasite or tick while out exploring. Or your dog may have allergies. Check for irritation, bugs or open wounds. If the rolling persists, connect with your veterinarian. Your dog may need medication as treatment before the situation gets more serious.
Should You Stop Your Dog From Rolling On Its Back When You Approach?
For most pet owners a dog rolling on its back is not a nuisance, though you may wonder why your furry friend does this. This is normal dog behavior and doesn't need to be stopped. However, sometimes the behavior is created by external factors. At this point you may want to address the rolling.
How To Stop a Dog From Rolling On Its Back When You Approach?
Most of the time a dog rolling on its back is not a problem and should be allowed to happen. But when the behavior is indicating other issues or was created by external things you'll want to address the rolling behavior and get your dog to stop.
Here are some things you can try:
1. Address the underlying medical condition: If your dog is compulsively rolling on its back, this may indicate a medical condition such as an allergy, skin infection or parasite. To stop the behavior check with your vet to prescribe a medication shampoo to address this before it worsens. When your dog is feeling better the rolling will discontinue.
2. Walk away: Understand the situation as it pertains to your dog. Do they feel threatened, scared or are they wanting to play? Get them to stop by simply walking away. Ignoring them will help them to see that you can't give them attention at the moment. And on the opposite side of the spectrum, giving your pooch some space may help them to calm down and feel less threatened.
3. Don't reinforce the behavior: When your dog rolls on its back, what is your reaction? If you are showering your dogs with treats, affection, and attention. They are likely to persist. In order to make them stop, try to not reinforce the behavior.
4. Redirect: Rather than going with the rolling on the back your dog is doing, try redirecting your dog to another activity. This will get your dog to stop rolling.
5. Seek out professional help: A professional dog trainer or canine behaviorist can help you determine why your dog is rolling on its back. Then they will advise you on how to address it.
As we've seen most of the time rolling on the is natural and should be allowed, but these are some ways you can stop the behavior.
References
https://www.ncbi.nlm.nih.gov/pmc/articles/PMC6116041/
https://www.ncbi.nlm.nih.gov/pmc/articles/PMC5168437/