Cow hooves are a common treat and snack for dogs! Here we will discuss the safety and logistics of giving your dog cow hooves.
Can Dogs Eat Cow Hooves?
At the end of the day, it is up to you to decide what you think is best for your dog. Giving your dog cow hooves has its pros and cons. While your dog may love the taste, and it keeps them happy and occupied, hooves can also be a choking hazard and damage their teeth and gums. A healthy dog over the age of 5 months, with good strong teeth, while under supervision would be the best candidate for a cow hoof.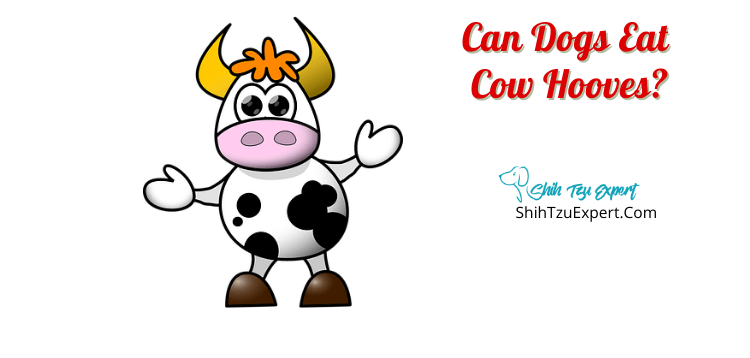 What Are Cow Hooves Made Of?
Cow hooves are made of a material called keratin. Which is also what cows horns are made of. It is not a thick material and contains blood vessels. It is the same material that human nails are made out of.
How Easily Can Dogs Digest Cow Hooves?
Keratin is not a digestible material. So this means it doesn't break down inside a dogs stomach. It will often pass through the digestive tract intact, so you will see bits of cow hoof in your dogs poo.
Pros And Cons Of Cow Hooves As A Snack For Dogs
There are both some pros and cons to think of when giving your dog cow hooves.
Pros
Keeps your dog busy!

Cow hooves, being so thick, will have a dog chomping on something for hours. While other thinner bones can be devoured by some dogs in a matter of minutes.

Always real ingredients

Cow hooves are usually always brought in from real farms, so you can always bet on getting the real thing and never any artificial or preserved hooves.

Get creative!
They taste delicious to dogs

The taste of a cow hoof is so delicious to dogs, it's fun to give them a nice treat every once in a while.
Cons
Risk Involved

Since cow hooves are not easily digestible, there is always the risk that your dog swallows a piece that is too large and they can choke.

Not for Puppies

Due to the large risk factor, it isn't a good idea to give cow hooves to puppies.

Smelly

Cow hooves stink! They have a myriad of bacteria living on them. It can even take a while to wash the smell out from a carpet.

Supervision Required

Because of the choking hazard, you can't leave cow hooves lying around.

Broken teeth

If your dog has fragile teeth, or a puppy's teeth have just come in, it's easy for these teeth to crack when chewing on something as hard as a cow hoof.

Mouth Lacerations

Cow hooves are known to shatter into sharp pieces when bitten down on. This can cause serious mouth injury.
Are Cow Hoof Trimmings A Safe & A Suitable Treat For Dogs?
Generally, cow hooves are okay to give your dog. However, specifically the trimmings of a cow hoof can pose a bigger threat. They are more easily broken and can splinter in a dogs mouth or digestive tract.
Are Cow Hooves Safe For Puppies Too?
It really depends on your judgement and how you feel your puppy can handle a cow hoof. If your puppy doesn't have a strong mouth yet, or they are teething, it would be okay to give them a cow hoof because they wouldn't be able to bite anything off. Once their teeth come in however, it's easy for them to break their fresh puppy teeth on a bone so hard. The general rule of thumb is to wait until a puppy is about 5 months of age. Always remember to give puppies bones while under supervision to ensure they do not choke.
Why Does My Dog Throw Up After Eating Cow Hoof Trimmings?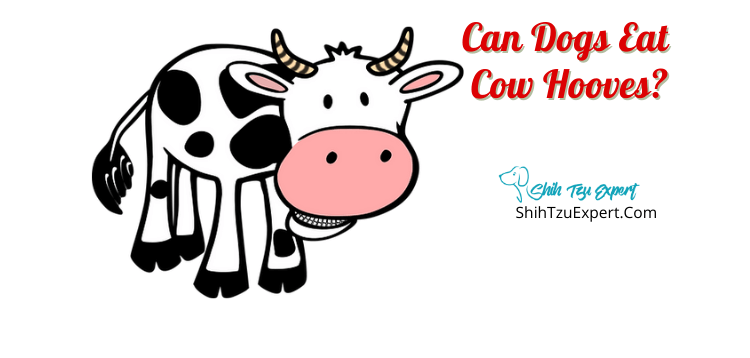 If your dog is consistently throwing up after eating cow hoof, it is likely the cow hoof has caused a blockage somewhere in your dogs digestive tract. Call your vet if vomiting continues.
Cow hooves also can carry more disease than other bones. Your dog may have eaten something that was being carried on the cow hoof and caused an upset stomach.
Why Do Dogs Go Crazy For Stinky Cow Hoof Trimmings?
Keratin to dogs smells amazing! And mixed with old manure smell, cow hooves drive dogs wild.
How To Stop My Dog Eating Cow Hooves?
Sometimes you have to take away the cow hoof from your dog. Say it's starting to splinter, or your dogs gums are beginning to bleed. Try and simply take it away, put it somewhere where your dog can't get to it. Sometimes your dog will accept this and move on. If that doesn't work, try replacing it with something less hard.
What To Look For When Selecting Commercial Dog Treat Made Of Cow Hooves?
Make sure you're getting the best for your dog. Sherry are some things to keep an eye out for when shopping for a cow hoof for your dog.
All natural ingredients

Since cow hooves are a natural product, there is no need to taint them with chemicals. And we sure don't want our dogs to ingest those nasty chemicals either.

Made in the USA

Buying locally is the best way to go so you know where the product is coming from.

Unbleached

Lots of dog bones and treats will be bleached to make them look better. Bleach, however, is still a chemical and doesn't need to be ingested by our dogs.

Flavor

Cow hooves will often be flavored. Flavors include bacon, smokey, some even come pre-stuffed with peanut butter.
Better Alternatives To Cow Hooves?
If you've come to the conclusion that cow hooves aren't safe for your dog, there are other options to look at if you still want to get them something fun.
Ears

Pig, beef and lamb ears are all a great alternative. They are an all natural product that lasts a while, but is softer than a hoof.

Tails

Pig tails don't typically last as long as hooves, but they don't splinter since they're softer.

Antlers

Antlers are a good option for a dog with strong teeth and jaws. While they don't splinter and they last forever, they are extremely hard.

Marrow bones

They last forever and are filled with nutritious marrow. So while they're extremely healthy for your dog, they do tend to splinter and they also have a lot of fat. So make sure you only give one to your dog no more than twice a month.
Why Some Cow Hooves Trimmings Can Be Dangerous To A Dog?
Cow hoof trimmings are typically more dangerous than the whole cow hoof. Trimmings tend to be smaller, skinnier pieces that are easily broken and splinter. They are also much sharper. All of these factors can prove to be dangerous to a dog. When a dog eats a sharp piece of hoof, it can puncture the dogs mouth. It is also easier to choke on the smaller pieces that break off.
Is It Safe For Dogs To Eat Raw Cow Hooves?
While it isn't necessarily "unsafe" there are still precautions to take when giving your dog cow hooves. They should never be given as a snack because cow hooves aren't technically made to be eaten. Keratin isn't meant to be ingested by dogs and cause blockages in their digestive systems. Pieces can also break off and pierce dogs mouths. If you see a piece break off, simply remove the piece. If too much comes off of the hoof, it's time to take it away. Cow hooves should always be given while under supervision.
Why Do Cow Hooves For Dogs Stink?
If you think about where hooves are all the time, it's easy to see why they smell. Cows and horses walk around all day in muck, mud, and poop that all gets collected in the hoof. Even after they are cleaned, the odor is still very strong. Not only that, but keratin has a distinct smell as well. The combination of the two creates a very foul odor, sometimes they can even smell like raw eggs.
Can Dogs Eat Large Cow Hooves?
Buying a larger cow hoof is probably a better option than getting one that is smaller. The pieces that break off will be larger and harder to choke on. It will also last a lot longer.
Can Cow Hooves Cause Diarrhea In Dogs?
Too much of eating anything can cause sickness in dogs. So while there is no direct proof that cow hooves directly cause diarrhea, it is likely that if your dog has eaten a lot of hoofs then they will have some issues going to the bathroom.
Eating cow hooves is more commonly the cause of a blockage in their digestive tract, which will cause your dog to vomit, gag and choke a lot.
References
https://www.fda.gov/animal-veterinary/animal-health-literacy/think-food-safety-and-be-salmonella-safe
https://www.cabq.gov/pets/documents/puppy_chewing.pdf