It is quite normal to want to take your loving Shih Tzu everywhere with you, even on flights. Luckily, this option is available on most airlines. However, there are some health risks to mitigate.
We have all the information and tips you'll need to make this option a reality.
Are Shih Tzu Allowed On Planes?
Shih Tzus are allowed on most planes in the cabin area. The cargo hold, however, is off-limits for this breed. There are some important things to take into consideration before boarding the plane with your pet. There is a list of things you can do to ensure that the experience is as enjoyable as possible for them.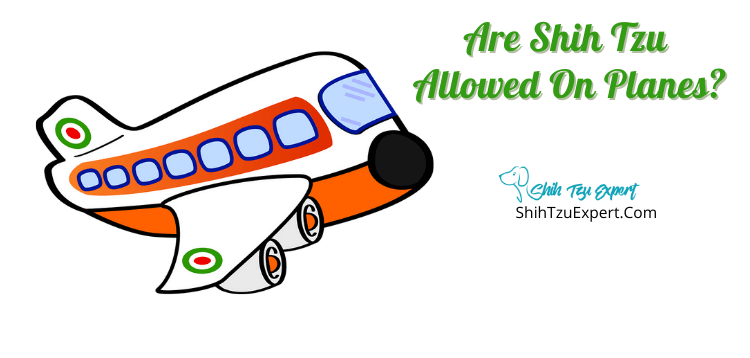 Should Shih Tzu Fly At All? How Dangerous Is It For A Shih Tzu To Fly In An Airplane?
Shih Tzus can fly on most airlines in the cabin area but are banned from travelling in the cargo hold. There are some health concerns regarding their respiratory function that we will discuss in greater detail in the following parts.
Should Shih Tzu Fly Carry On? Cabin? Cargo Hold?
On nearly all airlines Shih Tzus are not allowed in cargo hold due to health risks. For this reason, the best option is to fly with your Shih Tzu in the cabin with you. They will be secured in a carrier underneath the seat.
Which Airlines Allow Dogs In Cabin?
Luckily, most airlines allow dogs under 20 pounds in the cabin as long as they meet the requirements of the specific airline. The dog will need to be kept in a carrier under the seat for the duration of the flight. There is an additional fee for this service which will vary depending on the airline.
Is It Safe For A Shih Tzu To Fly In Cargo?
Unfortunately, because of the respiratory issues associated with Shih Tzus and other short-snubbed dogs, some airlines have added them to the no-flight list for cargo. Some may still allow them to fly in the cabin midst they meet the requirements of the specific airline. Be sure to do your research beforehand on what requirements are applicable.
The reason for this is that once the aeroplane is on the tarmac there is no air-conditioning in the cargo hold. If the cargo becomes too hot, your Shih Tzu can become subject to heatstroke.
Are Shih Tzu Allowed On Southwest Airlines?
South West Airlines only allow small pets in the cabin area. However, they are not allowed on international flights. They don't require any health certificate from a vet, unlike other airlines, so they are the easiest airline to bring a pet with.
Are Shih Tzu Allowed On Delta Airlines?
Unfortunately, Delta Airlines no longer accepts dogs with snub-noses, like a Shih Tzu. This is because of the risk related to breathing issues in these kinds of dogs.
Are Shih Tzu Allowed On American Airlines?
The same guidelines are given by American Airlines where they don't allow snub-nosed dogs to be checked in as baggage for the cargo hold. They do, however, allow them in the cabin if all their requirements are met.
Are Shih Tzu Allowed On United Airlines?
United Airlines make use of a service called United PetSafe to transport pets per flight. Unfortunately, as of recent this service also doesn't allow Shih Tzus due to the related health risk of air travel.
Can I Take My Shih Tzu On A Plane As A Passenger? Can I Buy A Separate Plane Seat Ticket For A Shih Tzu?
Even if you buy a separate ticket for your Shih Tzu, they will not be allowed to be taken out of their carrier. You can take them as a passenger if you keep them in their carrier for the whole flight under the seat in front of you. So, don't bother purchasing an extra plane ticket. Just arrange for your Shih Tzu to be booked as your carry-on baggage.
Can You Fly In First / Business Class With A Dog?
Fortunately, some airlines allow small dogs or cats to travel with their owners in business- or first class. Owners need to ensure that they meet all the requirements set out by the airline. However, some airlines don't allow pets in business class during transatlantic travel. The policies around this are mostly dependent on the size of the aircraft and the route it will be taking.
Delta Airlines only allow two pets on Domestic First- and Business Class.
United Airlines also only allow two pets in their premium class flights, except for Boeings 757, 767, 777, and 787 due to the limitation of space under the seat.
American Airlines allows pets in their First Class Cabins only on their A321T aircraft and is only available on selected cross0country routes.
Maximum Weight Limit For A Dog To Fly In The Cabin?
The maximum weight limit for a dog to be able to fly in the cabin with you is 20 pounds (around 9 kg). If your dog falls within this weight limit, he can fly with you in the cabin in its carrier. Otherwise, you will need to book your dog to fly in the cargo hold with the other larger dogs.
The only exception would be if it's a service dog, but this will need to be communicated and organised beforehand.
Can I Keep My Dog On My Lap During The Flight [Is It Allowed]?
Unfortunately, you will not be able to keep your dog on your lap during the flight. He will have to stay in his carrier for the duration of the flight. You may be allowed to let him stick his head out to be able to see you. However, at no point is he allowed to exit his carrier.
Can A Shih Tzu Fit Under Airplane Seat? Is It Allowed? Safe?
Most Shih Tzus can fit under an aeroplane seat as longs as they're under 20 pounds and their carrier fits underneath the seat.
Since Shih Tzu can have respiratory issues due to their short noses, it is not recommended to travel with them in the cargo hold or cabin with you. There is a service called Pet Airways which is a safer option for air travel for your Shih Tzu. Hereon your pet is the passenger and is monitored by attendants for the duration of the flight to ensure they're happy and safe.
Should I Put My Shih Tzu In An Oversized Crate For Air Travel?
Even though an oversized crate sounds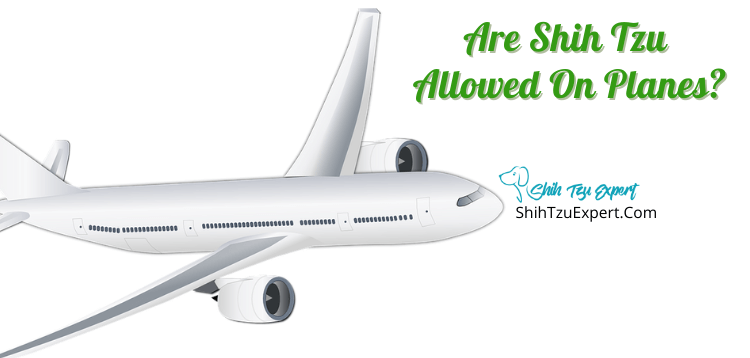 like a good idea to create more moveable space for your Shih Tzu during air travel, it will not necessarily aid when respiratory health risks occur.
Since Shih Tzus are banned from the cargo hold in most airlines and need to be small enough to fit underneath a seat if travelling in the cabin with you, an oversized crate is not really an option.
A better solution would be to prepare your dog for air travel by making them use to their carrier and keeping them as stress-free as possible during the flight.
Should I Use A Different Crate For My Shih Tzu For Air Travel?
It is not necessary to use a different crate for air travel, as long as you meet the requirements of the airline. It is, however, recommended to use a crate that is as comfortable as possible for your Shih Tzu. This will ensure that the flight experience is more pleasurable for them.
How To Prepare A Shih Tzu To Board A Plane Cabin/Cargo
Here is a list of the 6 things to do & know:
Research. Make sure to research ahead of time to find out what the exact rules and guidelines are for the flight you will be taking. Find out what is allowed, what the process is for booking and boarding your dog, and what the related fees are.
Choose The Right Carrier. Since Shih Tzus are small breeds, finding the right carrier is a lot easier. Ensure that all the measurements meet the requirements of the specific airline you'll be using. Mesh carriers are the ideal choice. Make the inside as comfortable as possible for your Shih Tzu as well.
Book A Direct Flight. A flight on a plane can be stressful enough for your dog, even more so if you need to change planes. You can limit this stress by booking a direct flight.
Medical Papers. Most flights require you to have papers stating that your dog is in good health. The papers must be dated no later than 10 days before the travel date. Make sure to visit your vet in time to acquire these papers and ask any travel related queries you might have.
Bathroom Needs. The longer the flight, the more likely it is that your dog will have bathroom needs during the flight. The best option is to use doggie diapers. Although you will have to do some cleaning after the flight, it will be much easier for the duration (for both you and the other passengers).
Prescribed Medication. Do not use any strong medication, like tranquillizers, unless absolutely necessary and prescribed by a vet. Try and keep your dog as calm as possible by creating a comfortable space inside the crate for him and making him used to the crate beforehand.
How Do Dogs Handle Long Flights (Local, International)?
Flying can be very stressful for a dog as he has no idea what to expect and an aeroplane is naturally a strange environment for him. Some dogs handle long flights better than others, especially those who aren't stressed out as easily. The longer the flight, the better the chance of your dog becoming stressed.
How To Prepare You Shih Tzu For Overseas Or Long Distance Air Travel?
Preparing your Shih Tzu for long-distance travel requires a bit more planning than for shorter tips. Here are some things to consider.
Talk to your vet. Before anything else, it is important to consult with your vet to ensure that your Shih Tzu will be fine for the long haul. You can also ask your vet for tips and backup medication for your pet if needed.
Book early. Airlines limit the number of pets allowed in the cabin, so to be sure you get one of the spots book as soon as possible.
Confirm check-in timing. Consider checking in earlier than usual so you can get to any last-minute necessities for your Shih Tzu.
Get the perfect carrier. If you don't already have a pet carrier, this is the time to start looking for one. Make sure you get one that meets all the requirements for the specific flight. Also, consider the fact that your pet will be inside the carrier for quite some time, so a comfortable carrier is highly recommended.
Familiarise your Shih Tzu with its carrier. Get your Shih Tzu used to its carrier to ensure that he doesn't feel stressed out when inside it during the flight.
Prepare the carrier. Make the carrier as comfortable as possible for your Shih Tzu. For example, put in some blankets for comfort and a toy he can play with.
Feed them. Be sure to feed your Shih Tzu at least two to four hours before boarding the flight.
Keep them hydrated. Keep your Shih Tzu hydrated by giving him as much water as needed right up to the point of boarding the plane. You will not be able to give him water on the plane, so it's important that he stays hydrated for the duration of the flight.
Take them outside one last time. Since they won't be able to go to the bathroom on the flight, you must let them go outside as close as possible before having to board the plane. You can also let them wear a doggy diaper for the duration of the flight in case of emergency.
Keep them calm. It is very important to keep your Shih Tzu as calm as possible before and during the flight. Being stressed can cause respiratory issues for them making it hard for them to breathe. Regularly reassure them throughout the flight and try to stay away from sedative medication as this may only cause more stress in your dog.
How Does Heat Affect Shih Tzu When Flying?
Due to the short-snubbed nature of Shih Tzus, they have a hard time cooling themselves off when overheating. Especially in the cargo hold where the temperature is not constantly conditioned. This can result in respiratory issues and discomfort for your dog. This is why taking them in the cabin with you is a much safer bet. Here you can regularly monitor them and act promptly at any sign of danger.
What Are The Temperature Restrictions For Transit Destinations?
According to the Animal and Plant Health Inspection Service of the USA, dogs should not be exposed to temperatures higher than 85 °F (29.5 °C) or temperatures lower than 45 °F (7.2 °C) for more than four hours at a time.
Are There Companies That Do Door-To-Door Relocation? Are They Safe?
There are quite a few companies that help with pet relocation and offer the option of door-to-door relocation. This is seen as a much safer option since these companies have expertise in ensuring that your pet travels as safely and comfortably as possible. When choosing a pet relocation service, make sure that they are a member of the Independent Pet and Animal Transportation Association (IPATA). This association sets the standards and ethics for pet relocation services and monitor them regularly.
Do Dogs Get Jet Lag?
Dogs can get jet lag as their routines are still based on a circadian rhythm that is influenced by the time of day, as well as their eating routines. This can be disrupted on long haul flights. Unfortunately, there is no way to prevent this. Rather try and get your dog back into his routine as soon as possible after the flight.
Do Dogs Get Deep Vein Thrombosis (DVT)?
Dogs can get DVT, yet are much less likely than humans to develop this. Deep Vein Thrombosis is when a blood clot is formed in any part of the body. It can be very dangerous if not treated promptly. Many things can cause this, such as reduced blood flow to certain parts of the body. This is why it is best to keep your dog moving as much as possible before the flight and giving him ample room to move around in its carrier.
What Kind Of Dogs Can Fly On Planes?
The following breeds are ideal for air travel as they are small and usually can meet all the airline requirements (especially due to their small size).
Chihuahua
Yorkshire terrier
Toy Poodle
Maltese Brussels griffon
Japanese chin
Pomeranian
Pekingese
What Kind Of Dogs Can't Fly On Planes?
The following dogs are banned from flying in cargo hold due to health reasons (especially short-snubbed dogs) or bullying (dogs known for being more aggressive):
Bulldog
French Bulldog
Cane Corso
Chow Chow
Tibetan Spaniel
Pug
Shih Tzu
Boston Terriers
Boxers
Pekingese
Lhasa Apsos
Mastiffs
Is International Air Travel Safe For My Older Dog?
Flying is quite safe for older dogs. Make sure to visit your vet beforehand to ensure that your dog's health is up to standard. Some airlines, however, insist that dogs older than 7.5 years have an extensive health screening to ensure that they will be fit for international air travel. The specific requirements might differ from airline to airline, so be sure to do your research.
Why Do Some Airlines Not Allow Shih Tzus To Fly?
Some airlines do not allow Shih Tzus because of the associated health risk due to their breathing problems. Most short-snubbed dogs are discouraged from being allowed on airlines due to their respiratory issues that are worsened when flying at high altitudes or where the temperature is unregulated (such as in cargo areas).
Can I Fly With My Puppy (Shih Tzu Breed) To The USA?
You can fly with your Shih Tzu puppy as long as all the airline requirements are met. It is recommended that your puppy is at least 2-3 months old and not reliant on their mother for feeding anymore. Make sure you meet all the requirements for importing pets to the USA.
How Do I Muzzle My Shih Tzu Pup Of 4 Months To Fly?
It is important that the muzzle you choose is comfortable for your Shih Tzu and enables them to drink water and pant. The muzzle should only be worn for short periods unless necessary. Monitor your dog if he is wearing his muzzle for a prolonged period.
How to put on the muzzle.
Calmly approach your dog.
Lay them down in a comfortable position.
Make a large loop at the centre of the gauze you'll be using.
Once the gauze is back under the muzzle, bring it behind your dog's ears.
Why Are Emotional Support Animals Allowed On Planes?
Emotional support animals are pet companions that are used to comfort and keep individuals calm. Especially those with a mental or emotional illness. Until recently emotional support animals were allowed on airlines at no extra cost to the passenger. However, since early this year legislation has come into action banning these animals from free air travel.
These pets are still allowed on airlines but will be treated and charged as normal pets. This is due to an increase in pet attacks on flights, among other reasons. Only trained service animals are still allowed on airlines free of charge.
What's The Best Airline For Flying Internationally With A Shih Tzu Dog
As discussed previously, Shih Tzus are considered among other short-snubbed breeds to be a health risk on flights. For this reason, many airlines have banned them from air travel altogether. This can be hard to navigate, especially on international flights.
Luckily, both KLM and Lufthansa airlines still offer this option.
From 1 January 2020, Lufthansa has banned Shih Tzus from travelling in the cargo hold. However, you are still able to take them with you in the cabin as long as you comply with their requirements.
The same applies for KLM, they don't allow certain breeds, such as Shih Tzus, in their cargo hold but to allow them to travel in the cabin with you.
This is great news and offers you the option of bringing your pet on vacation with you or even bringing them with you when relocating.
How To Make Sure My Shih Tzu Is Transported Safely?
The most important part of ensuring your Shih Tzu is being transported safely is doing the necessary research on what safe travel will require. From there on you can start implementing the necessary steps to achieve that. Always consult with your vet if you have any doubt as they will have the most expert advice.
Shih Tzu Separation Anxiety While Flying
Besides being anxious about the new flight experience, the separation that your Shih Tzu will experience during the flight might be more jarring. Try to train your Shih Tzu beforehand to get used to the feeling of separation.
Reward your dog every time you leave him alone and he stays calm. Try leaving a toy, or bone, that you only let him use when he is alone. This way he will associate being separated from you with this reward.
Stress can cause Shih Tzus to breathe with more strain en consequently falling ill. Try to keep his carrier as calm and comfortable as possible. Talk to your vet about anti-anxiety medication to use in emergencies. Only revert to medication if your Shih Tzu doesn't calm down within ten minutes of being in the air.
Do Dogs Like To Fly? Is It Cruel?
Kirsten Theisen from the Humane Society of the United States insists that air travel can be a very traumatic and stressful experience for your pet. This is especially true when placing them in the cargo hold.
It is recommended to only transport your pet through air travel when it is absolutely necessary. Also, try to make the experience as comfortable and calm for your pet as possible and rather take them with you in the cabin.
How Do Respiratory Problems Put These Shih Tzus At Higher Risk During Flights?
Like other short-snubbed dogs, Shih Tzus are at risk for respiratory issues during air travel. This is because their short snouts can cause shortness of breath. They have minimal space in their nose for air to travel through.
This can also cause your Shih Tzu to have trouble cooling themselves when they get overheated or stressed out. Stress can even cause their airways to collapse and as a result, cut off their air supply.
This is especially dangerous in the cargo hold of a plane where the temperature isn't conditioned and can cause your Shih Tzu to overheat.
Should You Never Fly With A Short Nosed/Faced Dog?
This is not to say that you can never fly with your short-snubbed dog. It only means that you will need to take extra precautions and prepare in-depth before boarding a flight with them.
It is very important to keep your dog as calm as possible and reduce their stress. Make their carrier as comfortable as you can and try to reassure them of your presence throughout the flight.
Also, ensure beforehand that your dog is as healthy as he can be. Otherwise, the air travel will put him at a much greater risk of health issues.
Try your best to prepare your dog for the experience and keep him calm throughout the flight.
How I Do To Reduce The Risks Of Airline Travel For My Short Nosed/Faced Shih Tzu?
Here are some great tips on how you can reduce the risk of air travel for your Shih Tzu.
Choose the right crate. Choose a crate that will give your dog ample space to move (whilst still meeting the airline requirements). Ensure that it is comfortable, secure and that your Shih Tzu likes it.
Get your Shih Tzu used to its crate. It is very important to get your Shih Tzu used to the crate to ensure that he doesn't feel stressed out when he needs to stay in there for some time.
Make an appointment with your vet. It is always best to get the opinion of a professional. Your vet can advise you on things to consider that specifically apply to your dog.
Use a Pet Relocation Company. We always want to make sure our pet is getting the best experience. Hiring a Pet Relocation Company can really help us to prepare our pet for the flight experience. They will know exactly what to look out for and consider.
Never fly when it's hot. Overheating is a big risk for your Shih Tzu respiratory health. To prevent this, aim to fly in colder weather. Whether it be in the colder months, or early in the morning or late at night.
Keep your dog hydrated. Be sure to give your dog plenty of water before boarding the flight to ensure that he is hydrated for as long as possible.
References
https://www.transportation.gov/sites/dot.dev/files/docs/Canine_Deaths_Press_Release.pdf
https://www.avma.org/resources-tools/pet-owners/petcare/air-travel-and-short-nosed-dogs-faq