We may earn commission from qualifying purchases at no extra cost to you.
Learn more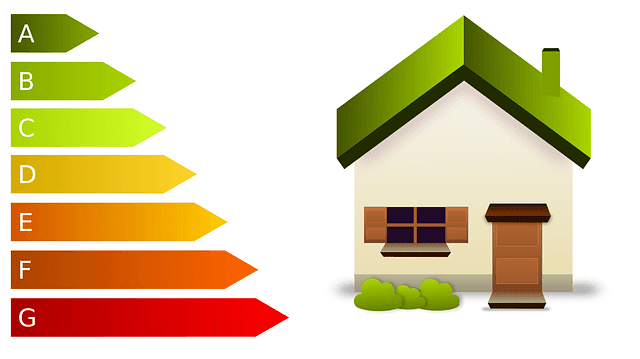 It's easy to understand the appeal of providing your beloved pets with a door to come and go as they like, since many pet owners get annoyed about their pets' demands to go in and out throughout the day. Allowing the cat or dog to use their own small dog door, especially one with a microchip or RFID access control gives the pet lots of freedom and safes their owner a lot of hassle. But do you have to sacrifice your home's energy efficiency if you install one of these doors? We've reviewed several energy efficient doggie doors to help you make the right choice of the best energy efficient dog door.
Best Best Energy Efficient Dog Door brands
PetSafe has been manufacturing pet products since 1991, and they offer many different dog door models that can meet a variety of customer needs. The PetSafe Extreme Weather Door is specifically designed to maximize energy efficiency with a 3 flap pet door that keeps extreme temperatures outside while letting your pets come and go as they please. This is the most energy efficient pet door made by PetSafe.
The price of this dog door is average for energy efficient models, but higher than dog doors that don't come with additional weatherproofing features.
Check carefully because…
This item comes in three sizes, so you'll want to choose the one that suits the largest pet that will be using the doggy door. Don't choose a door that's too big, since bigger doors cost more, may be heavy, and are risky for break-ins.
This door panel consists of three flaps – an insulated inner flap sandwiched between two outer flaps. This heavy-duty construction is one of the main reasons that this dog door helps with energy efficiency, but it also means that it's heavier than other comparable brands. Some cat owners reported that their cat refused to use this cat door because of the weight of the flap. So, if you're hoping to use this item for cats or a combination of cats and dogs, this is something to keep in mind.
The MUST Know, True Facts about PetSafe Extreme Weather Door
This door is held closed by magnets at the bottom of the door flaps and in the housing unit. In windy weather conditions, it's possible the door could blow open. It's recommended that you use the included Snap-on Closing Panel on especially windy days. You can purchase a second Snap-on Closing Panel to use on the exterior doors for extra protection against extreme weather. When choosing where to install this door, it can be helpful if the location is protected from wind to avoid this issue.
What to watch out for with this product?
Instead of a lock, this pet door comes with a Snap-on Closing Panel that covers the door to restrict your pet's access. Using the panel also increases the energy efficiency of the pet door. Unfortunately some dog owners have reported that their pooch is able to push the panel off the dog door and access the door. Even customers who otherwise like this door said the closing panel does not feel secure and they would prefer a panel that slides into place instead of snapping onto the frame.
Customers who purchased this PetSafe Extreme Weather Door generally said it was difficult to install the door insert product. This is mainly due to the nylon screws that are included with the installation kit. PetSafe recommends the use of nylon screws because they can be easily cut to fit the size needed for installation in a variety of walls and doors. Also, nylon screws can flex slightly, unlike metal screws, which means they will not damage the dog door frame if it moves. However, users noted that the nylon screws bent easily or were stripped during the installation process.
Crucial Tips
Because the installation of this product proved difficult for many customers, it's recommended to watch online videos of others doing the installation before starting the project. Two people are recommended to make the installation easier. For security, make sure to install far enough away from the door handle or locking mechanism that a criminal couldn't access them by reaching through the dog door.
Be aware that there is not currently a wall kit available to install this in thicker walls. The maximum thickness is 2 ¼ inches, so it would not be suitable for most exterior walls without significantly altering the installation process. PetSafe sells wall-entry pet doors specifically designed for this purpose.
Pros
Well insulated flap; keeps out drafts
Up to 3.5 times more energy efficient than single flap insulated flap dog doors
Paintable frame blends in with your home decor
Durable and long-lasting
Limited lifetime warranty
Comes in three sizes for pets up to 100 pounds
Cons
Difficult to install
Too heavy for some smaller pets
Assembly pieces poor quality/fragile
Conclusion
For pet owners worried about their utilities bills, an energy efficient pet door is a must. This PetSafe Extreme Weather Door is rated highly by users for its ability to block hot and cold. After installation, this door can be used for years with no noticeable decrease in quality. Replacement door flaps are also available, so it's not necessary to purchase a whole door kit in the event that the door flap wears out or breaks.
Main complaints about this energy efficient doggy door have to do with the quality of the materials, difficulty to install, and the provided snap-on cover. This is a much better option that then PetSafe Freedom Aluminum Dog and Cat Door (PPA00-10861)
Best Value for the Money Energy Efficient Dog Door
Perfect Pet's All-Weather Energy Efficient Dog Door is manufactured from foam-molded plastic frame and features a double-layer flap design to increase weatherproofing effectiveness. The flap works by allowing for a layer of air in between the two flaps, functioning like the vestibule of a building to prevent hot or cold air from flowing into your home. It includes insulating brushes on either side of the flap to airtight seal the gap between the door frame and the door.
The price of this dog door is comparable to similar models with energy efficient features.
Check carefully because…
This All-Weather Energy Efficient Dog Door comes in four sizes, from small dog size to extra-large. Use Perfect Pet's size chart to determine the size that fits your pet best. For large dog owners, it's useful to note that the largest size can be used for pets up to 120 pounds.
Be aware that the vinyl flaps on this dog door are totally clear. For many pet owners, this is a positive because it allows their pooch or cat to look outside. It can prevent collisions between two pets trying to use the door at the same time. On the other hand, clear flaps could be a negative for some people since it provides less privacy than pet doors with opaque flaps.
The MUST Know, True Facts about the Perfect Pet All-Weather Energy Efficient Dog Door
Because this door uses a magnet closure, it can blow open on especially windy days. It is recommended you use the included slide-in closure panel for extra protection from severe weather. One panel is included with the purchase of this doggy door, and additional panels can be purchased at an additional cost.
What to watch out for with this product?
Some customers have experienced problems with the magnets that keep this door closed not sealing well, which reduces the energy efficiency of this pet door significantly. To mitigate this problem, first check the mechanism before installing to make sure you haven't received a faulty unit. It would be much easier to return if you haven't installed it yet. Secondly, make sure that the dog door is installed completely level. A level installation will reduce the chances that the magnets don't close the door flaps correctly.
Another potential issue with the larger sizes of the All-Weather Energy Efficient Dog Door is home security. The dog door comes with a slide in locking panel for when you want to restrict your pet's access to use the door, or for an extra layer of insulation during inclement weather. This panel is made of sturdy plastic, so it would be hard but not impossible for someone to break from outside to get into your home.
Crucial Tips
You'll need to purchase a wall kit if you want to install this door in a wall instead of a door. Using the wall kit, you can install in a wall up to 7 ¼ inches thick. Without the wall kit, this dog door can be installed in doors up to 1 ¾ inches thick.
Training pets to use this door at first can be challenging, since the thick vinyl requires some force to push through. Owners of this door recommend introducing pets to this item by having them go through just one of the two flaps at first. You can use treats to encourage them if they're hesitant. After the pet has adjusted to going through one flap, it should be easy to train them to go through both.
Pros
Constructed of durable materials
Easy installation
Replacement parts available
Slide-in closing panel included
Limited one-year warranty
US-based customer service team available by toll-free phone or by email
Cons
Some users have trouble with the magnet closure, especially in cold weather
Sometimes blows open in strong winds
Conclusion
Lots of positive reviews and a reasonable price point make the Perfect Pet The All-Weather Energy Efficient Dog Door a clear winner for people who want to allow their pet freedom to go in and out while still keeping their home insulated from outside temperatures.
Users particularly noted the easy installation process and quality of construction with this door. Once installed, pet owners report it stands up to dozens of uses per day in multi-pet households without sustaining damage. It can be used for years since replacement parts are readily available, so is a good long-term investment.
Best Extra Insulated All Weather Energy Efficient Aluminum Dog Door Small dog size, Medium Large XL Black Tan White Doggy Frame Well Built Doggie Locking Cover
Best energy efficient dog door for cold climates
Endura Flap makes many different models of pet door, but this double-flap version is recommended for cold and extreme weather locations. It maintains energy efficiency in temperatures as low as -40 fahrenheit, and the flaps are rated to resist winds up to 50 miles per hour.
This particular pet door is made for being installed in a wall, and comes with the materials and instructions to do so. If you prefer to install an energy efficient Endura Flap Pet Door in your door instead, you can buy the version that doesn't come with the wall installation kit. Users commend Endura Flap for the completeness of the install kit, which comes with everything except tools required for the installation. A few homeowners recommended an extra foam sealant to increase airtightness, but even those who didn't use it give this door high marks for energy efficiency. The door installation kit even includes treats to help with training your pooch to use the door!
Check carefully because…
The flaps on this door are heavy-duty to keep your home insulated from outside temperatures, but that leads to a learning curve for some pets to be comfortable using it. It may require some training and patience. You can remove some of the closure magnets or tape up one of the flaps while your pet gets used to the idea of pushing the door open. Endura Flap's website has a video with tips on acclimating your pets to using the door.
The MUST Know, True Facts about Endura Flap Pet Door Double Flap Wall Mount Best Extra Insulated All Weather Energy Efficient Aluminum Dog Door
This door does not have a lock, but it does include a slide-in cover for when you want to restrict your pet's use of the door. Using the panel also increases the energy efficiency of the pet door. It can keep your home safe as the ABS molded plastic frame is approximately as strong as 1/16" sheet steel. This double flap door can use the covers on the interior and exterior doors for added security, for example if you're away on vacation.
What to watch out for with this product?
Installation causes a problem for many homeowners who try to install this all weather pet door themselves. It's reportedly difficult to line up the rods which clamp the two sides of the door frame on the inside and outside of the wall. The rods also have to be cut to the precise length that is appropriate to the thickness of your wall. Finally, the door is designed to fit best on a flat exterior wall; however, many homes have exterior siding. We recommend taking this slowly, measuring carefully, and having two people work on the installation together. Otherwise, hire a professional to assist.
Replacement flaps are available, but installing them requires you to completely uninstall the housing and then reinstall with the new flaps. Given the difficulties reported in the installation process, this should factor in your decision-making if the door is likely to be used long-term.
Crucial Tips
Make sure you carefully plan the location to install this door. Double-check that you won't encounter wiring or plumbing when opening the wall.
Pros
Weather resistant especially in cold climates
UV-retardant flap system
Sturdy aluminum construction
Durable
Strong magnetic closure
Three color options and four sizes available
90 day return policy and 15 year warranty
US-based customer service available by phone or email
Made in USA
Cons
Difficult to install
Expensive
Noisy
Most people and pets are happy with the Endura Flap Pet Door Double Flap Wall Mount pet door
Best Extra Insulated All Weather Energy Efficient Aluminum Dog Door once it's installed, but there are complaints about the installation process. It comes highly recommended for airtightness and energy efficiency, as well as the durability and quality of materials. Even so, this item does come with a hefty price tag and some consumers expected more features based on the cost of this item.
Door Mount Dog Door with Lock and Key – White, Multiple Sizes
Best Energy Efficient Dog Door with Built-In Lock
Best Energy Efficient Dog Door for Small dogs / Pets
The PlexiDor Performance door allows your pet easy access to come and go because of the saloon-style door panels that open with a gentle push and swing closed when your pet goes through. This style of door would suit pets who are hesitant to force their way through flap-type dog doors. The frame for this pet door is made from a rust-proof aluminum frame that will last for years, and the door panels are made of long-lasting, shatter-proof acrylic.
For security, these pet doors come with a lock and two keys. In the medium and large sizes, they also include a steel security plate that can be installed when you're away from home. One complaint about this security plate is that it must be screwed in, which takes more effort than many people would like to do regularly. PlexiDor suggests using this plate for when you're traveling and not for daily security purposes. For those who would like to have a slide-in option for the security plate so they can use it more often, PlexiDor sells an optional sliding track accessory separately.
Check carefully because…
If you're installing this in a door that is not completely flat (with panels, for example), you'll need to purchase a sealer to fill in the gaps.
This review is specifically for the PlexiDor door series, meant for installation in any exterior house door. There is also a PlexiDor wall series for wall installation. Make sure to measure your intended installation area before purchasing.
The MUST Know, True Facts about the PlexiDor Performance Pet Doors for Dogs and Cat Door Mount Dog Door with Lock and Key
One of the more unusual claims PlexiDor makes their products is that the door panels never need replacement. In some other models of pet door with panels made of vinyl or plastic frame, owners report needing to replace them every two or three years, so over time the cost can really add up. PlexiDor Performance Pet Doors are made from a strong composite material that lasts much longer than traditional dog doors. While you avoid the cost of replacement doors, that doesn't mean you'll never need to buy anything to maintain this product long term. There are two items most likely to need replacing on this energy efficient dog door: the springs that swing the door back into place after the pet goes through, and the weather seal. The springs have a 10 year warranty against defects. PlexiDor sells replacement weather seal and replacement pet door spring kits through their website and other retailers.
What to watch out for with this product?
Due to the saloon-door mechanism on this pet door, dogs with longer tails might occasionally get their tails caught in the closing door if they don't move through quickly enough. Keep this in mind if you own a breed with a long tail.
Crucial Tips
These doors come with a lock and key, so you can restrict your pet from using it when you prefer. However, there's no way for your pet to know by looking whether the door is locked or unlocked. A dog who expects an unlocked door and goes running into it is likely to get an unpleasant knock on the head in this situation. If you'll be using the lock on a regular basis, it's a good idea to train your pets with some kind of visual cue such as a towel draped over the door to help them understand when the door is locked.
Pros
Well-made, durable construction
Easy to install
Thermo-pane panels for insulation
Easy to clean
Quiet
Secure
Three color options and four different sizes available
Weather sealed to protect against drafts
5 year limited warranty included
US-based customer service team available by phone, email, or text
Made in the USA
Cons
Doors may blow open in windy conditions
Expensive
Conclusion
If you can get past the high cost of this PlexiDor Performance Pet Door, it is by most accounts a very good product that is constructed of higher-quality parts than many of its competitors. It offers several levels of security with both a built-in lock and an optional metal security panel plate.
Customers report using this for years with few or no replacement parts needed, even in situations with multiple pets using the door dozens of times per day. PlexiDor customer service representatives also get high praise for their helpfulness and knowledgeability about how to troubleshoot a variety of issues.
Best Energy Efficient Dog Door for Patio Doors
Best Energy Efficient Dog Door for Renters
The unique advantage of this Endura Flap Pet Door is that it comes set into a panel that can be used in homes with sliding glass doors. The panel features dual-pane glass and high quality Endura flap system materials to give you double the energy efficiency of a single flap paned pet panel. It also includes a draft-stopper to increase wind resistance. The frame is made of heavy, durable metal that should last for years. Because this is a complete panel with the dog door already set inside, there is no need for any tools or time-consuming installation, plus you don't need to cut a hole in your door or wall. Because of this, it's an ideal product for renters or those who don't want to commit to having a pet door installed long-term.
Check carefully because…
Once you install this panel, your patio panel door will no longer be able to lock using its original mechanism. There's no way to lock your sliding glass door into the security panel, although the panel itself will be securely screwed into the frame so it can't be easily removed. Endura Flap system sells a couple of types of sliding glass door locks that you could choose to purchase, while other users preferred to cut a dowel rod to the appropriate length and use that to keep the door from being opened.
The patio doors on your home might slide open only one way, with a fixed pane on the other side that is immobile. If that's the case, and you'll still be using the door for humans to go in and out, make sure that you're going to have enough room to pass comfortably through once the panel is installed. Some customers with narrower sliding doors reported that they have to go through sideways or that their access was unexpectedly limited since the panel takes up space in the door frame. The panel width varies from 11 1/4 inches for the small to 17 1/4 inches for the extra large.
The MUST Know, True Facts about the Endura Flap Pet Door Thermo Panel 3e Sliding Door Dog Door
This energy efficient sliding door pet door does not come equipped with a lock, but it does include a slide-in cover for when you want to restrict your pet's use of the door. The cover is manufactured from ABS molded plastic which is approximately as strong as 1/16" sheet steel.
For dogs with especially long or short legs, you can adjust the stepover height of this door by changing the configuration of metal pieces above or below the pet door opening. So for a short dog like a corgi, you'd put the adjustable pieces above the door, which lets the door sit lower in its frame. For a tall dog with long legs, you'd put the pieces underneath and the pet door would be higher in the frame.
What to watch out for with this product?
When this product is installed, your patio panel doors will be in an open position, which means there will be a gap between the two glass panels. Patio doors are less energy efficient in this position because of that gap. The installation kit includes a draft stopper that adheres to the glass to stop air from getting in this way. Some customers have complained about the draft stopper, saying it falls off too easily or gets worn out.
Before purchasing, take a look at the lock mechanism on your sliding door. If it protrudes, you might have a problem since it would not be able to sit flush against the side of the Endura Flap Pet Door Thermo Panel. If you're handy and have the right tools, it's possible that you can cut the appropriate sized hole in the panel.
Crucial Tips
This Endura Flap Pet Door Thermo Panel 3e Sliding Door Dog Door comes in four door sizes, for small to extra large pets, and also has three height options to match the size of your patio door. Measure carefully so you can order the correct size. There are three color options – white, brushed aluminum, and bronze – so you'll likely be able to match the trim of your existing patio door.
When it comes to choosing the size for the sliding glass pet door, note that there are a few standard sizes of sliding patio panel door, but not all doors will fall into the standard height ranges. Endura Flap door panels have a few inches of leeway to adjust for minor variations in size. The measurement will be from the lowest point inside the door track up to the highest point. If your patio door has a monorail track, you'll need to purchase an Endura Flap Monorail Adapter to get this product to fit.
For a more weatherproof installation, customers recommend that you purchase additional insulation material from a hardware store. Although some is included in the installation kit with this door, if your home gets extreme temperatures, it may not be sufficient to insulate around the dog door.
Pros
Easy to install
No assembly required
Strong magnet closure
Three color options and four different  sizes available
90 day return policy and 15 year warranty
Well-built from quality materials
US-based customer service available by phone or email
Made in USA
Cons
Magnets on flap door magnetic closure may be too strong for smaller or timid pets
Draft stopper may wear out quickly or fall off
Expensive
Conclusion
Although it's on the pricey side, this Endura Flap Pet Door Thermo Panel 3e Sliding Door Dog Door will make it an obvious choice for people in certain situations: those who don't want to or can't cut a hole to install a wall or door pet door, or who might want to take the door with them to a new home or vacation home. As long as you have the right type of sliding glass door, the ease of installation, variety of size and color options, and energy efficiency of this door are all strong points in its favor. Add to that the fact that Endura Flap offers a lengthy warranty and lots of troubleshooting assistance on their website, and you can see why most pet owners find this worth the higher price tag.
Designed with maximum energy loss coefficient parameter optimization in mind.
Ideal pet products are All weather proof with an inner telescoping frame door insert.
Made from tough, structural foam molded plastic with clear vinyl insulated flaps
For pets up to 90 lb
Flap Size is 9.75″ x 17″
Access control for 32 access options using RFID to read pet's microchip [ 9 (Avid Secure), 10 (FDXA) and 15 (FDXB) digit microchip numbers].
Use single button programmable collar tag for dogs without a microchip.
SureFlap Microchip Pet Door Flap is 6 11/16" high x 7" wide [installed in doors, windows or walls]
Frame Size: 14″ -by-19″ ; Flap Size: 10.5"-15", Recommended Door Thickness: 1 1/4″ to 2″
Can handle dogs or pets upto 100 lb
Soft Flexible Heavy-Duty Vinyl Flap With Magnetic Closure
Removable Self-Locking Slide Panel
Telescopic Frame
Will installing a dog door increase my utility bills [even if it's one of the best pet doors]?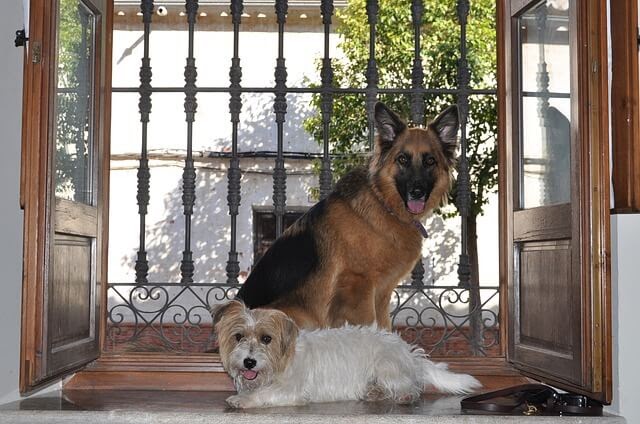 On one hand, if you're opening the human-sized door less often, it's possible you will see utilities costs decrease regardless of which dog door you choose. However, if you install a dog door that allows in drafts or stays open longer than necessary, those savings can disappear quickly. That's why it's important to consider the energy efficiency of the dog door you choose to install.
Best Energy Efficient microchip or RFID controlled Electronic Dog Doors
Please read our comprehensive article about microchip controlled or RFID controlled electronic dog doors or more general electronic pet doors

What is an energy efficient dog door?
An energy efficient dog door is manufactured with features that minimize the amount of hot or cold air that can get into your home from outside. This saves money on heating and cooling costs and keeps the environment inside your home as comfortable as possible.
How are energy efficient dog doors different from normal dog doors?
In general, the energy efficiency comes from the materials and construction of these doors. They will use some combination of weatherstripping, insulation, and heavy-duty materials.While a normal dog door could have small gaps or thin door panels that let air seep through, energy efficient doors block the outdoor air as much as possible. Air pockets are used within the door construction to maintain the heat loss coefficient!
What's different when installing an energy efficient dog door?
You can buy the most expensive, best insulated best doggie doors on the market, but if you install it improperly you'll never see the utility savings you were expecting. Here are a few ways to make sure you're getting the most energy efficiency, regardless of which unit you buy.
First consider where to install the door. Keep it out of drafty areas and direct sun if possible. Some people prefer to install the dog door into a garage or a dog house, which gives an extra temperature-controlled area between the interior of your home and the harsh weather outdoors.
Make sure you buy the right size. A bigger dog door means a bigger hole in your door or wall, which leaves more room for drafts to get it. Go for the smallest size that is still comfortable for all your pets to use.
Cut the hole carefully. You'll want to make sure that you don't cut a hole too big for the door you've purchased. Most pet doors come with a template and clear instructions on the size and shape of the required hole. You want your pet door to fit in the hole snugly, without gaps around the outside of the door frame.
Use insulating foam, sealant, and/or caulk to close up any small gaps. As you're installing your pet door, identify any areas that might need extra insulation and fill those in before putting the finishing touches on your project. If you can see a gap, air can get through it, so use the most appropriate material to install an airtight sealed pet door with an air pocket.
.
Finally, keep an eye on your pet door for any damage and replace weatherstripping or insulation as it becomes damaged or worn. You may not notice minor changes that happen gradually over time, but they can show up in your heating and cooling bills before you know it.
Summary
You don't have to sacrifice energy efficiency to provide your pet with the freedom to go in and out with his or her own pet door. By researching to find the correct size and model, and then carefully installing the energy efficient dog door following the recommended tips, you may find your energy costs actually decrease! By making the investment in a high-quality, long lasting pet door with energy efficient features, you'll find the door pays for itself in convenience and your pet's enjoyment over the years.
Related reading
High Tech Pet – Power Pet Electronic Pet Door
Patio Pacific Endura Flap Wall Mount Pet Door Review
PetSafe Electronic SmartDoor – Collar Activated Dog and Cat Door with smartkey