Cats, especially young cats, may exhibit nursing behavior. They may nurse on dogs, humans, blankets, rugs, or anything relatively soft. There are several reasons why this behavior occurs, but it is important to know that it is not bad behavior and can be eliminated.
How To Stop Cat From Nursing On Dog?
Cats will nurse on dogs when they seek comfort or are stressed. To discourage that behavior, there are some useful techniques that owners can use. Nursing behavior is not inherently bad, but it could irritate the dog's skin and cause damage so it is best to discourage it.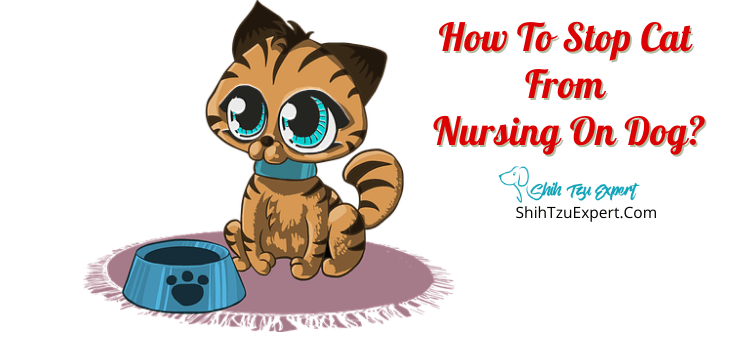 Is It Safe For Kittens To Drink Dog Milk?
Mammal babies of all kinds drink milk. The milk produced by each species is different and based on the dietary needs of the babies of each species. Milk from different species can be ingested by others; however, it is not always a good dietary match and can lead to gastrointestinal issues.
While kittens can drink milk from a dog, because their dietary requirements are different, it is not the best kind of milk for a kitten. It is best to feed nursing kittens a kitten milk replacement formula.
Can A Cat Nurse An Orphaned Puppy?
There are many examples in the news of female cats that nurse orphaned puppies. It is something that can be done if the female cat is willing. However, as the puppy grows larger, the mama cat may not be able to produce a sufficient amount of milk to feed the puppy, so nursing a puppy on a cat should not be done long-term.
Additionally, since the dietary requirements for puppies and kittens are different, nursing a puppy on a cat is not as healthy for the puppy.
Dog Milk Vs Cat's Milk [What Are Similarities And Differences]?
Cats are obligatory carnivores, meaning they have to eat meat to survive. Dogs, on the other hand, are omnivores – they eat a mix of meat and vegetable matter. Because of that, kittens need a different formulation of milk than puppies.
Cat's milk contains a higher percentage of protein and fat than dog's milk. Dog's milk contains about twice as much iron as cat's milk and a higher percentage of sugar.
My Dog Started Producing Milk For A Motherless Kitten I Adopted?
Sometimes, dogs start producing milk without having puppies. This could happen because of a mammary tumor, hypothyroidism, or false pregnancy. Female dogs may also spontaneously produce milk when their mammary glands are stimulated by an animal kneading and sucking on the area.
If this has happened to your dog while you have a new kitten in your home, do not be concerned. It does occasionally occur, and it does not mean that something is wrong with your dog. However, if you are concerned, a visit to the vet could set your mind at ease.
Why Is My Kitten Trying To Nurse On My Dog?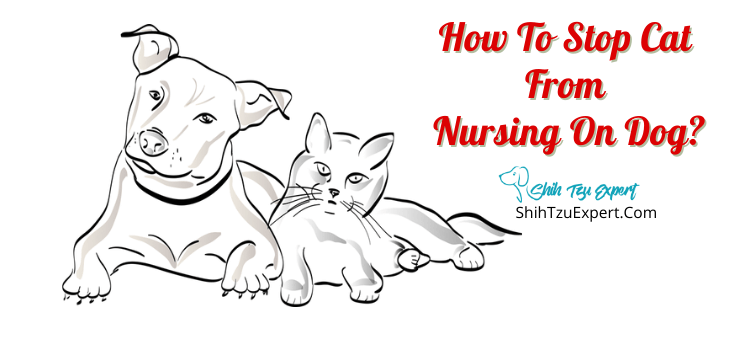 Kittens that are separated from their mothers when they are too young may feel insecure. Orphaned kittens that want to feel comforted will knead and suckle on things to simulate what they would do with their mother so they can comfort themselves. When they need something on which to nurse, dogs provide a nice, warm body for that purpose.
Even if your kitten is nursing on a male dog, it is normal and there is nothing to worry about.
If your kitten is nursing on your dog, it is simply because it is seeking comfort. As the kitten grows up, it will eventually outgrow that behavior. Young kittens that are separated from their mother too soon tend to exhibit kneading and nursing behavior for a longer time than kittens that are weaned normally from their mother.
At a minimum, kittens stay with their mom for the first 6 to 7 weeks so they develop normally. Ideally, kittens should stay with their mother for 10 to 12 weeks.
Kittens that are separated from their mother too soon may see your dog as a source of comfort when it is feeling stressed. It may also be happy to bond with your dog by nursing on it, just like it would with its mother.
Why Does My Kitten Try To Nurse On Me?
In addition to nursing on dogs, kittens may nurse on other things for comfort. A soft blanket, a human, another furry animal – any of those comfort items would work.
Reasons for this behavior can be complicated and could be a result of one or more of the following. Kittens may be:
Seeking comfort and security
Feeling stressed
Exhibiting a compulsive behavior that may eventually form into a habit
Deriving happiness from the action
Kittens that nurse on humans and other things will eventually outgrow that behavior so it is not something to worry about.
How To Get A Kitten To Stop Nursing On Me?
Kittens that are orphaned at a young age or adopted away from their mother too soon will use nursing as a way to find comfort. To encourage them to stop the behavior, gently disengage them, set them down, and walk away. Over time, the kitten will stop using you as a comfort tool.
Even without intervention, after a while, the kitten will stop nursing on you. As kittens get older, they will not need to use the nursing behavior for comfort.
How To Get A Cat To Stop Nursing On The Dog and Other Things?
When a cat is nursing on your dog, it is likely because the cat is seeking comfort. This behavior may cause some irritation on your dog's skin, so it is best to discourage this habit. Consistently use the following techniques with your cat and you should see the nursing behavior decline over time.
Play with the cat when it starts nursing.
Disengage the cat when it starts suckling and then separate it from the dog.
Stop the cat from nursing, then feed it a treat.
While nursing behavior is not harmful or bad for the cat, it may cause some superficial injury to your dog. To help protect the dog, you can wrap your dog's torso in a blanket or something that would keep the cat from accessing its skin.
How Dangerous is My Cat's Nursing Behavior?
Nursing behavior in cats is not inherently dangerous. It is a self-soothing behavior that can benefit the cat by reducing its stress and providing comfort. However, sometimes the nursing behavior can cause a problem either for the cat or whatever the cat is nursing on and kneading.
When cats nurse on dogs, they may accidentally ingest something toxic picked up from the dog's fur that could cause intestinal distress. In addition, the dog may sustain some small injury from the nursing and kneading behavior.
If your cat likes to nurse on blankets that pill, the cat may ingest pieces of fabric that would cause intestinal blockages. When cats nurse on themselves, it could cause injury to their own body.
Nursing behaviors should be finished by the end of the cat's first year. If the behavior continues, then check with a vet. Nursing or suckling in an adult cat could be an indication that something else is wrong. Your cat could be feeling anxiety or stress, which could cause nursing behavior to manifest.
Why Is My Older Cat Nursing?
Cats typically exhibit nursing behavior as kittens, but occasionally older cats will start that behavior too. If that happens, it may be time to take your cat to see a vet. That kind of behavior in an older cat could indicate a problem with hypothyroidism.
How to Feed an Orphan Kitten Milk?
Newborn kittens are very fragile creatures. It is important to be prepared in advance if you are going to be caring for any orphaned kittens on your own.
Purchase kitten milk replacement.
Newborn kittens must be fed, on average, every three hours.
After each feeding, the kittens' genitals must be wiped to encourage elimination.
Any deviation in the correct feeding schedule could result in diarrhea or dehydration, and ultimately death.
Watch online videos to learn techniques on feeding.
How to Know If a Mother Cat Abandoned Her Kittens?
Mother cats leave their nest of kittens frequently in search of food. Just because the mother is not nearby does not mean she will not return later. It could take several hours for her to return. If a human is nearby, she may remain hidden until that person is gone.
To determine if kittens are abandoned, you must watch the nest. Stand far away from the kittens so that your scent is not interfering with her return. If you do not have time to watch, check back with the kittens daily to determine if they appear to become malnourished over time.
If the kittens are in immediate danger, it may be necessary to remove them even if the mother has not abandoned them.
How Do I Socialize My Orphaned Kitten to Humans?
Kittens need a few things from their human owners to help them acclimate to life with humans. The most important things they need are handling, communicating, and timing.
Kittens need to be petted frequently so that your scent is all over them and they can associate it with the good feelings from petting. Touch their entire body during petting sessions so they become acclimated to being handled.
Communicate with the kitten by talking to it. Respond to the kitten when it meows. Use the kitten's name to get its attention so that it learns when you are talking to it.
Timing is important in teaching your kitten household manners. Do not reprimand a kitten when they pooped on the floor hours ago. They will not associate your unhappiness with their pile of poop. Instead, reward them with treats when you see them doing things well.
Using positive reinforcement when training kittens to live in your household is key to success.
How Can I Desensitize My Cat To My Dog?
In households with multiple pets, particularly pets of different species, it is important to make sure they get along well. Desensitization is important so that neither pet is injured in the household.
The success of their future relationship is dependent on how well the desensitization process goes.
A quick method of introduction is a face-to-face meeting where the dog is on a short leash and the cat is allowed to roam freely. If the dog jumps at the cat or the cat appears afraid, then this method of introduction will not work.
Another option is to put the cat in a room that the dog can see into but cannot enter. Use a baby gate or other barrier type to accomplish this. The cat also must not be able to leave the room. Keep them separated but allow them to see each other a few times each day. This process could take several weeks.
The key to this method of introduction is to desensitize the dog to the cat's presence so that it does not inadvertently harm the cat.
An alternate method is to use a distraction technique. Every time your dog looks at the cat, distract it with a treat. Move the dog closer and closer to the cat using this method until the dog can stand next to the cat without jumping at it. This process may take weeks.
References
Associated Press. "Rejected puppy welcomed into feline family." April 21, 2006. NBC News. https://www.nbcnews.com/id/wbna12425739
DeMarino, Nicholas. "Will Milk Replacement for Puppies Work for Cats?" The Nest. https://pets.thenest.com/milk-replacement-puppies-work-cats-6275.html
Editor. "What to Do (and NOT Do) If You Find a Newborn Kitten." May 4, 2013. Mayor's Alliance for NYC's Animals, Inc. http://www.animalalliancenyc.org/wordpress/2013/05/what-to-do-and-not-do-if-you-find-a-newborn-kitten/
Hackett, Stacey. "Is Your Cat Nursing on Herself, Blankets or Other Objects? Should You Worry?" November 25, 2019. Catster. https://www.catster.com/cat-behavior/cat-nursing-on-herself-blankets-or-other-objects-should-you-worry
Hollinger, Hannah. "Producing Milk in Dogs." June 19, 2017. Wag Labs, Inc. https://wagwalking.com/symptom/why-is-my-dog-producing-milk
Holme, Catherine. "Kitten Suckling — Is It a Bad Thing?" October 17, 2019. Catster. https://www.catster.com/cat-behavior/kitten-suckling
"How to Introduce a Dog to a Cat." Best Friends Animal Society. https://resources.bestfriends.org/article/how-introduce-dog-cat
Mlynar, Philip. "Are Dogs Omnivores? What Does That Mean, & What Should They Eat?" Dogtime.com https://dogtime.com/dog-health/dog-food-dog-nutrition/91486-dogs-omnivores
Morris, Joan. "Stopping a kitten's nursing fetish." August 12, 2016. The Mercury News. https://www.mercurynews.com/2014/08/01/stopping-a-kittens-nursing-fetish/
Shojai, Amy. "How to Socialize Your Kitten." June 29, 2019. The Spruce Pets by Dotdash. https://www.thesprucepets.com/reasons-to-socialize-kittens-553890
Sicignano, Valerie. May 4, 2013. "What to Do (and NOT Do) If You Find a Newborn Kitten." Mayor's Alliance for NYC's Animals, Inc. http://www.animalalliancenyc.org/wordpress/2013/05/what-to-do-and-not-do-if-you-find-a-newborn-kitten/
Syufy, Franny. "Dangers of Feeding Milk to Your Cat." October 28, 2019. The Spruce Pets by Dotdash. https://www.thesprucepets.com/is-milk-okay-for-my-cat-552036
"Why Can't My Cat Be Vegan?" May 2, 2018. ASPCA. https://www.aspca.org/news/why-cant-my-cat-be-vegan