We may earn commission from qualifying purchases at no extra cost to you.
Learn more
Whether you are looking to add another dog to your household, looking for a first time dog or ready to move on from the loss of a previous dog by introducing a new one to your family, a great amount of time and energy can be saved by considering what type of dog will be the best for your circumstances.  You would do well to consider what size of dog your living arrangements can comfortably support.  It would also be wise to consider which temperament and physical appearance would be right for you and your situation. Thinking ahead of time about whether you have children, if you prefer a small or large dog, whether you live in an apartment or have a large yard or a park nearby will help you select the right dog.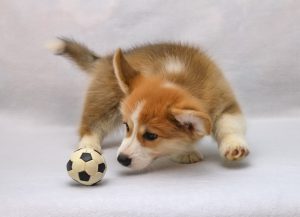 If  you're looking for a medium-sized dog with lots of personality and friendliness, a great option is the Shorgi, a designer breed mix of the Shih Tzu and one of two main Corgi breeds.  The Shorgi is affectionate and does best with large amounts of attention in a home where the owner is present for most of the day. The Shorgi does not like to be on its own and can misbehave due to separation if left home alone for too long.
The loving Shorgi is a calm and loyal dog which makes it great for families with older children.  It is intelligent and adapts well to owners who live in apartments.  It prefers cooler weather over a warm climate, but can thrive in any type of weather with adequate socialization, proper training and lots of attention.
Important facts you need to know about the Shorgi:
The Shorgi is a medium-sized dog, usually between 20 and 50 pounds full grown. It typically grows to 10 to 13 inches tall and can live approximately 12 to 15 years. This designer breed is recognized by the following clubs:
ACHC = American Canine Hybrid Club
DBR = Designer Breed Registry
DDKC = Designer Dogs Kennel Club
DRA = Dog Registry of America, Inc.
IDCR = International Designer Canine Registry®
The Shorgi is a recently developed designer mixed breed whose parents are a mix of the Shih Tzu and the Corgi. The Corgi parent will derive from either the Cardigan Welsh Corgi or the Pembroke Welsh Corgi.  These two Corgi breeds used to be considered one breed, but differences in their traits led them to be recognized as two different breeds approximately 80 years ago.
The Shih Tzu is an ancient Chinese or Tibetan breed with a stubborn streak. It has been depicted in many Chinese and Tibetan paintings and documents and was first brought to England in 1928. The Shih Tzu is an excellent companion to its owner.
The Cardigan Welsh Corgi is a slightly longer, heavier dog with a longer tail than the Pembroke Welsh.  It is also the older breed, having originated some 3000 years ago. This Corgi was bred for the purpose of driving cattle and was known as an affectionate family pet.
The Pembroke Welsh was also raised to be useful to farmers. It was made popular in England by Queen Elizabeth II who has owned several dogs of this breed. The Pembroke Welsh Corgi is the more common breed to be crossbred with a Shih Tzu to derive a Shorgi.
The Shorgi is recognized by the following names depending on the parent breeds:
American Canine Hybrid Club = Pembroke Welsh Corgi x Shih Tzu = Shorgi
Designer Breed Registry = Pembroke Welsh Corgi x Shih Tzu = Shorgi
Designer Dogs Kennel Club = Pembroke Welsh Corgi x Shih Tzu = Shorgi
International Designer Canine Registry® = Pembroke Welsh Corgi x Shih Tzu = Shorgi
It is important for the owner to learn which Corgi breed has been mixed with the Shih Tzu to get a good understanding of the designer mix breed's personality traits, size, temperament and any known issues.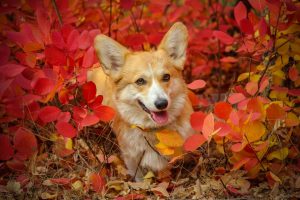 The Appearance of your Shorgi:
The Shorgi is a medium-sized dog with a combination of traits from the two original breeds.  While it can take on either original breed's predominant traits, it often has the short legs and long body of the Corgi, but its head is round-shaped like that of a Shih Tzu. Its ears can be pointed upward or flop to the side of the head. A Shorgi's silky, smooth hair is usually medium to long in length and the coat can be shiny.  Its eyes range from blue to brown, the nose color can be blue, black or brown, and its coat color can be fawn, brown or red.  The Shorgi typically has straight hair with medium thickness.
Health and Care of your Shorgi:
The Shorgi is generally a healthy dog with some minor known health issues including allergies, ear infections and progressive retinal atrophy.
A few known major health issues must also be considered when choosing this dog.  Intervertebral Disc Disease is a significant challenge for Shorgis.  This disease usually shows up early in the dog's life and can lead to a lifetime of pain management, medications and surgeries, all at the cost of time and money to its owner.
The Shorgi also sometimes exhibits
Hip Dysplasia
or Epilepsy, both of which may also require veterinary visits, medications and surgery. Throughout the Shorgi's 12 to 15 year lifespan, typical tests required to maintain its health and rule out disease include physical examinations, x-rays, MRIs, CT Scans, urinalysis, complete blood work, neurological examinations, spinal taps, cultures, myeolograms and electroretinograms.
Temperament and Personality of the Shorgi:
A Shorgi can be strong-willed and will crave attention.  It will demand attention from you throughout the day and does not like to be left alone for too long.  Otherwise, separation anxiety may result which could lead to poor behavior choices.
The Shorgi can be very independent, protective and territorial despite its need for constant affection.  It will sometimes exhibit aggressive behavior toward people it doesn't know. However, the Shorgi is easy to train and loves to cuddle. With adequate socialization, it will be well-behaved around children and other pets.
Overall, the Shorgi is fairly easy to handle which makes it a sound choice for first time dog owners with little experience. The key to a healthy relationship with your Shorgi is to put in the time to properly train it so it knows you are the one in charge. It is also important to set firm boundaries right away for the best outcome in behavior and socialization.
The Shorgi has lots of personality.  It is agile and can dart around your home or apartment with amazing speed.  During playtime, it can easily get underfoot and become a trip hazard, so be mindful of that.
One personality trait any owner should be aware of is the Shorgi's intolerance for being handled by toddlers and small children.  It has been known to get snippy with curious children who poke its face or tail or handle it roughly. It is also wary of strangers and cautious of other dogs or pets.  It will bark regularly as a warning at strangers, which makes it a good watch dog. However, it is not much of a threat due to its size.
The Basics of Grooming
The Shorgi
sheds moderately
and will need frequent brushing using a pin brush to keep its coat smooth and free from tangles or matting.  The dog should be bathed once or twice a month, but not too frequently. Its nails should be clipped once a week and the teeth brushed two to three times a week. In addition, it is important to wipe its ears once a week to keep any infection from taking hold.
Top Tips for finding a Shorgi
Trusted breeders are the best source for locating quality Shorgi pups.  Choose a breeder who has a good reputation or review and is willing to share pictures and details of their puppies. Reputable breeders will allow you to meet the parents of a pup you're considering.
Finding a Shorgi at a local shelter can be tricky. You can call ahead to find out if your shelter currently has one or knows of any in the area.  You can also ask to be put on a waitlist if a Shorgi should arrive at the shelter.
Choosing between a male or female Shorgi is a personal choice.  The traits and personalities are similar with the males being slightly larger than females.  You will sometimes find slight differences in temperament that will make your decision for you.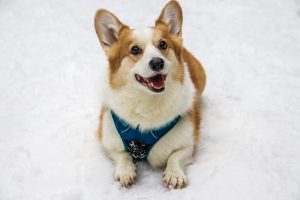 Training and Exercising your Shorgi
The Shorgi is active indoors and outdoors.  It prefers cold weather to heat and will need to take frequent breaks if you're walking or playing outdoors to avoid getting overheated.  The Shorgi will thrive best with 30 to 45 minutes of active play each day including several walks and sufficient running around time.  It will enjoy a yard if you provide one, but it does not require a yard as long as it gets enough daily exercise.
Shorgis behave best when they receive training early in life.  It is important to let your Shorgi know you are the boss.  Shorgis who have not been properly trained early can exhibit stubbornness which could lead to behavior problems down the road.
How to Feed and Dietary Requirements:
Shorgis should be fed a good quality dry dog food with an adequate mix of healthy meats, grains and vegetables.  The Shorgi is known to overeat, so it should not be fed freely.  For the best outcome, feed your Shorgi twice a day and use treats infrequently between meals or as rewards for desired behavior.
As an alternative, consider these similar sized breeds that require about the same maintenance without the potential long-term health issues:
Corgi Husky Mix
Havapoo
Cavachon
Peekapoo
Summary
The medium-sized Shorgi is an excellent dog for families with or without older children. The lovable Shorgi thrives on frequent attention and is at its best when its people are regularly at home.  It does not need a yard, but will enjoy one if that is something you can provide.  While Shorgis are very loyal and independent, they do not always have patience for young children who will pull their tail or poke their face. They have a tendency to nip if provoked which is why they are better suited to older children and adults as owners.  Choosing a Shorgi as your daily companion will greatly add to your quality of life as you enjoy time with it.