We may earn commission from qualifying purchases at no extra cost to you.
Learn more
These energetic hunting dogs have zipped out of the fields and into our homes. Brittany crossbreeds are perfect for owners who want that Brittany spunk, but can't give a purebred the constant exercise they need. These Brittany hybrids have fewer health problems, lower grooming and activity maintenance, and are more common in rescue shelters!
The Brittany's Origins
The history of the Brittany breed is based firmly in hunting. Efficient hunting requires teams of dogs. Some dog breeds are good at finding prey, whereas others are better at scaring birds into the air for hunters to shoot or finding the downed trophy. A hunter must know which jobs their dog can handle and adapt accordingly.
This breed hails from Brittany in northwestern, where poor poachers in the 1600s needed hounds who could handle all of the different aspects of hunting. The Brittany was bred to learn quickly, work efficiently, and obey orders on the go. These little balls of energy have stayed close by man's side for centuries, and the traits that once made them such great hunters now makes them perfect family pets.
This kind of dog made its way from the French countryside to America in the 1930s, and the American Kennel Club registered the breed, then called the Brittany Spaniel, in 1934.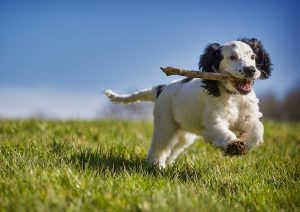 After the dogs crossed the Atlantic, the Brittany breed split into two categories: French Brittany Spaniels and American Brittanys. Despite being called "spaniels," American Brittanys are usually trained to hunt as pointers or setters. In 1982, The American Kennel Club formally changed the name from Brittany Spaniel to just Brittany to reflect the shift overseas.
Brittanys are perfect for hunters because they can work tirelessly throughout the day. Families adopting a Brittany need to be very careful to provide an adequate amount of exercise for their pup. A quick walk won't cut it for these workhorses, and if they have nowhere to expend their natural energy, they might anxiously bite or gnaw on furniture. Families who want the happy and energetic Brittany but can't commit to an hour at the park every day should consider one of the many Brittany mixed breeds. These hybrids have all the characteristics that Brittany fans love while requiring less exercise and maintenance.
Must-Know Facts
Brittanys have been registered and recognized by the American and Canadian Kennel Clubs since 1934. Years later, the United Kennel Club in the UK and the Australian National Kennel Council recognized the excitable gundog as well.
The average Brittany will live between 10 and 13 years, and most mixes share similar lifespans. Mixed breeds avoid the health defects that come along with a perfect pedigree, ensuring that your pooch will be happy and healthy for years to come.
These medium-sized dogs will weigh 30 to 40 pounds at their biggest. Adult Brittanys tend to stand between 17 and 20 inches tall, with females being slightly smaller than their male counterparts. Depending on what breed your Brittany hybrid has been crossed with, your dog may be larger or smaller than a typical Brittany.
Their characteristic coats can identify purebred Brittanys and crossbreeds alike. Their fur can be many colors, but most commonly Brittanys are white with patches of orange or liver, which is a dark brown color. You might also see a Brittany with a roan (speckled) or a tricolor coat.
A Brittany's fur is usually mid-length and either flat or wavy. Their hair is densely packed: these pups only have a single-layer coat which is lower maintenance. Your Brittany crossbreed may, however, inherit a double coat from its other parent. Your vet and groomer can clarify questions about fur maintenance, but genetics makes it difficult to expect the specific attributes of a hybrid's coat.
These hunters have keen sniffers that will either be brown or diluted liver color. A Brittany is a stocky, square-shaped dog with longer legs than one would expect on a spaniel. The sweethearts will wither have a short, bobbed tail about four inches long, or they might not have a tail at all.
Many crossbreeds retain the Brittany's characteristic coloring, but the fur texture can vary significantly between mixes. Brittany Poodle mixes, for instance, will have short, curly coats, while Brittany Labrador mixes may have long, silky fur.
Health and Care
As with most purebred dogs, Brittanys are prone to a variety of health problems. Hip dysplasia occurs in some Brittanys if the pooch grows too fast. This skeletal condition causes the hip joint to form improperly, and it can lead to limping, lameness, and arthritis if not addressed.
Be aware of the signs that your furry friend might be having these common hip problems. Dogs with hip dysplasia might limp, have trouble standing, or avoid jumping and climbing stairs. If you notice your dog nursing its hind legs or "bunny-hopping," you should take your pup to the vet as soon as possible.
Another common health problem in Brittanys is canine epilepsy. This condition is a neurological problem: electricity going haywire in your dog's brain can cause convulsions on half of the body or even grand mal seizures, where your pup will lose consciousness and convulse all over the body. Grand mal seizures are scary but easy-to-identify.
To be proactive about your Brittany mix's health, keep a close eye on them if you notice any shaking. Focal seizures are subtler than grand mals, but if you see one of these minor seizures, your dog should still see their vet immediately. Several medications can manage canine epilepsy, so if you can catch your dog in the early stages of its seizures, it's less likely that you'll have to see them suffering through episodes and fits.
Some Brittanys will also inherit an immune disorder called Complement 3 (C3) deficiency. If your puppy seems prone to bacterial infections, such as urinary tract infections and pneumonia, it may be a sign of this deficiency. Brittanys with a C3 Deficiency are predisposed to kidney problems.
The only way to protect your friend from this genetic issue is to make sure you get your dog from an ethical breeder. They'll be able to secure genetic testing, and they should be able to provide you with documentation on any health problems in the parents.
One of the biggest reasons people are getting crossbred dogs is to combat the health issues that are rife in purebreds. Choosing a Brittany mix instead will lower your dog's likelihood of having one of these severe health conditions.
Brittanys, like many other dogs, can also develop dental problems if their teeth are neglected. The best protection against this issue is to simply brush your dog's teeth regularly and note if any seem abnormally loose.
If you don't want a litter of the most energetic puppies you've ever seen, please neuter or spay your dog! Sterilizing your pet will lengthen their life expectancy, decrease their likelihood of specific health problems, and calm the demeanor of rowdy pups. This procedure is quick, inexpensive, and vital to combatting canine homelessness.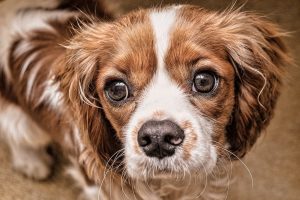 Essential Products and Grooming Accessories
Before you bring your Brittany mix home, stock up on these must-have tools from your local pet store, especially if you want to groom your pup yourself:
Grooming clippers with a #10 blade for trimming the fur.
Medium-sized soft slicker brush for day-to-day brushing.
Grooming comb with metal teeth for coarse fur.
Straight shears and thinning shears to ensure little feathering around the edges.
A professional whitening shampoo and coat conditioner for when you need a thorough clean.
Safety nail clippers that let you trim nails while protecting the quick
A large grooming tub and table if you plan to show your dog or get particularly messy on the hunt.
Whole-grain, high protein dog food for medium-sized dogs.
A strong, waterproof collar and a dog tag with identifying information.
A retractable leash to accommodate their love of running.
A medium-sized crate or cage that's big enough for your pup to stand up and turn around.
A mid-sized dog bed to discourage your dog from lounging on the furniture.
A cooling vest or sweater, depending on the climate.
FAQs
Crossbreeds with a Brittany parent are vigorous, friendly, and perfect for active families with kids. These pups also tend to be familiar with other pets and strangers, provided they're getting enough exercise.
Get ready to work up a sweat! This playful pooch will keep you running laps around the yard. Only purebred Brittanys can compete in many dog shows, but owners of crossbreeds have found that dog sports and advanced obedience training can satisfy your pup's need to work. They love to please!
Brittany mixes need easy access to space where they can run and play. The hunter in them requires a certain amount of physical activity, or they may get destructive.
Brittanys love their families. These pups are happiest when there's always a human around, and they'll get nervous if they spend too much time alone.
Most Brittany mixes are low-maintenance when it comes to grooming, which makes them a good pick for first-time dog owners. They shed moderately, though, and they do need to be brushed weekly.
These affectionate dogs are smart enough to know when you need emotional support and are always ready for a good belly rub. Their manageable size and sweet disposition make them magnificent companion animals.
Temperament and Personality
Your Brittany mix is chipper and at attention. These speedy pups will buzz around all day long if left to their own devices!
Brittanys are big softies. They're eager to please, and they get anxious if they think their human is mad at them.
Make sure to expose your Brittany crossbreed to a lot of people and animals early on. They love to learn and explore. Their docile nature can become shyness or fear if they aren't exposed to new things regularly.
An excited Brittany mix is an adorable sight. They'll often get the zoomies and zip around when you get home from work. A game of fetch will tire those long legs out, leading to an inevitable cuddle session on the couch.
The Basics of Grooming
The varied coats between Brittany hybrids can mean a few different things grooming-wise. They usually have thick single layer coats, which eliminates the need for significant de-shedding when spring rolls around.
These pups have straight or wavy fur that should be casually brushed once a week. Use a soft slicker brush to keep your furry friend comfortable. If you're noticing a lot of shedding, a de-shedding tool or metal comb will help you get rid of loose hairs before they get all over your home.
Brittanys should be professionally groomed every few months, or more often if you plan to compete with your sporting dog. Companion animals are quite low maintenance, so if you find that shaggy fur charming, you may only groom your dog to de-shed and cool them down before the summertime.
Start all major grooming sessions with a bath. Brittanys love attention, but they still might get wriggly when it comes to getting in the water. Use a whitening shampoo to keep that two-color coat shining and a conditioner for coarse coats to maintain soft, pettable fur. Scrub well! These energetic dogs play hard and get dirty fast.
When it comes to haircuts, a good rule of thumb is to get rid of any long fur that extends out past your dog's body using your shears. Start with the bottoms, undersides, and backs of those floppy ears. The long feathery fur on your Brittany's ears is a dead giveaway that they haven't been groomed recently. Use the ear's natural shape to guide you, and trim any hair that is longer than the ear itself.
The other big problem area for companion pets is the feet. Long fur in between your pup's toes can track all that mud from the park right onto your carpet. With your clippers, shave the backs of your dog's feet against the grain to maximize cleanliness. When the backs of the feet are tidy, pick up each of your furry friend's paws and trim any fur from the bottom of the foot with your shears.
To kep your little ball of energy cool, you can also shave the neck with clippers. Doing this will give your pet an elegant looking neck. Shave the front of the neck in the shape of a v, ending at the breastplate.
Clipping your pup's nails may be the trickiest part of home grooming. Using durable canine nail clippers, get rid of any clear parts of the nails extending past the pink quick, which is where the nerve endings are. If you cut too close to the quick, you may see some blood.
With these grooming tips, your companion animal will be looking sharp. When you're done tidying up your pup's appearance, consider trimming the tail, butt, and belly for a show-ready finish.
These dogs are usually not hypoallergenic and will shed moderately. Depending on the other parent of your crossbreed, though, shedding may be decreased or even eliminated. To cut down on shedding yourself, brush your Brittany mix with a de-shedding tool or comb at least once a week. If shedding is particularly bad, daily brushing can save your furniture from getting covered in fur.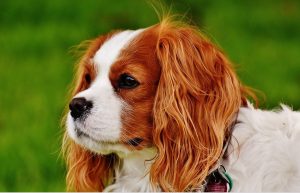 How to Adopt Your Brittany Spaniel Mix
Are you convinced that a perky Britt crossbreed is right for your household? There are multiple ways to pick the perfect Brittany mix.
Before moving your search online, visit your local animal shelter. Most shelters are overflowing with pups who just want a forever home. Set up an appointment to check out the needy dogs that are already in your community. Even if you don't meet your perfect Brittany match, you'll be supporting your neighborhood charity, and you'll get to play with some adorable cuties.
It's a common misconception that you can't rescue a dog if you're dead set on a specific breed. Rescue organizations all over the world are dedicated to this popular breed, and most of them welcome Brittany mixes with open arms.
If you're in the United States or Canada, the National Brittany Rescue & Adoption Network (NBRAN) is a reputable volunteer organization that facilitates the adoption of tons of Britney's every year. They keep a running tab of available pups on their website, and the adoption application is straightforward. If a Britt that's being fostered across the country catches your eye, don't be deterred: the organization is willing to help get your newest addition to your home efficiently and safely.
Another organization in the US to investigate is American Brittany Rescue, Inc. This website tends to have fewer available dogs, but most of them are housebroken, crate trained, and are up to date (sometimes abbreviated to UTD) on vaccinations and shots.
A more general website of adoptable pups, called Pet Finder, connects with shelters around North America to create a searchable database of available animals. Use the breed filter when you search to narrow your results to Brittany hybrids. If you do not see any Britts online and you're willing to travel, expand your location search to anywhere for more results. You're bound to see a cuddly dog looking for a loving home.
Britt fans in Europe can check out the UK Brittany Dog Rescue Group Directory. It highlights British Britts up for adoption near you. You're bound to find a group that services your area!
In Australia, the leading Brittany club is called the Club L'Épagneul Breton, Inc. Australia. This organization focuses more on the sporting and hunting aspects of this flexible breed, and it often posts tips and tricks on how to train your Brittany mix.
Shelters and rescue organizations usually charge a small adoption fee to cover the costs of fostering and caring for your pup. Remember that purebred Brittanys and designer crossbred puppies can be very expensive! These bundles of joy are highly coveted: you can expect to pay anywhere from $700 to $3,000 if you're looking for a dog with a pedigree.
Remember: keeping a puppy safe and healthy has a high upfront cost. You need to buy all the supplies for grooming, feeding, and crating as well as pricey high-protein kibble. They need lots of calories to compensate for their endless energy. You'll probably spend between $50 and $70 each month on kibble. Don't forget to pick up some healthy treats, too!
Training and Exercising Your Brittany Hybrid
If your pup takes after its Brittany parent, you'll have no problem housebreaking and training them. Stay patient and always speak gently to your Brittany mix, as they're particularly sensitive to anger and tension. This breed responds best to positive reinforcement while training and experts recommend that Brittany owners look into clicker training to cover the basics.
Some Brittanys are a little too smart for their own good, so if your furry friend flies through beginner training commands, think about doing some advanced agility training. The sport provides a peaceful alternative to hunting that will leave your Brittany mix feeling accomplished and enriched.
A large part of any Brittany puppy's training is socialization. Your pet needs to get out there and meet other humans and canine companions to keep them friendly and outgoing. If you treat your puppy like a shut-in, they'll have a harder time around strangers or other pets. Take your Brittany to the local dog park on mornings or evenings when it's not too hot. They'll love playing with the other dogs, and maybe they'll even get tired, which is a feat for this breed.
As for day to day activity, vets recommend that dogs in this high-energy breed get one to two hours of rigorous exercise daily. They don't do as well in confined spaces, and they prefer to get their paws dirty sprinting around outdoors. Consider getting a doggie door, which will allow your little gem to let themself outside when they need to blow off some steam. Your pup will gain confidence and independence, and it'll protect your walls and carpet from nervous chewing.
Gender Neutral Names For Britts
Try some of these names on for size! One of them is sure to fit your speedy pet.
Brittany!
Ace
Morgan
Ash
River
Avery
Sawyer
Basil
Blue
Charlie
Delta
Echo
Harper
Jamie
Sky
Kennedy
Mack
Logan
Paris
Reagan
Sloan
Summary
Brittany crossbreeds are a great way to get the light natural energy of a Brittany with a little less physical maintenance. These mixed pups can shed less, have fewer health problems, and make great friends and hunters. These cuties will steal your family's hearts. Watch out for those big puppy dog eyes that humans have adored for centuries.
Similar Breeds
Austrian Pinscher
Kuvasz
Beagle Pit
Golden Retriever
Kerry Blue Terriers