There can be many reasons why your Shih Tzu is shaking, it could be fear, stress, health/neurological issues, too cold, and anxiety.
Now we will go through the reasons for each of these to pinpoint why your Shih Tzu is shaking.
Why Is My Shih Tzu Shaking?
Shaking is a somewhat normal response for your pet, their behavior is how they communicate with us since they cannot speak so it is important you pay attention and try to decipher what they need as they trust you to take care of them. If you are worried a good thought is when in doubt to always check in with your trusted vet.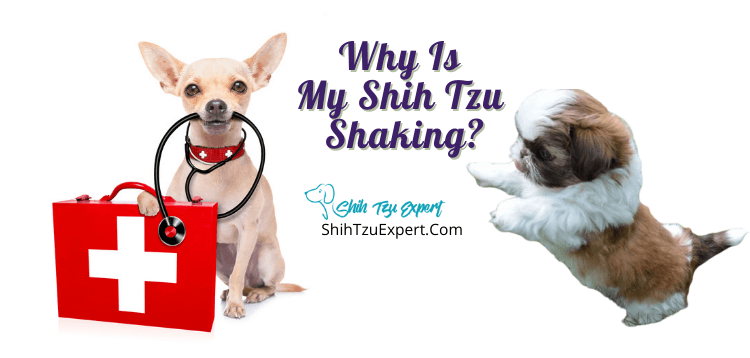 Why Are My Shih Tzu's Back Legs Shaking?
It is very well possible that your Shih Tzu is just cold! Shih Tzus are small and don't have a very warm coat and this is why Shih Tzus need to be indoor dogs because their hair is finer like ours as humans. Try warming your dog up with a blanket to see if this stops the shaking.
Why Does My Shih Tzu Shake So Much [Uncontrollably]?
Smaller breeds of dogs such as Shih Tzus are more prone to shaking and trembling just because of how they are built. If the shaking is constant and uncontrollably then this can be a sign of generalized tremor syndrome. This will usually show up in older dogs and is usually harmless.
Why Does My Shih Tzu Shake All The Time [Non Stop]?
If the shaking becomes continual and non stop then it may be best to reach out to your vet as non stop shaking can be a sign of multiple health issues. Like us when we get hurt we sometimes shake, so it is a possibility that your dog has a muscle injury.
Shaking may be a sign that your dog is in a lot of pain and needs help. Another reason could be stress/anxiety which could cause non stop shaking. Your dog could be feeling nervous constantly and may need to consider anxiety medication after talking to your vet.
Why Does My Shih Tzu Shake Sometimes?
Occasional shaking is normal, like mentioned especially in smaller and older dogs, especially Shih Tzus. Once you have ruled out that your dog is not cold or it is not a medical issue it could be that they are just excited or overwhelmed with an emotion whether happiness, fear, excitement etc.
It is a good idea to keep an eye out for what may be causing your dogs shaking such as anything that sets it off whether it is the environment your dog is in, other people around them, or even if they are needing to be fed or let out to the bathroom.
Why Is My Shih Tzu Shaking After a Haircut?
Fear is a very common reason for shaking in all breeds. If your dog is specifically shaking during or after you pick them up from a haircut then that was probably a very stressful experience for them as they are with someone they aren't comfortable with.
This is a normal response that should not cause too much worry but if your dog does not adjust back to being home and is still seeming fearful and shaking after a haircut then it should be mentioned to the vet and if no health problems are apparent maybe find a new groomer.
There are things you can do before and after your Shih Tzu has a haircut to make your dog feel more comfortable which will hopefully reduce the shaking.
Why Is My Shih Tzu Shaking And Lethargic?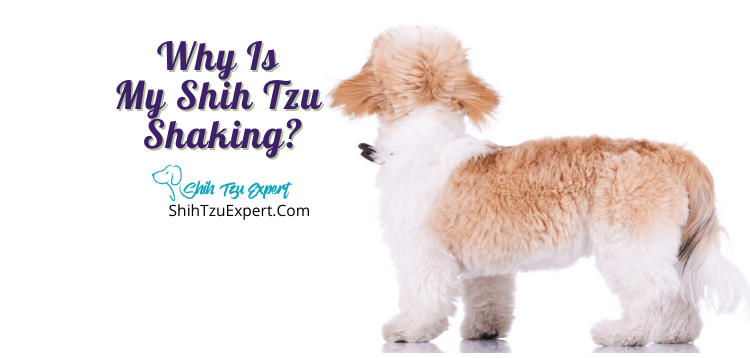 Shaking along with your Shih Tzu being lethargic is a cause for concern that you will want to pay close attention to. Take note if your dog is not acting themselves, not eating etc. Keep a close eye on them and any other symptoms that might show up.
Keep an eye out for any vomiting, diarrhea or any other things that are out of the normal. Try to encourage your pet to drink water and get rest while making a call to the vet to be sure that nothing is wrong taking your dog in if needed.
Why Is My Shih Tzu Shaking And Panting?
Shaking accompanied by panting sounds like your dog could be dealing with generalized tremor syndrome. Look to see if your dog is stressed by seeing if they are growling, barking or whining, their body language seems off and pacing. Reach out to your vet immediately to rule out any serious health issues.
Why Is My Shih Tzu Shaking its Head?
If your Shih Tzu is specifically only shaking its head and not necessarily its whole body then this can be a sign of an ear infection especially if shaking their head is accompanied by them pawing at their ears as well as a smell coming from their ears.
Why Is My Shih Tzu Puppy Shaking?
Since shaking is more common in older dogs versus puppies it's important to get to the root of your puppies shaking. If your puppy is not cold, stressed/anxious and all their needs have been met then it's time to look at their health.
Your puppy could have gotten into something that made them sick and is causing them to shake, to rule this out look for drooling, lethargy, diarrhea and even seizures. Note how long they are shaking and what happens before they start and if it doesn't stop reach out to your vet to rule out any neurological/health issues.
Why Is My Old Dog Shaking?
As dogs get older, like we do as humans we both start to develop joint discomfort and even pain as arthritis can set in. Your dog as they age might start to shake from this pain, meaning they might need help with relief from this pain as they are shaking to show you they are uncomfortable.
Why Is My Older Shih Tzu's Head Shaking Crazy?
Shaking of the head can be a sign of an ear infection, ear mites, ticks, allergies, hematoma, toxins or even balance issues as your Shih Tzu is getting older. Try to inspect their ears and if you see nothing but the behavior continues, reach out to your vet.
Why Is My Pregnant Shi Tzu Shaking?
Especially if your dog is due soon then she may be experiencing panting, shaking and restlessness as a sign of labor. Make sure you have a plan to help deliver your Shih Tzus puppies safely and reach out to a vet for any questions and concerns.
Why Is My Dog's Jaw Shaking?
It is important to try to take a look into your dog's mouth to see if you can see if anything is going on. Some things to look for are to see if they have an infected/red or cracked tooth, bumps under their tongue to see if it could be a dental issue. Like always it is best to reach out to your vet to rule out any serious medical conditions.
Why Is My Shih Tzu Shaking And Throwing Up/Vomiting?
Shaking and vomiting can be a sign that something is wrong with your Shih Tzu and they need to seek medical help as soon as possible. They could have an upset stomach due to something they ate, bloated, pancreatitis and even kidney disease. Keep an eye out on how often they are throwing up, the amount/color and contact your vet immediately if it does not stop within a few hours.
Why Is My Shih Tzu Shaking And Crying?
When your dog is shaking and crying this can mean that they need a need met whether it be being fed, played with or getting taken to the bathroom. If they are both shaking and crying that can be a little more concerning and you should feed, take them out and give them attention and if they don't stop then visit your vet.
Why Does My Shih Tzu Shake When Sleeping? What Should I do?
Just like us, dogs dream and sometimes when they are dreaming they shake/twitch which is completely normal as they are probably dreaming about playing with their favorite toy. Shaking while sleeping only becomes a concern when they can't be woken easily from sleep, this is a sign of a seizure along with having an accident.
Shih Tzu Shaking When Breathing
Shaking and heavy breathing can be a sign of pain in your Shih Tzu, take your dog to the vet for a proper diagnosis.
Shih Tzu Shaking And Not Eating
Your Shih Tzu not eating is usually a cause for concern as this is not a normal behavior regardless of shaking or not. Loss of appetite and weight is usually the first sign of a serious health issue and if your dog does not eat for a day or two contact your vet immediately.
Shih Tzu Puppy Is Shaking/Shivering After Eating?
Your puppy should be nauseous after eating and this can be a reason for shaking after eating especially if their stomachs are sensitive to the food they're eating. They also could be over eating so keep an eye out on the portion sizes that you are feeding them.
Another reason your puppy could be shaking after eating is that when they eat their digestive system causes their body temperature to lower a little bit which can cause a slight shake due to coldness. Another reason is excitement over the yummy food they just ate.
If your puppy is young enough that they haven't had their vaccines yet, this could be a sign of a serious life-threatening disease called distemper. If you suspect this as it is accompanied by discharge from their face, vomiting after eating and not eating, contact your vet right away as this could kill your puppy.
Shih Tzu Shaking After Bath
Small dogs have a harder time regulating their body temperature and after baths they are wet so they are cold just like us after getting out of a bath/shower. It is important that you dry them very well and keep them warm so they don't catch a cold.
Shih Tzu Shaking and Diarrhea
You need to first evaluate if your dog has gotten into something it shouldn't have ingested as that is a common cause of diarrhea. If you can confirm your dog has not gotten into anything dangerous then it could have very well been caused by your dog eating too fast or if you are transitioning to a different food.
If you have ruled out all of these as possibilities it could be that your dog has picked up a parasite somewhere whether by eating grass or drinking some water outside. Try to withhold food from your Shih Tzu for a whole day, while still offering water to see if it fixes itself. If not you can contact your vet to see if you can give your dog an anti-diarrheal.
If stool has any discoloration, lasts more than 2 days, and if your dog is having diarrhea along with vomiting then it is time to visit your vet's office.
Shih Tzu Wheezing And Shaking
It is possible that your dog could be having a "sneezing attack" where they have trouble breathing and are shaking and make somewhat of a snorting sound, this is called reverse sneezing and is common in small dogs and can be a result of allergies. If this continues and does not improve, contact your vet.
Why Is My Dog Shaking For No Reason? (e.g. When It's Not Cold?)
We know from reading the above paragraphs that shaking is caused by many things and when you can rule out your dog not being cold, there is another reason for its shaking. Make sure your dog is not scared or anxious of anything by taking time to cuddle with them closely and playing and see if the shaking goes away.
How to stop your Shih Tzu from shaking from the cold?
If you live somewhere with colder temperatures and you need to take your dog out and want to prevent them from shaking from the cold it might be wise to look into getting them a sweater and boots since Shih Tzus are smaller with less warming fur to keep them warm, after you get in try to warm them up next to a heater or with a blanket or even your own body giving them cuddles!
Why Should I Be Worried If My Dog Is Shaking?
There should be no serious cause for concern if your dog is shaking as they could just easily be overwhelmed, once you have gone through a list of their needs and if they have all been met and they do not seem scared/anxious and if they aren't eating or acting themselves that's when you might need to start being worried.
How Do I Get My Dog To Stop Shaking?
The best thing to do is try to calm your dog as they are shaking as a stress response to something that has happened or to how they are feeling. Try warming them up, keep them calm and reassure them that they are okay, and spend time close to them watching their behavior to see if it changes.
Does Shaking Mean My Dog Is In Pain?
Shaking can be but is not always a sign that your dog is in pain. It is important to take a look at the overall health of your dog and their age. Older dogs have a greater tendency to shake more as they are getting older and their bones hurt more, if your dog is also crying/whimpering and maybe limping or not moving much, it is best to contact your vet.
16 Reasons Why Your Dog Shakes Or Trembles (And What To Do!)
Distemper [Very Serious Medical Condition]
Poisoning [Very Serious Medical Condition]
Generalized Tremor Syndrome -GTS (White Shaker Dog/ Shaker Syndrome) [Very Serious Medical Condition]
Muscle Injury
Muscle Weakness
Allergic Reactions
Toxins
Bites
Nausea
Stings
Sickness
Excitement
Stress
Anxiety
Fear
Seeking Attention
Since we have covered what to do in most of these cases a good rule of thumb is to watch to see if other serious symptoms accompany your dogs shaking and if their behavior changes at all and to contact your vet with any questions.
Shaking Vs. Trembling Vs. Seizures
Shaking we know can be no cause for concern as your dog just may be cold, need attention or older in age. Trembling is when your dog has involuntary muscle movements and your dog is usually awake versus a seizure where the dog may lose consciousness.
If your dog is seizing is it best to let it take its course then to immediately contact your vet for further medical care. Tremors, shaking and seizing can all be taken care of with medication as well so it is best to talk with your vet to find the best treatment plan for your dog.
How To Stop Your Shih Tzu Shaking From Strong Emotions like Stress, Anxiety, and Fear?
If you suspect your dog is shaking due to fear, anxiety or other strong emotions you can help them by not leaving them for too long if it is suspected separation anxiety. If it is the environment and outside noises such as loud noises, thunderstorms or fireworks just spend time close with them assuring them it is okay.
Should you stop your dog from shaking after poisoning? How to?
Contact your vet immediately and they will give your further instructions on what to do.
References:
https://www.k9ofmine.com/Dog-Shaking-Trembling/
https://www.cga.ct.gov/2017/Phdata/Tmy/2017Hb-05659-R000222-Casapulla,%20Al,%20Self-Tmy.Pdf