Some dog owners mistakenly believe that dogs should not climb stairs!
While dogs like Shih Tzu may be far more injury prone, these owners forget to take some critical facts into consideration.
Let's go over why you should carefully consider allowing your Shih Tzu to climb up and downstairs…
Can Shih Tzu Climb Stairs [Up And Down]?
Training your dog may seem like a daunting task. Especially when it comes to something that seems a high risk. For Shih Tzus, a breed prone to hip dysplasia, teaching them to climb stairs may seem like something impossible and even dangerous. However, if you take the preventive measures to give your dog a safe environment to learn and follow these simple steps, your pet will be learning in no time.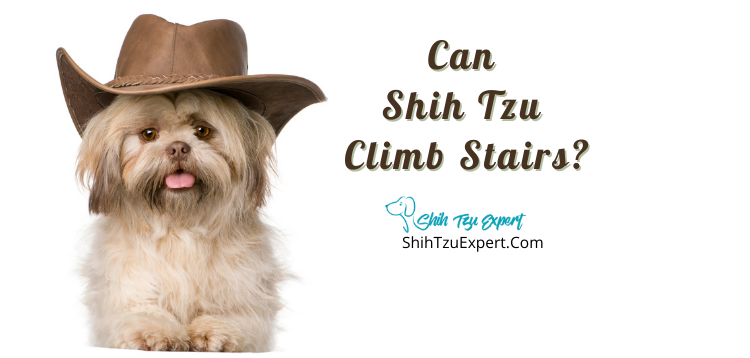 Should Dogs Climb Stairs?
Dogs should climb stairs, but only if it's safe for them to do so. Larger or younger dogs may find running up and down the stairs an easy task. However, older, and smaller dogs they may find it harder, and find more risks, in climbing stairs.
Is Going Up And Down Stairs Bad For Shih Tzu & Other Dogs?
Stair climbing is a wonderful exercise for small dogs, including Shih Tzus, as well as other breeds. The process of climbing up and down the stairs gives them a whole body workout and allows them to move around the house with ease.
Why Do Small Dogs Find It Difficult To Go Up And Down The Stairs?
Having a large body and short legs would make any sort of climbing difficult. It's no wonder that small dogs find going upstairs such a daunting task.
Little dogs need extra time climbing or descending stairs because it's harder for them to carry their body up each step.
What Makes It Difficult For A Shih Tzu To Climb Up And Down Stairs?
Shih Tzus in particular have a very large body and short legs making this difficult for them. In general, they're a small breed and the height of even a single step may be difficult for them to climb.
Consider that the dog may be too heavy to carry itself up the stairs. Pair this with the possibility that the dog has weak back legs from a lack of exercise.
The result would be that they aren't able to push the weight of their body up each step.
Just like with humans, age plays a large factor in Shih Tzu's mobility. An aging dog wouldn't be able to climb, run, or even walk with the same strength a younger dog would.
The stairs themselves are a large contributing factor to the Shih Tzu's ability to climb them. A carpeted surface would provide more traction for the dog, while a slick, hardwood surface would cause the dog to slip when trying the climb.
Narrow stairs could also make the task difficult for a Shih Tzu, as there isn't enough space in between steps, or on the steps, for their body to fit. If you have a spiral staircase, your pet would have to make repeated turns which would make an already difficult task even harder for them.
Shih Tzu Fell Down Stairs The What To Do?
In the case that your pet falls down the stairs, the first thing you want to do is ensure that no injuries took place.
Check that your dog is still walking properly, that it doesn't seem to be in any pain, and that it's fully conscious. After ensuring that your dog is okay, pinpoint the problem and work on addressing it before continuing to teach your dog to climb the stairs.
How To Make Stairs Safer For Dogs?
There are many ways to put protections into place to make sure the stairs are safe for your Shih Tzu to climb. The first measure you should take is putting a runner on your stairs if the surface is slick. This will give your dog added traction.
Another thing you should make sure of is that there is nothing on the stairs that will get in your dog's way, or scare them.
How To Protect The Sides Of The Stairs So That Your Shih Tzu Won't Fall Off (Spiral Staircase)
The last thing a pet owner wants is unnecessary injuries.
You can give your dog traction booties to prevent this and to prevent your Shih Tzu from falling off the sides of your stairs. Traction boots will give your dogs more grip when ascending and descending by themselves.
For a more extreme measure, you can install a doggy ramp up the side of your stairs. The ramp should be installed with a grippy fabric to let the dog go up the ramp with ease.
In the case that you were to install a doggy ramp, you should try it out in a separate area of the house first. Try installing a smaller doggy ramp (eg. to the couch) to see if your dog is capable and comfortable with climbing up and down a ramp.
What Causes Weak Back Legs in Shih Tzus, One of the Main Difficulties in Climbing?
One reason that your Shih Tzu has weak hind legs is that it lacks muscle strength in those limbs. Those could be from lack of exercise or loss of muscle mass as it ages.
A common reason in Shih Tzus for weak hind legs is Hip Dysplasia.
Hip Dysplasia is a common disease in the Shih Tzu breed. This causes the dog's hips to form incorrectly, resulting in arthritis in these joints. This can cause pain and weakness in the affected areas.
How To Train A Shih Tzu With Weak Back Legs To Climb Stairs?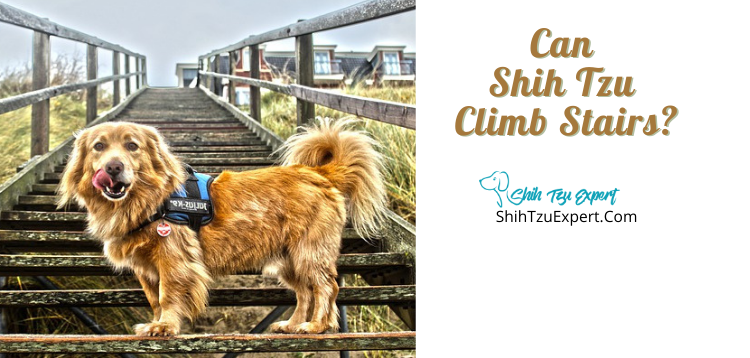 Once the steps are prepared for training, the following steps are what's needed to get your dog up the steps:
Place treats on the first step, or second step, just out of the dogs reach
Continue placing treats on the succeeding step
Repeat until the dog is comfortable going upstairs alone
By breaking the action into smaller pieces, it makes it easier for your Shih Tzu to adjust and learn the motion. Let your dog rest in between training sessions.
Why Do Some Shih Tzu Find It Easier To Run Up The Stair Than Climb?
Shih Tzus are barrel-chested. Meaning, once they get going it's easier for them to keep momentum.
Is Climbing Stairs Good Agility Training For Shih Tzus?
Climbing stairs is great agility training for Shih Tzus and gives them a whole body workout. As long as they aren't straining too hard or seem to be in pain, stair climbing is a good exercise for any dog breed.
Can Puppies Climb Stairs?
Yes, puppies can climb stairs.
Should Puppies Be Allowed To Go Up And Downstairs?
This should be done under supervision and only when the dog can make it up safely. Puppies should not climb stairs if they are inexperienced or too young to be able to properly climb up steps.
How Old Should A Puppy Be To Climb Stairs Safely[Is It Ok For Hips]?
On average, a puppy will start to be able to climb stairs by themselves at 3-4 months.
As far as hip issues go, it will depend on the breed of the dog. If the breed is predisposed to diseases involving hip mobility, injuries can occur even when the dog is young. As a result, safety measures should be put into place to create a safe environment for your pet.
Can My Shih Tzu Puppy Of 3, 4, 5 Months Climb The Stairs?
Smaller dogs, Shih Tzus included, should be kept away from stairs until they reach the 16th week, or 4 months, mark.
Are Stairs Bad For Puppies Joints?
Climbing stairs could be jarring to puppies' joints. This excessive use of their limbs, and the strain of having to climb repeatedly up surfaces that are higher than hip level, could cause damage to their joints.
If your dog's breed is at a risk for hip dysplasia, it could be even worse and cause an injury worsening the condition. Hip dysplasia is a hereditary condition, meaning that it isn't preventable if your dog already has it, but injuries worsening it is.
How Do I Teach My Puppy To Go Up And Down The Stairs?
Ensure that the stair surface is non-slip and safe for your dog to walk on
Place a pillow or blanket at the bottom of the stairs in case of a fall
Try luring them up step-by-step by placing treats one after another
Once the dog is familiar with the motion, try placing them in the middle of the staircase
Repeat until the dog is comfortable
How Safe Is It To Allow Your Puppy To Climb Stairs On Its Own?
Assuming that your puppy is still unfamiliar with the motion, allowing your pet to climb stairs on its own is extremely dangerous.
Always make sure that your puppy is being monitored when climbing stairs. If your puppy attempts to climb stairs unsupervised, your dog could fall and be seriously injured as a result.
What Dog Breeds Can Handle Stairs?
Dog breeds that aren't prone to hip dysplasia or other degenerative diseases will be able to handle staircases than other dogs.
What Dog Breeds Can't Handle Stairs?
Stairs will be harder for dogs with hip dysplasia to handle.
Hip Dysplasia is more common in larger dogs. For example, some of the breeds most susceptible to this disease are Great Danes, German Shepards, Labradors, Mastiffs, and Rottweilers.
Can A Shih Tzu Go Up And Down Stairs?
Shih Tzus can climb stairs, yet extreme caution should be had as Shih Tzus are a breed prone to hip dysplasia.
Can Dogs With Hip Dysplasia Climb Stairs [Is It Bad]?
As long as your dog is provided a safe, non-slip surface to climb under supervision, dogs with hip dysplasia can climb stairs.
If your dog is susceptible or already has hip dysplasia, you want to be careful to ensure that your dog isn't excessively using its joints or doing anything jarring that may cause more stress. If the condition worsens, your pet should be taken to a medical professional to determine what's best for your dog.
Why Is My Shih Tzu Is Scared Of Climbing Stairs?
The reason your Shih Tzu is scared of climbing stairs could be something simple.
From his position at the bottom of the stairs, the lighting or surrounding furniture could seem to loom over him. A bookcase that looks familiar at the top to him, may be seen as a danger to him at the bottom.
Make sure that there is nothing on, or surrounding your stairs that could scare your dog.
However, your dog may be trying to tell you that it's painful for them to go up the stairs. In this case, have your dog examined by a professional to ensure that your dog isn't suffering from any injuries before attempting to train them to climb stairs.
Why Is My Dog Suddenly Scared To Go Up The Stairs?
If your dog was climbing stairs with ease and then suddenly seems scared by them, you may want to consider if they had a bad experience.
Did your dog fall while on the stairs? Was your dog startled by something while on the stairs and now associates it with this fear?
In this case, you want to make sure you slowly reintroduce your dog to the stairs. Don't push them too hard. Sit on the stairs while training them and gently call their name to come up towards you.
A little encouragement goes a long way.
Why Does My Shih Tzu Always Freeze When Going Up Stairs?
Along the same lines as the last point, anything, or any experience, could be scaring your dog on the steps. While your pet is in the middle of climbing a set of stairs they might find themselves too scared to go further, and may not have the confidence to go back down.
This should be addressed by further training your dog gently as previously mentioned. Any bad experience may scare them away from the stairs for good.
Why Won't My Dog Walk Down The Stairs?
Going down the stairs is a different motion than going down the stairs. Even a person can agree with this.
For your dog this could be even scarier as the risk of falling seems larger.
To train your dog to go down the steps, repeat the same steps as mentioned in training your dog to climb stairs. By giving them love and support, they should be able to go down the steps in no time at all.
Why Does My Dog Sleep At The Top Of My Stairs?
If your dog is sleeping at the top of the stairs it could simply be because they find this to be one of the more comfortable positions in your house.
It could also be that your dog sees the top of the stairs as a place where they can protect you. If your front door is located in front of the stairs, this is a place where they can see danger coming before it can get to you.
How Do I Get My Dog To Stay Down The Stairs?
If your dog is now climbing the stairs when you don't want them to, the easiest method of prevention is installing a doggy gate. Make sure the gate is installed securely so your dog can't knock it down or get around it. Depending on the size of your dog, you want to make sure the height of the gate isn't something they can easily jump over.
What If The Dog Is Too Old To Climb Stairs?
If your dog is simply too old to climb stairs, the only option is that they are carried up and down the steps.
How Do You Teach A Dog [Who Is Scared] To Climb Stairs? [In 4 Easysteps]
For dogs that are scared to climb stairs, you can teach them with these easy steps:
Place treats on every step
Sit on the stairs and call them to you
Act appreciative and excited when the dog exhibits the desired behavior
Repeat training regularly
Remain patient with your dog and understand that it may take him time to overcome his fear and go up and downstairs with ease.
References
https://wagwalking.com/behavior/why-do-dogs-sit-in-high-places