Buying a puppy from a dam's first litter can be somewhat of a guessing game. The breeder will not have any prior information on what the puppies will be like – temperament, personality, physicality, etc. – because the dam has never had puppies before!
That doesn't mean that you shouldn't buy a puppy from a dam's first litter, though! They need good homes, and if you take the proper steps, you can rest assured that you will go home with the perfect puppy for you.
Should You Buy a Puppy from the First Litter
There is absolutely nothing wrong with picking a puppy from the first litter of a dam and a sire. There's a little bit of the unknown about it, but as long as you communicate with the breeder and you have spent time with the litter, you will most likely go home with the perfect puppy for your lifestyle.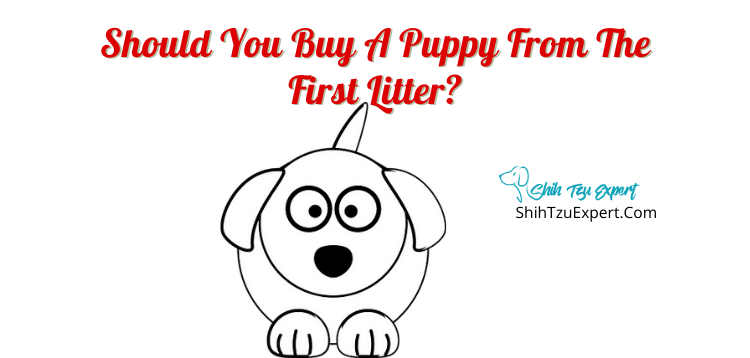 What Does 'Litter A', 'Litter B', Etc. Mean?
Many breeders use this as a classification system for which litter the dam is on.
Because dogs can have multiple litters over their breeding careers, most breeders will name the litters with titles such as "Litter A" or "Litter B" to signify which of the dam's litters the puppy is coming from.
Some people will not want to buy a puppy from a dam's first litter, so knowing which litter they are looking at is very important.
Many breeders also keep track of their puppies over their lifetimes, and this system helps them to do that.
What Is the Best Age to Choose a Puppy from a Litter?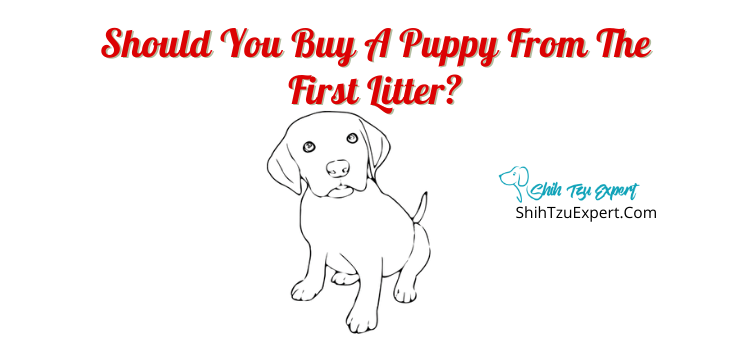 Many breeders will tell you that the best age to choose a puppy from a litter depends on what you are looking for in your puppy.
If you are looking for a breed standard show dog, the breeder will be able to tell within hours of birth which puppy meets those criteria. If you are looking for a calm family dog, then it will take a few weeks for the puppies' personalities and temperaments to start to show.
In any case, most breeders will have you put down a deposit to hold a puppy and then work with you to find the right one for you.
Is The First-Born Puppy the Best?
Birth order has almost nothing to do with anything when it comes to puppies.
And "best" is subjective. The best puppy for you might not be the best puppy for someone else.
The only way to know which puppy is the "best" for you is to spend time with them, to tell your breeder what you're looking for, and to trust their opinion.
How Do I Select the Best Puppy in a Litter?
You need to select the best puppy for YOU.
Talk to the breeder and tell them what you want in your dog. Do you want them to be calm and gentle? Do you want one that has the energy to keep up with your daily runs? Do you want a dog that you can train for obedience shows?
The breeder is the human that spends the most time with the litters and is the person that will be able to tell the personalities of the puppies the soonest, so trusting their opinion is the smartest thing to do to pick the best puppy to suit your lifestyle.
You can also spend time with the littler yourself. Make multiple visits to the litter in the first few weeks after they are born and make your own evaluations.
Is It Bad to Get the Last Pick of the Litter?
If you are looking for something specific from your dog, then getting the last pick will probably not work for you.
However, if you are just enamored with the breed and pretty flexible with everything else, then getting the last pick of the littler isn't necessarily a bad thing.
You might even be able to talk the breeder into a deal if it's truly the last puppy in the litter and they are wanting it to go to a good home.
Is It Better to Get a Puppy At 8 Weeks Or 12 Weeks?
Most reputable breeders will not let a puppy go home with you if they are not at least eight weeks old.
For most breeds eight weeks is the standard as this is when the puppy will be ready to leave their mother. They are weaned off of mom's milk, they have socialized with their littermates, and they are ready for a new home.
Some breeders will wait another week or so because often puppies will go through a "fear" stage at around eight weeks. Waiting another couple of weeks will ensure that you are not getting a puppy that you have to work through this stage.
Most breeders will not keep a puppy longer than ten weeks, because after that they may start to develop attachment issues and have a harder time in a new home.
The only time it would be recommended to wait until twelve weeks would be for smaller toy breeds that might need a little more time to develop.
What Makes a Puppy Pick of the Litter?
"Pick of the litter" is a relative phrase.
The puppy that is the pick of the litter will vary depending on what you are looking for in your puppy.
For show dogs, the pick of the litter would be the dog that physically best meets the breed standard requirements.
If you want a dog to train for obedience, then you want an attentive dog that makes good eye contact and is motivated to please you.
On the other hand, for a family dog you would want a puppy that is calm and gentle.
Can The Runt of the Litter Be Born First?
It is entirely possible for the runt of the litter to be the first-born.
"Runt" is a layperson's term for the puppy or puppies in a litter that are smaller than their littermates.
More often than not, the runt is not actually too small but is average size and their littermates are bigger than normal.
Does The Runt of the Litter Stay Small?
The runt of the litter is usually only slightly smaller than their littermates.
As long as the breeder makes sure they are getting properly fed and makes sure they are not rejected by the mother, the "runt" will usually grow to the same size as its littermates.
"Runts" are usually totally normal and healthy and just surrounded by littermates that are larger than normal.
How Do You Know If a Puppy Is First-Born?
There is no way to tell from appearance or temperament if the puppy is the first-born.
Because of this, the breeder will usually color code the puppies as they are born to keep track of things like birth order.
This also helps them when the puppies start to develop their personalities as they can refer to the puppy by their collar color.
What Are the Red Flags When Picking Out a Puppy?
When it comes to picking out a puppy, you want to make sure that you get one that matches your lifestyle.
Spending time with the litter helps you to see the puppies' personalities and helps you to avoid picking a puppy that has behavioral issues or temperament issues.
However, another aspect of picking out your puppy is working with the breeder. When it comes to finding a reputable breeder, there are more specific red flags to look for.
Are they okay with giving the puppy to you before eight weeks? If so, they are probably not the best breeder to work with. Puppies are not ready to leave their mothers before eight weeks old, and good breeders know this.
What are the living conditions of the dam and the puppies? Are they comfortable with lots of space and warmth, or are they in cages all day with no time to stretch their legs? The way the dogs live is a huge indicator of how responsible the breeder is.
Where are the puppies kept? The puppies should be kept with their mother until they are ready to leave her. If the breeder separates the puppies and the dam, then that's a huge red flag.
When Do Breeders Let You Pick Your Puppy?
Most breeders will have stipulations in the purchasing contract that lets them match you with the puppy that will best suit your needs and your lifestyle.
Breeders want to make sure that their puppies live good lives in good homes, so they will have a vetting process for you that will involve asking about your lifestyle, what you would like your life with your dog to look like, and why you are purchasing a dog.
However, if the breeder does let you pick out your own puppy, they will probably insist on you making several visits to the litter and let you pick out your puppy after that.
How To Pick a Puppy from a Litter At 2,3,4, 6, 8 Weeks?
Puppies go through a lot of changes in the first two months of their lives, and you will know different things about your puppy at different ages.
At two weeks old, puppies have just opened their eyes and started to be able to hear. If you pick your puppy out at this stage, you will be making the selection primarily on appearance.
Between three to four weeks old, puppies begin exploring the world around them, getting curious, and developing their personalities. This is the best time to make a few visits to the litter to see how the puppies interact with each other and with new people and things.
Between six and eight weeks, your puppy will be fully stepping into their personality, and you will be able to clearly see the different temperaments in the litter. This is a good time to pick out a puppy if you are just wanting a family dog or a companion and do not plan on doing intensive obedience training or showing.
How To Pick a Calm Puppy from a Litter?
If you are looking for a calm and gentle family dog, then the best thing to do is trust your breeder's opinion.
Your breeder is spending all of their time with these puppies. They see them when they are playing, eating, exploring, sleeping. They will know the personality of each and every puppy in that litter like the back of their hand.
You can still make visits to the litter, but talk with the breeder and see what puppy they say is the calmest and observe for yourself.
Does Litter Number Matter? First Litter Vs. Second Litter
Some people will say to never pick a puppy from a dam's first litter.
The reason they will say this is because, with her first litter, the dam is still learning how to be a mom. She's never done this before, and there can be a steep learning curve for her.
Another reason they might say this is because the breeder will have no information on what the puppies will be like, as this dam and sire have never had a littler together before. They won't be able to tell you what the puppies will look like, what their temperaments might be, etc.
However, that doesn't mean that these will be "bad" puppies. It just means they are an unknown. But you can get an AMAZING puppy from a first litter! Just make sur eyou are doing your due diligence.
First Pick of the Litter [How to Choose]?
To be honest, if you are picking a puppy from a breeder, the breeder will most likely pick for you.
A lot of people prefer this because they know they can trust the breeder to choose a puppy for them that meets all of their needs. It also takes the stress off of them of having to spend time with a whole litter of puppies and only pick one!
If you do get to pick your puppy, make sure you have spent time with the whole litter and you are picking the puppy that will best suit your lifestyle.
References
https://www.thehonestkitchen.com/blog/when-should-puppies-go-to-their-new-home/
The Runt of the Litter — Definition, Health Implications & FAQ
https://www.thesprucepets.com/puppy-development-part-1-2804676