We may earn commission from qualifying purchases at no extra cost to you.
Learn more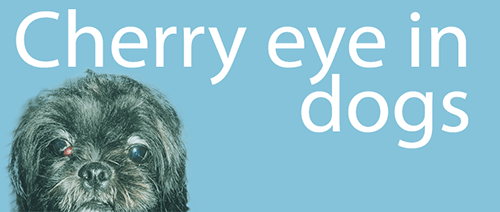 What is Cherry Eye?
Cherry eye in dogs is also known as the canine cherry eye, is the prolapse of the third eyelid gland.
The inside of the eyelid is a white membrane, this membrane has a gland that produces tears and keeps the eye moist and protects it from dust and other elements.
Usually, this gland is invisible, but with cherry eye the gland will appear from behind the eyelid.
What are the disease signs?
The disease can be noticed by pet owners as an unusual mass coming out of the eye, and can range from red to pink color.
This may happen to one eye, or can happen to both.
What are the causes of Cherry eye in dog?
This is a genetic condition that happens to some breeds of dogs.
For example:

Shih Tzu
English Cocker Spaniel
English Bull Dog
Beagle
The condition may result from the weakness of the tissue which connects the gland to the eye.
Is Cherry Eye dangerous for my Shih Tzu? Can this make him blind?
The disease is a genetic condition which is more common in certain
breeds such as Shih Tzu
. With treatment, the Shih Tzu will not lose its sight.
Is Cherry Eye painful for my Shih Tzu?
Normally, it is not painful.
Outlook
The condition is not painful and with treatment the condition can be improved.
If it is not treated, the gland will become bigger in size and may eventually become infected.

How is canine cherry eye detected?
Usually, owners will take their dogs to the vet after they notice their dogs having an issue with their eyes.
The vet will only need a physical exam to identify this condition with no need for more tests.
There are some similar conditions where this occurs, like tumors, but this is far less common.
Cherry eye in dogs Treatments : Does cherry eye go away
Cherry eye dog ointment?
The only adequate treatment for cherry eye is surgery.
Surgery is performed to place the gland back to its original position and ensure it is connected to the eyelid.
Home Remedy Treatments
Whilst surgery is recommended, the condition may be treated by massaging the gland gently until it is sucked back into place.
Shih Tzu Cherry Eye Surgery Cost
The cost of the surgery can be around $800.

Post-Surgery
After surgery is done, antibiotics are prescribed to ensure an infection is avoided.
The dog will need to have a follow up to assess the surgery and to ensure complications are avoided.
Recovery
Full recovery rate is very high.
Preventing Cherry eye in dogs
There is no known way to prevent this condition.
The medical advice contained in this article about Cherry eye in dogs comes from a fully qualified, Experienced, and a Trained veterinarian.
If your dog has any medical issue, please consult your own veterinarian for treatment and further advice!

Related Medical articles for Shih Tzu eye problems