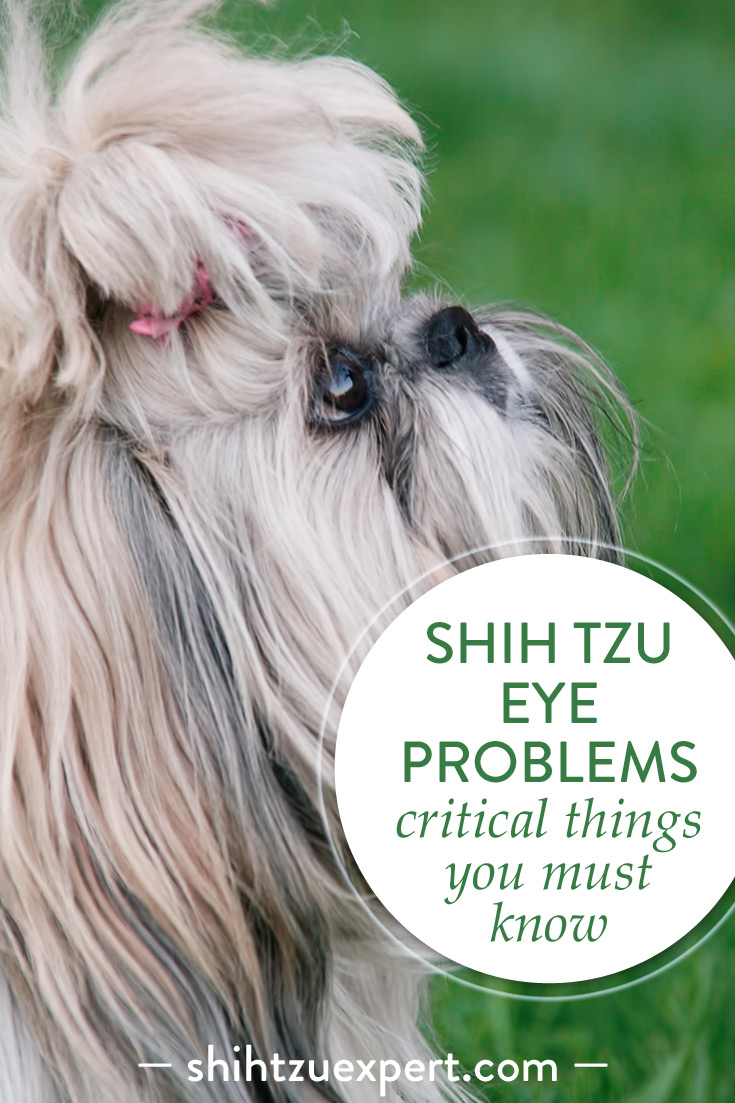 Shih Tzu eye problems are very common because of the breeding issues!
Overview of common Shih Tzu eye infections, and disorders
Shih Tzu breed can suffer from many different eye issues.
These are quite common, they can be due to

Diseases,
Infections or
Injuries
All eye affections must be considered serious as they may reflect another underlying health problem, pet owners should immediately consult a veterinarian if eye disorders occur, before any complication may occur. It is always recommended to look for issues in eyes or other areas when you groom, also a simple trim around the eyes with a pair of dog clippers can prevent some eye issues! If you are looking to groom other breeds than Shih Tzu, then here is a list of clippers that will suit almost any breed of dog.
Types of eye disorders
Eye disorders include a wide range of diseases, that can affect different parts of the eye, there are diseases that are related to the

Eyeball,
Eyelids,
some others are a consequence of a general disease,
some other diseases are caused by some types of bacteria.
Vitamin A and vitamin E deficiency is another cause of eye disorders, for instance, vitamin A is required for the good vision and tear production.
How do I know that my Shih Tzu has an eye problem?
These eye issues may cause the puppy to display any of these following symptoms:

Eye swelling,
Eye popping,
Blood in the eyes,
Eyelid swelling,
Permanent closed eyes,
Eye discharge,
Dry eyes.
Here is a list of the most common eye problems that occur in the Shih Tzu :
Treatments

If you are using Eye drops for your pup, then here is a pro tip from our vet.

1. When you use it for the first time make sure that it is at your body temperature so that the pup does not get itchy eyes from having cold or even freezing eye drops put in his eyes! Just hold the bottle in your palm and feel the temperature and wait until it gets warm to the touch and does not feel cold anymore.

2. After the first use, usually you need to keep the eye drops in the fridge, so when you use it the next time MAKE SURE to follow step 1 above and heat it up to avoid discomfort for both you and your pup.

It's not a pleasant experience when you try to put cold eye drops in and trying to control the dog at the same time, get's even worse the next time you try it when the dog is absolute terrified of the process and the discomfort.

Warning: Always seek your Vet's advice before following the above!


Appropriate treatment for eye disorders are dependent on the disease. For each condition, specific treatment is indicated depending on the initial cause. Some diseases are cured with some specific drugs, some other conditions need surgery to repair the damage.

In some cases, severe eye affections or injuries have no treatment, for these cases, the puppy can live with the condition. In some other cases, eye removal may be the best solution to save the puppy. All these conditions are better discussed with the vet.


Prevention

For eye conditions where no prevention measures can be taken, the only way before adopting a new pet, is to educate yourself. it is important to know the breed common problems and ask about his parents. Figure out whether they have genetic disorders or not, to stop the transmission of the condition over the kids.


Adult pets having genetic conditions should be spayed.
Pet nutrition is also an important element to consider in order to avoid vitamin deficiencies that may contribute to eye problems.

The medical advice contained in this series of articles about Shih Tzu eye problems comes from a fully qualified, Experienced, and a Trained veterinarian.
If your dog has any medical issue, please consult your own veterinarian for treatment and further advice!


Related Medical articles for Shih Tzu eye problems