We may earn commission from qualifying purchases at no extra cost to you.
Learn more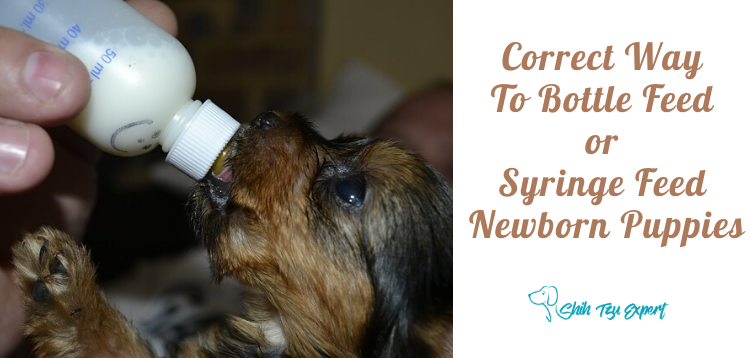 The most important thing to remember about feeding newborn puppies:  in their neonatal phase, (immediately after birth and up to six weeks of age,) is that the puppies' best feeder is their mother.  Her milk is best suited to them, and so is her technique.  She not only positions herself at the best angle for the puppies to suck, she also stimulates them to urinate and defecate by licking them.
Therefore, caring for the mother dog before and after the birth is the best assurance that the puppies will be well fed and cared for.
The best way to care for a dog about to whelp (give birth) is to make sure her box or surroundings are clean, dry and in a quiet location
.  She will do the work of delivering the puppies.  When they have all been born, the mother dog will seem calmer.  She will stop straining and begin to attend to her pups.
She will then clean them and begin to nurse them.  As you see her begin this care, remove the placentas and all soiled cloths.  Accomplish this by gently moving the pups as you clean their environment. When you are sure the pups are safe and piled as close on one another as possible for warmth, gently help the mother dog outside to urinate and evacuate before she returns to the pups.  Make sure she is cleaned; wipe her with a damp cloth to remove any blood and afterbirth.  Quickly inspect her teats for any redness or swelling.
During the days after the birth, the mother dog will need to rest and use her energy for the pups. Make sure she stays warm and hydrated.  Some vets advise feeding the mother puppy food in the week after she has whelped.  She may need the extra protein to provide nutrition for her new offspring.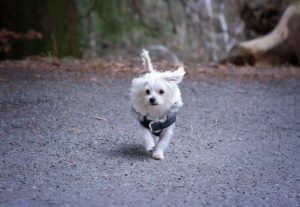 There are instances in which a human needs to step in and feed puppies.  Sometimes the bitch has mastititis, an inflammation of her mammary glands. Mastitis causes pain to the mother dog when the pups attempt to nurse.  She will nip at them and push them away to avoid this pain.  Taking the mother to the vet for treatment is indicated, and substitute feeding must be initiated and maintained until the mastitis is healed.  Then there are times when the mother dog has died, leaving the pups permanently orphaned.  Obviously, the orphaned puppies must be hand fed until they are six to eight weeks of age, and can then eat solid food.
The two major needs that you must now supply to pups without their mother:
WARMTH AND NOURISHMENT.
These needs are interdependent.  A cold puppy will not nurse.  A puppy weak from lack of nourishment does not have the energy to nurse and will chill even more.  The following will help you make sure that the pups will get what they need until the mother recovers.
Can I use a baby bottle?
You can, if the puppy has a good sucking reflex.  You may need to enlarge the hole in the nipple.  If so, use a hot needle while the bottle is empty and inverted. If the puppy does not suck enthusiastically, using a syringe may be necessary.
How often should I feed a newborn puppy?
Feeding a newborn puppy is a round the clock effort.  Newborns are small, and their bellies are even smaller.  Frequent feedings, at least every 2 -3 hours, are necessary.  Never let a puppy go for more than eight hours without a feeding;  even six hours is pushing the limit for the smaller ones.   If you wait too long, you put him at high risk.  So set that alarm clock for every 2-3 hours, at least in the first two weeks! You also must remember that bottle fed puppies are not receiving the natural immunity they would get from their mother's milk.  Therefore they are extremely susceptible to disease.  Do keep them away from other animals, including other dogs.  Do wash your own hands before caring for the new pups, and be especially clean when preparing their food and feeding them.  Using medical gloves can help with keeping your own bacteria away from the pups, especially when preparing their formula.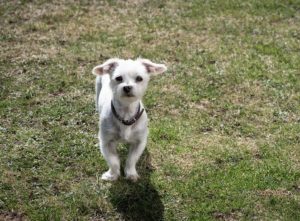 How much fluid should a newborn puppy take in a day?
The quantity of intake depends on the newborn's weight.  Obviously, different breeds of puppies will weigh different amounts at birth.  For example, small breeds-from 75 to 350 grams; medium-from 200 to 300 grams; large-from 400 to 850 grams.
A general rule:  feed a puppy 180 ml of fluid per kilogram of body weight.  (Fluid includes both formula and water.)  At a thousand grams in a kilogram, a medium puppy, (200-300 grams) would need between 36 and 54 gm (ml) per day.  As the newborn grows and increases in weight, increase the size of the feedings.  How will you know?  By weighing the puppies once a day, at the same time, and increasing the fluid accordingly.  (There are puppy bottle feeding charts available from many of the leading dog food companies, if math is not your thing.)  There will be individual differences among the litter mates; some will take a bit more at a feeding, some a bit less.  If the pups show steady weight gain and normal stool, all is well.  If pups develop diarrhea, back off the amount of formula or dilute with a little water.  If the stool continues to be diarrhea, it may be sign of a more serious problem.  Then it's time to notify the vet.
What should I feed the puppies?
Just like human babies, puppies need special formula at first.  And, like human babies, they have special nutritional requirements during their growth phase.  So concocting their feedings from cow's milk just won't do.  After all, they are not baby cows!  Get prepared formula from a reputable pet food manufacturer.  Reference any special requirements your breed requires, and make sure those nutrients are provided in the formula.  It is not necessary to supplement the feedings with additional vitamins and minerals, unless advised to do so by the vet. Supplementing your pup's diet may actually throw his nutrition off balance, unless a health condition requires this addition.

What if the puppy won't feed?
There could be a number of reasons.
The puppy is too cold and therefore lacking the energy to suck.  Warm the puppy with a hot water bottle wrapped in a towel (to avoid burning).  Take this as a sign to add more heat to the pup's enclosure.  A heat lamp is preferable; an electric blanket or pad presents increased danger of burning the animal.
The formula is too cold.  Warm the milk to 95-100 degrees F.  Use warm water    to heat the milk.  Do not microwave!  Test it on your wrist before feeding.
The puppy is not hungry. If he/she seems alert and responsive, wait a bit for the feeding; 30 minutes to an hour.  Take a cotton swab and rub a little corn syrup on the pup's gums.  Then wait a little while.
Pup seems sick or lethargic. Swab some corn syrup on the gums.  If pup won't feed and remains lethargic, contact vet.
NOTE:  Pup should never go more than six hours without a feeding.  When pup won't feed after hour five, contact the vet.
How do I feed a newborn pup that just will not eat?
There are runt pups in a littler.  And sometimes the normal sized pups are just too weak to suck.  That's the time to try a syringe feed.  Remember that newborn pups who have not sucked from their mother do not have her immunity.  They are especially vulnerable to infection from poor hygiene.  So wash your hands thoroughly every time you prepare a pup's feeding, whether it will be by bottle or syringe.  This also means NOT making a batch of formula ahead.  Formula makes an ideal breeding ground for bacteria.  Make the feed just before giving it.  Cap it immediately.
For syringe feeding:  a 5 ml syringe works well.  Wash your hands; if possible, put on sterile gloves.  Then make sure the nipple will fit on the end of the syringe. Take a razor blade and cross hatch the top of the nipple. Uncap the formula and fill the syringe.  Recap the formula.  Attach the nipple to the end of the syringe. Hold the puppy with thumb and index finger under his jaws.  Push a drop or two of formula into the nipple.  Rub the nipple on the pup's mouth.  Insert the syringe tip into his
mouth
.  Push a few more drops into his mouth when he stops sucking.  Repeat until he has taken all 5 ml.  Offer another 5 ml, using the same technique.
What is involved in bottle feeding a two week old puppy?
As always, use the feeding amounts listed on the formula product.  As stated above, pups under two weeks need to be fed about every three hours.  Two week olds do well with feedings every six hours.  So do three week olds.  Between three and four weeks, all else being equal, is the time to begin weaning the pups from formula.
TO SUMMARIZE:
The mother dog is her pups' best feeder.  When she is unable, take her place as effectively as humanly possible by keeping the pups warm and feeding them often.  As they are not receiving immunity from their mother during this time, they are especially vulnerable.  Keep them safe from sources of infection in their box, from your hands, and from their feedings.  Taking these steps will go a long way to ensure that your pups will thrive.