We may earn commission from qualifying purchases at no extra cost to you.
Learn more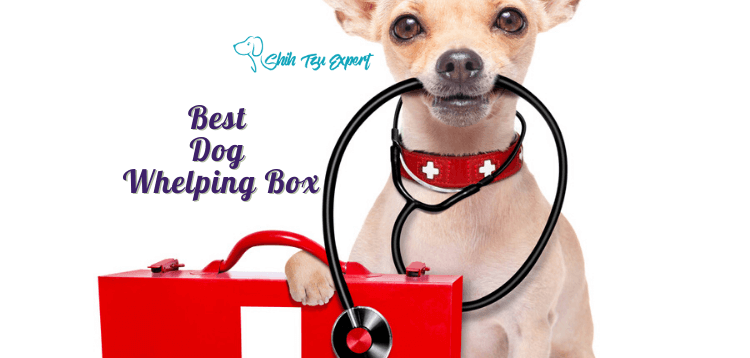 A whelping box, nesting box, or birthing box is meant for your dog to have her puppies comfortably. There are a few things to consider to find the best whelping box which will keep the mom and her babies warm, safe, and provide privacy.
There are a few options to consider using that may suit your dog well. If none of these suit your dog or lifestyle, then there are some other alternatives to consider as well!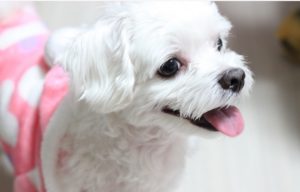 Size: If your dog can lay comfortably in a 48" square space and have room to stretch, then this is a great alternative box to consider. Keep in mind how large the litter will be as well and if this an adequate amount of space for your dog and her puppies. The walls are 11" tall which is only an inch shorter than the recommended 12" standard. 11" should be tall enough to keep smaller puppies in the box with their mother, block any drafts, and provide her privacy. Larger dogs may prefer a taller wall to keep warm and feel comfortable. Pregnant dogs may feel more aggression and anxiety than usual which makes it important to make this space is there's. However, shorter dogs may not be able to easily get in and out of this box because there is no door.
Material: The material of this product is ideal for a whelping box as well. It's made of premium high-grade vinyl which is easy to clean and damp resistant. It is durable and designed not to rot, crack, warp, peel, or turn yellow for 20 years. This long-lasting design should be great for rambunctious little puppies as they begin to play and bite.
Portability and Assembly: This product is known for being easy to move around. If you know that the mobility of your whelping box is a must then consider this option. The sturdiness of this box will be beneficial if it gets moved around quite a bit as well. This option is great if you know you'll need to relocate or even if you didn't know you needed to. You will need to assemble it yourself but it is simple and requires no tools.
Overall:
 This box is great in many ways. It's affordable, durable, spacious, portable, and easy to clean. It is an alternative option for other whelping boxes which means it does lack other attributes. For instance, there is no
door for your dog
to use. They will need to get in and out over the walls themselves or with human assistance. The walls are a bit shorter than the recommended 12" which may not be ideal for larger dogs. Puppies may be able to escape the box as they grow. The is no puppy rail either. If any of these are a must for you then you would need to consider other options or how to add to this box to make it suit your dog's needs.
Pros:
Easy to clean material
Durable and built to last long
Damp resistant
Spacious
Portable
Cons:
Shorter walls
Doesn't have a puppy rail
No dog door
Size: This box is a bit smaller than the first box but still has a good amount of room. If your dog can still lay down and stretch in this space with her litter having plenty of room once they're born, then this would be a great option to consider. The walls are quite tall as well which will allow the privacy your dog would like and keep the puppies in better. This will keep all of them warm and cozy with little chance of the puppies getting cold from a cool draft.
Material: The box is cardboard and meant to be disposed of. It's double-walled and has a water-resistant base but it's not the longest-lasting design. If the walls get soiled, you will need to plan on getting another or have some personal cardboard boxes that are a similar size and shaped ready to go. That way you can keep the puppy rail, blankets, and other sized materials the same as you transfer from box to box. You can clean the bottom of this box but the walls can't be cleaned. This box isn't durable though so when puppies are ready to play and explore this box may not be able to handle it. Cardboard gets chewed up easily. Be prepared to replace the box after the puppies are born.
Portability and Assemblance: Another upside to this box is that it is very portable. If you live in a space that requires relocating the box often then this should be highly considered. You can even have another box waiting ready to go for your dog to move to and then dispose of the old one. Otherwise, you can pick up this lightweight box and put it wherever you need it. There is little assembly to this box but it does require replacing. The upkeep with this box will be more work than setting it up.
Overall: The biggest benefit and downside of this box go hand in hand. It is disposable. If you need a lightweight short-lived box, then this will work for you. If you want a box that can be used over and over again then definitely consider other options. The puppy rail makes this a good option though that may be cheaper than others that have one. The upkeep is what may make this box pretty pricy.
Pros:
Disposable
Lightweight
Puppy rail included
Dog door
Tall walls
Spacious
Portable
Cons:
Not durable
Will need to be replaced
Not great for early puppy training
Price not listed
Walls can't be cleaned

Size: This box is spacious with tall walls. This is a great set up for medium to larger dog breeds. Smaller dogs will have trouble keeping the space warm enough on their own. Dogs that can fit comfortably in this box though will feel like they have privacy and space is their own. There is a dog door that gives ease of entrance so you don't have to worry about the tall walls causing any entrance and exit issues. There is plenty of space for when the puppies arrive as well making this a great first home for the puppies to stay in.
Material: This box is made of wood which is sturdy and easy to clean. There is also a mat that lays on the bottom which is damp resistant. People who own this box have claimed it is easy to keep clean. It is quite sturdy which means it's built to last long. There should be no worry about puppies escaping and wearing down the box. You will get many uses out of this box.
Portability and Assembly: It is quite heavy and large. This box would not be best if you need to relocate it often. It is best for staying in one location for a long time. Putting this box together may be a bit more difficult than the others. You may want some assistance as well given that it is heavier than the others. Once it has been put together though there should be little to no upkeep for it besides cleaning.
Overall:
For serious
dog breeders
that are looking for a long-lasting box to be used over and over this is a great option. Smaller breeds may have trouble making this box their home, however. Too much space won't feel warm and cozy like a nesting box should. If you're not a dog breeder or don't foresee another time when you'll need a whelping box, then this may be too big of a commitment for you. It is quite expensive and is designed to last a long time. Consider other alternatives to this box if you aren't planning on reusing it.
Pros:
Durable
Reusable
Easy to clean
Dog door
Spacious
Puppy rail included
Great for puppy training
Cons:
Too big for small breeds
Difficult to put together
Not portable
Size: This box can be ordered in a different size. For this size, the walls may be a bit short for larger dogs and not give an adequate amount of privacy. However, the walls are 12.5" and should be plenty tall enough for most breeds. It will keep most dogs and puppies warm while giving them the privacy they need. There is an adjustable dog entrance. This gives you more control over the height so you can adjust it depending on your dog and the puppies as they grow. Keep in mind the dog breed size and litter size because this may be a perfect option for you.
Material: The material is lightweight and easy to clean. It is durable as well. The puppies should be able to move freely without much damage to the walls. This box can be long-lasting if taken good care of. It is damp resistant as well.
Portability and Assembly: Due to the lightweight material this box is easily portable. It can be moved easily and stored easily as well. Assembly may take some time but doesn't require tools. There is little upkeep for this product due to the durability of the material. This box is a very easy option in many ways.
Overall: This box is great in many ways but may not suit larger breeds well. If your dog can comfortably make this space theirs then this may be your best option. It can be relocated easily, be stored away until it's needed, cleaned easily, adjust the dog door, and is sturdy enough to last a long time. The biggest downside to this box would be if the size your dog is too big or you want to breed larger dogs.
Pros:
Durable
Portable
Easily stored
Easy to clean
Adjustable dog door
Adjustable size for all dogs
Puppy rail
Cons:
Price not listed
Walls may be too short for large dogs
DIY Alternatives to Whelping Boxes
These options may not be best for long term use. None of these options have a puppy rail and would need to be installed if that is something you want. To make these alternatives work you will need to make them as comfortable as possible. There is still work involved but these may be the best cheaper choices that fit your lifestyle and specific situation.
 Kennel
If your dog is already comfortable and at home in a kennel or crate, then consider transforming it into the nesting space. If the top can be removed, then it would be ideal to take it off for better access to the puppies and your dog during delivery.
Lay down blankets
, towels, wet pads, and any other materials that would make your dog comfortable and potentially make clean up easier.
Kiddie Pool
If you have a large dog, then a kiddie pool may be a great option and give your dog lots of space. The pool is quite slippery however and you'll want a way to line the floor to give the dogs and puppies traction. The walls are also not designed to give privacy or keep the puppies from escaping. If you don't plan on breeding or having another pregnant dog in the near future, then this option might work well for you. It also is very easy to clean. This isn't the best long term alternative but could be the perfect option for a very specific situation and dog.
Personal Cardboard
This option is similar to the PetnapUK 36″ Disposable Dog Puppy Whelping Box listed above but instead, you are recycling a personal cardboard box. This is great if you won't reuse this box. It would be better to have a few boxes at your disposal just in case they get ruined by the puppies. You can cut any size door you need as well. You won't have a puppy rail and you'll need to figure out how to give some water-resistant lining to make the box last as long as it can.
Plastic Storage Bin
If you can find the right size for your dog this is an excellent alternative. Plastic is easy to clean and it is even reusable if you think you'll need to use it again. It doesn't have a dog door though which means you may have to help your dog get in and out. If you can make this a comfortable space for your dog it may be a perfect option for you and the dogs!
Build Your Box
Building your box can be a cheaper way to get exactly what you want out of a whelping box. There are many different ways of doing it and lots of videos and online instructions. Do personal research to figure out what kind of materials you want yours to be made of and other features that you can emulate from other boxes. It's good to consider adding the puppy rails to protect your puppies, how to heat and cool the box or to regulate the temperature, what kind of floor you'll need (something water-resistant and easy to clean), a door and a gate, how tall the walls are, and many other things.
Wood and plastic are common materials for a homemade box. Both are great in their own way and difficult as well. Wood requires a lot of physical labor. Some wood isn't cheap and some aren't very easy to clean. You also don't want any exposed nails in your build so you would need to consider using wood glue. Plastic is easy to keep clean but can be difficult to shape especially the thicker kind which will be more durable and long-lasting. Thin plastic can be easily broken if the mother leans on it a certain way. Maybe look into a combination of both? Shop around for ideas and plans! You can be creative and frugal when making your own.

Additions to Your Whelping Box
It is important to note that none of the suggested boxes are complete. You will want to add other supplies to make this an effective whelping box for your dog and her new puppies.
Moisture Wicking Bed Pad
There are many kinds of
moisture-resistant bed
pads and they would be an excellent addition to line a whelping box. This will help keep the box clean and dry. They are washable and reusable as well. This is a longer-lasting alternative to towels, blankets, newspapers, and other bedding.
Waterproof Heat Pad
A heating pad would be a great addition to the whelping box as well. It will regulate the temperature without the puppies needing to rely on their mother. It would need to be waterproof to protect the pad from getting ruined and avoid any risk of hurting the dogs. In personal whelping box builds some people install a heater which is also a great option. This isn't necessary but something to consider if you'll be breeding dogs.
Heat lamps are used to
regulate the temperature
of your whelping box as well and might be a better option for you. You won't need to worry about keeping them clean or installing them into a homemade box. You will probably need one or the other so consider which is best for your home and personal whelping box.
Helpful Questions
When should my dog be put in her whelping box?
Your dog should spend at least two weeks before birthing in the box making it her space. You can start introducing it once you find out she's pregnant or even after mating. Adding familiar items to her like personal blankets and pillows might help make the transition easier for her. Once she is comfortable there you can start introducing the new items such as wet mats, heating pads, and any other additions you give the box. Try to keep other dogs out of this box as well. It should feel like her private space.
What temperature should the box be?
Should the mother eat in her whelping box?
Keep the mother feed regularly inside the box because she will not want to leave her puppies. Hanging bowls for her food and water will keep the puppies out of them and there will be no risk of drowning. Keep her water bowl full and feed her every two to three hours.
Can the mother and puppies be separated?
Don't separate the puppies and their mother unless it is to allow her to go relieve herself. This time can allow you to clean the whelping box as well. The puppies will naturally grow and explore away from their mother. She will become more comfortable with this separating as it naturally occurs. Otherwise do not force her away from her puppies unless necessary.
Preparing for Whelping
It is important to be prepared and educated when expecting puppies. The Whelping box is only one part of a much larger process. Be attentive to the mother and frequently talk to your veterinarian to be sure you are doing everything you can to prepare for the puppies. This is an exciting time but do not take it lightly. Setting up the whelping box, getting your dog checked at the vet, and knowing what to do if there are complications are all essential to getting ready for puppies. If this is your first time here is some information on how to move forward but talk with professionals who can prepare you the best for this time.
Take Care of the Momma
Keeping the momma in good condition will make whelping and the puppy care after much easier. She needs prenatal checkups and proper nutrition. Vitamins added to her food can fill nutritional gaps that she may have with her current diet.
Estimate Her Due Date
A veterinarian can help you figure out when to be expecting. If you have been tracking when your dog ovulates you can figure out on your own but asking for assistance is common. Gestation is measured from the day your dog ovulates to when she whelps. This can be anywhere from 58 to 68 days.
Prepare the Whelping Set Up
This is when you will need to get your whelping box ready and start introducing your mother to it so she can become comfortable in this space. Your dog's size needs to be taken into account and be sure she gets the privacy she needs. A quite warm place would be the best location for the whelping box.
What You'll Need
Be sure to have your supplies ready to go before your dog is in labor. Here are some supplies to have ready:
Medical scissors
Iodine
Medical gloves
Clean towels
Puppy pads/newspaper
Paper towels
Heat lamp/heat pad
You will also want to do further research on how to deliver puppies properly. These are only a few items but look into more that may be necessary for delivery. Being over-prepared is better than not being prepared enough. Also, have a veterinarian's number and emergency hospital contact just in case or for questions.
Signs of Labor
As the day approaches there are a few signs the mom might give to let you know she's close. The mother may stop eating a few days before. She may begin "nesting" as well. This is when she is tearing up bedding to create a "nest". Her temperature may drop and will possibly pant heavily. Be taking her temperature about 2 weeks before her estimated due date. When her temp is around 99F then she will most likely go into labor in 24 hours.
Whelping
Talk to your veterinarian to prepare yourself. Do other research as well. Dogs can often handle labor on their own. There are scenarios where they may need your assistance. Most of the time the mother will handle the membrane surrounding the puppy and the umbilical cord. If she does not however then you will need to remove the membrane and cut the cord yourself. You need to know the signs of labor complications. Shivering and trembling are warning signs and you should call the vet if they occur. You should also call the vet if the mother has strong contractions for 45 minutes with no birth or if there is a 2-hour period between births. You need to count the placentas and be sure she delivers them all. You will also need to keep a good watch on the puppies and be sure they're breathing and nursing properly.