We may earn commission from qualifying purchases at no extra cost to you.
Learn more
In the past few decades, for reasons including both health and characteristic-related ones, dog breeds have begun to be mixed into certain hybrid or "designer" breeds. One of these mixes combines the loyal, playful Shih Tzu, with the friendly, long and low dachshund to form the Shih Tzu-dachshund mix, known as the Schweenie. Intelligent, stubborn, adorable, and devoted, the Schweenie is a multi-faceted dog loved by many. Read on for a discussion of the origin, temperament, characteristics, care, and more of the Schweenie.
What is this breed? All you need to know about this breed.
The Scweenie is a designer breed mix between the Shih Tzu and the dachshund. Shih Tzus originated in ancient Chinese times, around the year 800, and were known as the "lion dog" of China. Shih Tzus were companions for both royalty and commoners, and also guarded Tibetan monasteries. Today, they are one of the most popular breeds in the United States. Dachshunds originated in Germany, and are thought to date back to as early as the 15th century. They were imported into Great Britain in the early 1800's, and the US in the late 1800's. Bred to hunt den animals such as badgers and foxes, dachshunds can hunt both above and below ground. Schweenies began to be bred in the 1990's, with the hopes that the mix might avoid some of the health issues suffered by their parent breeds.
Schweenies are considered a mixed breed, and therefore are not AKC recognized. Shih Tzus, however, registered with the UK's Kennel Club in 1928 and were recognized by the AKC as members of the Toy group in 1969, while dachshunds were recognized by the AKC in 1935 as members of the Hound group. Schweenies are recognized by several designer and hybrid dog groups, including the Dog Registry of America, Inc (DRA), the Designer Dogs Kennel Club (DDKC), the American Canine Hybrid Club (ACHC), the International Designer Canine Registry (IDCR), and the Designer Breed Registry (DBR).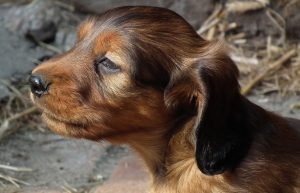 As smaller dogs, Schweenies have an average lifespan of about 10-16 years. Adults generally weigh in at 9-20 lbs and are anywhere from 11-20" long, with males slightly larger than females. By six months old, Schweenie puppies weigh approximately 7 lbs and are 6-7" long; by a year of age, they generally reach 8-11 lb, and 8-9" of length. Schweenies are relatively small, short-legged and low, and long, but not as much as their dachshund parent breed. They tend to have broad, muscular shoulders, big, dark eyes, and floppy ears. Coats can come in a variety of textures depending on the parent breed characteristics, from long and shiny to short and smooth, and colors. Black tends to be the most common color, with rust-like also being seen relatively frequently. Other coat colors and color combinations include cream, light or golden brown, brindle, merle, gold, or white combined with black, brown, or cream.
Health and Care
Schweenies may tend to be prone to several health problems. Due to their elongated bodies inherited from the dachshund, spinal problems, particularly intervertebral disc disease, may arise. The shorter snout of the Shih Tzu heritage can lead to breathing issues. Other common issues include patellar luxation, eye problems, allergies, bladder stones or infections, reverse sneezing, teeth issues, ear infections, and deafness. Some more serious issues to keep in mind relatively common to Schweenies include hip dysplasia, bradycephalic syndrome, Cushing's disease, portosystemic shunts, osteogenesis imperfecta, hypothyroidism, immune-mediated hemolytic anemia, and kidney and liver problems.
Several steps can be taken to try to avoid health issues in Schweenies. Ear cleaning with dog-specific solutions from veterinary offices and teeth brushing can decrease the risk of ear infections and teeth issues. Keeping Schweenies at a healthy weight is important to help prevent or minimize intervertebral disc disease. Preventing them from jumping off of furniture can also keep their backs healthier. Purchasing Schweenies from reputable breeders who can provide the parent health histories is important. Spaying/neutering is also highly important for any dog. A spayed/neutered dog is less likely to demonstrate behaviors such as mounting, marking, and roaming, tends to be less aggressive, may have a longer lifespan, and cannot contribute to problems such as unplanned litters, leading to homeless dogs in overcrowded shelters.
Essential Products and Grooming Accessories
A Schweenie may need a variety of grooming products and accessories. These include brushes that depend upon the coat type of the dog, shampoos, nail clippers, leashes, collars, and more. Owners of dogs that inherit shorter dachshund-type coats with shedding tendencies should have deshedding brushes to remove excess fur and debris. Popular types of these brushes are rubber curry brushes, or specialty deshedding tools. Furminator products are an example of the latter. Bristle brushes, which consist of close-packed natural bristles can also be used on shorter or more wiry-coated Schweenies, as they help to remove loose hair and debris, and also smooth the coat. Slicker brushes consist of closely-spaced fine wires, and are useful on medium to longer-haired members of the breed, as they help prevent and remove mats and knots. Grooming can be finished off in longer-coated dogs by using pin brushes, which are similar to human hair brushes with blunt, widely-spaced, shorter pins.
Schweenies should have their nails trimmed regularly. Several different types of nail clippers exist. For smaller to medium-sized dogs with thinner nails such as the Schweenie, guillotine-type clippers are appropriate. In order to use these, the dog's nail is inserted into a hole, and cut by a blade as the handles are squeezed. Nail grinders are another option that can be used. For bathing Schweenies, shampoos made from natural ingredients are recommended. Some ingredients to look for that help prevent irritation and dryness in the dog's coat and skin include aloe vera and oatmeal.
In order to enjoy walks and ensure that they are properly identifiable, Schweenies need other accessories including collars and leashes. Schweenies should have properly fitting collars to attach identification tags. A properly fitted collar allows for two fingers to be slid between the collar and the dog's neck. A durable six foot leash made of leather or nylon is the most commonly used type, allowing for proper control, but still giving the Schweenie some space on walks. Longer leashes can be used in safe, open areas to let the dog have a chance to explore to a greater degree. Puppies or dogs that have tendencies to pull may fare better with a harness on walks, which decreases the stress placed upon the dog's neck. Schweenies are playful, and should also be provided with mentally stimulating toys while inside the house.
FAQs
Are Scweenies good with children and other pets? Are they family-friendly?
Schweenies are loving, playful dogs that often do well with families. They generally do well with children, and do best when socialized to children early. Schweenies can get moody and tired of close attention, so children need to be perceptive and give the dog space as needed, as it is possible that the Schweenie may growl or snap if warning signs are ignored. When properly introduced and socialized, Schweenies are usually good with other dogs, although they may bark frequently at larger ones. Their dachshund heritage may also cause them to chase smaller animals and pets. Overall, though Schweenies are friendly, devoted dogs that typically enjoy being a part of large families.
Are Schweenies awesome companions?
Schweenies are very devoted to their owners, and love company and cuddling. They are intelligent, loyal, and bond easily, making them great companions to their people.
Are you a good match for Schweenies?
Schweenies are good matches for many pet owners. Their exercise requirements are reasonable for many, and they do well in apartments, although they may bark excessively. Schweenies, however, are prone to separation anxiety and may become destructive if left alone for prolonged periods of time, so they would not be the best breed for households that are empty for many hours a day. Otherwise, Schweenies are loyal pets that do well in many environments.
Pros And Cons of Getting a Schweenie
The cons of owning a Schweenie include their propensity towards certain health problems, particularly back issues, eye problems, and breathing trouble, their sometimes stubborn nature, and their tendencies to bark excessively at strangers. Pros of owning a Schweenie include their loyal and affectionate personalities, their playfulness, their intelligence, and their devoted nature towards their owners.
Temperament and Personality
Intelligent and friendly, Schweenies are loyal dogs who are affectionate and attached to their families and owners. They love attention and cuddling, and they may follow their owners around the house. Because they are so attached, Schweenies are prone to separation anxiety. They also can be moody and stubborn. Alert and vigilant, Schweenies tend to bark at strangers and therefore make good watchdogs in that regard, but they can bark excessively. They also can have a tendency to be daring or aggressive towards larger dogs and strangers, and require proper training and socialization. Schweenies also may chase small animals due to their dachshund lineage. Overall, though, Schweenies are outgoing, inquisitive, sweet-natured, devoted dogs that full of playfulness and personality, and make excellent, supportive pets for many.

The Basics of Grooming
Schweenies's coats can come in a variety of lengths and textures. Dachshunds have three main coat types-long, wirehaired, and smooth/short, while Shih Tzu have long, silky coats, so the dominant coat feature of Schweenies can vary. Usually, the Schweenie has a medium to longer-length coat that is somewhat silky and straight, but the coat also can be wavy, or coarse and "ragged", similar to wirehaired dachshunds. Some members of the breed also may have short, shiny, smooth coats. Coat density is about average. Grooming requirements therefore vary depending on the predominant coat characteristics. Shorter coats likely only require brushing 1-3 times/week (depending upon the season) to remove excess hair. Long coats can require daily brushing to prevent and remove mats, and need to be taken to groomers every 1-2 months for trimmings. Bathing should be done relatively infrequently to avoid drying the skin, using natural shampoos.
While Shih Tzus are considered hypoallergenic dogs, Schweenies are not due to their dachshund mix. But, with proper grooming, allergy sufferers often still fare well with them. Depending upon the dominant breed and coat type, Schweenies are light to moderate shedders, with most shedding relatively minimally.
Other maintenance requirements for Schweenies relate to their ears, teeth, and nails. Their floppy ears should be cleaned with a cotton ball and proper cleaning solution once per week, and checked for infection. Teeth brushing is recommended 2-3 times/week for proper dental health. Nail trimming should be done 1-2 times/month; hearing the dog's nails click on hard floors is considered to be a guideline for when to perform this task.
Top Tips for Finding a Schweenie
Rescue organizations are always a great place to start when looking for a Schweenie. Some rescue organizations work closely with animal shelters, and specialize in Shih Tzus and their mixes-Schweenies may be able to be located through these. Shih Tzu mix rescue groups include Shih Tzu Rescue, Inc, New Beginnings Shih Tzu Rescue, Kijiji, DogsTrust in the UK, and Rescue Me! Shih Tzu rescue. Other popular rescue organizations to check for Schweenies include Woof NYC Dog Rescue and Joyful Rescues. Schweenies available through rescues or from breeders can also be found by searching for the breed and location on websites such as DogsNow, Puppyfinder, and Puppies for Sale Near Me.
Because Schweenies are not a very common mix, it may be difficult to locate a reputable breeder. Responsible breeders should allow in-person visits, so that potential buyers can meet parent dogs (and see their temperaments) and see where the puppies are raised. Additionally, a reputable breeder should have puppy and parent dog veterinary records available for buyers, and provide written contracts. Schweenies are registered in the International Designer Canine Registry. This registry provides a list of kennels through them across the United States, Canada, and Australia. The website includes sections listing breeders and kennels considered to be in good standing with them, as well as advertisements for litters of puppies that have been granted IDCR registration. So, it can help locate reputable designer dog breeders and litters, including Schweenies.
The price for a Schweenie usually falls within the $800-1200 USD range when purchased through breeders. Overall, factors such as food, toys, boarding, supplies, and veterinary care (including flea/tick and heartworm preventatives) cause the cost of owning a dog to be variable. Rover estimates that the average monthly cost of dog ownership is $150 USD, and sources such as the ASPCA and AKC place the annual cost at around $400-1800 USD. Forbes magazine, meanwhile, included the possibility of incurring high emergency veterinary costs into their estimates for the cost of owning a dog throughout its lifespan, and set the high end of their estimates at over $90.000. Unforeseen costs, however, can be decreased through regular checkups, preventative medications, proper oral care, and early intervention for any issues that arise.

Training and Exercising your Schweenie
Schweenies are smart dogs that are generally easy to train. They learn quickly, and enjoy pleasing their owners. Schweenies can, however, be stubborn, which may lead to some difficulties with training at times. Schweenies should be trained in a firm and clear but encouraging manner, with rewards and praise. Care needs to be taken to avoid being harsh with Schweenies; they should not be shouted at or scolded. Consistency in training and patience are key. Schweenies may need training to discourage their tendencies towards excessive barking, especially at strangers, and crate training can be useful to assist with the separation anxiety that is often present in the breed. Early socialization training to teach them to remain calm around strangers or in new places is recommended, and may also be useful around children.
Although they are small, Schweenies still need some regular exercise. Daily walks of about 30min will satisfy these needs. In inclement weather, running around and playing indoors will also meet their exercise requirements. Schweenies enjoy playing with toys, especially ones that give them some mental stimulation. Playtime in a fenced-in area is another exercise option, but they should be socialized around other dogs before being allowed off-leash around them. Schweenies can inherit the dachshund's instinct to hunt and track, so they should not be taken off leash in unenclosed areas.
How to Feed and Dietary Requirements/Restrictions of Schweenies
Schweenies generally eat 1 cup of food per day, or up to 1.5 cups for larger ones. Overeating needs to be controlled, as some dogs may have this tendency, and human table scraps should be minimized in order to keep Schweenies at a healthy weight. Food should be provided over 2-3 meals. High-quality food that is protein-rich, devoid of fillers, and of an appetizing flavor to the dog should be offered. Fish oil supplements with omega-3 fatty acids may also be provided to Schweenies to promote coat, bone, heart, and skin health.
Most Popular Names
According to Rover, in 2019, the most popular male dog names included Milo, Duke, Cooper, Rocky, Buddy, Max, Charlie, Jack, Bear, and Teddy. The most popular female dog names included Molly, Luna, Bella, Lily, Daisy, Lola, Bailey, Zoe, Sadie, and Lucy.
Summary
A hybrid breed mix of the Shih Tzu and dachshund, Schweenies are friendly, loyal, and intelligent companions that often fit in well with families. Their small size and moderate exercise requirements make them well-suited for many environments. Schweenies present in a variety of color and coat combinations sure to please any owner. Schweenies are overall devoted pets that can be a great match for any properly prepared owner.
Other Similar or Comparable Small & Medium dog Breeds
Other small to medium-sized dog breeds comparable to the Schweenie include the Yorkie, the Bolognese, Border Terriers, Norfolk Terriers, Miniature Schnauzers, Miniature Poodles, and Cavalier King Charles Spaniels.