Have you ever seen a short-haired Shih Tzu and wondered what happened for this to occur?
Well here is your chance to learn more about the Prapso Shih Tzu!
Prapso Shih Tzu
There isn't necessarily anything negative about owning a Prapso Shih Tzu! The hypoallergenic reputation these dogs hold can be great for a family in need of a dog that sheds less than the average for health or allergy issues. They're just as loving and in need of a home as any other Shih Tzu and shouldn't be overlooked simply because of their coat and other physical characteristics.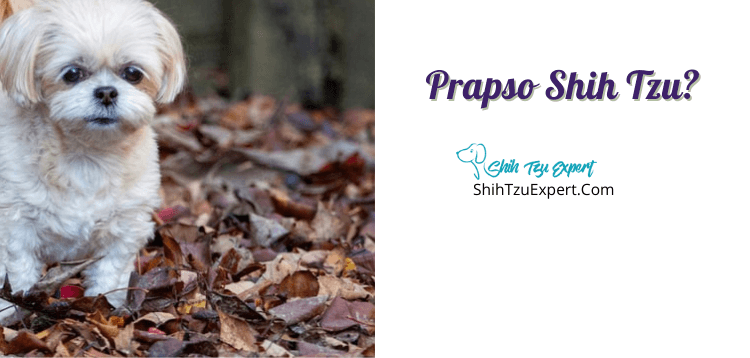 What is a Prapso Shih Tzu Puppy?
A Prapso Shih Tzu is a short-haired puppy in a Shih Tzu litter. These dogs can also be called "smooth-haired" Shih Tzu. The main difference between a regular long-haired Shih Tzu and a Prapso is their coat length, making them look more similar to a Tibetan Spaniel.
What is a Partial Prapso?
Partial Prapso is when the coat is still a long length similar to a normal Shih Tzu. However, their coat won't be reaching the floor like their show-worthy siblings. The hair will stay shorter around their face and muzzle, the dog will have slightly shorts legs compared to their body.
Where did the name Prapso come from?
The name Prapso is originally from Australia. This is most likely from the phrase "perhaps an Apso" though the phrase itself doesn't have much history behind it.
Does Prapso have a meaning?
As far as we can tell, the meaning behind Prapso is simply an Apso with short hair. The short hair isn't limited to just the dog's body but is also on the dog's face and muzzle. Few people have been able to find any real meaning in the name.
What does a Prapso Shih Tzu look like?
The physical characteristics of a Prapso Shih Tzu are that of a short and smooth coat and slightly shorter legs compared to a regular Shih Tzu. They also have shorter hair on their face. Unlike a regular Shih Tzu, the Prapso has a single coat.
Prapso Shih Tzu vs Shih Tzu
As a simplified comparison between a Prapso Shih Tzu and a Shih Tzu. A regular Shih Tzu will have floor-length multiple layered coats, slightly longer legs, and longer hair on their muzzle and face. Prapso has a short one-layer coat, shorter legs, and shorter hair around their muzzle and face.
Do Prapso Shih Tzu Only Have a Single Coat Instead Of Double Coat?
Instead of a multiple layer coat, Prapso will only have a single layer coat. This makes it easier to groom the dog as well and won't end up producing any extra shedding. A double-layer coat needs more extensive grooming and ends up being more time-consuming.
Do Prapso Have A Shorter Snout?
Unlike the regular Shih Tzu, which many people are used to seeing, the Prapso has a shorter snout. This slight change in their look makes them more similar in physical characteristics to a spaniel.
Is It Much Easier To Groom A Prapso Shih Tzu?
In regards to grooming a Prapso, it's definitely a lot easier. With the single-layer coat, there is drastically less shedding than usual. This requires much less frequent brushing and grooming appointments. Overall, this makes caring for the dog a little less time-consuming. So if you live a busy life a Prapso may be a good choice!
Are Prapso Shih Tzu More Intelliegent?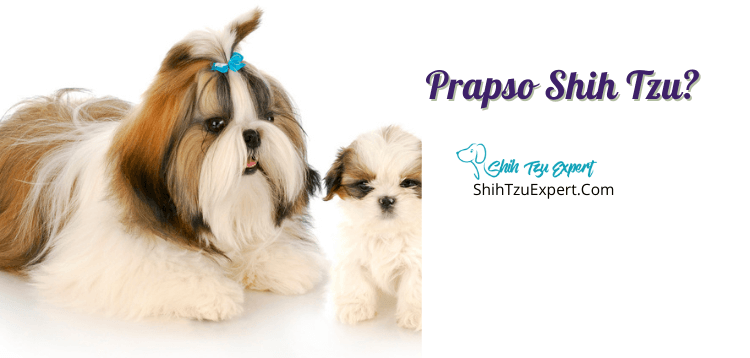 When the topic of intelligence comes up, it's necessary to bring up that the Prapso has the same intelligence as a Shih Tzu without the Prapso "defect." They are essentially the same dog of similar intelligence. There are many breeders who would say the Prapso may even be more intelligent than their non-prapso siblings.
Do Prapso Have Facial Hair?
In comparison with a normal Shih Tzu, a Prapso will have shorter hair on their face as well. The hair won't grow as long and end up obscuring their vision.
Do Prapso Mature Quickly?
When it comes to maturing, prapso are known to mature a lot more quickly than a regular Shih Tzu. The puppies open their eyes earlier and can even begin to walk earlier than their siblings as well as get their teeth sooner and end up being the alphas of their litter for this reason.
Prapso Shih Tzu Weight
In regards to weight, like a toy or small breed, both the Shih Tzu and the Prapso weigh between seven to eight pounds. According to the American Kennel Club, this is slightly less than their standard of nine to sixteen pounds.
Are Prapso Shih Tzu Hypoallergenic?
Having a more hair-like coat, Prapso is considered to be hypoallergenic. Though it depends solely on each specific person and their allergies, the Prapso has a reputation of rarely causing an allergic reaction. No dog is 100% hypoallergenic as all dogs produce their dander.
Is Prapso Shih Tzu Good For Allergy Sufferers?
In regards to a Prapso being hypoallergenic, it is a positive conclusion to draw that a Prapso would be a good fit for a person that suffers from allergies to pets. With less dander and hair in the air around the home, the chances of an allergic reaction are a lot lower overall.
Is There Stigma Attached To Prapso?
The stigma attached to Prapso is that they aren't as good of a dog as a regular Shih Tzu. This is solely based on the reputation they get from not being worthy of being in shows and the genetic mutation causing their coat difference.
Is Prapso Shih Tzu Rare?
A Prapso Shih Tzu isn't necessarily considered to be rare, however, they aren't too common. This is due to breeders choosing to not continue breeding a dog that produces a Prapso puppy. If they do choose to breed the same dog again it's to determine whether it was the male or female that produced this mutation in the genetics.
Are Prapso Shih Tzu More Expensive Than Normal Shih Tzu?
Generally, a Prapso will be the same price as a Shih Tzu. It's hard to tell when a puppy is a Prapso until they are aged around six to seven weeks. Some breeders may choose to sell the puppy for cheaper as they aren't considered to be show-worthy even if they are still purebred.
How Much Is A Prapso Shih Tzu?
Normally, a Prapso Shih Tzu will cost between $600 to $1,000. This depends on the breeder and any taxes and vet bills included in the price. Older puppies may be spayed or neutered, this generally brings the price up. Many breeders will price their Prapso puppies the same as the so-called normal puppies.
Where Can You Buy A Prapso Shih Tzu?
You can buy a Prapso from many reputable breeders states such as Ohio, California, Florida, Kentucky, Virginia, and Texas. The American Kennel Club may be a good place to look as well as puppyfinder.com.
Prapso Shih Tzu Puppies
Prapso Shih Tzu puppies are just as energetic and loving as any other puppy! They're small and don't weigh more than around 6 – 7 pounds on average as they get older. Their coloring is the same as any other Shih Tzu the only difference is really in their coat and body.
Is Prapso Genetically Defective?
Many people would say that the Prapso is genetically defective. Because these puppies aren't born with the traditional coat and leg length, they are considered to be born with a genetic mutation. They can develop eye and ear issues as they get older.
Should You Continue To Breed Prapso?
Multiple breeders wouldn't recommend continuing to breed Prapso. This is based on possible health conditions abnormal for a Shih Tzu and the unusual coat the puppies have. This is simply an opinion though and shouldn't be something to base a decision on. Some breeders will sell the puppies on a neutering contract.
What Are The Characteristics Of Prapso Shih Tzu?
Characteristics of a Prapso Shih Tzu are strong intelligence, high energy, and several physical differences. They lack the traditional feathering on the feet and little to no hair between the pads.
What Are The Prapso Shih Tzu Health Issues?
Health issues of the Prapso Shih Tzu include ear infections, hip and knee issues, eye issues, reproductive problems, and more. Eye issues include corneal ulcers and early blindness. They can also suffer from Juvenile Renal Disease before they are six months old.
What Should I Do If I Think My Shih Tzu Is A "Prapso"?
If you believe your Shih Tzu to be a prapso, keep in mind this isn't uncommon. Pay attention to any health issues they may develop early in life and take care of their coat frequently.