Asserting dominance, especially with aggressive dogs, is important to show early in a dogs life.
Should I Pee On My Dog To Show Dominance?
Showing dominance towards a dog takes a lot more than peeing on them. In fact, peeing on your dog will not help at all and could make matters worse. It takes training and guidance to prove to your dog that you are the one in charge. Dogs will pee in submission or in aggression or to just mark their territory. It's a very instinctive part of their lives.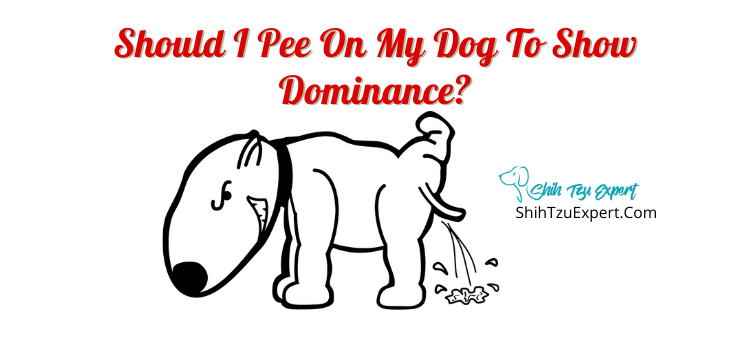 Does Peeing On Dog Assert Dominance?
It is a common myth that peeing on your dog to assert dominance. Sure, in a pack of dogs the hierarchy dog will pee on the smaller dogs to show who is boss. Humans can not achieve the same goal by peeing on their dogs.
If I Pee On An Aggressive Dog, Will It Actually Respect Me?
There is no factual proof that peeing on an aggressive dog will make the dog respect you. In most cases, peeing on your dog will actually harm your relationship and make your dog grow strange attitudes towards pee and going to the bathroom.
Is It Animal Abuse To Pee On My Dog?
Peeing on your dog is not by law or punishable in any way. At the end of the day, it is your choice whether to pee on your dog or not. Just keep in mind that peeing on your dog isn't going to change anything. Even for a puppy, it can create triggers and bad associations for them.
What Happens If You Pee On Your Dog?
The idea of peeing on your dog makes a little bit of sense when you think about dog behavior in the wild. Wolves have a hierarchy and dominance is shown in a multitude of ways. One way is to pee on the wolves lesser than him. However, wolves do this based on family dynamics and their pack members from birth. Dogs know that people are not dogs, obviously. So to do behaviors so similar to their wolf ancestors doesn't really do anything and just confuses and causes more harm.
How Do I Show Dominance Over My Dog?
There are much better ways to show dominance than to pee on your dog. Here are some examples.
Eye Contact – When giving a command make sure you give your dog fierce eye contact to show your dog that you're serious
Control Resources – Make sure your dog doesn't have all day access to food, treats and toys. Always be the one to supply your dog with their resources. Also make sure you eat before your dog.
Alpha First – Get used to the alpha first mentality, just like in a pack of dogs. Always be the first to leave the house, followed by your dog. Be sure to eat first and always have your dog sitting next to you or behind you, never in front of you.
Don't Share – It's important when dealing with an aggressive dog to not confuse your personal space with theirs. Keep your dog off of your bed and couch. Don't let them in the kitchen or bathroom.
Correct Bad Behavior – Never let your dog walk all over you. If your dog is doing something bad or something that is against your rules, do not let it continue and correct them right away.
Why Did My Dog Just Start Peeing On Other Dogs?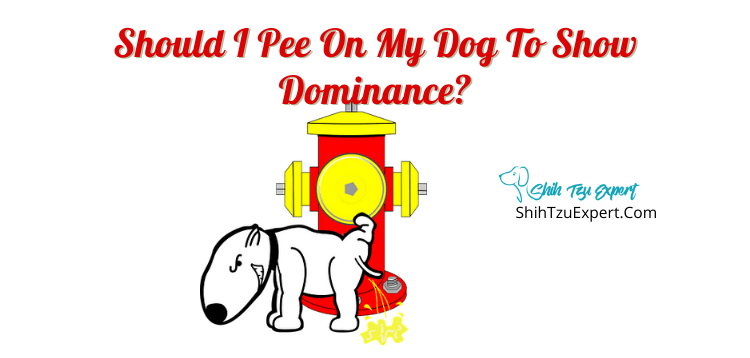 When your dog pees on other dogs, it's called Urine-Marking it's territorial behavior. Your dog may feel threatened by the other dog or feel the need to display his/her dominance. Unspayed/unneutered dogs tend to display this behavior more frequently.
My Dog Peed On Me What Does This Mean?
Your dog may pee on you for the same reasons they are peeing on other dogs. It's all to mark territory and show dominance. Your dog may pee on you when there are other people or other dogs around. It's to show the other creatures that you are there and the other dogs cannot have you.
Your dog could also be trying to tell you something. It could be your dogs way of telling you that they are bored and need more attention. Perhaps something in your lifestyle has changed or there is someone new in your life (new partner, new baby) that involves your dog having less attention. If this is the case, try to set aside a good amount of time each day to spend with your dog. Take them on a quality walk or to the dog park.
Is It Weird That My Dog Likes To Watch Me Pee?
It's not strange for your dog to watch you pee, in fact it's common for dogs to follow their owners to the bathroom. Some dogs are simply followers and go wherever their owners go. Other dogs feel the need to stand guard and protect their owners when they use the bathroom. Sometimes, dogs have figured out that it's your moment of vulnerability just like when the dogs use the bathroom and are just doing what you would with them.
My 3 Months Old Puppy Peed On Me! Is This An Act Of Dominance?
There are many reasons why a 3 month old puppy would have peed on you.
Excitement – Dogs, especially puppies, will often pee themselves when they are too excited
Submission Urination – The opposite of dominance. Nervous and anxious dogs will often do submission urination to say that you are the alpha
Feels Threatened – When your dog feels threatened by another dog (typically) or human, they will pee on you as if to show the other being that you are with them
Marking Territory – Finally, marking you as their territory and proving their dominance
Why Does My Dog Pee When It Sees Its Favourite Veterinarian?
Taking your dog to the vet can be a confusing thing for a dog. They may feel both excited and nervous, scared, threatened. All of these emotions will make a nervous dog feel the need to pee.
Why Does My Dog Like To Urinate On My Guests?
First you have to look at, is your dog peeing on your guests or is your dog deliberately raising his leg and peeing on your guests? If your dog seems to just be peeing on your guests, on accident, it's out of excitement and anxiety. Many dogs accidentally urinate on the floor or on people when they are excited and nervous. This is another form of Submissive Urination.
Now, if your dog, with purpose goes over to your guests, sniffs their leg and deliberately pees on them, then this is totally different behavior. This is an act of dominance and a show of territory. Maybe your dog has the scent of another dog on them, so your dog will cover it with their smell.
My Dog Peed On Me While I Was Asleep? Why Does It Do It? How To Stop?
When your dog pees on you while you are sleeping it can be as simple as your dog really needing to go to the bathroom and you not hearing their cries. In an act of anger they will pee on you to show you what they needed. Fear, stress and anxiety can also be related factors.
Why Does My Dog Pee On Me When I Am Back From Work?
If you enter your house after being gone for some time and your dog is very happy to see you and they pee, this is usually just because they are very excited and pee out of excitement. They're just happy to see you!
How And Why Should I Stop My Dog From Peeing On Me & Guests?
Nobody wants to be peed on by a dog. It can be embarrassing for you and the guest and it can also be quite uncomfortable. Here are some things you can try to dissuade your dog from peeing on your guests.
Distractions
Positive Reinforcement with treats
Remove your dog when you have guests over
Does My Dog Have Submissive Urination?
Does your dog pee when they are excited, scared, nervous, or meeting someone/another dog? Then they most likely have submissive urination. A dog with submissive urination will also pee when there is another dominant dog around. Female dogs have submissive urination more than males, especially puppies.
How Do I Stop Submissive Urination In My Dog?
In puppies, submissive urination could go away on its own as they grow up. If they are grown and it hasn't stopped here are some things you can try.
Enforce healthy pee habits

This can look like giving your dog treats when they pee when and where they're supposed to

Ignore your dog

Although it sounds cruel, when you arrive home or have guests over, try and ignore the dog to keep their excitement down to a minimum. This allows them to calm down on their own.

Don't fuss

Don't make a big deal when they submissively urinate. Don't reprimand your dog, just simply clean up the spot and move on.
How To Stop My Male Dog For Urine Marking?
First and foremost, get your dog spayed or neutered as soon as possible. The longer you go without spaying/neutering, the harder it is to train your dog not to mark.
Thoroughly clean marked spots

Make sure you really clean the spots where your dog has marked. Make them less attractive.

Remove objects

Move objects that your dog is likely to mark. For instance, new items, guests items, your coats/shoes

Make friends

If your dog is marking someone's (roommates, partners, child's) items, have that person spend more time with the dog. Give them treats, play with them etc.

Train or play

Training or playing in the spots that they mark will show them that these are communal spots and not spots for protecting or marking.
How To Stop My Female Dog For Urine Marking?
The same steps you'd follow for a male, try for a female.
Why Does My Dog Pee On My Husband's Side Of The Bed?
When your dog pees only on your husband, or partners side of the bed, your dog is trying to show your partner that they are the dominant one in the household.
Why Does My Dog Pee While Eating If I Disturb Him?
A combination of submissive defense aggression and resource guarding would be major factors when you disturb your dog while he's eating. Dogs in the wild have to protect and defend their limited food resources, so peeing on or around their food when disturbed is a natural expression.
Why Does My Dog Pee When I Put The Lead On?
When you put your dog on a leash or lead and they pee, without having any signs of aggression, they are submissively urinating at you. It's an instinctual physical response that is brought on by excitement or nerves.
References
https://www.thesprucepets.com/fixing-submissive-excitement-urination-1118271