Blindness is a possibility for anyone with eyes, even your Shih Tzu. 
We will explore what factors to look out for and how to take care of your blind Shih Tzu. 
Do Shih Tzu Go Blind?
Blindness can occur with Shih Tzu's, however, not all of them do go blind. Maintaining regular eye care and monitoring for signs of your Shih Tzu going blind is vital and can prevent any permanent loss of sight. There are also a few important tips on how to take care of your blind Shih Tzu to help them thrive.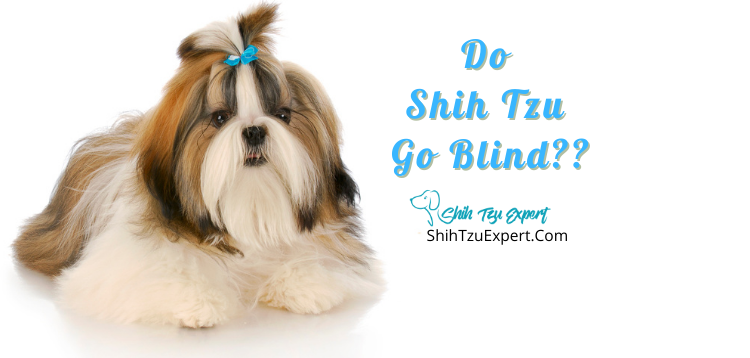 Can Shih Tzus Go Blind?
Unfortunately, yes. Like for any human or animal, it is possible to lose the functioning of sight. A Shih Tzu is no different and can develop or inherit various eye conditions. Some of these conditions can lead to blindness if not identified or treated promptly. This is why it is important to ensure that you take care of your Shih Tzu's eyes and watch out for any worrying signs.
Is It Common for Shih Tzu to go blind?
The fact that Shih Tzu's eyes naturally protrude may make them more susceptible to eye infections and conditions that could lead to blindness. Injuries are also more common because of this fact. Make sure to take this into consideration when taking your dog for a walk or a ride in the car. One of the most common injuries results from scrapes or damage to the cornea. So, make sure to protect your Shih Tzu's eyes as far as possible.
Do All Shih Tzus Go Blind?
Luckily not all Shih Tzu's go blind. In fact, most of them will not go blind as long as their eyes are protected and any cause for worry is immediately dealt with. The sooner you act upon any possible signs of damage, the better the chances are that any possible cause for blindness can be treated by surgery and prevent complete loss of sight for your dog. 
How To Tell If Your Shih Tzu Is Going Blind [Most Obvious Signs To Watch Out For]?
Blindness in your Shih Tzu can be caused by aging or other conditions. Here are some symptoms to look out for to air on the side of safety:
Eyes appear cloudy.
Your dog seems to bump into objects more often.
Your Shih Tzu seems to be more anxious and hesitant when entering new places.
Their eyes are red, puffy, or swollen.
Their eyes seem irritated and they paw at it frequently.
If you notice any of these signs contact your vet immediately.
Do Shih Tzus Have Good Eyesight?
Puppies only develop their eyesight at around two weeks old. In comparison to the human vision which is described as 20/20, a dog's vision normally ranges between 20/75 to 20/80. Dogs are also considered partly color-blind due to the fact that they can only see the colors blue, yellow, and grey. This means that dog's eyesight is not as detailed as humans' and they rely more on their hearing.
How To Prevent A Shih Tzu From Becoming Blind?
There are some health conditions that can put your Shih Tzu at a higher risk for blindness. These conditions include diabetes, high blood pressure, and being overweight. Make sure to take extra care when your dog presents with any of these illnesses. Also, preventing any scratches or damage to your Shih Tzu's eyes is of vital importance. If you see any signs of trouble, make an appointment with your vet for further inspection.
How Do You Take Care Of A Blind Shih Tzu?
An owner with a blind dog can use scents to help orientate their dog. We used lavender on door frames, and on furniture legs for the first month (but do research on this as you can really overwhelm them with too many scents).
Make sure that the furniture is in the same place it was before your dog went blind. Treat your dog with the same love, care, and attention you did before they went blind. Do your best to stay calm and this calmness will translate to your dog.
How To Train A Shih Tzu That Went Blind?
It is particularly critical that you choose a trainer who incorporates gentle methods as to not cause distress in your dog. I would look for a trainer who has experience in training service dogs. They will likely have the most experience in using scent to teach dogs. This will be important to heighten your dogs' other senses to compensate for their lack of sight. They may also be able to adapt some service dog exercises to better help you work with your dog.
What Causes Shih Tzu To Go Blind
There are many health conditions that can cause Shih Tzu to go blind. These include diabetes, high blood pressure, or even genetics can play a role. Besides these, any damage to your Shih Tzu's eyes or unkempt grooming can lead to vision loss if not monitored and treated promptly. 
Can A Shih Tzu Go Blind If The Hair In Front Of Its Eyes Is Not Groomed For A Long Time?
Not trimming the hair around your Shih Tzu's eyes can result in the hairs touching their eyeballs. This can cause irritation to their eyes and they will start scratching excessively at their eyes to get rid of the irritation. This can cause damage to their eyes or even result in an ingrown eyelash. 
Not grooming the hair around your Shih Tzu's eye will not directly lead to blindness. However, it is very important to groom these hairs regularly and inspect your dog's eyes for any irritation. If it looks like an ingrown hair, it is better to make an appointment with your vet as soon as possible to assist with removing the hair. 
Can A Shih Tzu Go Blind because of Cataracts?
Cataracts are more common in older Shih Tzu's and can lead to blindness. If your dog's eyes look more cloudy than clear it's a sign to schedule a vet appointment. Depending on how serious the damage to sight is, your vet may suggest surgery to remove cataracts. This can restore your Shih Tzu's sight. 
How Old Are Shih Tzus When They Get Cataracts?
Cataracts are normally considered a genetic condition for Shih Tzu's. The onset often begins after 8 years of age. The development of cataracts is, however, not limited to genetics and can be caused by damage to the eye as well. Surgical removal of the cataracts are usually successful and leads to a full recovery.
What Age Do Shih Tzu Go Blind?
There is no specific age at which Shih Tzu's go blind, however, older Shih Tzu's may be at higher risk for blindness. It is not even certain that your Shih Tzu will go blind. However, taking care of their eyes is an essential part of preventing any loss of sight or damage to their eyes.
How Long Do Dogs Live After They Go Blind?
There is no direct correlation between the two. Depending on if your dog has other health issues that might have led to blindness, those conditions might result in a shorter lifespan. If you take care of your dog's health and take him for regular vet check-ups, you should be able to keep them healthy for long. 
Can A Dog Recover From Being Blind?
The good news is that in most cases dogs can recover from blindness either through surgery or medication. Unfortunately, Progressive retinal atrophy (PRA) and Glaucoma are two of the most common causes of irreversible blindness in both eyes of your dog. Consult your vet for a diagnosis on whether your Shih Tzu will make a full recovery in sight or not.  
How Can I Keep My Shih Tzu's Eyes Healthy?
Keeping your Shih Tzu's eyes healthy is essential in preventing any eye damage or blindness in your Shih Tzu. Regularly cleaning around their eyes is the most important part of maintaining their eye health.
I recommend cleaning around their eyes on a daily basis. Use any soft material to clean this sensitive area. Such as a wet cotton ball, dog wipes, or a soft washcloth. Remember to start at the area closest to the eye and then wipe away from the eye.  
It is also imperative to use a soft towel to dry the area after cleaning to prevent any more bacteria growth.
Do Shih Tzu Eyes Fall Out?
It is possible for your Shih Tzu's eyes to pop out when they are playing too roughly. This condition is called eye proptosis and is common among dogs who have protruding eyes such as pugs, Boston Terriers, and Shih Tzu's.
Unfortunately, there is no preventative actions you can take for this condition. Be sure to make an appointment with your vet when this happens for the first time. In these situations, eye removal can be prevented if surgical intervention is applied promptly.
Is Vision Vital For Shih Tzu's Quality Of Life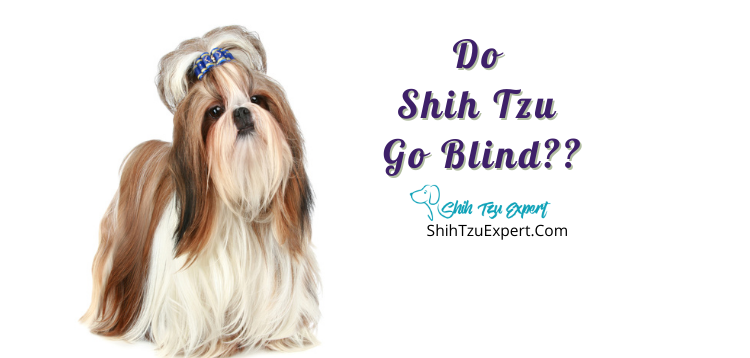 Like humans, dogs have the sense of smell, hearing, taste, and vision. When they lose any of these senses, they have their other senses to rely on. For dogs, vision is not particularly their strongest sense. 
Dogs, however, rely heavily on sound to navigate themselves, to hunt, and to protect. This sense is one of the most important for dogs to function, especially after losing their sight. 
For dogs to have all their senses available to them is the first prize. Even though the loss of vision might require some adapting, it is not as vital as their hearing.
What Color Do Shih Tzus See?
Shih Tzu's, like other dogs, have a limited color spectrum at their disposal. They are limited to seeing blues, yellows, and greys. They cannot distinguish between colors like red, orange, and greens. These colors appear on a spectrum of yellow and blue for dogs. 
Do Shih Tzus Have Night Vision?
The difference between human and dog eyes is that the human eye contains more types of cones which is responsible for their sharp visual detail. Dogs' eyes, on the other hand, have more rods and no fovea which equips them to have better night vision.
My Dog Seems To Be Losing Her Vision. What should I do?
Take note of all the odd behavior and symptoms that are worrying you. Take this information to your vet so he can further inspect the cause. This will enable the veterinarian to evaluate the severity of the issue and give a prognosis on what steps to take further.
Change in behavior to look out for includes,
Increased anxiety,
Increased aggression, and
A change in appetite
Shih Tzu Went Blind And Now Not Eating
If your Shih Tzu is not eating as much as usual after going blind give her some time to adjust to the change. Otherwise, you can try incorporating food with strong smells to help her locate the scent. 
Alternatively, put some food on her nose to help her identify where the smell is coming from. In due time she will be able to navigate scents better and this will help her appetite to return. 
Make her work for it by challenging her to search for her food, every time a bit further away than previously. You can even incorporate verbal cues, such as 'search', to let her know what she must do.
My Old Shih Tzu Is Blind, Not Sleeping At Night 
Anxiety and stress might be the reason for your Shih Tzu not being able to sleep at night. There could be an array of medical conditions that can cause anxiety and stress in your dog with blindness being one of them. Blindness can be a very traumatic experience for your Shih Tzu. 
Try to make your Shih Tzu as comfortable as possible before bed. You can even try playing them calming music or keeping them close to your bed to help them feel more secure. 
Do Dogs Get Depressed When They Go Blind?
Suddenly becoming blind can be a very traumatic and disorienting event in your dog's life. It is very understandable that this might cause depression in your dog. It may take some time for your dog to deal with this change, but they will adapt eventually.
Give your dog some encouragement and help them adapt as far as possible so they can function on their own. It is important to build trust with your Shih Tzu during this time and support them as much as possible.
Is It Cruel To Keep A Blind Dog? 
Not at all. Keeping a blind dog is the best thing you can do for him. Make sure the dog is in a loving and secure environment and train your dog to adapt to the change. Stimulate your Shih Tzu's other senses and give them time to adapt to their blindness. Their temperament might change for up to six months, but afterward, they should be well adjusted and back to the new normal.
How Do You Comfort A Blind Dog?
Here are some great tips to comfort your blind dog.
Talk to your Shih Tzu regularly to reassure her of your presence.
Make your house easy to navigate and keep it consistent with the layout the dog is used to.
You can use texture or scents to mark locations.
Train your dog by using simple commands to help him navigate.
Are Blind Dogs Happy?
Blind dogs can be just as happy as dogs who still have sight. The happiness of your dog does not depend on his vision, but rather the loving and safe environment he is in. Even though your dog might experience some initial depression after losing his vision, he will recover and adapt to his new experience and go back to thriving.
Why Did My Dog Go Blind So Fast?
There are mainly two conditions that can cause a fast onset of blindness in your dog. One is known as Sudden acquired retinal degeneration (SARD) which can cause sudden blindness in an otherwise healthy dog within one month or less.
The other reason for sudden blindness is when your dog has developed cataracts in his eyes due to diabetes and doesn't get treated in time. These kinds of cataracts can cause blindness within 48 hours if not treated. 
Can Sudden Blindness In Dogs Be Reversed?
In most cases, blindness in dogs can be reversed if it is treated promptly. Acute loss of vision is considered an emergency and prompt treatment will be given to your dog. However, a delayed reaction in treatment lowers the rate of success in reversing blindness in dogs. Rather air on the side of safety and make an appointment with your veterinarian as soon as you see any signs. 
What to consider when Adopting A Blind Dog?
Adopting a blind dog is probably one of the most selfless acts one can do. However, it is not without its own set of difficulties. Here are some things to consider before adopting a blind dog.
Additional veterinary bills.
The cause of the eye problem and severity of vision loss.
What veterinary follow-ups are necessary?
Does the dog know any commands?
What you need to keep the dog safe? Any sensitivities?
How well does the dog adapt to change?
Can Blind Dogs Be Left Alone?
Yes, blind dogs can be left alone as longs as you have taken precautions in removing any potential hazards and are certain that your dog will be able to cope on his own. Make sure to train your dog sufficiently to navigate around the house and keep him busy whilst you are gone.
Consider leaving on the radio to make sure that he doesn't feel completely alone. If you are still unsure about leaving your dog at home alone, you can install a pet camera so you can keep an eye on them while you are gone.
References