Some Shih Tzu owners mistakenly believe that their dog crying at night is just to be ignored!
While some dogs like Shih Tzu are far more likely to cry at night, these owners forget to take some critical facts into consideration.
Let's go over why you should carefully consider these if you have a crying Shih Tzu…
Why Do Shih Tzus Cry At Night?
There can be many reasons why Shih Tzus cry at night. The majority are not cause for concern. However, there can be more serious issues at hand. This is why it is important to take them to the vet if you believe there is something wrong so they can treat your furry friend as soon as possible.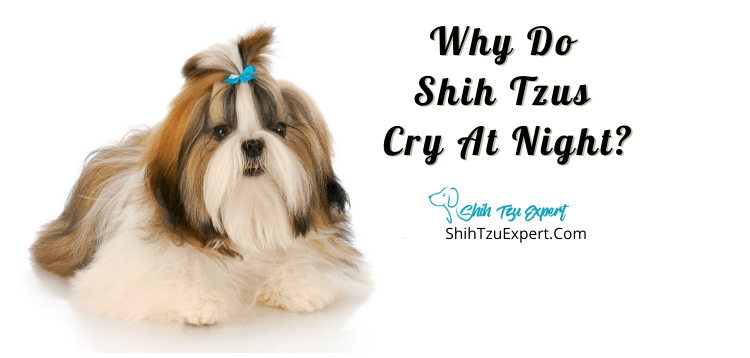 Why Is My Shih Tzu Puppy Crying At Night?
If you have recently bought your Shih Tzu puppy home, crying at night is completely normal. This is because they are without the rest of their litter for the first time in their life and it's a natural survival instinct. This is them calling for help from their brothers and/or sisters, as they are displaying signs of separation anxiety.
How To Get A Shih Tzu Puppy To Stop Crying At Night?
There are a variety of ways you can stop your Shih Tzu puppy from crying at night.
Tire them out as much as possible in the hours before they go to bed. This can include taking them for a long walk or playing with them.
This should cause them to fall asleep once they go to bed and should stop them crying. You should try and avoid giving them food and water at least three hours before they go to bed.
This is because it can cause them to need the toilet in the night, which will lead to crying. Ensure you let them go to the toilet just before they go to bed as well because this should further eliminate the risk of them waking up in the night and crying.
It is recommended you place your dog's crate in your room at night. This is so they can feel close to you and serves as a source of comfort in making them feel less anxious, therefore causing less crying.
You can also wrap a hot water bottle in a blanket and use something (such as a ticking clock), which will resemble another puppy. This will become a source of comfort for your puppy and should stop the cries.
How To Get A Shih Tzu Puppy To Sleep Throughout The Night?
It's important to give your Shih Tzu puppy a proper routine. Getting them used to knowing when they should be going to sleep and when they should be waking up is important to ensuring they sleep through the night.
You should provide them with as much comfort as possible. This means they are less likely to experience discomfort and should find it much easier to fall asleep.
It also means they shouldn't need to wake up at night. You should take a look at how often they are sleeping. For example, if they have a nap in the evening and wake up an hour or so before they go to bed, they are less likely to be able to go to sleep straight away.
In this case, you should make adjustments to their schedule so they are tiring themselves out right before they go to bed. This may mean they are awake a little longer, but should go to sleep easier than if they have an early evening nap.
What Does It Mean When A Shih Tzu Cries At Night?
There are several reasons why your Shih Tzu may be crying at night: They're in pain
If crying happens whilst lying down, it could be due to joint pain or trouble breathing whilst sleeping. This is more common in older Shih Tzus who have a chronic illness. Bloating and digestive trouble
Dogs often eat a few hours before they go to bed. If this food is low quality or doesn't agree with them, this can cause an upset stomach. This can also be caused if they eat their food too quickly. These issues can easily be solved by changing their food or buying puzzle bowls so they don't eat their food too quickly.
Boredom
Dogs can easily become bored if they aren't getting at least thirty minutes of exercise a day. You should ensure your Shih Tzu is getting plenty of exercise and stimulation during the day, meaning they are less likely to be bored at night and should sleep better.
Anxiety
This can be separation anxiety or anxiety due to something else, such as stormy weather. In this case, your vet can give advice on behaviour training, or possibly put your furry friend on medication to help their anxiety.
Lack of training
If you let your Shih Tzu whine from when they are a puppy, they will continue to do so throughout the rest of their life. This can easily be solved by heading to a behavioural class with them to learn how to stop their crying.
Being a puppy
Puppies are more likely to cry because they haven't spent that long away from the rest of their litter and feel at risk, so cry out for protection. Just make sure they feel at ease with their new surroundings and don't give too much attention when they are crying, as this will make them believe you will always come to them when they are crying.
What To Do If Your Shih Tzu Keeps Crying At Night?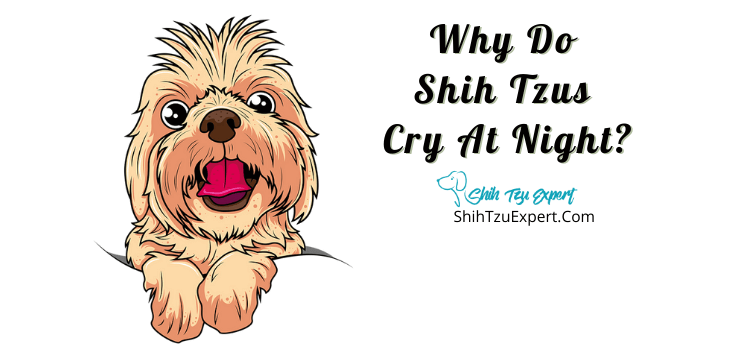 If your Shih Tzu keeps crying at night, you should refrain from giving any form of attention as this will teach them that everytime they cry you will comfort them. Instead, you should let them settle. If they constantly cry, don't go into the room.
Stay behind the door and give a firm "quiet" and only once they have settled down you should go into the room and reward them. This will teach them not to cry and learn to settle themselves down, so the crying should eventually stop.
Why Is My Shih Tzu Crying In Their Sleep?
There are a variety of reasons explaining why your Shih Tzu cries in their sleep. They could be in pain or discomfort and are trying to convey this by crying. They could be having a nightmare, which can be solved by waking them up. The best way to do this is to shout their name really loudly.
Should I Wake My Dog When He Is Crying In His Sleep?
You can wake your dog up if they are crying in their sleep, however, it is recommended you don't do this. This is because dogs have a REM (Rapid Eye Movement) sleep cycle. If you wake your dog up, this will disturb their sleep, overall cycle and can go on to cause health problems. Only wake them up if it is absolutely necessary to do so.
Why Is My Shih Tzu Crying All Night In The Crate?
If you have only just got your Shih Tzu, they may be crying because they are getting used to their new surroundings; so it is best to be patient and this crying should stop. It may just be a case that they don't want to be in the crate. If you keep pandering to this, they will assume that every time they cry, you will take them out of the crate to soothe them. It is best to avoid this, as they will continue crying.
How Do I Get My Shih Tzu To Sleep Through The Night?
You need to get a crate that is big enough for your Shih Tzu to stand up and fully turn around in; but not so big that they have room to go to the toilet in it.
You need to fill it with comfort items, such as a bed, blanket, chew toys, etc. You should tire your Shih Tzu out before they go to bed, as this ensures they sleep through the night.
You must take them to the toilet before putting them in their crate to prevent them getting up at night. Ignore any crying from them, as they should settle down after a little while. If they sleep all through the night, reward them with a treat in the morning so they know to do it again.
Why Has My Shih Tzu Suddenly Started Crying At Night?
It could be due to a new change that has recently occurred, such as a new puppy, baby, or change in surroundings. If you have made changes recently, figure out what may have unnerved them and speak to your vet to see if they have any recommendations on how to help them adapt to this change.
Why Is My Older Senior Shih Tzu Crying At Night?
The older your Shih Tzu gets, the more likely they are to have medical problems. Sometimes these medical problems cause pain or a need to urinate more, which can cause them to cry.
They may have cognitive dysfunction that confuses their overall wellbeing, including a confusion of their sleep-wake cycle. This means they may sleep during the day and be awake at night, which leads to crying.
Whatever the reason, you should contact your vet as soon as possible so they can run tests and see what is causing this crying. It may be nothing serious, but it is best to get your furry friend checked out anyway just for peace of mind.
How To Help An Old Shih Tzu Sleep Well At Night?
Ensure they have as much comfort as possible. This may involve giving them an orthopedic bed to make sure they aren't in too much pain and this should help them sleep more through the night. You may also need to put pee pads in their crate and/or around their bed. Even if they are fully toilet trained, older dogs tend to have incontinence so it may be best to keep these pads around just in case.
How Many Hours Should A Shih Tzu Sleep [Puppy, Adult, Old]?
A Shih Tzu puppy should sleep anywhere between sixteen and twenty hours over a twenty-four hour period. An adult Shih Tzu should sleep for anywhere between twelve and sixteen hours in a twenty-four hour period, with most of this being throughout the night.
A senior Shih Tzu should sleep anywhere between fourteen and nineteen hours in a twenty-four hour period. This won't be as regular as an adult or Shih Tzu puppy and will vary throughout the day and night.
Why Is My Shih Tzu Screaming At Night?
There can be a variety of reasons your Shih Tzu is screaming at night, such as feeling lonely, anxiety, feeling pain, or hearing weird noises outside. As long as you're certain this screaming isn't a medical issue, this shouldn't be concerning.
Why Do Shih Tzus Cry So Much?
There are a variety of reasons why Shih Tzus cry so much, including the following: – a physical need, such as needing to go to the toilet or being hungry – excitement, due to being excited when you come back home – anxiety, such as separation anxiety
Do Shih Tzus Who Cry At Night Need Medical Treatment?
If you cannot figure out why your Shih Tzu is crying at night, it is probably best for them (and you) if you take them to the vet. This is so the vet can fully examine them to rule out any medical reasons for this crying and regardless of whether it is due to a medical reason or not, offer you some advice and possibly some treatment to stop the crying.
References
Dog Crying in Crate : [How to Choose the Right Crate]
https://wagwalking.com/training/crate-train-a-shih-tzu-puppy-at-night