Are Shih Tzu's the type of dog to only pick one person? If so how, how do you become that person or tell if you are that person? Here are a few hints to find the answers you're looking for.
Do Shih Tzu Pick A Favorite Person [Are They One Person Dogs]?
Shih Tzu's are smart and caring dogs who do tend to pick a favorite person and be a one-person dog. This doesn't mean they don't love the whole family though! Here we outline simple things that you can do to become your Shih Tzu's favorite 🙂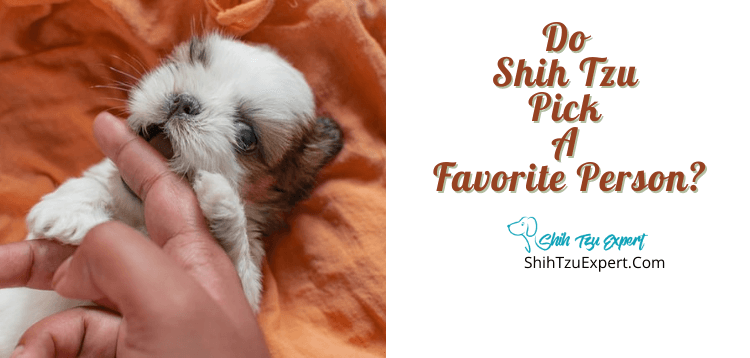 How Do Shih Tzus Choose Their Favorite Person In The Family?
Dogs usually choose their favorite person based off of who matches their own personality the most.
So if you have a dog that is shy and quiet, the person it chooses to be their favorite will probably be someone who isn't too loud or energetic.
Alternatively, if you have a dog who is very excitable, they're likely to choose someone who is more of the loud and playful type.
Don't be too worried if you do not have the same personality type as your dogs though, it is far from the only thing that matters.
Can And Do Dogs Change Their Favorite Person?
While dogs often are very attached to their owners, their favorite person can change over time.
Maybe if you have a kid or a new partner in your life who spends more time with your dog than you're currently able, it could shift.
If you are a new person in a dog's life as long you're willing to invest the time you can absolutely become their favorite!
Why Do Most Shih Tzus Bond And Attached With Only One Person?
Shih Tzu's are very smart dogs. They tend to bond the most with their primary caregiver and whoever spends the most time with them.
This usually results in them becoming attached to only one person.
Shih Tzu can be attached to more than one person though, as long as more than one person spends a lot of one-on-one time with them.
Why Does My Dog Follow Me Everywhere And Not My Spouse, Child?
This is probably because you are the one taking the most care for the dog therefore they have attached more to you.
Your spouse/children probably don't spend nearly as much time with your dog as you do, so it most likely looks to you for all their needs and affection.
Don't worry though! You're dog still loves the whole family, they just tend to look to you more for what they want or need.
Why Is My Shih Tzu Too Attached To Me?
Shih Tzu's are a very people-oriented breed of dog. This is just a part of their temperament, which seems like it is a purely lovely trait.
However, this can mean that Shih Tzu's become very clingy and often suffer from intense separation anxiety when away from their owners.
This can be helped with training but it should be something you're prepared for if you are thinking of getting a Shih Tzu.
Problems Of Shih Tzu Being Overly Attached To Or Bond With One Person?
When a Shih Tzu becomes overly attached to a single person it can cause a number of problems in your household.
For example, if your dog is only showing affection to one person and leaving everyone else out, this could cause animosity between the people in your family.
Or it could be that you Shih Tzu is feeling stressed or overwhelmed, which could cause this behaviour.
It's important to know why your dog may be doing this and then deal with it accordingly.
Should You Teach Your Shih Tzu To Make Bonds With Someone Other Than You?
I think this comes down to personal preference.
If you want your dog to be a family dog I think this could be beneficial for you to try to train them to bond with others.
However, if it is just you and your dog there shouldn't be any problem with them just being bonded to you.
How Do You Teach Your Shih Tzu To Make Bonds With More Than One Person?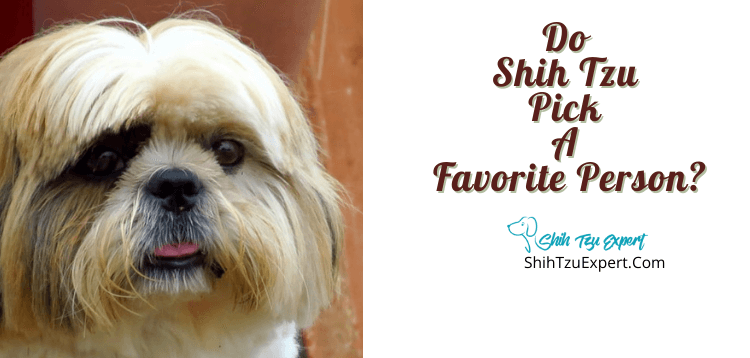 Get people involved! Shih Tzu's tend to bond with whoever is giving them the most attention or treats.
So it should stand that if everyone is giving your dog around equal attention, the dog should bond with everyone.
How Long Does It Take Before A Shih Tzu Puppy To Get Attached To Its Owner?
Puppies will start the bonding process from anywhere between 6 weeks old to 14 weeks old.
From there the length of time depends on how much time and care you give to the puppy, as well as their individual personality.
So if you have a really outgoing puppy that you spend a ton of time with your puppy can have bonded with you in as little as 2-3 days.
Whereas if you have a shy puppy that you don't get t spend as much time with as you would like, it could take months for your little Shih Tzu to bond with you.
How Long Does It Take For A Dog To Completely Forget About Its Owner?
A dog will never completely forget about their owner.
Unless the dog was only a puppy when they left you, they will never forget about you, the same way that we never forget about people who are important to us, no matter how long it has been.
How To Become Your Shih Tzu's Favorite Person In The Entire Universe!
Dogs are quite simple creatures, they have so much love to give that it doesn't take much for them to focus it on you.
Having a routine of doing things with your Shih Tzu can really help with this, as it makes it more manageable to spend a good amount of time with them.
Here are a few things you can put into your everyday routine (or do at least 2-3 times a week) with your dog to show them how much you care about them:
Exercise together, this can be going for a run, taking them for walks or playing with their toys with them.
Giving them healthy treats, such as boiled eggs. You don't want to get into the habit of feeding them treats that are unhealthy or full of chemicals but things like boiled eggs are perfect.
Try to find a part of your day that you dedicate to spending time with your Shih Tzu, whether that is cuddling up on the couch for some Netflix or sitting out in the garden with them, they will love to spend time with you.
Groom them regularly, not only does this keep them happy and healthy but is also a great bonding exercise. (I find that our girls particularly enjoy the pampering.)
Give them the occasional massage, I know this may sound a little funny but a lot of dogs love this just as much as we do.
Talk to your Shih Tzu, they may not understand what you're saying but they like to be included nonetheless!
Try out a new trick. Teaching your dog something new is not only a great way to spend quality time together but also breeds trust between dog and owner.
All of these things work a treat but naturally, your dog will be the most attracted to whoever matches their personality the best.
So if your dog is shy, try being more quiet and gentle with them and if they are more energetic, try being more playful!
How Do You Know If You Are Your Shih Tzu's Favorite Person?
They will show you! It is easy to tell when you are your dog's favorite person because their favorite person will be whoever they choose to spend the most time with.
Does My Shih Tzu Love Me? How To Find Out?
Dogs are very affectionate and loving creatures, if you treat them and feed them well it is almost guaranteed that they do love you.
What Are The Ways A Shih Tzu Will Show Their Close Bond?
Your Shih Tzu will make eye contact with you and look to you when they are stressed and anxious.
Your Shih Tzu will have a very special unique smile only for you!
They will sleep beside you peacefully. If they sleep with their butt facing you, it means they trust that they are safe with you and that you will protect them.
Your Shih Tzu will take any chance it can get to cuddle up next to you.
If your Shih Tzu yawns when you yawn, it means they are always watching you and seeing what you're doing.
They will jump on you, unable to control their excitement when seeing you!
Their tail will wag ferociously when they see you, this is because they are happy to be around you.
They may get so giddy that they do a little dance when they see you!
They start yapping or barking excitably when they see you
They bring you their favorite things, like toys or blankets
They might let you touch or pet them in places where they wouldn't let other people.
You may see them curling up on your clothes and belongings, anything that has your scent on it will calm them and help them sleep.
Do Male Shih Tzu Prefer Female Owners?
Believe it or not, male Shih Tzu's are actually a lot more caring and soft natured than females, who tend to be more independent.
This may result in male Shih Tzu's tending to care more for a female owner as it is more likely that they will share this trait.
Likewise, Female Shih Tzu's will probably become more attached to a more chill owner, who doesn't ask for as much affection.
Why Does My Dog Sleep With Their Butt Facing Me?
As weird as it sounds, your dog actually does this because they trust you! It means they know you're not a predator so they can sleep comfortably without having to look at you.
It is also a way for them to show respect. For dogs, sleeping facing you is seen as challenging you. So when they sleep facing away from you it shows that they respect you and are calm.
Why Does My Shih Tzu Like Sleeping With Me?
Dogs like to sleep beside you for the same reason that your significant other likes to sleep beside you, because they love you!
This is also done because they want to be able to be near you in order to protect you. We really don't deserve how awesome dogs are.
Why Is My Shih Tzu Being Far More Affectionate Than Usual?
Dogs tend to become more affectionate and clingy towards their owners in times of stress.
If your dog is acting like this there may be something going on that is upsetting them, Just be calm and reassure them.
If you can find out what is upsetting them, putting a stop to it would likely help them ease out of that behaviour and go back to being themselves.
What Is My Own Experience?
In my house, the pups definitely prefer my spouse, particularly our male Shih Tzu. While the female Shih Tzu's are more inclined to be with me.
I have been able to really improve my relationships with my Shih Tzu's by following a lot of the advice that I have outlined here.
I have loved spending more time with them. It goes to show that no matter who it is, the best way to improve any relationship is to make the person (or pet) your priority.
What Are The Other Dog Breeds That Get Attached To One Person?
A lot of dog breeds tend to get attached to only one person as they are very loyal animals as a general rule.
Some of these include:
Akitas
Doberman Pinschers
Border Collies
German Shepards
Malteses
As well as many more!
What Is Your Experience?
Please share with us below in the comment section, we read and respond to each and every comment!
References:
https://www.akc.org/expert-advice/advice/why-does-my-dog-follow-me-everywhere/