Shih Tzus can be a lot of work, but it's not unmanageable. Weigh the options on if owning a Shih Tzu is the right choice for you and your family!
Is A Shih Tzu A Good First Dog?
If you're looking to bring your first pet into the family, a Shih Tzu may be the perfect choice for you. They're gentle dogs that love their owners. They love playing but also resting, and are an adorable breed! However, weighing the pros and cons of this breed will be important when making your decision.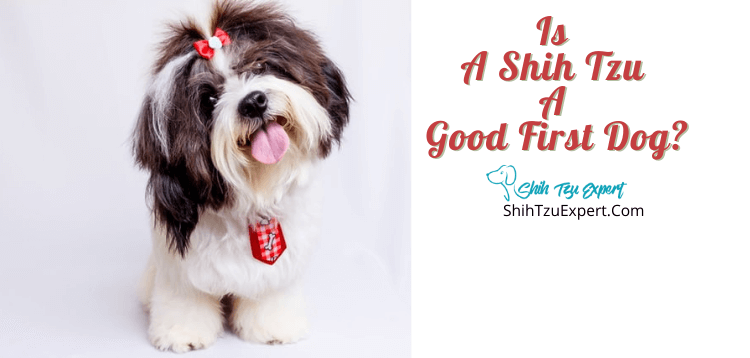 Is Shih Tzus Good For First Time Dog Owners?
Yes, Shih Tzus are great dogs for first time owners. They love playing with people and can be trained very well. Their attachment to their owners make them life-long companions and many who adopt Shih Tzus stick with that breed for every new dog they bring into their family.
What About For a First Time Dog Owner While In College?
Puppies take a lot of time and attention to train, and shih tzus are no exception. Being a student will definitely be a challenge if you want to adopt a Shih Tzu. But if you have the time to spare, it can make being a student much less lonely! Make sure you have the finances and the time before making that decision.
The nice thing about this breed is that they are great for apartments, since they like the indoors!
What Should I Know About Shih Tzu Dogs Before Deciding To Get One?
There are a few key things to consider about Shih Tzus:
They may have separation anxiety when they are left alone for too long or are puppies.
They can be prone to overheating which may lead to heat stroke.
They may be difficult to house train and will have accidents in the house.
They may have difficulty obedience training and are disobedient at times due to their stubborn attitudes.
They may bark and growl loudly.
1. They have gorgeous soft fluffy coats.
2. They are very loving and affectionate with everyone – even children.
3. They're always happy to spend time indoors.
4. They are great comfy lap dogs!
They need high quality food which may get expensive.
They are very stubborn when they don't get what they want and will beg.
They can be prone to serious health issues.
Their coats need significant attention and grooming.
They bark and growl! They are not a quiet breed.
But don't let these points talk you out of adopting a Shih Tzu. These traits can be very common in many dog breeds! They are just something to keep in mind and shouldn't be overlooked.
Is A Shih Tzu A Good House Dog?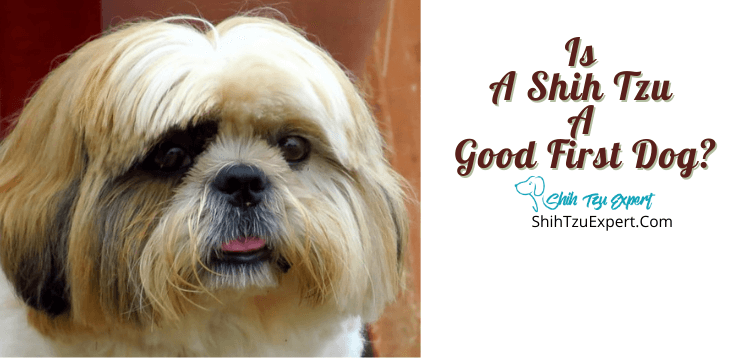 Shih Tzus are GREAT house dogs. They love being indoors, laying on their owner's laps, and are gentle dogs. If you are looking for a dog that loves being inside and hanging with their owner, a Shih Tzu would make a great companion.
How Do You Take Care Of A Shih Tzu For Beginners?
Puppies need attention – a lot of attention! Shih Tzus need to be taken out multiple times a day and watched in the same way you'd watch a baby. They need to be fed 2-3 times a day, exercise, and have their coat brushed and maintained. They also need their nails trimmed and to be groomed very regularly. Also, they'll need to have their teeth brushed, since dental disease can be common, and taken to regular veterinary appointments.
Are Shih Tzus Low or High Maintenance pets?
Shih Tzus are a bit of both. Caring for them can be high maintenance as they require good fur regimens to maintain their coats. They also require good quality food.
Some consider them low maintenance because they love playing indoors and can be trained easily. They are active animals but not as active as many dog breeds that require a lot more time outside. It depends on the pet owner!
The Shih Tzu Coat Needs A Significant Amount Of Grooming
This is one of the most high maintenance parts of owning a Shih Tzu. Their coats need to be brushed and groomed very regularly. They will need to be brushed daily with good wire combs. The fur around their eyes need to be looked at to make sure there is not any gunk or fur that needs to be taken care of. A groomer will want to keep that fur trimmed to make it easier for you and your pup.
What Can I Expect From A Shih Tzu Puppy?
Shih Tzu puppies love attention and will need a lot of it. A puppy will need to be trained and will need extra care to make sure they don't have an accident indoors. They may get upset when you have to leave somewhere or won't give them what they are begging for. To train them properly you will have to try to ignore their puppy dog eyes!
Anticipate Early Health Needs (And Costs) Of Your New Shih Tzu Puppy
Shih Tzus may be an expensive breed because they are prone to health issues. Dental disease and kidney disease can be common in this breed. Don't take this lightly! They need to be looked after with this detail in mind. That's why making a relationship with your vet from day one is extremely important.
What Are The Pros And Cons Of A Pet Shih Tzu?
There are many pros to adopting a Shih Tzu into your family, especially as a first pet!
Pros of a pet Shih Tzu:
With any dog breed, there are a few cons as well.
Cons Of Shih Tzus
New Shih Tzu Owner Checklist
So you've decided you do want a Shih Tzu puppy! Here's what you need to do first:
Puppy proof your home. Make sure your new puppy can't get into places it shouldn't be. Gates might be necessary around your house.
Purchase necessary supplies. You will need a lot, such as a brush for it's coat, enough dog food, toys, a dog bed, a gate for certain house areas, and a crate. Don't wait until you have your puppy. Plan ahead!
Plan a spot ahead of time for all your new puppy items. Make sure you have a space to keep everything so you can easily keep stock of it. It will help keep you from getting overwhelmed.
Choose a name! One of the most fun parts about picking up your new pal: giving them a name that fits their personality! It will take them some time to know that that's their new name, so saying it around them frequently is important.
Do Shih Tzu Get Attached To People?
Shih Tzus get very attached to people, especially their owners. That's why they may have some separation anxiety when their owner leaves. They make great companions because of their love and trust for people. Some might find it annoying, but others will adore the love their Shih Tzus have for them.
Are Shih Tzus Good Left Alone? Are They Clingy?
Shih Tzus are great house dogs. They can be left alone and be okay for a while. However they don't like to be left for long periods of time because they can be a bit clingy to their owners.
Some Shih Tzus Really Hate Being Left Alone
If you live a very active lifestyle away from home, having a Shih Tzu as a companion may not be the best choice. Consider a different breed or pet.
Do They Have Low Exercise Needs?
Shih Tzus aren't the most energetic dog breed. But, that doesn't mean they can skip out on exercise. They love resting indoors but still need to run around and play like every other dog.
Are Shih Tzus Aggressive?
Shih Tzus are typically gentle and not aggressive. They may growl or bark, but are not typically an aggressive breed. They're known for being lap dogs!
What Are Shih Tzus Known For?
Shih Tzus are a historically royal pet! Many Chinese royals owned this breed. Shih Tzus are known for being gentle and loving animals who are attached to their owners. They're a unique breed with a lot of history! Own a piece of royalty!
The Shih Tzu Is Brachycephalic
Essentially this means they are 'short-headed'. This is why they have a flatter face, like a bulldog. This is important because they may have respiratory difficulties the older they get. Their airways are smaller because of their head shape, and this may require some extra veterinary visits if they develop breathing troubles over their life.
Shih Tzus Are Not Actually Toy Dogs
They have some of the qualities, but are generally a bit bigger than most toy dog breeds. Which means… They can make great watchdogs! They are quite vocal and will alert you when someone is knocking at your door!
Shih Tzus Are Not The Smartest Of Dog Breeds
Shih Tzus aren't considered very smart because they aren't the most obedient dog breed. However, they connect very strongly on an emotional level with people. This makes them smart in different ways than just obedience!
Should I Adopt A Shih Tzu From A Shelter
If you can find the breed you want at a shelter, it's a great choice. Rescuing a dog is so rewarding! It may take some time for your new companion to get acclimated to you, but once they do it is all worth it. Keep in mind that a rescued Shih Tzu may have had some traumatic experiences that will require a lot of patience and love to work through.
How To Tell If Your Dog Is A Shih Tzu
There are a few prominent traits that would indicate your dog is a Shih Tzu. They have a curved tail. Measuring a Shih Tzu, they are about 8-11 inches tall, and can weigh from 9-16 lbs. Their noses look a bit squashed, and they have dark wide-set eyes.
Is It Better To Have One Shih Tzu Or Two?
It depends on the owner. But Shih Tzus are amazing dogs to have two or more of. They are very social and will love the companionship. If you got two Shih Tzus, they would struggle less with separation anxiety and have a forever playmate.
Find A Cool Place For Your Shih Tzu
In the hot summer, Shih Tzus are very prone to overheating. Keep them cool indoors as much as possible! An overheating Shih Tzu may lead to heat stroke which would be devastating. Go on short walks but make sure they maintain an active routine inside your cool home and are drinking plenty of water.
Get Used To Weird Snorting Sounds
Yes, our favorite pups make adorable weird snorting sounds. In their sleep and when they are running around. But that's why we love them!
What Is The Easiest Type Of Dog To Take Care Of?
Some breeds that require less needs and may be more obedient are basset hounds, bichon frises, beagles, and border terriers. But ultimately it depends on the skill level of the owner. Most agree that Shih Tzus are very beginner friendly, especially to those with an open mind to learn!
Choose House Training Methods
Before you get your Shih Tzu, you will want to figure out how you will train it! Brainstorm the house rules you want for your dog, like if you will allow it in your bed and in certain areas of the home. Also their routine, like eating times, and how you will respond to puppy behaviors like accidents and breaking things. It takes a lot of patience!
Doggie Chores
There are many chores that come with owning a Shih Tzu! Maintaining their healthy coat will definitely be a task. Brushing their teeth, cleaning their ears, and taking them to appointments will take up time that you need to make for your new family member. Feeding them everyday in itself may be a chore! Don't adopt a new pup unless you are prepared for a bunch of new chores.
Introduction To Other Pets In The Household
Like every pet, it will take special care once they first meet. Make sure they are both in a safe and comfortable environment and are able to leave if they want to. Give them the space and time they need to get used to their new companion! If it doesn't go smoothly, consult a professional on how to ease the transition.
Choose A Veterinarian Ahead of Time
You don't want to have to Google an emergency vet at the worst time. Have a vet in mind and make an appointment prior to getting your new pal. You'll want to feel comfortable giving your fur baby to someone and this will make it much easier. Since Shih Tzus are prone to certain health conditions, having an established relationship with a vet will help with guidance.
Choose Other Helpful Professionals
Professionals like dog groomers and trainers can make this transition a lot easier. Make sure you look through reviews and research carefully about who can best help you with your new family member. Plan all of this ahead of time so you aren't overwhelmed and can just enjoy the time with your new Shih Tzu!
References:
Akc.org
rover.com