Shih Tzus are among the calmest breeds, however, puppies can be quite energetic. We have gathered all the top tips on how to calm your Shih Tzu puppy down and answered some of your frequent concerns about Shih Tzus. From how to train them and how to deal with behavioural issues.
When Do Shih Tzu Puppies Calm Down?
Like with any dog, initial training is important to teach good manners. Shih Tzu puppies are no different.
The general timeline in which your puppy will start to calm down is between 6 months to one year. This will depend on the temperament of your little one as well their training. So no need to fret, with some time and effort your puppy will grow more relaxed.
We will take a look at some great training tips and ways to calm your puppy down in the following section. So bear with us as we explore the highs and lows of this wonderful breed.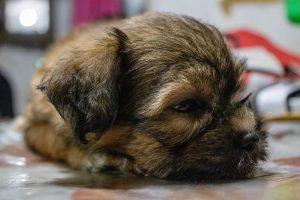 What Can I Expect From A Shih Tzu Puppy? –Hyper? –A Lot Of Energy?
Shih Tzu puppies are quite well-known for their energized temperaments. A quality that can be considered both great and annoying to some. In general Shih Tzu puppies' temperaments are described as friendly, affectionate, playful, and adaptable. The friendliness aspect has many accompanying benefits.
These include that your puppy will be good with kids and strangers, alike, and that they will play well with other dogs. So if you already have other dogs, a Shih Tzu will be the perfect addition to your family.
How To Calm A Shih Tzu Puppy Down?
All of these characteristics are good to have but can cause you to be overwhelmed. At some point, your hyperactive puppy might need to be calmed down. We have just the solution for you, eleven of them to be exact.
We have some great tips on how you can calm your Shih Tzu puppy down. Let's get straight into them.
1.    Exercises & Games
Exercise and games are a great way to get rid of some excess energy. This can also be a good way to keep your puppy healthy and to interact with them. There are many exercises to choose from and you can even make up some of your own.
Games like fetch and tug are easy to play and don't require you to purchase toys or any kind of equipment.
2.    Mental Stimulation
Mental stimulation can be combined with physical exercise and games. The only difference here would be to choose exercise or games that require a bit more focus. This can include teaching your puppy some new tricks or playing a game of fetch with more intricacies.
Instead of just encouraging them to fetch the object you can ask them to do a trick before you throw the object again. This is a great opportunity to let your creative juices flow and think of something completely out of the box.
3.    Puppy Relaxation Music
Just as with humans, music can greatly influence your puppy's mood. This is a great trick to have up your sleeves to create a more relaxed environment for you and your puppy.
Relaxing music can include the sound of the ocean, rain falling, birds chirping, or any music with calm instrumentation. You can find playlists with these kinds of music online or even purchase a CD and just put it on in the background.
A TV with a video of a calming beach will keep a puppy occupied and calm for hours! Just avoid videos about puppies, especially where they bark!
4.    Food & Treats
Food can have a huge impact on how we feel and recent studies have shown that this is no different for dogs. Studies show that some ingredients, found in cheap dog food, can cause hyperactivity in dogs.
Next time when you shop for dog food take a look at the ingredients listed. Stay away from food that includes preservatives, colouring, and fillers. Try to stick to buying fresh food with healthy ingredients. This can have lasting effects on your dog.
5.    Spray & Aromatherapy
Smell is a sensation that can greatly improve your puppy's mood. Shih Tzus have a great sense of smell and it can be a useful way to set a calming environment.
You can light a candle, burn some incense, or get a dog-friendly spray. Note that the smell should not be overpowering and be careful with the amount of smoke in the area. Pro-tip this can also be enhanced with some calming music in the background.
6.    Does A Puppy Calm Down After Spaying/Neutering?
In most cases, puppies tend to become less aggressive and calm down after being spayed or neutered. However, the timeline might differ between dogs.
This positive effect is also one of the top reasons dog owners decide to spay or neuter their dogs, along with the benefit of preventing unwanted pregnancies. This is also a good option to consider if you would like to calm your Shih Tzu down in the long run.
7.    Discourage Attention Seeking Behaviour By Ignoring
Like toddlers, puppies can throw tantrums to capture your attention. The best way to keep this from becoming a habit is to ignore your puppy when they start acting out. Even though it might be hard at first, it's the best way to discourage such behaviour in the future.
Try to teach them to ask politely. This will require some training but however you decide to counteract this issue try not to engage without insisting they calm down first.
8.    Don't Neglect Your Shih Tzu (Spend Time With Them!)
In respect to the previous point, it might also be that your Shih Tzu puppy doesn't know how to ask for your attention. They might just desire to spend some quality time with you. So make sure that you give your puppy enough attention.
Once he has been trained he will know how to properly ask for your attention. Before it even gets to such a point, make sure to give your puppy some much-needed time. This will help them grow closer to you as well.
9.    Manage Your Mental States & Emotions
It is well-known that animals can sense your emotions. When you're sad somehow they will just know and comfort you. Shih Tzu puppies, especially, are very sensitive to your mental states and emotions. Emotions like irritation, anger, or confusion are no exception to this.
If your puppy is acting out, it might just be that they are sensing your emotions and reacting to them. So before attempting to calm your puppy down, try to calm your own emotions. Many of the above tips can be beneficial to both you and your puppy.
10.  Visit The Vet
If it seems like none of these tips are helping in any sort of way, it may be time to consult your vet and see if your puppy might have some medical issues. Health problems can cause a range of other issues that may be evident in your puppy's behaviour.
As a dog parent, your puppy's well-being is an important matter. Seeing a vet can shine a light on serious or minor issues that are important to address sooner rather than later.
11. Training
Last, but not least important, training is a crucial part of teaching your puppy good manners. This can also help you understand how to communicate better with your pup. There are many resources online that provide useful tips and in-depth teaching on how to train your puppy.
We'll even share some in the following section. It's not always fun to be strict but it can be extremely beneficial for you and your puppy in the long run.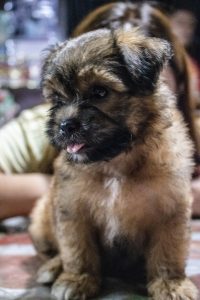 How To Train A Shih Tzu Puppy To Calm Down?
Whether this is your first puppy or your fifth, knowing how to train them is crucial in creating a calm environment for both you and your pets. To help you out with this we have listed some top tips and methods to help you in this endeavour.
1.  Stop Crying  & Whining  At Night
The key here is to first determine why your Shih Tzu is whining. Barking is the language of dogs and different types of barks can signal different things. It could be that your dog is scared, he could be trying to warn you of potential danger, or he might just be looking for attention.
If it seems to be an ongoing issue and points to attention-seeking, the best thing you can do is to ignore it. Now, I understand that this can be annoying and hard to do, but if you keep giving your dog attention it only enforces bad behaviour. You need to let him understand that then is not the time to bark for attention.
2. To Be Calm Around Other Dogs
Luckily Shih Tzu's are known for playing nice with other dogs and being socialized quite quickly. However, it is still important that you make your puppy comfortable with these social settings. Don't throw them in the deep end. Rather ease them into different social settings.
Start by introducing them to one other dog and don't overwhelm them too quickly. See how they interact with others and always help them feel comfortable and calm. You can resort to any of the tips mentioned above to do so.
3.  Stop Excessive Biting
We have all experienced the bite
(nib) of a very excited puppy during an interaction. Most puppies unlearn this behaviour from their mother. Luckily, there are some great ways you can imitate this to ensure that your puppy learns good behaviour.
If you are playing with your puppy and they nib you, immediately remove your hand and turn around for a few seconds. If the behaviour persists three times, walk away from the puppy. This teaches them that they are hurting you and that you will not engage with them if they do this.
After some time they will understand that biting causes the game to be over and they will stop biting in such situations.
4.  Excessive Play Fighting
Similar to the previous point, as puppies grow they will be able to distinguish between playful fighting and behaviour that causes harm. Sometimes they get so excited during play that they unknowingly harm you or another pet in the process.
The trick is to nip this behaviour as soon as it happens. Immediately stop the game if it becomes too aggressive. The puppy will learn that if they want to continue the game they need to calm down.
Why Has My Shih Tzu Puppy Gone From Being Calm To Aggressive?
All dog breeds have the potential to become aggressive and Shih Tzu's are no different. This kind of behaviour can be a result of previous trauma the dog experienced or could be influenced by genetic factors.
The first important step would be to determine what kind of aggression your dog is showing and then look at a possible solution.
There are many reasons that your dog might show aggression including, showing dominance, protecting his territory, excessive energy, past trauma, or medical conditions.
It is best to help your puppy unlearn this behaviour as soon as it arises. It is important to remember not to use aggression in reaction to this behaviour as it might only cause your puppy to be more aggressive.
Rather show them that this behaviour is unacceptable by trying to calm them down, socializing them more, showing your dominance, or consulting a professional to assist you.
The sooner you help your puppy to get a handle on their emotions and behaviour the better it will be for all parties involved.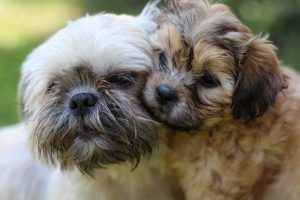 When Should I Be Worried About My Puppy's behaviour?
If you have tried everything to change your puppy's behaviour for a prolonged period. If you have consulted professional help, found no medical condition causing the bad behaviour, and honestly feel like giving up should you be worried? Unless your puppy's behaviour poses a direct threat to you or a loved one, this is a question you will have to ask yourself. What kind of behaviour are you willing to live with?
If you will be able to live with spouts of senseless barking, occasional biting, or even minimal aggressive interactions then you don't have to be too worried about your puppy. If these are things you are unable to accept it might be time to explore some alternative housing options for your puppy. You can contact local authorities or animal shelters to assist you with this. Always trust your instincts.
Are Shih Tzu Adults & Seniors Calmer Than  Puppies?
In general, Shih Tzu adults and seniors are much calmer than their puppy counter halves. This, of course, depends on if they received good training during their puppy stage. From 6 months to a year, most Shih Tzu puppies will have started to calm down. This is when the time and effort put in during the puppy stage will be rewarded.
Even though each puppy's personality may be different, with proper training their personality will be well adapted to their environment and they will become calmer with age. So there is some light at the end of the tunnel and within a year you'll be able to reap the benefits of all your hard work.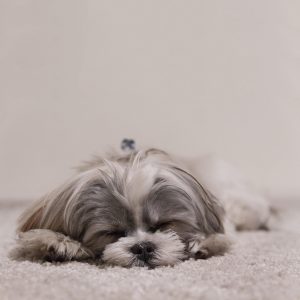 Why Is My Shih Tzu Puppy Very Quiet & So Calm?
Many times it is the loud barking of our puppies that is at the top of our list of concerns. However, the opposite can also cause us to be worried. There are a couple of reasons that your dog might not bark often, or even at all.
If you have a young puppy, for example, it might just be that they have not yet found their voice. But what if your puppy used to bark a lot and now seems to have stopped altogether?
The first thing to consider is if there are fewer reasons for your dog to bark. Perhaps your environment is calm and has fewer stimuli that could cause your Shih Tzu to bark. Perhaps you are meeting their needs before they even need to catch your attention.
On the other hand, it could be that your dog has some damage to its larynx and might not be able to create any sounds. This can be caused by too much barking or collars that are too tight around their necks.
If there has been a recent loss in the immediate environment, like someone passing or moving away (human or pet), your dog may be feeling depressed. Whatever the reason may be, you will best be able to tell if this is due to environmental changes, medical conditions, or just positive improvements in mood.
Are Puppies Of Other Breeds Calmer Than Shih Tzu?
Shih Tzu's are considered among the calmest breeds by many in the dog community. This does not necessarily mean that they are the calmest. There is no consensus on the matter, however, they are always named among the top ten calmest breeds along with Labrador Retrievers, Pugs, Newfoundlands, and Golden Retrievers.
Their ability to socialize well with other pets and interact well with strangers is viewed among the top benefits of this breed. They are considered family-friendly and great companions to add to your life. There is no doubt that this breed is one of the calmest among dogs and will be a great addition to your family.
SOURCES
Dog Fiesta Online – https://www.dogfiestaonline.com/at-what-age-do-shih-tzu-calm-down/
Dog Time – https://dogtime.com/dog-breeds/shih-tzu#/slide/1
Bubbly Pet – https://www.bubblypet.com/how-to-get-shih-tzus-to-calm-down/
Miracle Shih Tzu – https://www.miracleshihtzu.com/shih-tzu-puppy-training.html
Shih Tzu and You – https://shihtzuandyou.com/why-is-my-shih-tzu-so-aggressive/
All Shih Tzu – http://www.allshihtzu.com/shih-tzu-not-barking
Yummy Pets – https://www.yummypets.com/mag/2017/09/11/104829/the-top-10-calmest-dogs