We may earn commission from qualifying purchases at no extra cost to you.
Learn more
If you have a dog, chances are high that they love playing with flying discs, or more commonly known as Frisbees. Frisbee games provides great exercise and fun for your pup, so it's important to pick a high-quality Frisbee! Frisbees come in a variety of sizes, colors, materials, weights. Let's look at some of the key facts about Frisbees and some important things to consider when choosing the perfect Frisbee for your dog.
Why do dogs love Frisbees?
Dogs love running after things and catching items in the air. Balls are harder to catch mid-air than Frisbees, since Frisbees are specifically designed so your pup will be able to grab them with their teeth. Playing Frisbee introduces new tricks and skills from simple fetch with a stick or ball, giving your dog some variety in activity. Frisbee provides both physical exercise and mental stimulation by challenging your pup to catch a moving object, and it also provides some fun quality time with you!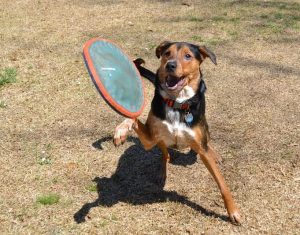 Is playing Frisbee bad for dogs?
Depending on the age, agility, and health of your dog, playing Frisbee can potentially cause your pup injuries. Playing Frisbee entails sprinting long distances and jumping high repeatedly. Middle age dogs tend to have chronically inflamed muscles that are overworked from age, while larger dogs will experience more stress on their joints from jumping. Playing Frisbee for prolonged times could lead to muscle injuries and immobility, with the spine, hind legs, and knee joints being the most commonly affected areas from this high-level type of activity. If your dog's breed is one of the types prone to hip dysplasia, you should get your pup checked for any potential issues that playing Frisbee could worsen. Make sure to treat any injuries to your dog's foot pads immediately to prevent any infections from occurring.
To prevent your happy pup from being stiff and immobile, make sure to not play Frisbee for too long periods of time. You'll also want to mix in Frisbee games with other types of activities to balance any potential injuries and keep your dog agile. Make sure to watch how your dog lands on the ground after jumping up to grab the Frisbee. Landing on all fours will reduce the impact of playing Frisbee on their joints, so if you notice your pup landing on only two legs, consider taking time to play with a hoop toy first. This will help train them to properly jump and land.
You should also store the Frisbee somewhere after interactive play to prevent your dog from chewing on the Frisbee when you are not around. If your Frisbee is made of plastic, any chewing could damage the Frisbee and your dog's teeth. Sharp pieces could cause harm to your pup's face, gums, or eyes, and it will also affect the Frisbee's performance. Keeping your Frisbee intact will not only protect your dog but prevent you from having to replace the Frisbee.
Where can I play Frisbee with my dog?
You'll want to pick a safe area to throw the Frisbee where your dog cannot run away. Consider a fenced-in area like your backyard or a dog park. You should avoid areas near busy roads where your dog could accidentally run out onto the road to chase the Frisbee. This is why it's important that your dog is obedient and trained to come back to you. You can also check newspapers and the Internet for Frisbee events in your area to join your local community for some Frisbee play. There are Frisbee events and dog clubs all across the country and even throughout the world, so you are sure to find others to practice and play Frisbee with!
Material:
If you have ever casually thrown a Frisbee with friends at the park or on the beach, you know what a hard frisbee feels like. Made of plastic, these Frisbees keep their shape and fly long distances. While these are great for throwing around, they are not the best for playing Frisbee games with your dog. Hitting your dog in the face with one of these can injure your pup, and they are also harder for your dog to catch or pick up off the ground. Plastic Frisbees are not the most durable and can injure your dog when it breaks and has sharp pieces. There are hard Frisbees with dog-specific features, such as puncture resistant materials or a dual-grip design, if a hard Frisbee is the best fit for you and your pup.
Most dogs can catch up and pick up these standard plastic Frisbees, but there are flexible Frisbees specifically designed for dogs! Soft Frisbees are made of semi-rigid materials such as rubber or nylon with a pliable hoop and a softer center, making them flexible. Dogs have an easier time picking up flexible Frisbees off the ground, but soft Frisbees won't fly as far as a hard Frisbee. Soft Frisbees, however, are light and pose no risk of injury to your pup! They are also more compact than hard Frisbees, with some able to fold in on themselves for easy transportation.
Weight: 
Heavier discs will fly both farther and straighter but can be tough to throw. Frisbees used for Ultimate Frisbee or Frisbee tournaments are much heavier than typical Frisbees you can purchase in a store with a thick, heavy rim. While such a rim helps the Frisbee fly farther, it can bruise your knuckles or fingernails if you don't catch it perfectly, making them unsuitable for playing Frisbee with a dog. Heavier Frisbees could potentially break a tooth or hurt your dog's gums, jaws, or head.
Lighter Frisbees are great for smaller dogs or dogs training to play Frisbee who may not be used to catching a Frisbee yet. However, lightweight Frisbees don't fly as far or accurately as ones made of heavier material. Lighter Frisbees are ideal for tossing the disc around your yard or teaching your dog new tricks where distance isn't a main priority. Lighter discs, such as those made of fabric, can be safely used for tug-of-war and are a great way to introduce your dog to discs before graduating to plastic or rubberized disks. These Frisbees also are much safer as the material is much less likely to hurt your dog than a rigid, heavier disc.
However, because heavier discs are more accurate, they are sometimes preferred for Frisbee competitions so that your dog can catch the Frisbee in a certain spot. Owners also enjoy using heavier Frisbees for tiring out or conditioning their dog as they can be thrown much farther than lighter discs. Heavier discs also fly farther with less effort as they are made with distance in mind, making them preferable for dog owners who are not great at disc throwing or have any shoulder injuries that affect their strength.
Texture:
The best dog Frisbees will have some texture for a comfortable, secure grip for both you and your dog. Some Frisbees will feature grooves around the edge of the disc or a flexible foam rim that is not only gentle on your dog but easy for them to catch and carry!
Durability:
You'll want to pick a Frisbee that is rugged enough to endure the rough play from your dog. Dog-specific Frisbees are designed to be bite-resistant or for dogs who like to chew are great for being durable.
Safety:
The best dog Frisbees will have rounded edges to prevent any pain or injury to your dog when playing with it. Frisbees that are lightweight and made of flexible material are safer for your pup than heavier, plastic Frisbees that do not flex at all.
Performance:
Depending on how advanced of Frisbee games you and your dog want to play, you'll need a different type of Frisbee. Hard Frisbees are great for long throws and more advanced Frisbee tricks, whereas soft Frisbees are better for training or smaller dogs. Look for a Frisbee that floats if you are planning on using the disc in or around water. If you plan on entering disc competitions, you'll need a Frisbee with high accuracy so that you can throw the disc to a specific spot for your dog to catch. Accuracy and long-distance flight are not as important for casual Frisbee play. You'll also want to ensure picking a Frisbee that you are able to throw well. Playing Frisbee with your dog won't be fun if you struggle to throw the disc because it's too heavy or large. A high-quality Frisbee should be able to sail through the air smoothly.
Size: 
Smaller dogs may require smaller discs as they may not be able to catch or pick up a disc with a large diameter. Small to medium sized dogs may be able to jump higher in the air than large and giant dogs but may not be able to run and catch a Frisbee over a long distance. Consider picking up a smaller, soft Frisbee if distance isn't your main priority for Frisbee play. Make sure to check the width and thickness of any dog Frisbee you're considering purchasing to ensure your dog can comfortable catch and carry it.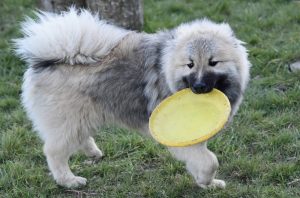 What color Frisbee is best for dogs?
You'll want to pick a brightly colored Frisbee that doesn't easily blend into its surroundings! Frisbees are easy to lose, so an unusually bright Frisbee will help you spot it no matter where it flies to. Some Frisbees come in a glow in the dark option that allow you to play Frisbee in the dark.
How do I teach my dog to play Frisbee?
If all this sounds fun to you, but your dog doesn't know how to play Frisbee yet, fret not! Here are some easy steps to teach your dog how to play Frisbee.
Before you even try to teach your dog how to catch a flying disc, first introduce your dog to a Frisbee during normal play time. Try waving the Frisbee around or playing tug-of-war to see if the Frisbee catches your dog's interest. Let your pup smell and inspect the Frisbee if they want. Put the Frisbee away and then reintroduce it during the next play session to see if they are still interested. Once they associate play time with the Frisbee and have their interests peaked, training will be easier since they will enjoy playing with the disc.
Other ideas for getting your pup interested in the Frisbee is feeding them out of it for several weeks or laying it in their bed with them. Toss the Frisbee back and forth with someone else to encourage your dog to run back and forth and follow the Frisbee; occasionally miss catching the Frisbee to let your dog go get it. You can also attach your Frisbee to a leash and then run around, dragging it behind you to let your dog chase it.
It's important to introduce the release command, whether that is the word "give," "let go," "drop," or whichever word you choose to use. Bring out the Frisbee and let your dog hold the disc in their mouth. Then ask them to release the Frisbee and reward your pup with a treat or praise. You can practice holding a stationary Frisbee out to your dog at nose level and then moving the disc around while encouraging your dog to grab it and then drop it after you use your release command. You can also practice asking your dog to grab the Frisbee while you are holding the Frisbee up in the air and quickly bringing it down to the ground. This will let your dog get used to the Frisbee moving up and down in the air as if it was flying.
Once your dog is familiar with releasing, it's time to build up your dog's retrieving instinct. This is an important aspect of Frisbee games because without this instinct, they can get bored while chasing the Frisbee down before bringing it back to you! Toss the Frisbee either inside or outside just a few feet away from your dog. Once your dog grabs the disc, use your recall command to ask your dog to come over ("Come!") and then give the release command ("Let go!"). You can also try rolling the Frisbee sideways and having your dog can chase it across the yard or room. Repeat this a few times, making sure to reward your dog with treats or praise.
Practice tossing the Frisbee in a safe area where your dog cannot run out somewhere and having your dog return it to you. Make sure to throw the Frisbee low while in the training phase. To prevent any injuries to your dog, throw the disc to your pup and not directly at them. It's important for dog owners to practice throwing a Frisbee, even on their own sometimes, to ensure safe Frisbee play.
Work your way up to increasing distances of tossing the Frisbee as your dog practices catching and bringing the Frisbee back to you. You can also start throwing the Frisbee higher in the air as you increase the distance of Frisbee throwing and eventually move on to adding freestyle moves. Make sure to start slow, stay patient, and be consistent when training as your pup can pick up on your attitude: practicing Frisbee should first and foremost a fun activity!
Another important aspect of training your dog to play Frisbee is that your dog should be obedient and enjoy learning new tricks. While teaching your dog how to play Frisbee, make sure to note how your dog is feeling. If they seem frustrated or not open to learning at the moment, take a break and come back to training when they are feeling more excited. When playing Frisbee, you should always be aware of your dog's comfort level. Avoid overtiring your pup with playing for too long and exposing them to excess sun. You should also make sure they are hydrated. Make sure to take a break and give your dog some water and shade if you notice they are panting heavily, seem disoriented, are excessively drooling or vomiting.
Best Dog Frisbees To Buy
With all these aspects of Frisbees to keep in mind, picking the perfect Frisbee for you and your pup might seem daunting. But luckily, we've broken down some of the most popular dog Frisbee options to help you narrow down your choices! Between Frisbees that float and are great for competition, ones that glow in the dark, ones made of lightweight fabric or rubber, you are sure to find one to suit your Frisbee play needs.
Hyperflite Jawz:
This competition disc is 8.75 inches in diameter and comes in 5 different colors: Black, Blueberry, Glow, Lemon Lime, and Mango. The world's toughest competition approved disc is durable and can withstand canine teeth better than similar models. Amazon's Choice for Tough Dog Frisbee, this disc is a favorite among dog owners for both normal play and competition play. It is heavier than other popular dog Frisbees at 4.8 ounces but much lighter and more rigid than discs often used for casual Frisbee play. Designed to prevent injuries, the disc is puncture-resistant and is made of flexible rubber. It can be folded in half and still retain its shape and is great for flying in light to no wind.
Pros:
This model comes in a puppy version that is 7 inches in diameter, making it perfect for smaller dogs.
Owners love how easy this Frisbee is to throw and its stability. It flies smoothly and far distances, even after being covered in slobber and in wind.
Puncture resistant and chew proof, this disc is great for even large breeds with powerful jaws. Owners find there are minimum markings after hundreds of throws, making it great value for the price.
The flexibility of this disc gives it great durability.
The materials make this Frisbee extremely safe for dogs. Many owners note how their dogs' mouths don't bleed after playing with this disc versus others.
This disc is approved for competition.
Cons:
This Frisbee does not float in water, making it not suitable to throw around a pool or in the water at the beach.
While worth the cost, it is more expensive than similar competition discs.
Owners of more rigid Frisbees find they need some time adjusting to the flexibility of this disc as it feels floppy at first until owners and dogs get used to it.
This disc can get scratched or mangled if the dog chews on it.
Conclusion: The Hyperflite Jawz is well-loved for Frisbee competitions and is not only durable and puncture-resistant but safe for your dog, however small or big they are!
KONG Flyer
The KONG Flyer is own of the most durable dog Frisbees on the market. It is made in the USA out of classic durable rubber and comes in either red or black and in a small or large size. The smaller size is for small breeds up to 20 lbs, while the large size is for power chewers and larger breeds ideally weighing between 30-65 lbs. Dogs up to 85 lbs can use this Frisbee that is 9 inches in diameter. Soft to catch and offering accurate flight, this disc is easy to use as well as flexible and gentle on your dog's teeth and gums. Don't hesitate to try out the best soft rubber disc on the market because your purchase comes with the KONG Satisfaction Guarantee.
Pros:
The classic rubber allows for a forgiving catch with a dynamic rebound, making it easier for your dog to catch after an initial loss.
This disc is easy to pick up off the ground as it is made of flexible rubber. The flexibility also makes for easy transport as you can fold the Frisbee in half and it will retain its shape. Dogs love swinging the flexible disc around and folding it in their mouth.
The KONG Flyer always return to being flat after repeated being folded in half.
It is soft enough to bounce off your dog without injuring them.
Owners love how durable this disc is and note the longevity of the product after heavy use, even with dogs who are power chewers.
This disc is very easy to throw.
Cons:
Some owners note they expected stiff rubber and were surprised to find the disc made of flexible rubber. Previous owners of rigid discs may require an adjustment period to the flexibility as it feels floppy at first.
This disc is heavier than similar models, so it does not fly as freely or high up as typical plastic Frisbees.
The disc's shallow rim requires throwing more with the arm and less with the wrist, which is the typical way to throw a Frisbee. Owners note that it sometimes takes practice to learn how to throw this disc.
The shallow rim also sometimes easily collects more saliva than other dog toys.
Conclusion: The KONG Flyer is one of the best rubber Frisbees on the market as it is flexible, easy to throw, and extremely durable!
ChuckIt! Paraflight Flyer
This aerodynamic Frisbee is specifically designed for long distance flying, making it a great choice for Frisbee games. It's made of durable multilayer nylon with soft rubber edges and features a bright blue and orange design for visibility. This lightweight disc comes in a small and large size to suit a variety of dog breeds. It also features a foam outer ring that makes this disc float, so you and your dog can enjoy Frisbee even near water.
Pros: 
This Frisbee features a foam outer ring to float in water so it's not only safe for your dog but suitable for play at the pool, beach, or lake. It also makes it easy for your dog to pick up from all surfaces.
The materials are gentle on your dog's gums and teeth, which is great for preventing any injuries.
This flyer is easy to wash and dry and is durable in various weather climates and terrains.
Bright colors increase visibility, so you'll always be able to find your flyer, even in water or tall grass.
Owners love the aerodynamic design of this disc. The flyer not only can be thrown long distances, but it also descends gradually so your dog can easily catch it mid-air.
Cons:
Because of how lightweight this disc is, it can be difficult to throw it very far. Owners have found the need to adjust their technique to a slower accelerated throw so that the Frisbee stays flat instead of bending under the pressure of being tossed. Some find that the disc's path curves very abruptly.
This disc is not recommended for power chewers as this Frisbee may be easily ripped apart by dogs with strong jaws. For smaller dogs, this flyer usually holds up well with tug-of-war play.
Heavy use may result in the stitching coming apart and fraying edges.
Conclusion: The ChuckIt! Paraflight Flyer is a great lightweight, aerodynamic Frisbee that is not only easy to wash and gentle on your pup but able to float in water for Frisbee play anywhere and everywhere.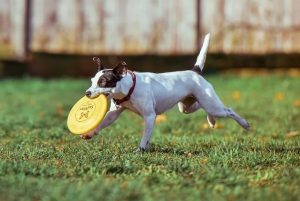 ChuckIt! ZipFlight
Made of multilayer and dense polyester canvas and featuring rubber-reinforced edges, this disc is extremely durable and long-lasting. The disc also features EVA foam for buoyancy, making this a great option for water-loving dogs. It comes in a small (6 inches in diameter) and medium size (8.5 inches in diameter) and either assorted bright colors or Max Glow, the glow in the dark option. The Max Glow allows you to play with your dog after the sun sets and is easily charged in just a few minutes by holding it in sunlight or under a flashlight. This option is made with safe, photo-luminescent material that only needs 5 minutes of charging for 20 minutes of illuminated play. It features an aerodynamic design that lets it soar stably through the air and descend gradually as well as bright colors for easy spotting.
Pros:
The Max Glow is great for pets who are active at night or pet owners who get home late and still want to play with their dog.
The Max Glow charges easily and quickly under any bright light, including a flashlight, making it extremely portable.
The Max Glow is able to be used safely in the water during the day.
The buoyant and brightly colored design means you can use this Frisbee anywhere without fear or losing it.
This Frisbee is not only durable but washable!
The nylon material is very lightweight, and the sturdy foam rubber is safe for your dog's face and teeth.
The donut design of this ring with a hole in the middle makes it easy for your dog to pick up or catch in the air. It's also fun for your dog to play with using their paws!
This disc not only flies long distances but rolls very easily for fun fetch games.
Cons:
This disc tends to curve in the air, although owners say you can quickly learn how to compensate for that.
The trim around the middle opening is too close to the edge and may easily unravel, especially if your dog enjoys chewing.
Conclusion: The colorful ChuckIt! ZipFlight is a fantastic durable and aerodynamic option that floats, is easy washable, and even comes in an easily rechargeable glow in the dark option.
HyperPet Flippy Flopper
This best-selling Frisbee for over 20 years is 9 inches in diameter and comes in 4 different bright color options (Camo, Donut, Eyeball, Multicolor). Designed specifically to be an all-season toy, this Frisbee holds up in water, grass, and snow! Easy to spot and made of soft lightweight material that makes it buoyant, this Frisbee is great for playing at the beach, pool, or lake. It is made from durable, multilayer nylon and soft rubber which is not only great for long-lasting outdoor use but safe for your dog's mouth.
Pros:
Weighing only 2.88 ounces, this is one of the lightest Frisbees on the market, making it easy to throw and transport but also comfortable for your dog to catch.
Its buoyant design means you don't have to worry about playing in or near water.
This Frisbee features a cloth-covered rubber rim that is durable and studier than similar models.
It can withstand some tugging and punctures from teeth.
The bright colors and patterned designs make this disc easy to spot, even if it lands in bushes or leaves.
It is easily washable.
Cons:
It only comes in one size (9 inches in diameter) that is comparable to other models' large size.
It doesn't fly as smoothly as other discs and tends to have a curved rather than parallel flight path.
This product is not suited for power chewers as the disc will not fly if the inner plastic ring is chewed up.
The fabric material can retain moisture from rain, mud or saliva, so the disc can take a while to dry out after rinsing and hosing it off.
The fabric material is not as flexible as a rubber disc, so this Frisbee may not retain its original shape as well once bent or folded in half.
Conclusion: While not as durable or smooth-flying as similar options, the brightly patterned HyperPet Flippy Flopper is a good lightweight and buoyant option for casual Frisbee play.
West Paw Zogoflex Zisc 
This aerodynamic Frisbee made in the USA features curved edges for an easy grip that is soft for your hands and your pup's mouth. Constructed of exclusive soft, pliable material that is lightweight and durable for outdoor use, it comes in a small (6.5 inches in diameter) or large size (8.5 inches in diameter) and 5 different bright color options (Aqua Blue, Glow, Granny Smith, Ruby, Tangerine) that make it easy to find in your house or at the park. The ultra-durable Frisbee is built to be long-lasting and bounces as well as floats. It is best suited for dogs who are gentle chewers or enjoy rough tug-of-war play. This dishwasher safe disc can also double as a food or
water bowl for your dog
after play. It is also 100% recyclable, latex-free, and non-toxic! Don't hesitate to try out this dog-owner favorite because West Paw offers their Love It Guarantee with this product!
Pros:
This extremely durable disc made from exclusive Zogoflex material (a proprietary blend of soft plastics, not rubber) does not puncture easily and ensures this disc's longevity.
FDA-compliance means this disc is safe for your dog to chew off, although they will have a hard time chewing off a piece of this durable Frisbee!
The manufacturer offers a closed-loop recycling program called Join the Loop, making it very easy to recycle this product once you no longer need it.
The flexible design makes it easy for your dog to pick up from any surface and for tug-of-war.
Owners love how easy this disc is to throw and clean.
Dogs love how fast these lightweight discs fly in the air.
It comes in two different sizes and is made in the USA.
The soft plastic construction is not only durable but safe on your dog's jaws, gums, and teeth!
The glow in the dark option is great for dogs who are active at night or for dog owners who get home late and still want to enjoy playing Frisbee with their pup.
Cons:
While this disc floats, it does not float as well as a regular plastic Frisbee.
This stable Frisbee is heavier than similar models, so it may not fly as far as similar models, making this Frisbee less suitable for competition.
Conclusions: The West Paw Zogoflex Zisc is a best-selling aerodynamic and durable Frisbee that is flexible, easy to throw and clean, and even comes in a glow in the dark option.
Booda Tail-Spin Flyer
This lightweight Frisbee comes in a small (7 inches in diameter), medium (10 inches in diameter,) and large (12 inches in diameter) size. It is made from soft, flexible fabric that is not only easy for dog owners to throw and pups to catch but also doubles as a water dish for after play. The rubber tubing around the disc's edge is gentle on dogs' teeth and gums and allows this Frisbee to float for some fun in the water! Featuring a bright multicolor design, this disc is easy to spot wherever you and your dog play.
Pros:
Owners love the soft fabric and rubber design of this Frisbee that is easy for dogs to catch and carry. It is soft and gentle on your pup's mouth, so you never have to worry about safety.
This disc doubles as a convenient water dish, so your pup can be hydrated on the go.
The buoyant design means you can play Frisbee anywhere from the park to the pool.
Only 0.64 ounces, this is one of the best lightweight Frisbees on the market. It is high-flying and easy to throw and control.
The synthetic fabric is easily washable.
Cons:
Some owners note that the large size does not fly as well as the medium as it features a thicker and heavier outer rubber rim that makes it much heavier and less durable.
This disc may be more floppy than similar models because of how lightweight it is, making it not suitable for windy conditions.
The seams of the outer rubber rim are not as durable as the fabric and can easily rip so that the tubing falls out.
Conclusion: The multicolor Booda Tail-Spin Flyer is not the most durable but is a great lightweight option that is gentle on your pup and buoyant for Frisbee play in the water.