Your little Shih Tzu sure does require a lot of rest! Why do they sleep so often, and how much is too much?
Do Shih Tzu Puppies Sleep A Lot?
New puppies sleep a lot in order to grow and develop into healthy adult dogs. You'll probably notice that your Shih Tzu sleeps more than the average puppy. During this stage of their life, Shih Tzu sleep an additional 4 hours per day compared to other breeds.
How Much Sleep Do Shih Tzu Puppies Need [How Many Hours]?
Shih Tzu puppies need 22 hours of sleep each day! It may seem like your new friend is always sleeping! But don't worry. As your puppy is spending all their time sleeping, they are growing into healthy adult dogs, and developing important sleeping habits.
Why Does My Shih Tzu Puppy Sleep So Much
Like all animals, puppies need a lot of sleep because their bodies and brains are growing and developing. All of this growth takes a lot of energy, and therefore an abundance of rest is necessary. As your puppy gets older, they will sleep less often.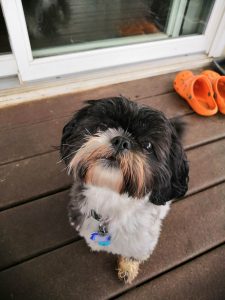 Do Newborn Shih Tzu Sleep A Lot?
The newborn phase of a Shih Tzu's life is the time when they sleep the most. Normally, the puppies will wake up every 2 hours to nurse, and will then fall back asleep. As they begin weaning and eating solid foods, the amount of sleep needed decreases.
Once they are fully weaned from the mother and have developed more of their senses, the puppies will begin exploring their new surroundings. Their curiosity will spark bursts of activity, followed by more sleeping.
Do Adolescent Shih Tzu Sleep A Lot?
As Shih Tzu grow, the amount of sleep that they need decreases. A Shih Tzu is considered adolescent anywhere between 8 months to 24 months of age.
During this period of their lives, Shih Tzu need around 12 – 16 hours of sleep each day. They are still growing and developing, but at a slower pace than when they were puppies.
It is very important to implement good habits during this phase of your puppy's life, because the habits formed now will last throughout adulthood. One of these key habits is training your Shih Tzu to go outside to use the bathroom. Not only is this imperative during the daytime, but when your dog knows that they should only use the bathroom while outside, they will start sleeping better through the night.
If they are still very young and not trained yet, putting pee pads in their enclosed sleeping area is one solution to avoiding unwanted messes.
Some good tips to help your Shih Tzu sleep through the night without having to go outside are to have mealtimes at least two hours before bedtime, and to take them outside right before bed. This way they are more likely to make it through the night without waking you up to go out.
If your puppy does wake up during the night to go outside, simply take them out and come back in without causing much fuss. Don't engage in play, turn on bright lights, or play loud noises. This will help teach them that waking up during the night is not fun, and they will be more likely to fall back asleep quickly.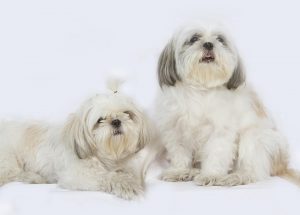 Do Adult Shih Tzu Sleep A Lot?
From around age 1 until its senior years, your adult Shih Tzu will sleep 12 – 16 hours a day. This still may seem like a lot compared to your sleeping schedule, but for a dog this is normal. While you're working during the day, your Shih Tzu is living the life of leisure and having pleasant dreams.
Do Senior Shih Tzu Sleep A Lot?
As your dog ages, the amount of sleep that they need increases again. Their sleeping pattern might remind you of their youthful puppy days. A senior Shih Tzu sleeps anywhere from 14 – 19 hours a day.
As your Shih Tzu ages, it might be more challenging for them to sleep through the night due to aching joints or incontinence. To help your senior dog sleep better, provide them with a comfortable bed and a peaceful environment.
Is It Normal For A Shih Tzu To Sleep All Day
Shih Tzu need a lot of sleep, so it is normal for your dog to sleep for a large portion of the day. This is especially true when they are very young, and then again as they get older.
Sleeping a lot shouldn't be a cause of concern, because this is typical behavior for a dog. However, you know your dog best. If you notice other abnormalities, such as digestive issues, trouble eating or drinking, or extreme lethargy, it is always a good idea to share these concerns with a veterinarian. 
How Many Hours A Day Does A Shih Tzu Need To Sleep? [What's Normal & What Isn't ]
The normal amount of time for a Shih Tzu to sleep can range from 12 – 22 hours a day, depending on the age. During its adult years, it is not normal for Shih Tuzs to sleep more than 16 hours a day. 
Once they are weaned from nursing, Shih Tzu start sleeping through the night, and still will take several naps during the day.
One thing to monitor when your Shih Tzu is sleeping is whether or not they are snoring or having any trouble breathing. Their short noses can create breathing problems, especially during sleep.
One way that you can help avoid this is to ensure that your Shih Tzu maintains a healthy weight. This can be accomplished by walking and playing with your Shih Tzu. However, if you notice a lot of snoring, or hear odd breathing patterns, it is a good idea to speak with your vet.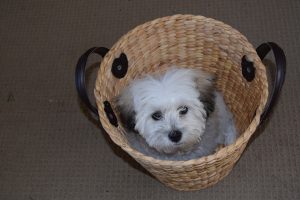 Are All Shih Tzu So Sleepy?
Shih Tzu tend to require more sleep than other dog breeds, but when they are awake, they are wonderful companions. They do well living indoors, but this doesn't mean that they don't like going outside too! Shih Tzu love to take short walks and spend time playing with their owners.
A few ways to help your Shih Tzu sleep even better is to set them up with a comfortable space that they can call their own. This can be in a quiet room away from distractions. Playpens work well to define their space. Within the playpen, you can put a comfortable dog mattress, blankets, a few toys, and even some food and/or water.
This playpen area is not only a great space for your dog during the night, but it can also be used anytime your dog is home alone and you don't want them wandering throughout the house.
A supportive memory foam mattress is a good idea for Shih Tzu. This type of mattress does a good job of supporting their joints, and as they get older, your Shih Tzu will really appreciate this type of mattress! 
Do Some Shih Tzu Need More Sleep Than Others?
Each dog is unique, and this is true for Shih Tzu, as well. While this information is generally true across the board for Shih Tzu, your dog might be different than average and sleep a little more, or a little less, than what is typical.
Do other breeds sleep as much as Shih Tzu?
Shih Tzu are known for being very sleepy dogs in comparison to other breeds.
Shih Tzu do need more sleep than other dogs, but this is nothing to be alarmed about.
Even though Shih Tzu sleep more than most other dog breeds, it is still very important to encourage play and exercise. Having consistent exercise each day is very beneficial for your Shih Tzu's physical and mental well-being.
Taking your dog on a 15-minute walk twice a day, and playing with them indoors are great ways to stimulate your Shih Tzu. An active dog is a happy dog, and your Shih Tzu will love spending this time with you.
Sources
https://whiskerpals.com/do-shih-Tzu-sleep-a-lot/

https://www.cuteness.com/article/shih-Tzu-sleeping-habits
http://www.allshihtzu.com/shih-Tzu-sleep