We may earn commission from qualifying purchases at no extra cost to you.
Learn more
Some Shih Tzu owners leave their dog alone for long periods, without any planning and forethought! but they forget to take these critical facts below like the life stage into account.
Avoiding these facts can actually hurt your Shih Tzu and You!.
Let's go over why and how you should carefully consider whether to leave your Shih Tzu home alone.
Can Shih Tzus Be Left Alone
Puppies should not be left alone for longer than 2 hours to avoid developing separation anxiety, bathroom issues, and serious situations where they need your help. Adult dogs may be left alone for 4 – 6 hours a day. Senior/Elderly dogs should not be left alone for more than 2 – 5 hours, less if they have health issues!
| | |
| --- | --- |
| Life Stage | Leave Alone For |
| Puppy | Not more than 2 Hours a day |
| Adult | Not more than 4 – 6 Hours a day |
| Senior/Elderly | Not more than 2 – 5 Hours a day |
***Pregnant Shih Tzus should never be left alone! especially during the latter stages near giving birth!!!
How Long Can Shih Tzu Be Left Alone For?
Shih Tzu's as well as all breeds in general need to be taken out to the bathroom at least every 3-4 hours to prevent accidents. Overall a good rule of thumb is an adult Shih Tzu can be left up to 6 hours depending on training and a puppy 2 hours alone.
Can Shih Tzu Be Left Alone All Day [Is It Cruel?]
While it is only cruel if you deny your dog their needs,love and attention it is not cruel to leave your dog to go to work. Once you get home give them lots of love, treats and exercise to make up for being gone all day.
Can You Leave A Shih Tzu Alone While At Work For 8 Hours From 9 Am To 5Pm
While this is doable, it is not ideal. Your dog will need to be fed, taken to the bathroom at the bare minimum. If you have an arrangement where your dog can relieve themselves and have access to the food they need then yes you can leave your dog home for 10 hours.
Can I Leave My (2, 4,.. 8) Months Old Shih Tzu Puppy Home Alone For (5, 8,.. 11) Hours
Puppies are similar to babies in the sense that they should not be left alone for too long, especially 5-11 hours. The bare minimum the first year to leave your puppy should only be around 2 hours so they do not destroy anything or have any accidents.
Can Shih Tzu Sleep Alone
Yes, your Shih Tzu can and should be able to sleep alone. While you are at work the majority of what your dog will be doing is sleeping. Even when you are at home you can train them to sleep alone in a crate or a dog bed.
Can Shih Tzu Be Left Alone Outside?
Shih Tzus are best for being indoor dogs. No matter what the weather and temperature, this breed should never be left outside. Weather can change quickly: what starts off as a warm sunny day and ends as a drizzly cold one!
How Long Can Shih Tzu Mixed Breeds Be Left Alone?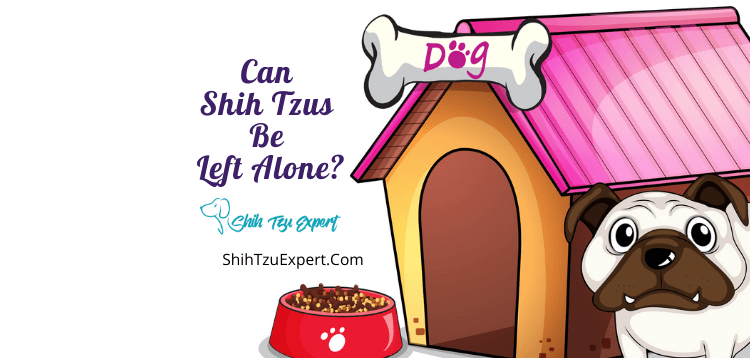 If you are leaving your Shih Tzu alone you will want to make sure they have somewhere comfortable to sleep, toys to play with, water to drink, food to eat and if long enough a place to relieve themselves.
What Is The Legal Limit For Leaving A Dog Alone?
The "legal" limit depends state to state on how long you can leave your dog alone but it still seems a little grey. Reach out to your local police department or animal shelter to ask them the local guidelines but as always shouldnt be more than 6-8 hours tops legal or not.
Do Shih Tzu Like To Be Alone?
Shih Tzu dogs prefer the company of others, especially their owners, that being said they don't particularly like to be alone but they are okay being left alone. They are a very intelligent breed so with the right training there are no issues with leaving them for periods of time.
Do Shih Tzus Need Another Dog?
Shih Tzus are known for loving companionship so while they might not necessarily need another dog, there are a lot of benefits to having another one such as it helps with separation anxiety, social skills and playtime keeping them busy and engaged when you are not home.
Can I Leave My Shih Tzu And Another Dog At Home For 8-9 Hours Daily
If you know your dogs are able to get along and will not fight/hurt each other, yes you can leave your Shih Tzu and dog alone. It would help if you had some means such as a security camera to check on them throughout the day to make sure they are getting along.
Shih Tzu Barking When Left Alone
Put your dog in their kennel or a locked/blocked room
Turn backwards and don't pay them any attention
If your dog stops barking say "good boy/girl!" and give them a reward such as a treat
Soon they will learn what's going on then you will be able to make them be quiet longer before you get a treat, increasing that time each time
Some important tips to remember is to always give a reward when your dog is doing what you want them to, try to be continually consistent in the sense that if there are others a part of your dog's training then they do the same training methods as you.
How To Stop Barking Dog When Left Alone
Set a reliable daily ROUTINE.
Give regular DAILY exercise.
Leave the TV or radio on when you leave.
Give him a "food puzzle" toy.
Desensitize him to your leaving.
Don't make a big deal about leaving.
Don't make a big deal when you come home.
Crate train.
Don't get discouraged, training your pup takes time and a lot of patience but in no time your pup will be able to stay home alone without barking, howling etc.
Separation Anxiety In Shih Tzus
A key way to alleviate your dog's separation anxiety is to make your leaving into a positive experience, as much as you can. Dog treats, toys that can be stuffed with doggy safe peanut butter, fruit, greek yogurt and more, are all great ways to help them distract from the separation anxiety.
Possible Causes of Separation Anxiety In Shih Tzus
Premature adoption
Past traumatic event
Neglect
Death of another pet 🙁
Changes in routine or socialization patterns
Hereditary behavior
Sometimes your pooch is simply bored
Signs Your Dog Has Separation Anxiety
Destructive behavior- Dogs will chew anything in their site furniture, shoes, everything they're not supposed to just because it smells like you and reminds you of them giving them some sort of comfort and distraction.
Urinating and defecation- the stress of feeling abandoned makes it harder for your dog to hold in when they have to go therefore resulting in more accidents even if they have been potty trained.
Excessive drooling and panting– a stress response
How To Solve Bathroom Problems When Leaving A Shih Tzu Alone?
Take them out right before you leave to make sure they have a chance to go and then if your Shih Tzu does not have access to a doggy door to be let out then create a station for them to go in if they cannot hold it like laying newspapers or puppy pads down.
Shih Tzu Crying When Left Alone
Crying can and is usually caused by separation anxiety. Separation anxiety in dogs is them being stressed when you, their owner leaves them and it can have varying degrees which can result in negative behaviors such as destroying furniture but with the right training can be corrected and prevented.
How To Stop A Dog Crying When Left Alone?
Steps to help reduce crying when left home alone are to make sure they exercised before you leave so they are tired, try putting on some calming music for them to listen to and train them that you are always going to come back.
Shih Tzu Howling When Left Alone
This is a sign of separation anxiety and if it is not corrected and trained it can turn into more severe anxiety, your dog is probably howling for your attention or for you to come home when you're gone, it's their way of communicating with you.
How To Stop A Shih Tzu Howling When Left Alone
Howling is similar to whining and crying when any pet is left alone and can really bug your neighbors if they live close enough. Try a bark collar or a video calling machine so you can check in throughout the day to see if your dog is howling and trying to calm them down with your voice.
How To Prepare The Home For Leaving A Shih Tzu Alone
Play Calming Puppy Music Via A Portable Usb Or MP3 Player, Preferably With A Rechargeable Battery, Disconnected From The Main Power Supply
Tv With A Video Of A Nice Beach And Soothing Music
Test Window View – Open Or Block Out A Window.
Leave A Light On If You Are Not Back Before Sunset
Plenty Of Toys, Preferably Smart Toys Like Snuggle Puppy Heartbeat
To play calming music you can use a portable USB Or Mp3 player but preferably with a rechargeable battery. When testing the window, see if having it open helps or hurt your dog's stress level, some do best when being able to view the outside world. With others, it triggers barking and a longing to run out there.
Other Tips For Leaving Your Dog Home Alone
Start by putting your shoes on and walking to the door. If your dog is starting to get stressed out, ignore it until they are used to this routine and then do this a few more times each day to allow your dog to get used to it.
When you get home, avoid giving your pup a lot of attention, treat it as a normal coming and going interaction as you would any other at home, this will allow them to get used to you leaving/coming home in a healthy way.
Once getting back, tell your dog to stay somewhere such as the couch or their bed and allow them to settle down before letting them welcome you.
Factors To Consider When Leaving Your Dog Alone
Age of the dog
Any health issues
Separation anxiety
Their level of training and their behavior
How long they go between bathroom breaks
How long they go between their eating times
Their exercise level and activity level
How social they are
Any more animals that live with them
Before Leaving – What To Do And What Not To!
One thing dog experts agree on is to not get your dog riled up before you leave, this can be by giving them treats. When we give our dog treats before leaving they will misunderstand this as a reward for barking, whining and they will think that this is good behavior.
Instead you can place the treat in a spot where you know where they will find it after you have left so you do not get them too excited where they think it's play time or that they are leaving with you, also so they don't see bad behavior as good.
Avoid allowing your dog access to the whole house, try sectioning an area off where they like to be and where they are usually happy like where their bed or crate is. As soon as your dog gets used to or even likes being left alone, they can then be allowed more free reign of the household.
Returning – What To Do And What Not To!
Make sure to walk your dog to help them relieve energy
Play a game like fetch in the yard or a local dog park
Just spend time and play with them
Preparing The Shih Tzu Owner (I.E. You!) For Leaving A Shih Tzu Alone
As owners we do what we can to make sure their needs are met before we leave. Just know that your pet will love you even when you leave them and will be there excited to greet you as you come home, make sure to spend lots of time with them when you are home.
Recommended Products To Help Train Your Shih Tzu To Stay Home Alone
Bark collar
Deterrent spray- keeps them from chewing on things they shouldn't
Indoor potty station
Crate
Dog bed
Interactive food puzzle/toy
Special toys- toys you only leave out when you're gone so they don't get bored of them
Stuffed kong- with peanut butter or another yummy treat
Do Shih Tzus Get Attached To One Person?
Shih Tzus can get attached to one person, this is usually the person giving them the most attention and feeding them especially. They also make a strong connection to the one that trains/disciplines them, gives them treats and socialization.
Alternatives To Leaving Your Shih Tzu Alone
Leave your Shih Tzu with a trusted relative/friend or neighbour or at least someone to check on them in the middle of the work day
Get another dog to help with boredness and companionship
Look into Pet Hotels/Pet Hostels/Dog Day Care
Hire a dog walker
Conclusion
Yes, Shih Tzus can be left home alone, but since they are social dogs and thrive on companionship they are best to only be left alone for 2-4 hours at one time, as their owner you are their world and they thrive when they are with you.
References:
https://tractive.com/blog/en/good-to-know/tips-for-leaving-your-dog-home-alone
http://www.allshihtzu.com/shih-tzu-home-alone
https://www.humanesociety.org/resources/how-get-your-dog-stop-barking