There is nothing you can do to completely stop your furry friend from drooling. However, there are many courses of action you can take to prevent the drooling from ruining your furniture and signs to look out for where drooling may be a cause of concern.
Do Shih Tzus Drool?
Like all dogs, Shih Tzus have a habit of drooling. But when does drooling start to become a cause of concern? And is there anything you can do to prevent your Shih Tzu's drool from ruining your furniture? Here's everything you need to know about Shih Tzus and drooling.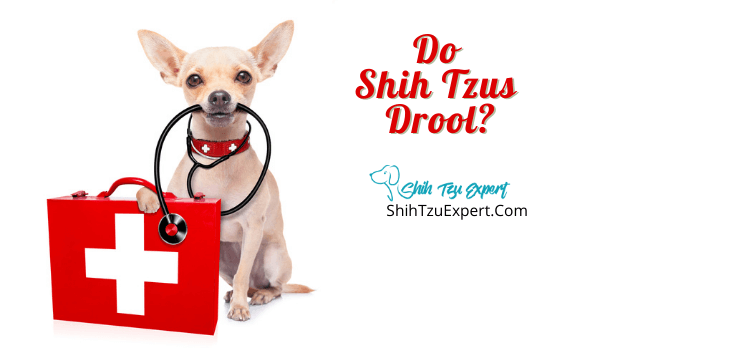 Do Shih Tzu Puppies Drool More Than Adults?
There is nothing to suggest that a Shih Tzu puppy will drool more than an adult Shih Tzu.
However, a Shih Tzu puppy will start teething when they are around three months old and one sign of a Shih Tzu teething is if they start to drool more than usual.
In this case, a Shih Tzu puppy will drool more than an adult Shih Tzu, but on the whole, they do not tend to do this that much more.
When Should I Be Worried About Drooling?
Drooling isn't something to be worried about, however, if it starts to become excessive, or if your Shih Tzu is drooling more than usual, this may be something to worry about and it may be worth taking them to the vet.
Why Did My Shih Tzu Recently Started Drooling Excessively?
There are a number of reasons why your Shih Tzu has recently started to drool excessively, including the following:
– change in dog food
– poisoning
– suffering from stress
– separation anxiety
– difficulty swallowing, which could be due to irritation, presence of a foreign object, their throat is obstructed, or they have an esophageal disease
– stomach problems, such as nausea or a stomach upset
– oral or dental problems, such as an infection, irritation, lesions, gingivitis, or a tumor
– a fever or symptoms of rabies
In any of these scenarios, you must take your Shih Tzu to the vet as soon as possible so they can determine the cause and give them the appropriate course of treatment.
Shih Tzu Drooling And Foaming At The Mouth
If your Shih Tzu is drooling and foaming at the mouth, this can be a sign of heatstroke. In this case, keep your pet pooch as cool as possible, put them in the shade, give them some water, and call the vet.
Why Is My Dog Drooling In A Constant Stream?
If your dog is drooling in a constant stream, this is another sign of heatstroke. If this occurs, move your dog into the shade, give them some water and call the vet.
The vet will be able to further cool them down and will monitor them until they believe they are safe to return home.
Why Is My Dog Drooling And Acting Strange?
There are several reasons why your dog may be drooling and acting strange including:
– mouth infection
– stomach problems
– heatstroke
– organ diseases, such as kidney or liver
– rabies
– bloating
– pregnancy
– motion sickness
– anxiety
– throat or nose infection
– an object stuck in their mouth, such as stones
– mouth injury
– the type of medication they're on
– allergies
– poisoning
– salivary gland dysfunction
– seizures
– neurological condition
– cancer, such as esophageal cancer or tumors in their late-stage
If you notice your pet pooch is drooling and acting strange, make sure you keep an eye on them and take them to the vet if the symptoms persist.
Why Is My Dog Drooling And Lethargic?
If your pet pooch is drooling and lethargic, this could be a sign of a neurological condition.
This is because these two signs could show your dog has damage to the nerve which is connected to the salivary gland, damage to the salivary gland itself, or damage to the brain.
Another reason why your dog may be drooling and lethargic is that they have been poisoned. This can be due to a combination of different substances, such as chocolate, alcohol, rat poisoning, drugs, antifreeze, or toxic plants.
Your dog may also have kidney or liver failure which is causing them to drool and be lethargic, or their stomach may be dilated, which is when the stomach becomes bloated and twisted and they cannot digest their food.
In any of these cases, you must take your dog to the vets immediately so they can find the cause of their drooling and lethargy and give the appropriate course of treatment.
Why Is My Dog Drooling And Vomiting?
If your dog is drooling and vomiting, this could mean that they have eaten something they shouldn't, which is causing them to have an upset stomach.
This can be something they are allergic to or something toxic.
Why Is My Senior Shih Tzu Female Drooling Heavily?
If you have an older Shih Tzu who has suddenly started to drool heavily, this could be a sign they have a growth in their mouth which may or may not be cancerous.
If you happen to notice a growth in their mouth or suspect your Shih Tzu's drooling may be to do with this, you need to make an appointment with the vet so they can check it out and give an appropriate course of treatment.
If it is a cancerous growth, this must be treated sooner rather than later to prevent cancer from spreading to other parts of their body.
Intense Teeth Chattering And Heavy Drooling in Shih Tzu
If your Shih Tzu's teeth are chattering and drooling heavily at the same time, this could be the sign of a seizure, particularly if your Shih Tzu is an older dog.
Other signs that this could be a seizure include blanking out, appearing confused, twitching, growling, appearing stiff, muscle spasms, and a loss of bladder control.
If your pet pooch is having a seizure, keep them calm and if it lasts for more than five minutes, call for emergency help from your vet.
There may be an underlying cause of this seizure so if your dog has had a seizure, book an appointment with the vet so they can determine it.
Why Is My Dog  Drooling Cool Saliva?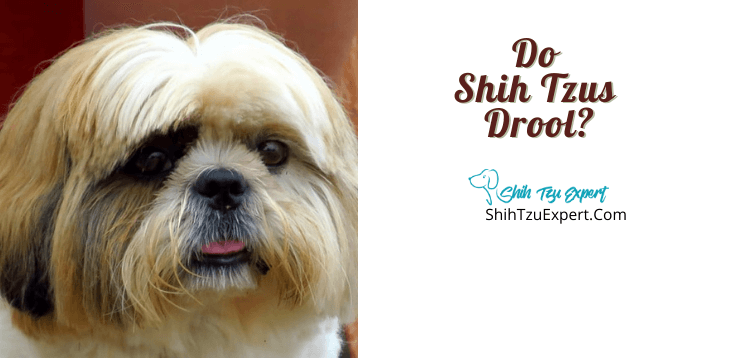 If your dog is drooling cool saliva, this could be a sign that they have an issue with their mouth and/or throat.
If there is something in their throat that is preventing them from swallowing, this can cause your dog to drool saliva as their saliva will build up inside their mouth until their mouth can't hold anymore.
The problem could also be the build-up of tartar. In which case, you should try to regularly brush your dog's teeth to stop the drooling and prevent it from happening in the future.
Shih Tzu Drooling While Sleeping– Sleep Apnea?
If your Shih Tzu is drooling in their sleep, this could be due to their sleeping position.
If they sleep with their head to the side, this can cause their mouth to open slightly and gravity causes some saliva to leave the mouth instead of being swallowed; therefore, causing your Shih Tzu to drool and is absolutely nothing to worry about.
Why Is My Dog Drooling And Licking His Lips?
One cause that may lead your dog to drool and lick its lips is nausea, due to nausea causing your dog to have excessive saliva. If nausea is the cause of this, it is nothing concerning.
However, a cause more serious is canine bloat. This is a serious condition and along with drooling and licking lips can be accompanied by being unable to vomit and uncomfortably pacing around. If your dog is displaying these symptoms, you should immediately call the vet.
A less serious condition is dental problems. This could be dental decay, broken/rotten teeth, painful gums, something stuck in the teeth or gums, mouth ulcers, boils, or growths. It is always worth checking your dog's mouth to see if this is the cause.
There is a possibility that your dog could have something lodged in their respiratory system that they can't get out, such as some blades of grass. This could also cause them to paw at their nose and mouth and/or cause them to cough and sneeze to remove the object. In this instance, they should be taken to the vet so they can see what it is and remove it.
Another more serious cause of drooling and licking lips is focal partial seizures. These can cause your dog to zone out and have twitching movements. These typically only last for a few seconds but will need a formal diagnosis from the vet to figure out what the next step is.
Why Does My Dog Drool When I Eat?
If your dog is drooling whilst you are eating, this is normal.
Dogs often only need to smell food to start drooling. This is their involuntary reaction to food and regardless of whether you have ever fed your pet pooch from your plate or not, they do it in the hope of getting some food from you.
You can easily put a stop to this by either feeding your dog at the same time you are eating so they are distracted by their food, or you can buy a food puzzle and put their food in that instead of their normal food bowl so it takes them longer to eat and focuses their physical and mental energy on their food instead of yours.
Do Dogs Drool When They Are Excited?
Yes, dogs do drool when they are excited and this is a completely normal reaction.
Why Does My Shih Tzu Drool Around Other Dogs?
There can be several different reasons why your Shih Tzu is drooling around other dogs. These reasons include fear; excitement; anxiety; sexual desire; and the smell of food.
Sometimes your Shih Tzu can be drooling around other dogs because they are scared of them, particularly if they have never seen them before. This is completely normal and can be fixed by getting your pet pooch used to socializing and this fear should stop.
However, if your dog is used to socializing, this can cause excitement which can also lead to drooling. This excitement can also be caused by food, but is also completely normal and nothing to worry about.
If your Shih Tzu is drooling because of anxiety, you need to figure out the source of this anxiety. Whilst drooling due to anxiety is normal, your pet pooch shouldn't have to feel anxious, so finding and eliminating this cause of anxiety will make your Shih Tzu feel better.
Drooling due to sexual desire is completely normal too and will often happen when your Shih Tzu sees a dog they are sexually attracted to, which is normal in all living things.
They will drool at the smell of any food they like the smell of, regardless of whether it is human or dog food. This is another thing that is completely normal and shouldn't give you any cause for concern.
Why Is My Female Dog Drooling Around The New Puppy?
If your female dog starts drooling around your new puppy, this could be a sign they are stressed about the new addition to their home.
Just be patient with them and try to keep both dogs as comfortable as possible and eventually this stress will fade.
Why Do Male Dogs Drool Around Female Dogs In Heat?
Male dogs drool around female dogs in heat due to their sexual desires and are completely normal.
How To Handle/Groom Dogs That Drool a lot?
If your dog drools a lot, you can groom them by tying a bandana or bib around their neck to reduce the amount of saliva and so that something other than your dog's fur absorbs it.
Try to make sure you dry their mouth after walking them as dogs tend to drool a lot more after exercising.
Most Effective Ways To Stop Or Reduce Drooling?
There are many ways for you to reduce or completely stop your doggy friend(s) from drooling, including:
– brushing their teeth
– dental chews
– leaving treats to prevent drooling from anxiety
– coconut oil and herbal tea rinses for drooling caused by a mouth injury
– ginger tincture or pill for drooling caused by motion sickness
– a bib/bandana
– lemon extract
How To Protect My Beds, Upholstery, Carpets From All This Drooling
Dog drool shouldn't cause too much long-term damage to your bed, upholstery, or carpets.
However, there are preventative measures you can take to protect your furniture from the dreaded dog drool.
You can buy dog furniture protectors to put on your bed and sofa, which are machine washable. Alternatively, you could use anything you currently have lying around your house as extra protection, such as blankets or throws, that can easily be washed in the washing machine and are much easier to clean than having to clean your sofa.
When protecting your carpet from dog drool, just ensure to clean the dog drool up as soon as you notice it because if you leave it and it dries, it will be harder to clean.
How Do You Know If You're Allergic To Dog Saliva?
Dog saliva contains certain proteins that people can be allergic to.
Some of the signs that you may be allergic to dog saliva include having a stuffy nose. This is because when your dog drools, the allergens in their saliva become airborne and cause this stuffy nose.
Another sign is having itchy eyes, coughing, and sneezing. This can worsen if you have direct contact with your dog. To avoid having itchy eyes, don't touch them or your face after stroking your dog to lessen the itchiness.
References
https://www.pdsa.org.uk/taking-care-of-your-pet/pet-health-hub/conditions/heatstroke-in-dogs
https://www.petmd.com/how-tell-if-drooling-dogs-slobber-normal
https://wagwalking.com/wellness/how-to-prevent-your-dog-from-drooling