If you've been on the internet lately, you have seen videos of dogs doing amazing things. From helping their owners do laundry, to skateboarding and more– it seems that there is nothing that dogs can't do! But what about Kitesurfing? This sport involves a board and a kite with the rider attached to both, and it is popular worldwide. But, is it fun and safe for dogs too?
Dog Kitesurfing
Whether you are new to Kiteboarding or are a long time enthusiast, you'll find it's a great way to enjoy the water. And if you love those videos of Zeus the Kitesurfing dog, it might just be time to bring Fido along for the ride! Just remember to always wear your lifejacket, and have fun!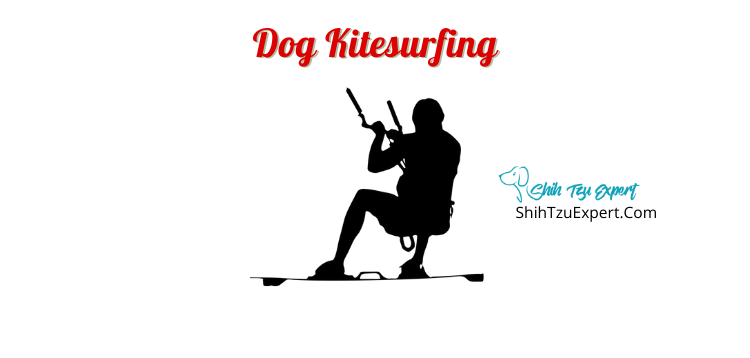 Can Dogs Kitesurf? Is It Safe?
The answer to this question depends on both you and your dog. Kitesurfing is fun, but takes some practice to master. It is not recommended that new kitesurfers bring their dogs when they are learning as it could be dangerous for them. Even if you are a champion kitesurfer, you still need to account for your dog's size, age and athletic ability. A dog that cannot swim, or is too old, could easily drown. It is best to stay on the safe side.
Do Dogs Like To Kitesurf?
Depends on the dog! According to Zeus, a jack russell terrier mix of internet fame, dogs love to Kitesurf! If your dog is athletic, can swim, and enjoys movement (such as car rides) they might enjoy kitesurfing. Always be sure to get your dog a well fitting animal life vest before getting them into the water.
How Well Do Dogs Kitesurf?
Kitesurfing is a nuanced sport. There is also the danger of dogs falling off the board into the water. In Kitesurfing the rider is attached to both the board and the kite, so if your dog slips into the water there is no easy way to retrieve them. That being said, some dogs enjoy riding the board, whether it be skateboarding, surfing or kitesurfing! Just make sure fido can swim first.
Most Popular Kitesurfing Dogs?
The internet is full of famous kitesurfing dogs, the most well known is probably Zeus– a jack russell terrier owned by kite surfing olympian Cameron Maramenides. Weighing in at only seventeen pounds, Zeus is a champ! There is also Atomo, a pointer mix from Peru.
Best Places For Kitesurfing For Dogs
For learning, it is best to take your dog to a less crowded kitesurfing area on a quiet day so they can get comfortable with the water and the area. Check if your beach allows dogs and when before bringing fido along.
Can My Dog Kitesurf?
If your dog is young, healthy, a medium size (not too large or too small) and is a very strong swimmer they may be able to kitesurf. It all depends on your dog's ability to swim out to you, and to stand up on the board while you steer.
How Difficult Is It To Teach My Dog To Kitesurf?
If you find that getting your dog in the water or near the board is difficult, then kitesurfing is probably not for them. But if your dog loves to swim, is athletic and has a good sense of balance you may find it easier to teach them to balance on the board.
How Old Should A Dog Be To Go Kitesurfing?
Your dog needs to be old enough to swim comfortably in open water, but young enough to not potentially hurt/exhaust themselves.
How High Do Dogs Kitesurf?
When you see dogs Kitesurfing online they are just riding the board– it is the rider who causes the board to jump. Riders with a dog on the board should stay on the water to prevent the dog getting hurt by jumping off mid-air.
Can Puppies Kitesurf?
No. Puppies can't swim in open water, they are not strong enough and could drown or otherwise hurt themselves.
Can A Dog Kitesurf On Its Own?
No. Kitesurfing involves two pieces of equipment– the board, which is similar to a surfboard, and the kite. A dog might be able to adjust the direction of a surfboard by leaning, but they certainly cannot fly a kite!
Do Some Dog Breeds Kitesurf Better Than Other Breeds?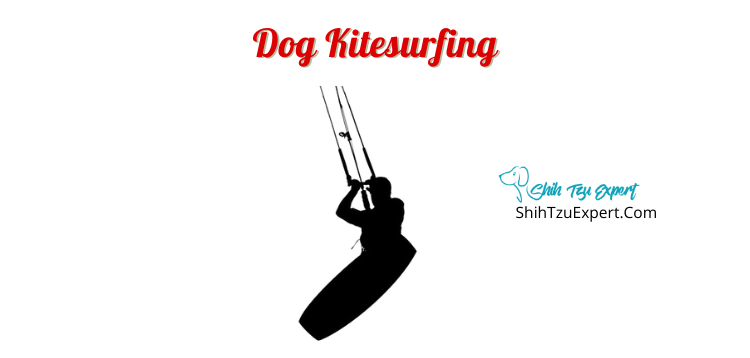 Sure! Some breeds are made for athletic, aquatic activities, such as the portuguese water dog, the otterhound, the standard poodle and everyone's favorite– the labrador retriever. These hearty, swimming breeds love to be out on the water. But breed isn't everything– after all, the most famous kitesurfing dog, Zeus, is a Jack Russell Terrier!
Can Shih Tzu Kitesurf In The Lake?
No. Shih Tzu's are a toy breed of dog, which means they were not bred for athletic activities such as swimming. They likely could not handle the swimming involved if they were to fall off of the Kitesurf board.
Can Shih Tzu Kitesurf In The Sea?
No. Shih Tzu's are toy dogs, and they are too fragile to go out into open water because they cannot easily swim to safety. In addition, Shih Tzu's long coats can easily become waterlogged, weighing them down and making swimming impossible.
Can Dogs Kitesurf In Cold Water?
If the water temperature is comfortable and safe for humans, then it should be fine for a healthy, medium sized dog. Some dogs, like poodles and newfoundlands, are bred to be able to swim in cold water for brief amounts of time.
Is It Safe To Let Your Dog Kitesurf In The Ocean?
That depends. A rough ocean can drown a dog and a human alike. But if the ocean is calm you may be able to take fido along, as long as you both wear flotation vests. Also, for your dogs safety always stay close enough to shore that, should they fall off, they can easily swim back
Are All Dogs Natural Kitesurfers?
Kitesurfing is a pretty uniquely human activity, but some dogs love to stand on moving boards, and shift direction with their body weight. If your dog has natural balance and athleticism they may take to it!
Do They Always Know How To Kitesurf?
No. Dogs need to be taught how to balance on a moving board.
How Long Does It Take A Dog To Learn To Kitesurf?
That depends entirely on the dog and how athletic and trainable they are. But if your dog loves to swim, and you are a patient trainer, you should be able to train them to ride the board with you!
How To Teach Dogs To Kitesurf [Step-By-Step Drills That Are Safe, Quick & Easy]
Always Use A Life Jacket Or A Flotation Device!
Dog life jackets are crucial for the safety of both you and your dog– even an athletic dog can become injured or exhausted while swimming. Make sure to get a well fitting, dog life jacket before hitting the beach.
Train Your Dog How To Get Into Water & Get Comfortable In The Water
There are lots of different methods of training a dog to get comfortable with the water. It is best to start with calm water, such as a pool or a lake. You can enter the water yourself and try to coax your dog in, or throw a ball or toy into the water, starting close to shore and then throwing farther out to build confidence. Never shove or force your dog into the water– it could cause an intense fear of water or, worse, your dog could drown.
Train Your Dogs How To Get Out Of The Ocean Safely
If you want your dogs to kitesurf with you, you must first get them comfortable with swimming in the area you will be kitesurfing in. They need to be able to swim back to shore safely in case they fall off the board and you are not able to get them. Go swimming with your dog, and practice entering and exiting the water safely before getting on the board.
Keep An Eye On Your Dog At All Times! & Never Leave Alone In The Water [Especially In Open Water!]
Even with a lifejacket and strong swimming abilities, the open water presents danger. Rip tides and waves, as well as other swimmers, could be a danger to your dog. Make sure to keep close tabs on your dog at all times and never leave them alone in the water.
Always Keep An Eye Out For Any Developing Dangers In The Water [Other Kitesurfers, Boats, Surfers, Etc]
Chances are you aren't the only one out enjoying the day! Be sure to keep an eye out for other kitesurfers, boats etc. If it is a particularly busy day, it might be best to leave your dog at home.
What Are The Best Training Aids For Kitesurfing Dogs?
To learn more about training your dog to kitesurf, check out videos of dog surfing lessons on youtube, or reach out to local dog trainers who specialize in athletics.
Kiteboarding Vs Kitesurfing
What's the difference? It's all about the board! Both sports use a harnessed kite and a board to glide on top of water, and are often used interchangeably. Technically kiteboarding uses a "twin tip" board similar to a wakeboard, while kiteboarding uses a specific board that is designed to handle extra stress and is more similar to a surfboard.
Kitesurfing Vs Windsurfing
Instead of a kite, windsurfing has a sail, attached directly to the board.
References
https://www.iksurfmag.com/kitesurfing-news/2015/05/atomo-the-kitesurfer-dog/
https://newwavekiteboarding.com/kiteboarding-vs-kitesurfing/