A lot of dogs seem to be very reactive to kites…
why is that? This is what we are going to be looking at in today's article.
Why Are Dogs Scared Of Kites?
Dogs are usually scared of kites because they do not know what it is and could possibly think of them as some kind of flying predator. You can easily test this on your dog (of course without scaring him to death!) by standing over your dog and flapping your arms like a bird of prey would do. Alternatively you can use a large piece of cloth or flexiboard to emulate a large bird. This would most probably trigger the natural protection instincts in a dog!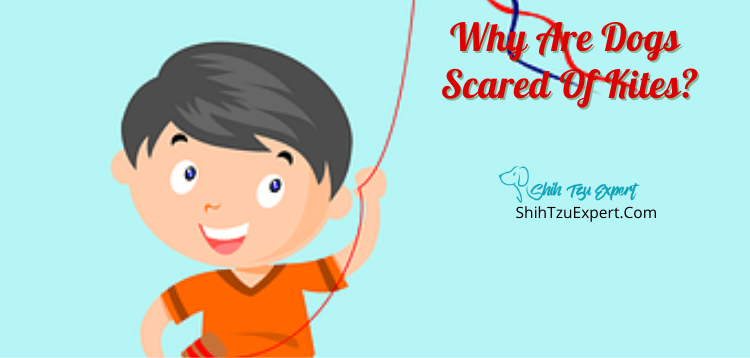 Are Dogs Scared Of All Flying Objects Or Just Kites?
As with a lot of things, this depends on the dog. Some dogs are scared of even the smallest butterfly and some dogs wouldn't care about a bald eagle in their living room.
You'll notice that dogs don't seem to be afraid of things like birds which can also be seen soaring through the sky, why is this?
In general, dogs tend to be scared of things they don't understand, so something that is flying (particularly something that isn't even alive) definitely makes that list.
This is why they don't seem to be afraid of your average crow or robin, it's because even if they don't understand the intricacies of how they work, they know what birds are.
Why Do Dogs 'Freak Out' When They See Kites?
A dog "freaking out" doesn't always necessarily mean that the dog is afraid, it could mean that they are excited and want to play with the object of their "freak out".
There is also the possibility that the dog has just never seen a kite before and doesn't know what to make of the foreign object.
If you have looked into both of those options and still don't know why your dog is afraid of kites, it may be a good idea to start looking into your dogs past.
It is possible that your dog may have had an interaction with a kite that scared them or started developing the fear at an early age.
If you aren't looking for them the signs of a fear forming in their youth can be extremely hard to detect. This is a great place to start in your search.
How Do I Train (Counter Condition/Desensitize) My Dog To Not Be Afraid Of Kites?
Training a dog to no longer be afraid of something can be a long and arduous undertaking, but can absolutely be done. Here are some things you can try:
Introduction – Start by introducing the dog to a kite, take it slow and allow the dog to take as much space as they need, trying to force interaction between them and the kite will only make them more afraid.
Play – The best way to get a dog to no longer be afraid of something is to give them positive experiences with it. Once they are comfortable with the kite, try dragging the kite around on the ground so they can run after it.
Exposure – Assuming the kite doesn't terrify your dog anymore but they are still a little apprehensive about them, try leaving a few kites in obvious places around the house, after a while they probably won't even notice them!
What Exactly About Kites Is My Dog Scared Of (The Look? Noise? Sounds? Vibrations?)
While a lot of the time it is really just about the fact that they don't know what a kite is and are therefore scared of it, there are other factors.
When you are just holding the kite and not flying it, it can make a sort of rustling noise that can be scary to dogs.
They also come in many vast colors that are not usually seen in the sky and unlike what Hollywood would like you to believe dogs aren't actually color blind.
They see a more limited range of colours than we do but they still see them, so the strange colors could absolutely contribute to why so many dogs are afraid of kites.
What Not To Do With A Dog Who Is Afraid Of Kites?
I would say that being afraid of kites is just like being afraid of anything else, don't force them into uncomfortable situations with the thing that they are afraid of.
So if you're trying to help your dog get over their fear of kites by exposing them to a kite, just remember to give your dog lots of space to retreat in case they need it.
Allow them to come to the kite instead of trying to force them to be around it.
Should You Comfort A Dog Scared Of Kites
Absolutely! Fear is a very scary emotion, particularly when you can't even understand what it is that you're afraid of.
Not comforting a dog that's scared will most likely only lead to them being more afraid of that thing in the future.
Poor Puppy Terrified Of Kites?
It can be very difficult to help puppies cope with fear, it feels like they can be afraid of everything!
Do not worry, most puppies haven't experienced a lot of life yet and in turn, are scared of a lot of fairly basic objects.
As they grow older and more accustomed to the world this fear should dissipate.
If this fear does persist into adulthood, you can try some of the methods listed above to try and alleviate their scared feelings and leave them calm around kites.
Why Is My Old Dog Is Suddenly Afraid Of Kites?
'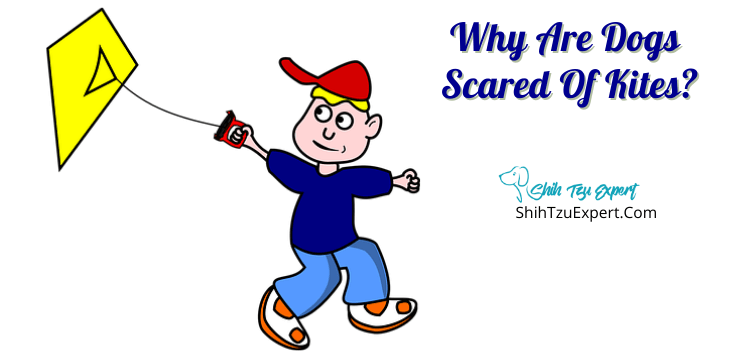 When dogs get old, often their hearing and sight gets gradually worse and worse. This can result in things that weren't all that scary before becoming very frightening.
This is why you may notice your dog developing sudden onset fears in the later stages of their life, it's just part of getting old for them.
If you are looking to help your senior dog manage this anxiety there are a few things that you can do.
The best way to help them cope with their declining senses is to keep a very regular routine where you do the same things with them at the same time every day.
This helps them because they don't need to rely on those senses as much if they already know what is coming and what to expect.
If this doesn't help or your dog is still anxious, it may be a good idea to take them to the vet and get a prescription for some doggy anti-anxiety meds.
It may sound a little silly but dogs can struggle with their mental health just as much as we do, they deserve to live stress-free, especially in their old age.
My Dog Is Getting An Increasingly Severe Fear Of Kite Surfers [Trembling & Pulled So Hard]?
This is definitely something that is harder to deal with than a simple fear of kites as not many of us just have LEI kites lying around.
Honestly, if this is a problem for your dog I would recommend just not taking them for a walk around where people are kitesurfing.
This may be easier said than done depending on where you live but I promise it is worth it for your dog's happiness.
If you are very determined to help your dog get over their fear of kite surfers, it may be a good idea to make friends with some.
If they don't mind you bringing your dog along it would help a lot to ease the anxiety for your dog to meet the people and see it happening, so they understand what it is.
This method is a little risky in case your dog ends up being too afraid, so make sure you bring a blanket along for your dog to go under to hide and give them lots of treats and affection.
Why Is My Dog Deathly Afraid Of Hang Gliders?
I mean, if I didn't know what a hand glider was and I saw a human strapped to one I would be pretty freaked out as well.
They are seeing humans they see every day strapped into some sort of flying death contraption, it is perfectly normal to be a little freaked out by that.
It may help your dog to watch some hand glider videos on youtube, so they can see that they aren't all that scary. Maybe even one or two POV videos!
Are Kites Dangerous To Dogs?
They definitely can be, I once had a dog trip over and get all tangled up in the strings connected to the kite.
If you are flying your kite in a space where there could be dogs or bringing your own dog along for a kite flying day, always remember to be careful.
In general though, not really. Kites aren't any more dangerous usually than just leaving a rope lying around.
Why Do Dogs Destroy Kites [& How To STOP Them]?
My dog has chewed up and used my kite as a "dog beach", why do they do this?
This could be for many reasons. One reason is that your dog just doesn't like the kite for whatever reason. They could be jealous of you playing with it or hate the color.
Another is that your dog is trying to communicate with you, they are trying to tell you that they need something they are not getting and the only way they can think to do so is by lashing out.
The easiest way to keep your dog from destroying your kite is to keep it out of reach, both when being stored and used.
You can also try supervising the kite with the dog, leave it right next to them but stop them from trying to destroy it.
After a while of not being able to wreck the kite they will get bored of it, and most likely will not care about the kite anymore.
Would A Red Kite (The Bird) Attack A Dog?
The Red Kite is a relatively small bird that usually feeds on small creatures and roadkill, they eat things like worms, baby chicks and very small rabbits.
This is because The Red Kite has limited claw strength and isn't able to easily kill prey on its own and instead likes to eat prey of opportunity (like roadkill).
So this means that it would be incredibly unlikely for this bird to attack your dog, even if it is a very small breed of dog, like a Chihuahua or Pomeranian.
Red Kite (The Bird) Tried To Carry Off Dog?
While there have been a few cases of this being attempted, it is only done by very silly birds. They do not have the strength to pick up almost all dogs, including puppies!
In general, this is not something you have to worry about, even if a Red Kite did try to steal your dog, the worst they would probably get is a few scratches.
Even so, if this is a fear you have, it may be a good idea to walk your dog close to you, if there was little chance before, there is no chance of an attack with a big human standing right there.
Is A Kite (The Bird) A Hawk?
'
While some of the larger species of Kite are closely related, no, kites are not hawks. They do belong to the same genetic family though, Accipitridae.
References:
https://seniortailwaggers.com/old-dog-anxiety/
https://www.bbc.com/news/uk-england-berkshire-17866195